The Samsung S23 lineup is rumored to be making its debut at a yet-to-be-announced Samsung event on February 1, and the highlight of that event figures to be the Samsung Galaxy S23 Ultra. Rumors surrounding the phone have suggested mostly modest changes, with a notable exception — a 200MP main camera for the S23 Ultra.
New leaks seem to confirm this 200MP main sensor is a reality. Noted leaker Ice Universe shared two Samsung promotion videos on Twitter for the upcoming Galaxy S23 Ultra that are definitely camera focused.
The first promo touts "stunning night photos" that we can expect with the new camera, while the second one warns us to be ready for "wow-worthy resolution." Both use the phone's array of cameras as the letter "o" in a clever way that also confirms that we should expect Samsung's signature camera layout to remain.
There are a couple of things that need to be noted here. First, while Ice Universe says these videos are meant to promote the upcoming S23 Ultra's cameras, that's never explicitly stated in the videos. The Samsung Galaxy S22 Ultra notably has four rear cameras, not three. So while Ice Universe says these are specifically S23 Ultra promo videos — which we believe is the case — the videos could in theory apply to the entire S23 lineup, which all are expected to feature a main camera plus ultrawide and telephoto lenses.
Second, the videos tout improved low-light photography and resolution but, of course, never provide evidence of either. Again, we think that Samsung will, in fact, bring an improved 200MP sensor to the S23 Ultra — possibly a new ISOCELL HP2 sensor — and we have been anticipating improved night photography for a while now, especially since that's been a focus of Samsung's in recent updates. But the promotional videos notably show no concrete evidence of either, so we are still left waiting for an official look at how good this rumored new camera performs.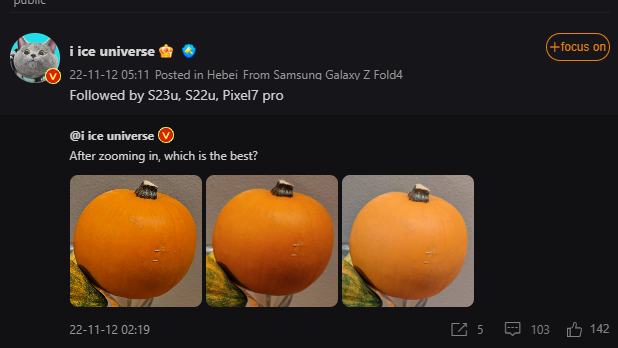 However, we have seen some unofficial looks claiming to show off the 200MP camera's performance, including this HDR comparison above between the S23 Ultra, S22 Ultra and the Google Pixel 7 Pro. So far, it definitely seems like the S23 Ultra will take a step forward. We won't know for sure until we get to test the phone hands-on.
A 200MP camera would be a welcome improvement, as would better low-light photography. We'd contend that Samsung needs to improve the camera and night mode if the phone maker wants people to upgrade to its new phone. These promo videos indicate that Samsung is also aware of this criticism and is making it a focus of this round of updates.