Update: Check out our Samsung Galaxy S23 Ultra review to see how well this flagship performs, including camera tests, performance, battery life and more.
The Samsung Galaxy S23 Ultra tops the Samsung Galaxy S23 lineup — and it definitely deserves all the attention the phone maker has heaped on it.
A replacement for the great Galaxy S22 Ultra, the Galaxy S23 Ultra builds on the advances made by its predecessor. That includes a 200MP main camera, continued telephoto zoom strengths, and a major upgrade to the chipset with an exclusive Snapdragon 8 Gen 2 chip for Galaxy phones that promises the world's fastest graphics.
Let's take a closer look at the specs and changes introduced with the Galaxy S23 Ultra.
Samsung Galaxy S23 Ultra: Specs
Swipe to scroll horizontally
| | |
| --- | --- |
| | Samsung Galaxy S23 Ultra |
| Starting price | US $1,199, UK £1,249 |
| Display size and resolution | 6.8-inch Dynamic AMOLED, QHD+ Edge Screen, 500ppi |
| Display brightness, refresh rate | 1,750 nits, 120Hz Adaptive Refresh Rate |
| Processor | Snapdragon 8 Gen 2 Mobile Platform for Galaxy |
| RAM | 8GB, 12GB |
| Storage | 256GB, 512GB, 1TB |
| Rear cameras | 200MP (f/1.7) main, 12MP (f/2.2) ultrawide, 10MP (f/2.4) telephoto (3x optical zoom), 10MP (f/4.9) telephoto (10x optical zoom, 100x Space zoom) |
| Video | 8K at 30fps, 4K at 60fps and Full HD at 120fps |
| Front camera | 12MP f2.2, 4K video at 60 fps |
| Battery size | 5,000 mAh |
| Charging speed | 45W |
| Size | 3.07 x 6.43 x 0.35 inches |
| Weight | 8.25 ounces |
| Colors | Phantom Black, Cream, Green, Lavender |
Galaxy S23 Ultra: Price and availability
The Galaxy S23 Ultra is available for pre-order now with a launch date of February 17. The base model costs $1,199 / £1,249. You can pre-order the Galaxy S23 models including the Ultra through Samsung.com with a few incentives to keep in mind.
The most enticing of those is the free storage upgrade, where Samsung will give you the next step up at no cost. (E.g. pre-order the 256GB and get the 512GB.) You will also get a $100 Samsung.com credit.
As for availability, you can expect to find the Galaxy S23 Ultra available from a host of carriers and retailers in the U.S., U.K., and Australia.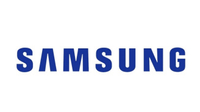 Galaxy S23 preorder: up to $100 credit @ Samsung
Up to $100 credit! Samsung is one of the best sites for Galaxy S23 preorders. Reserve your Galaxy S23 preorder via Samsung and you'll get up to a $100 Samsung credit. You'll get a $50 credit when you reserve one device or a $100 credit if you reserve two devices. (It's likely Samsung will also announce a new Galaxy Book). This is a no commitment pre-order. All you need to do is provide your name and e-mail address to reserve. Once you pre-order, you'll receive your credit.
Galaxy S23 Ultra: Design
The Galaxy S23 Ultra features a similar design to its predecessor, although with a slightly flatter display. Samsung didn't change up the blocky look all that much, but the camera module is slightly larger than it was last year. That's partly due to the new 200MP main sensor.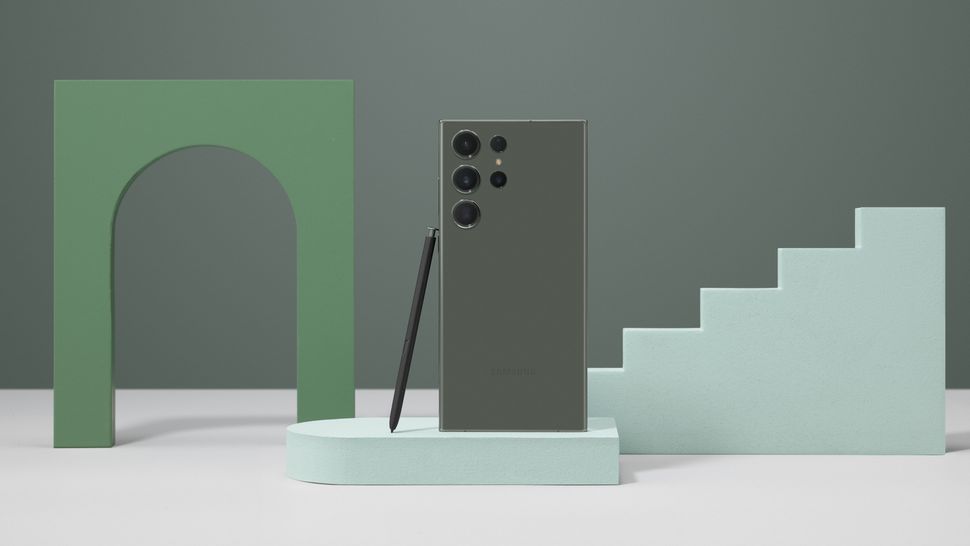 Coming in at 0.35 inches thick with a weight of 8.25 ounces, the Galaxy S23 Ultra is not a small device. The thickness is partially explained by the fact that the S Pen is still housed within the phone itself, making it far more convenient than it would be as an external accessory that requires a case to stash the stylus.
For Galaxy S23 Ultra colors, you can pick between Phantom Black, Cream, Green, or Lavender. Additional colors will be Samsung.com exclusives, which are Lime, Graphite, Sky Blue, and Red.
Take a look at our Galaxy S23 Ultra cases roundup too if you want the best in S23 Ultra protection. If you aren't a case user already though, check out these drop test results to see what could happen to your new phone.
Galaxy S23 Ultra: Display
The S23 Ultra display is still a 6.8-inch AMOLED panel with a resolution of 3088 x 1440. That's 500 pixels per inch. The refresh rate can climb all the way from 1Hz to 120Hz for super smooth scrolling and gameplay, while the lower range helps preserve battery life with static content. Much of this remains the same as the Galaxy S22 Ultra.
Samsung claims the Galaxy S23 Ultra can crank up its brightness to 1,750 nits, which is very bright. There's also an enhanced comfort feature that lets you adjust color tones and contrast to lessen eye strain; the Vision booster feature now adjusts at three levels of lighting, up from two.
Interestingly, the Galaxy S23 Ultra actually uses some of the same display parts as the Galaxy S21 Ultra from two years ago. That could put it at a disadvantage compared to phones rumored to use newer display tech, like the iPhone 15.
Galaxy S23 Ultra: Cameras
The Galaxy S23 Ultra's biggest upgrades come down to its cameras, namely the new 200MP main sensor that could be a game changer for the best camera phones. The main camera can record up to 8K 30 fps video. You can shoot photos in 200MP, 50MP, or 12.5MP, depending on your preferences and situation.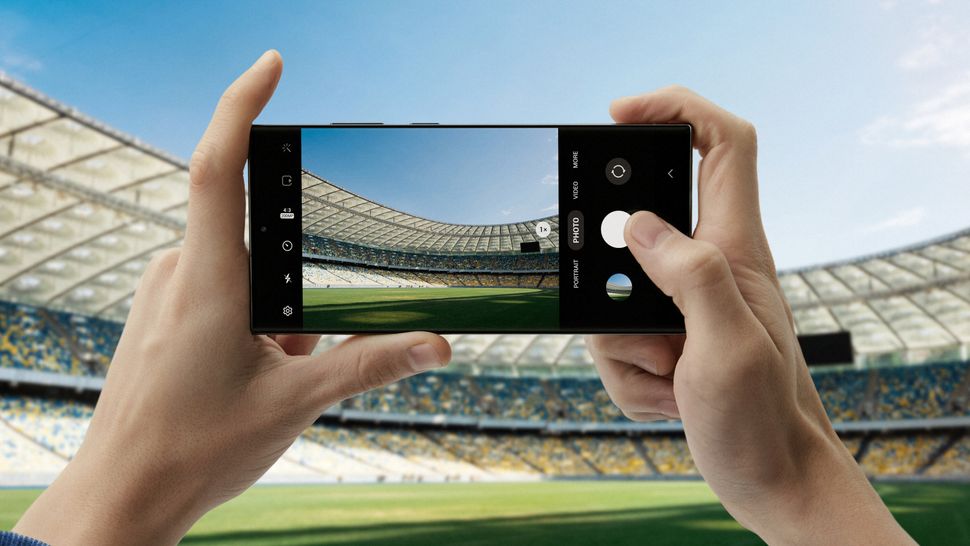 Three other cameras join that massive sensor on the back of the phone, though they don't appear to have changed over last year.
The 12MP ultrawide can capture landscapes or large groups. The twin 10MP telephoto cameras can work together to produce images at 100x Space Zoom, Samsung's super zoom technology. The Galaxy S23 Ultra also can take pictures at 3x and 10x optical zoom.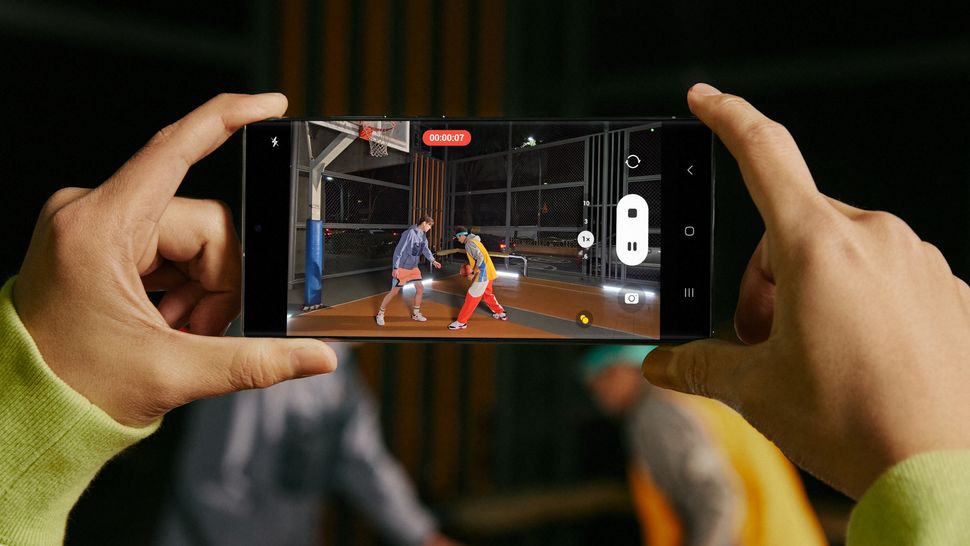 Around front is a 12MP selfie camera, which might seem like a downgrade over the Galaxy S22 Ultra's 40MP front camera. However, Samsung says it now offers faster autofocus for the front camera along with Super HDR, so you should see better-looking selfies overall. You can even record 4K 60 fps video with that front shooter (up from 30 fps on the S22 Ultra).
Samsung has also announced that Adobe Lightroom will be the default integrated editing app for photos taken in its ExpertRAW advanced camera app on the Galaxy S23 Ultra. That'll be handy for editing your detailed RAW images without needing to offload them first.
The Galaxy S23 Ultra's Gallery app also comes with editing tools, including a Remaster function that promises to makes your photos look even better. However it recently gained attention for giving a set of teeth to a seven-month old baby.
Galaxy S23 Ultra: Performance
The Galaxy S23 Ultra, like its siblings, sports the Snapdragon 8 Gen 2 for Galaxy, a slightly boosted version of the regular Snapdragon 8 Gen 2. It features a higher core clock of 3.36GHz versus 3.2GHz. Annoyingly, it looks like the chip's being throttled by default in certain apps like the Galaxy S22 series was, although you can turn it off.
Otherwise, it's the same chip as you'll find in other top Android phones coming out in 2023. The Adreno 740 GPU is Qualcomm's most powerful yet, and Samsung claims that the S23 Ultra offers the "world's fastest mobile graphics." Couple that with the new cooling system that Samsung has cooked up and we could have a contender for the best gaming phone.
For 5G, the Galaxy S23 Ultra supports both sub-6GHz and mmWave technologies. Wi-Fi 6E support is also onboard.
Galaxy S23 Ultra: Battery and charging
Just like the Galaxy S22 Ultra, the Galaxy S23 Ultra has a 5,000 mAh battery that'll hopefully last longer than last year. Perhaps the new Snapdragon chip will help there.
Charging for the Galaxy S23 Ultra remains at 45W with a wired connection and compatible charger. (The Galaxy S23 Ultra will ship without an included charger.)
Galaxy S23 Ultra: Software
The Galaxy S23 Ultra ships with One UI 5.1, based on Android 13. You'll get four years of Android updates and five years of security patches. Samsung has the best update policy in the Android smartphone world, and that continues with the Galaxy S23 release.
One UI 5.1 is a modest update, though it sports a few noteworthy features. One is that the Gallery app can create shared family folders, where it'll automatically suggest you to share pictures with family members it recognizes.
Another neat feature is Bixby text call, using Samsung's personal assistant. The Galaxy S23 Ultra can pick up calls for you, letting you see what the caller is saying via a live transcript. You'll even be able to reply via text and Bixby will read it out to the caller. It rings similar to Google's Call Screen feature.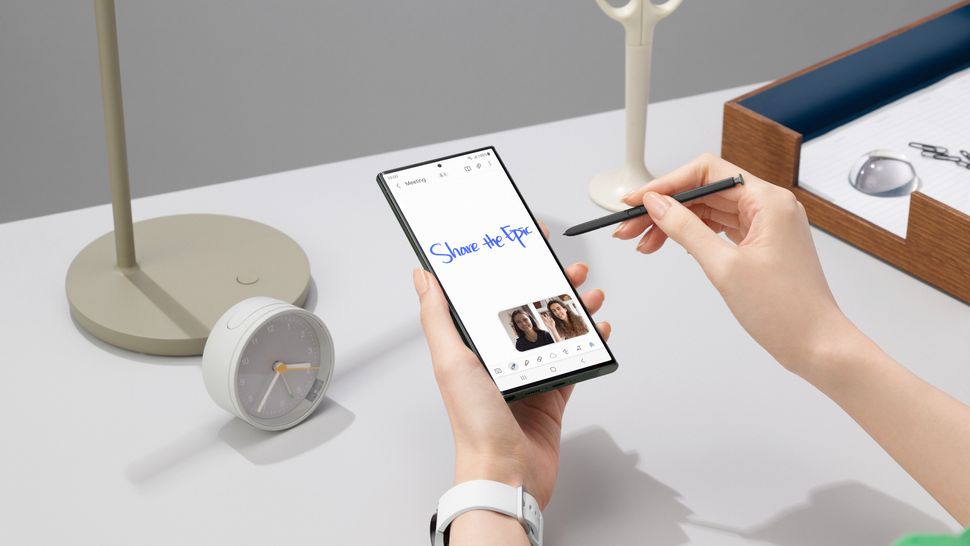 Of course, with the Galaxy S23 Ultra shipping with its own stylus, there's the host of S Pen features to look forward to, like taking notes, marking up documents, editing photos, and drawing.
Galaxy S23 Ultra: Outlook
The Galaxy S23 Ultra looks like the ultimate Android phone with a price to match. It's got all of the power and features you could want, including some promising camera hardware. It looks like this handset is surely to top the list of the best Android phones.