I'm fortunate enough that part of my job allows me to get paid to test the best outdoor pizza ovens. I estimate that I've made close to 100 pizzas now — some to test the ovens, and some because I just wanted pizza. I mean, who can resist the simple yet perfect triumvirate of dough, marinara, and mozzarella?
However, before you go slinging your first pie into the oven, you need to make sure you're set up with the right equipment. Here are seven pizza oven accessories I found I can't live without.
Stand mixer
Unless you want to give your arms a real workout, it's worth investing in one of the best stand mixers to help you knead the dough. Unlike cake batter, pizza dough batter is much thicker, and you want to mix it for long enough so that the gluten starts developing — that's how you get those nice bubbles and weblike interior crust.
If you're planning to make a lot of pizzas at a time, I recommend purchasing a mixer with a more powerful motor. I personally have a KitchenAid Pro 7-quart bowl lift mixer; it's not cheap, but it can make enough dough for six 12-inch pizzas at a time.
Digital scale
Even if you don't know anything about hydration levels — though you will if you get deep into pizza making — a good kitchen scale is essential if you want to weigh out your ingredients precisely.
Measuring ingredients by weight, rather than volume, is especially critical when baking, as dry ingredients like flour will fluctuate in weight depending on the temperature and humidity.
Pizza peel
You need a way to get your pizza in and out of the oven, and a spatula just ain't going to cut it. A pizza peel is the large wooden thing you see at every pizzeria that's used to slide the pie in and out of the oven.
A couple pro tips: You'll want to shape the dough first on a counter, and only put it on the peel when you're ready to add toppings and put it in the oven. You should also sprinkle a generous amount of flour on the peel before placing the raw dough on top. You can use regular flour, but semolina flour or cornmeal also works well to ensure that the dough won't stick to the peel.
Pizza peels can be either metal or wood, the latter being more traditional. I personally have a pizza peel with a long handle, to keep my hands away from the heat, but you can get away with one that has a shorter handle.
Turning peel
The smaller cousin to the pizza peel; the turning peel is used specifically to turn the pizza while it's still in the oven. A turning peel is generally made out of metal, and has a smaller diameter, so you can lift one edge of the pizza, and pull it around inside the oven.
As almost all of the best pizza ovens have their flame sources on one side, you'll need to rotate your pizza at least once while it's cooking. Otherwise, you'll end up with half the crust that's burned to ashes, and the other half that's undercooked.
A turning peel isn't completely necessary — you can always use a regular peel to pull the pizza out and rotate it with your hand — but the turning peel lets you keep the pie in the oven.
Infrared thermometer
One of the keys to making sure your pizzas come out perfect is to have a hot pizza stone. But while some pizza ovens have built-in thermometers, they can't tell you the temperature of the stone itself. That's where an infrared thermometer comes in: Simply aim it at the stone, and you can measure the temperature from a safe distance.
You'll want a thermometer that can measure temperatures upwards of 700 degrees, as the best pizza ovens can get that hot, and hotter. As a bonus, infrared thermometers double as great cat toys.
Pizza cutter
Once your pizza comes out of the oven, you'll need a good pizza cutter to slice it up. You'll want a slicer that has a good handle and a sturdy and large enough wheel so that you can cut through all kinds of slices: Neapolitan, Sicilian, grandma, and yes, even Chicago-style.
When cutting through a pizza, start at one edge, press down firmly, and then apply a good amount of pressure as you roll it across the pie.
Cutting board
Once a pizza comes out of the oven, you'll need some place to set it down so you can cut it into pieces. You can use one of the best cutting boards, but I would recommend getting one specific to the task — and one that will make for a nice presentation when you bring your pizza to the table.
There are a good number of circular cutting boards online, so you can find one that best suits your needs. I would advise against using your pizza peel as a cutting board — you don't want to accidentally break it, nor do you want to get sauce and melted cheese on it, as that will make it much harder to use the next time you want to make a pizza.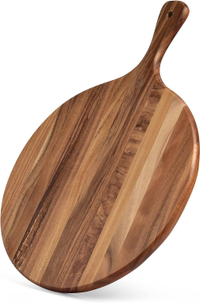 Kiteiscat Acacia Wood Round cutting board with handle
You can pretty much choose the cutting board you like best, but this acacia board has a lovely finish, can accommodate pizzas up to 12 inches in diameter, and only costs $15. The company also makes a bamboo cutting board. Obviously, if you have a pizza oven that can make 16-inch pies, you'll want to find a board that's larger.
More from Tom's Guide