Hogwarts Legacy is the first (non-mobile) game set in the Wizarding World of Harry Potter for more than a decade, and it's already delighting scores of wannabe witches and wizards with its fully realized recreation of the iconic magical school and its hundreds of quests and collectibles.
The game does a pretty good job of introducing you to all the basics of both combat and exploration, but there are a few essential tips that aren't covered in the introductory stages. So to help assist you on your adventure, I've compiled this handy guide. After more than 40 hours of playtime, I've got a good handle on the fundamentals and I'm here to share with you everything I wish I knew before starting Hogwarts Legacy for myself.
Whether you're an experienced gamer or a relative newbie drawn in by the promise of finally being able to attend wizard school for yourself, these are the nine Hogwarts Legacy tips you need to keep in mind as you begin your quest to become a wizarding whiz.
Focus on the main quest initially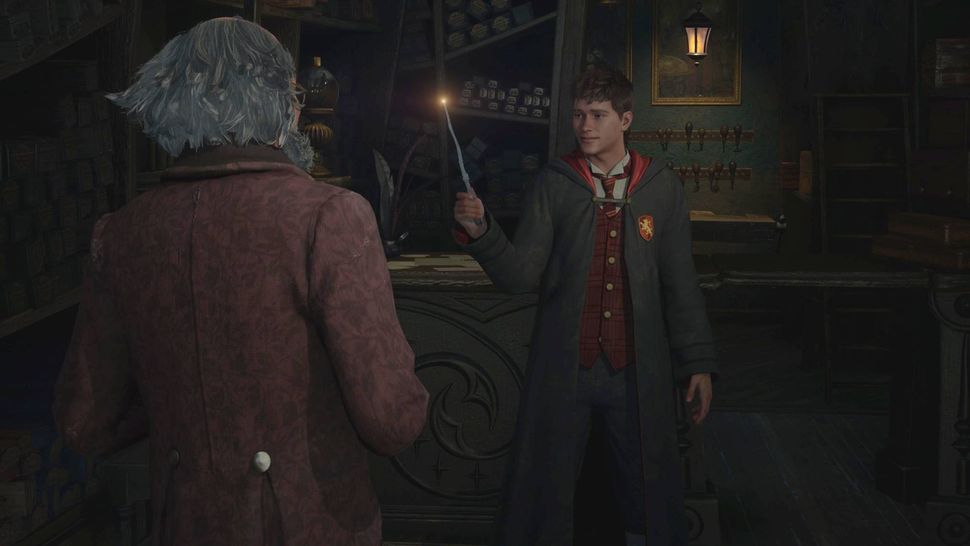 In a massive open-world game like Hogwarts Legacy, it's always tempting to venture off the beaten path as soon as possible, but in this case, it's beneficial to resist the urge. That's because many of the skills and spells required for proper open-world exploration aren't unlocked until you've completed a fair chunk of the main quest.
For example, you don't even unlock the ability to fly on a broom until you've completed more than a dozen critical story chapters. And the Room of Requirement, which acts as your sort of home base at Hogwarts, takes a similar amount of time to open up to the player. If you begin exploring the open world too early you're only likely to get frustrated as you'll mostly encounter puzzles and dungeons that you're not yet equipped to handle.
I recommend sticking on the critical path at least until you've unlocked the Map Chamber — you'll know when this is as you get a Trophy/Achievement for it. By this point in the game, you'll have many of the essential skills/spells and can start roaming the countryside with confidence.
Complete class assignments quick
As mentioned above, initially in Hogwarts Legacy you'll be lacking many of the spells needed to properly explore the game's open world, and this means that unlocking new magical incantations should be your top priority.
You primarily unlock new spells by completing assignments for your school teachers. These will be automatically added to the quest log as you progress through the game's critical path, and when you spot on you should immediately attempt to complete it as a first priority.
The good news is that most class assignments are relatively straightforward and usually ask you to do things you were probably doing already — like use a certain spell in combat, or pick up a particular type of material — but be sure you're not neglecting them. Learning new spells is a fundamental part of becoming a top-tier wizard or witch after all.
Collect field guide pages to level up
If you need to level up fast, perhaps because you've collected some gear that you're too low-level to wear, or because you want to unlock some additional spell slots via the game's skill tree, then collecting field guide pages is the quickest way to earn lots of XP in a matter of minutes.
There are 150 field guide pages to be found in Hogwarts castle alone along, with a further 55 in Hogsmeade village, and more still in the surrounding Highlands area. Cast the Revelio spell just about anywhere in the castle and it's likely a page or two will be revealed. Scoop these up for a quick XP boost, and you'll quickly find yourself breezing through the first dozen or so character levels.
Stupefy is your best friend in battles
Stupefy is one of the most powerful tools in your spell book, and you conveniently have it unlocked from the very start. To cast this stunning spell, you need to parry an incoming attack using the Protego shield charm, and then continue to hold the parry button (triangle on PS5, Y on Xbox Series X) and you'll cast Stupefy automatically.
It should be noted that Stupefy will automatically target the enemy you're currently locked to which may not necessarily be the enemy whose attack you've just blocked. But this quirk can be used to your advantage. For example, when a weaker enemy attacks, parry their spell and fire Stupefy back at a more dangerous threat like an elevated Dark Wizard or damage-dealing Troll to give you some breathing room.
Plus, be sure to upgrade Stupefy once you unlock the talent tree. You can modify the spell to also curse enemies, deal damage of its own and even get an upgrade that lets you fire off two stunners at once for double the effectiveness.
Pick up loot after battles
Unlike some games, in Hogwarts Legacy, you don't automatically pick up loot. This means that after large-scale enemy encounters the battlefield with be strewn with all sorts of goodies from your fallen foes. It can be a little tedious at times, but make sure you're picking up all the valuable loot dropped by enemies. Usually, this will consist of healing potions or crafting materials, but sometimes more powerful enemies will drop useful gear that could be just the upgrade you were looking for.
Grow and brew items rather than buy them
While money in Hogwarts Legacy isn't too difficult to come by — especially once you unlock the ability to "rescue" and sell wild animals — it's still highly recommended that you opt to brew positions and grow your own magical plants rather than buy them outright from vendors in Hogsmeade. This will keep your galleons freed up for more important, and permanent, purchases.
Eventually, you'll be able to set up your own cauldrons and potting stations in the Room of Requirement. But even before then, you can use the pot in the Herbology classroom and the cauldron in the Potions classroom. Fortunately, both of these locations have fast travel locations next to them, so you can jump to them in an instant in between quests.
You'll find most of the supplies you need to start brewing magical elixirs while out on your adventures and through exploration. But you'll need to buy seeds from the Dogweed and Deathcap shop in Hogsmeade if you want to start growing plants such as Venomous Tentacula and Chinese Chomping Cabbages for yourself.
Sell everything you don't need
Throughout your time with Hogwarts Legacy, you will pick up hundreds of pieces of gear, from colorful scarfs to dapper robes, but don't grow attached to your extended wardrobe — if you're not wearing a piece of gear, sell it as soon as possible.
Selling unneeded gear is one of the main ways to grow your bank balance in Hogwarts Legacy, and is essential if you want to buy some of the more pricey items like broom upgrades. Don't worry if you come across a piece of gear that you like the look of but is surplus to requirements. Thanks to the game's comprehensive transmog system, you can set your appearance independent of what gear you have equipped. And even after you sell an item you can still pick its look from the Change Appearance tab located in the Gear screen.
And an extra tip for players on PS5, once you become the owner of your own shop in Hogsmeade upon completion of the exclusive quest called Minding Your Own Business, be sure to sell everything here as you'll get the best price possible.
Complete Merlin Trials for new gear slots
Hogwarts Legacy is bizarrely stingy with the number of gear slots it gives you at first. In fact, after just a few quests you'll probably find yourself running out of storage space and unable to collect any more loot. This is another reason it's important to always be selling unneeded gear as discussed above.
Fortunately, you can increase your inventory space by completing Merlin Trials. These are little environmental puzzles that are marked with a small leaf icon on your map. Completing these will allow you to unlock more gear slots via the Challenge menu. And while each new set of slots requires a great number of Merlin Trials to be completed to unlock, the first gear slots upgrade only requires you to beat three trials which shouldn't take long at all.
You'll unlock the ability to complete Merlin Trials after completing the main story quest called Trials of Merlin, which comes automatically after meeting the Griffyndor companion Natty in the Girl from Uagadou quest.
Spend talent points wisely
Talent points are effectively Hogwarts Legacy's version of skill points. They allow you to increase the effectiveness of spells and unlock useful new abilities. But be warned, it's not possible to unlock every single talent in one playthrough so spend your points wisely.
There are 48 total talents in the game's skill tree and 40 levels, so there are a handful of skills you'll need to forgo. And there is currently no way to respec your character or reallocate a point once it's been spent. So before committing to an upgrade make sure to consider if it's something you definitely want.
For that reason, don't feel the need to immediately spend points as you earn them. I found it useful to bank several points, particularly in the early stages of the game, as I was still determining which spells best suited my playstyle. Once I had figured out my favorites I focused on upgrading them first.