This year has already seen a tidal wave of excellent PS5 SSD deals, but Amazon just blew the competition away with a seriously massive saving on the top-rated Samsung 980 Pro.
Right now, the Samsung 980 Pro 1TB is on sale for $99 at Amazon. That's more than half-off its full retail price of $229 (although it typically sells for around $159). It should come as no surprise that this is the lowest price ever for this Samsung SSD, and even better this is the model that comes with a heatsink which is a requirement for any PS5-compatible drive.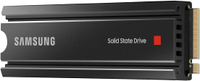 Samsung 980 Pro 1TB SSD w/ heatsink: was $229 now $99 @ Amazon
The Samsung 980 Pro SSD is fully compatible with Sony's PS5. It takes just minutes to add to the console's storage expansion slot and will significantly boost your hard drive allowing you to store dozens of games at once. This 1TB model also comes with a heatsink preinstalled so is ready for use with your PS5 console straight out of the box.
The Samsung 980 Pro is a practically-permanent fixture in our roundup of the best PS5 internal SSDs. And while it's not been granted officially-licensed status by Sony like the WD_Black SN850, Samsung itself has confirmed it's fully compatible with the PS5 console. That's because the Samsung 980 Pro comfortably meets all of Sony's specifications for a PS5 SSD.
If Samsung's own testing doesn't put your mind at ease, there are literally hundreds of firsthand accounts online from PS5 owners who are using this SSD in their console without any issues whatsoever. So, this is definitely a PS5 drive you can buy with full confidence.
Even better, as noted above, Amazon has discounted the model that comes with a heatsink pre-installed. This is important because Sony advises that any SSD added to the PS5's Storage Expansion Slot should have a heatsink to prevent overheating. You can buy the Samsung 980 Pro standalone and attach a third-party heatsink yourself. But by buying it pre-assembled you save yourself a lot of hassle and will have an SSD that's ready to go out of the box.
Another awesome advantage of installing an internal PS5 SSD in your console is that it doesn't require the removal of the stock hard drive. That means if you add this 1TB Samsung SSD to your PS5, you'll get all that extra storage alongside the 667GBs of space that comes as standard. With roughly 1.6TBs of hard drive space, you'll have plenty of room to install dozens of the best PS5 games — and you'll likely have room left over for upcoming releases like Dead Island 2 and Star Wars Jedi: Survivor.
Purchasing a PS5 SSD used to be a hugely expensive investment — I paid more than $270 for my 1TB Western Digital model back in 2021— but prices have dramatically fallen in recent months, and this Samsung 980 Pro deal is the best bargain we've spotted yet. However, if you want even more storage to play with Amazon is selling a 2TB Cosair PS5 SSD for just $154. That's the cheapest price for a 2TB PS5 SSD we've ever seen.