Kindle fans everywhere, this is big news. The Kindle Scribe has just seen its first ever price cut. If you've been waiting for a sale, now's your opportunity!
The Kindle Scribe is on sale for $294 at Amazon right now. That's the lowest price ever for this e-reader, and one of the best Amazon deals you can currently get.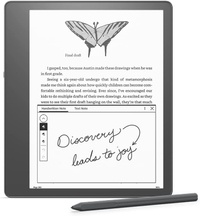 Kindle Scribe: was $339 now $294 @ Amazon
The Kindle Scribe is the first Amazon e-reader you can write on. It has a 10.2-inch 300 ppi display, an adjustable light, and comes with the Basic Pen included. You can handwrite sticky notes on your Kindle books, edit documents, and create notebooks and journals.
While we've yet to review the Kindle Scribe, it looks to be a very promising device. It has the same 300ppi Paperwhite display as our best Kindle, the Kindle Paperwhite (2021), as well as a big, bright 10.2-inch screen and USB-C charging.
Also included is an adjustable warm front light. That should make the Kindle Scribe a perfect device for bedtime reading. And you'll get a 4-month membership to Kindle Unlimited with the device, so you'll have plenty of reading material.
The main draw to the Kindle Scribe is the fact that you can write on it. Using the Basic or Premium Pen, you can apply handwritten sticky notes to your books. You can also use the Kindle Scribe as a digital notebook, where you can write and organise notes or lists.
You can choose between a Basic Pen or a Premium Pen with your e-reader. The Basic Pen is just what it sounds like — a simple stylus that can be used to write on the Kindle's screen. The Premium Pen comes with an eraser and a programmable button on the side that can be set to quickly undo, highlight, and more. Best of all, the Basic Pen and the Premium Pen don't need to be charged (we're looking at you, Apple Pencil.)
The main feature the Kindle Scribe lacks is a waterproof rating. However, as long as you don't plan on using the device poolside or in the bath, the Kindle Scribe looks perfect for people who want to read and take notes by hand.
Looking for more sales? Check out our January sales coverage for the best deals this month.