If your PS5 is running dangerously low on storage space, you'll want to invest in one of the best PS5 internal SSDs. While these used to be seriously expensive accessories, in recent months they have rapidly dropped in price — and we've just spotted a new all-time low price for a popular Samsung model.
Right now, the Samsung 980 Pro 1TB SSD w/ heatsink is just $79 at Amazon. This is the new lowest-ever price for the PS5-compatible drive and beats its previous cheapest price of $109 which we reported on earlier this year.
This Amazon deal also represents a significant reduction compared to the SSD's launch price, which was set at an eyewatering $229. Now at this new all-time low price, the Samsung 980 Pro is one of the best-value PS5 SSDs available.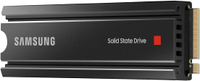 Samsung 980 Pro 1TB SSD w/ heatsink: was $229 now $79 @ Amazon
The Samsung 980 Pro SSD is fully compatible with Sony's PS5. It takes just minutes to add to the console's storage expansion slot and will significantly boost your hard drive allowing you to store dozens of games at once. This 1TB model also comes with a heatsink preinstalled so is ready for use with your PS5 console straight out of the box.
The Samsung 980 Pro currently features in our guide to the best PS5 internal SSDs. While it's not an officially-licensed PlayStation product, it comfortably meets all of Sony's requirements for a compatible SSD. And if that doesn't put your mind at ease, we've tested the 980 Pro in a PS5 ourselves and can confirm that it's a great pick if you're looking for additional console storage without spending a small fortune.
The model highlighted here comes with a pre-installed heatsink, and while the standalone drive is currently cheaper at just $66 on Amazon, we strongly advise opting for the model with a heatsink. That's because Sony recommends any SSD added to the PS5's storage expansion slot comes with some form of cooling. And while you could purchase a separate third-party heatsink and attach it yourself, buying a pre-configured model is a lot more convenient, and saves you from having to worry about picking a heatsink that fits in the console's SSD bay.
Don't forget that when you install a new SSD on the PS5, it doesn't replace the console's existing storage. That means that adding this Samsung 980 Pro SSD will give you a whole extra 1TB of hard drive space in addition to the 667GBs that come as standard. That will give you more than enough room to install plenty of the best PS5 games, and you should even have space to spare for any sizeable updates or patches down the road.
However, if an extra 1TB still isn't enough for you, Western Digital has just launched a new PS5 SSD that is available up to 4TB in size. It's called the WD_Black SN850P SSD, and it's been designed specifically for the PS5 and has received a seal of approval from Sony. It's a seriously speedy drive, but it comes with a price tag to match, the 4TB model costs a whopping $549 — that's the same price as a PSVR 2 and more expensive than the PS5 console itself. So, if you want the best value, we recommend scoring this Samsung 980 Pro deal while it's still in stock.