Western Digital has announced a new PS5 SSD for its range of console-compatible drives, and while it offers pretty impressive speeds, it comes at a seriously high cost.
The new WD_Black SN850P NVMe SSD is an officially-licensed PS5 accessory and has been designed with Sony's current-gen console in mind. This new Western Digital SSD offers a read speed of 7300MB/s and a write speed of 6300MB/s, which is a fairly significant step up from its predecessor, the WD_Black SN850 SSD (read 7000MB/s, write 5300MB/s).
The SN850P also comes attached to a redesigned heatsink Western Digital notes has been "optimized specifically for the PS5." The SSD is also available in a larger 4TB size whereas the SN850 was only available up to 2TB. However, while a 4TB WD_Black SN850P will more than quadruple your PS5 storage capacity, it comes at an eyewatering cost of $549. That's $50 more than the console itself and is the same price as the PSVR 2.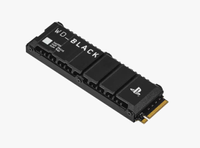 WD_Black 4TB SN850P NVMe SSD: $549 @ Western Digital
The latest PS5-compatible SSD from Western Digital is the WD_Black SN850P drive and it packs impressive read (7300MB/s) and write speeds (6300MB/s) and is available in up to 4TB in size. This SSD and its preinstalled heatsink have been designed specifically for the PS5, and it's an officially-licensed console accessory. A 4TB model costs $549, but a smaller 1TB version retail for just $149.
The WD_Black SN850P SSD is also available in 1TB and 2TB models and these retail at slightly more palatable prices. The 1TB costs $149 while the 2TB is $229. These prices are easier to swallow but they are still significantly more expensive than the WD_Black SN850 SSD. For example, during last month's Memorial Day sales, we saw the 1TB SN850 SSD drop to a new lowest price ever of just $79.
We haven't been able to test the WD_Black SN850P SSD ourselves just yet, but its precursor does make our list of the best PS5 internal SSDs, and we expect it's another high-quality storage option from Western Digital. However, unless you desperately need a whole lot of additional hard drive space immediately, it might be worth waiting for a price drop, because $549 isn't exactly the most attractive pricepoint for a console accessory.
Fortunately, PS5 SSDs have historically dropped in price reasonably quickly. In fact, less than two years ago, a WD_Black 1TB SN850 SSD would set you back $270, but the best-selling drive can now be purchased for almost $200 less when on sale.
This is one of the key advantages of the PS5's open storage expansion system. While Microsoft opted for a priority solution with the Xbox Series X, which has kept the cost of Xbox Expansion Cards relatively high, we've seen PS5 SSDs quickly drop in price as manufacturers such as Western Digital, Samsung and Corsair all compete to offer the best value for money.
More from Tom's Guide