This week Sony confirmed that it's sold more than 40 million PS5 units worldwide, and the company is celebrating that milestone by offering the first major discount on the console in various regions including the U.K. as part of its ongoing Summer Sale promotion.
Right now, the PS5 is on sale for £404 at various retailers including Amazon, PlayStation Direct and Argos. However, one retailer is offering an even bigger discount, the PS5 is on sale for £399 at Currys. That's a total saving of £79 and the lowest price we've ever seen for Sony's flagship gaming console. This deal is confirmed to run until Thursday, August 10.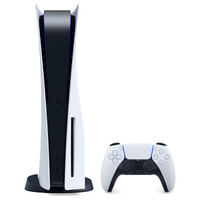 PS5: was £479 now £399 @ Currys
The PS5 is one of the most popular gaming devices on the market, and the next generation of Sony's iconic PlayStation. It sports a 4K UDH Blu-ray disc drive, a lightning-quick custom SSD and an innovative DualSense controller. It's fully adapted for cutting-edge gaming. And it's just received its first major price drop since its release in November 2020, it's now available for just £399 which is a £79 saving compared to its full RRP.
At this point, the PS5 needs no introduction. The current-gen console has spent the last three years being one of the most popular tech items you can buy, and for its first two years on the market just finding PS5 restock was a nearly impossible task. Fortunately, stock levels have since stabilized and we've now reached the point where Sony is willing to slice money off the machine in order to entice newcomers into the PlayStation ecosystem.
If you want to know more about the console before purchasing, be sure to check out our full PS5 review where we called it a "true generational leap" and praised it for "offering incredibly fast load times and an innovative new controller that can change the way games feel." While the PS5 vs Xbox Series X debate rages on, and there's really not a definitive answer, we can comfortably say that the PS5 is an excellent gaming device that has now built up a deep library of must-play titles. Check out our best PS5 games ranking to find out what you should play first.
And the good news for gamers picking up their first PS5 is that the PlayStation Summer Sale is also slashing the prices of the console's best games. From Elden Ring to Horizon Forbidden West, you can use this £79 saving to pick up a couple of PS5 games that will keep you busy for dozens, if not hundreds, of hours. Or, you could instead use the saving to upgrade your console's storage space with a new PS5 SSD, such as the WD_Black 1TB SN850X which is on sale for £77 at Amazon.