The Philips Hue Gradient Ambiance Lightstrip (phew!), is comfortably the best accessory I've ever bought for a TV. It's currently on sale in a nice little Black Friday deal, and if you want to take your viewing/gaming experience to the next level, I'd highly recommend picking one up.
Right now, the Philips Hue Play Gradient 65" TV LED Lightstrip is on sale for $215 at Walmart. That's down from its usual $269, making for a decent $54 saving. If you're in the UK and really want to push the boat out on Philips' wall-illuminating tech, you can buy the Philips Hue Play HDMI Sync Box Bundle for £343 at Amazon. Its normal listing price is £399, so that's a cool saving of £56.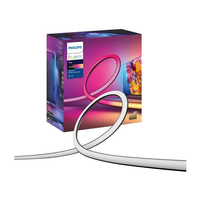 Philips Hue Play Gradient 65" TV LED Lightstrip: was $289 now $215 @ Walmart
I've been using the 77-inch version of this lightstrip for over two years, and I'm absolutely obsessed with it. This slightly smaller 65-inch LED strip will fit TVs between 65-70 inches. It comes with handy plastic adhesive holders that let you easily align and attach the lightstrip to the back of your TV. Philips has done a terrific job with its Hue Play app, meaning it's easy to change the colors appearing behind your TV with a couple of clicks on your phone or tablet.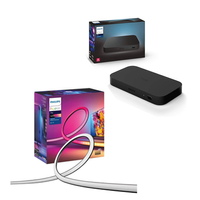 Philips Hue Play HDMI Sync Box Bundle: was £399 now £343 @ Amazon
I've been using a version of this bundle ever since I bought my first 77-inch LG OLED TV. Your £343 gets you a 55-inch Philips Hue Gradient Lightbar and the company's Hue Play Sync Box. Pair this with the Philips Hue Bridge which is on sale at Amazon for £45 (reduced from £50) and you've got all the kit you need to sync the colors of the lightbar with whatever shades are flashing across your TV screen.
And the Philips Hue Sync Box truly is transformational when paired with the Hue Gradient Lightstrip. By purchasing a separate Philips Hue Bridge (Amazon UK link here), it allows you to plug your favorite streaming box or games console to the sync box, which in turn will make the lightbar replicate whatever colors are occurring on screen. It's just annoying that this HDMI splitter is rarely discounted, even though it's been out for several years at this point — Amazon currently has it listed at its normal $249 price tag.
You can tone down or ramp up how strong the hue-mimicking effect is. Personally, I like its Extreme intensity setting in Game Mode when playing the best PS5 games, then dial it down to the more subtle Moderate intensity option when watching movies or shows through my Apple 4K (2022).
You can tweak these settings easily through the Philips Hue or Hue Sync app on your mobile device, and both are a breeze to use on my iPhone Pro 14. The former is great if you can't afford Philips' sync box, as while the Hue Gradient Lightbar can't mimic on-screen colors without the accompanying HDMI splitter, you can still choose from a variety of tasteful color presets.
If you visit the Hue Scene Gallery in the app, you can switch between a whole host of multicolored profiles to set a distinct ambiance that can compliment whatever content you're watching. Feeling festive and want to watch some of the best Hallmark Christmas movies? then go for one of the 'Under the Tree', Nutcracker, 'Jolly' or 'Festive fun' presets.
As someone who likes to bathe their living room wall in steely blues, I normally go for 'Arctic Aurora' if my eyes are a little too tired to keep up with the flashing LED effects created when you pair the Hue Gradient Lightbar with its optional sync box.
Philips room-illuminating accessory really is brilliant, and as incredible as my LG G3 OLED is – make sure to check out our LG Black Friday TV deals – I can barely imagine using my incredible TV without Philips' amazing lightbar.