When it comes to the best microphones we've ever tested, the JLab Talk is right up there towards the top. But without a doubt, it's our best microphone that you can regularly find under $100 and now that low price just got a massive discount.
Right now, you can get the JLab talk at Amazon for just $69. That's a massive 30% discount on what was already an affordably priced microphone. And given that it can go toe to toe with the Blue Yeti — which costs $30 more even with a discount — this is officially the best value microphone you can get right now.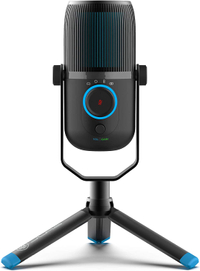 JLab Talk microphone: was $99 now $69 @ Amazon
The Editor's Choice JLab Talk is one of the best microphones we've ever tested and it can hold its own extremely well with our top choice — the Blue Yeti. In our JLab Talk review, we said it produces excellent audio quality and its multiple directional patterns are great, though the bidirectional mode is just a bit underwhelming. But for $69, this is officially the best value you can get for a microphone.
The JLab Talk is a great microphone. Whether you check out our guide to the best streaming microphones, the best podcasting microphones, the best USB microphones or the best gaming microphones, you'll find the JLab in the top choices, usually only behind the Blue Yeti.
In fact, we even gave it our Editor's Choice award, rating it 4.5 out of 5 stars in our JLab Talk review. Despite its budget label, the Talk produces good recording quality, features multiple directional patterns and is very user-friendly. If you're just starting in podcasting or streaming, its plug-and-play USB design will make it a great starting choice until you're ready to upgrade to something like the Rode PodMic, which is fantastic but is not an ideal beginner's microphone.
That's not to say the Talk is perfect. It's a little underpowered compared to the Blue Yeti and its bidirectional mode is a bit underwhelming. But its cardioid and omnidirectional can hold their own with the Yeti and as a former podcaster, I can tell you that those two modes are almost always more than enough.
Plus at $69, there really isn't a better choice for the money. The Yeti simply isn't worth spending $30 more, and it'll be tough to get better quality sound without upgrading to a mic that uses an XLR interface, which is much more complicated than the JLab Talk's USB interface.
If you are at all interested in getting one of the best microphones we've ever tested, just get the JLab Talk now for $30 off and don't regret it later. You're not likely to find a better deal than this any time soon.