When you're 20 miles into a marathon, absolutely everything starts to annoy you — the sound of your feet on the concrete, the runner next to you, hell, even your breathing. With that in mind, it's a miracle my Beats Powerbeats Pro are still here, five marathons later — they're comfortable, cord-free, and have brilliant sound quality.
The best part is that the Beats Powerbeats Pro are $100 off now at Amazon. This is easily one of the best Prime Day deals I've seen so far.
I've run thousands of miles with the Powerbeats Pro, and they are my go-to on race day for a number of different reasons I'll discuss below, but if you're shopping for a pair of the best running headphones this Prime Day, this is a deal you shouldn't skip.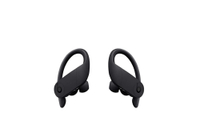 Beats Powerbeats Pro: was $249 now $149 @ Amazon
The Beats Powerbeats Pro is currently included in the Amazon Prime Day sale, with $100 off right now. The headphones come with a charging case to extend the battery life, and are on sale in the black and ivory colorways. Plus, if you're as accident-prone as I am, Amazon gives you the option to add two years of Apple Care for $29.
One huge benefit of the Powerbeats Pro from a running perspective is the lack of an annoying cord bouncing against the back of your neck as you run. I've lobbed a number of different corded headphones on race day when they've become tangled in my necklace, or ponytail. Plus, if you want to soak up the atmosphere and listen to the crowds cheering you on, you can easily remove one earbud and tuck it in your pocket, while still listening to music with the other.
Another big selling point is the battery life — each earbud has 9 hours of battery life (enough to get you around 26.2 miles), plus the charging case provides an additional 18 hours of battery life, so you can easily travel to a race without having to worry about your charger.
The earbuds themselves are a joy to control — you pause and play songs, take and reject calls, trigger Siri, and control the volume without having to reach for your phone. If you take an earbud out, the music will pause, but you can resume it by clicking on the other earbud. They are some of the most intuitive headphones I've run with, and I've never had to pause mid-run to fiddle with them.
Finally, whether I'm running with 49,000 other runners, or training on my own in my local park, I want to be able to hear what's going on around me. The Powerbeats Pro doesn't have noise-canceling, but for any sport, that's a good thing. I've run miles with these headphones feeling safe knowing that I can still hear the traffic and other runners approaching from behind. They're my go-to, and today is a great time to buy.
Not for you? Check out the best running shoe deals on Prime Day here, as well as the one Garmin running watch I'd buy in the Prime Day sale. Plus, be sure to check out all the best sales in our Prime Day deals live blog.