If I got a dollar every time someone asked me for running shoe advice, I'd probably be able to buy a second pair of the Nike Vaporfly Next% 2 on sale right now. One of the best things about my job as a fitness editor is testing some of the best running shoes on the market, and the best of the best has $100 off right now in the Nike Summer sale.
These carbon fiber running shoes are designed to get you across the line with a personal record. So if you're gearing up for a marathon, this is a sale worth snapping up today.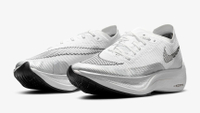 Nike Vaporfly Next% 2: was $250 now $149 @ Nike
The Nike Vaporfly Next% 2 is a race-day running shoe. The sale is on the men's colorways and sizes, although the shoe has unisex sizing, so some women might still be able to shop. The sale is on lime green and orange, green, black and purple colorways. There are a range of sizes still in stock.
If you're looking for a shoe to wear as you go on a gentle run around your local park, this isn't it. Nike has designed the Vaporfly Next% 2 to propel you across the finish line in your fastest time yet. The shoe has a full-length carbon fiber plate, which is super-responsive, and helps you pick up the pace as you move. There's also a thick wedge of Nike's ZoomX midsole foam, which is designed to be super-cushioned and bouncy underfoot.
Some testers have described this shoe as feeling like you're running on a trampoline and I'd have to agree. I made a last-minute decision to run in the Vaporfly Next% 2 for my fourth marathon and ended up beating my personal best by 6 minutes. Of course, it's not all down to the shoes. But my feet didn't rub or hurt once and I felt great running in them for 26.2 miles, having only worn them for a few speed sessions in training.
If you could bottle the feeling of putting on the Nike Vaporfly Next% 2 for the first time, I'm convinced it would be enough to persuade even non-runners to sign up for their first race. If you can afford it, this shoe will help you run faster and even get that PR you've been dreaming of. It's definitely expensive, and of course, isn't an alternative to training and fuelling well, but it's a fantastic shoe to race anything from a 10K to a marathon in. It's also a lot cheaper now the Vaporfly Next% 3 has been released, so grab a bargain while you can.
Still not convinced? Read my Nike Vaporfly Next% 2 review here.