The Swiss performance sportswear company, On, started out in 2010 with the mission to revolutionize the running world. Since seeing major success with their unique pod-soled trainers, they have branched out beyond just making some of the best running shoes. You can buy all sorts of top-quality run wear and one of my personal favorites, the Women's Zero Jacket, is 39% off right now in the On Running Black Friday sale.

So if you're in the market for a premium lightweight, weatherproof running jacket in this year's early Black Friday deals, I highly recommend getting the On Women's Zero Jacket for just $97 at Dick's Sporting Goods right now. All sizes are still available in the color black, which is the color I own, and I love how I can match it with anything. And you can get Twilight in everything except small.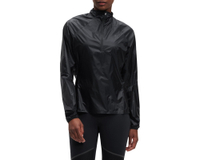 On Women's Zero Jacket: was $159 now $97 @ DICK's Sporting Goods
On refer to this jacket as 'practically weightless' and since training in one I can vouch for this. This 52g waterproof jacket feels as though I am wearing a bag of feathers on my runs and keeps the cold out when I'm training in wet and windy conditions. This is a great deal to gift yourself or get for a running loved one ahead of the holidays!
Why get the On Women's Zero jacket this Black Friday? Well, it's on sale for less than $100, that's more than $60 cheaper than the original retail price. Deals like this don't come around often and running wear, especially the pieces that genuinely keep you protected from the outdoor elements, don't come cheap. So it's an excellent time to treat you or a family member who loves running to this great deal.

I am someone who doesn't enjoy the cold and training in the cold but I also don't like overheating once I've settled into the first few miles of a run. This is a big reason why I have fallen in love with the On Zero jacket. It not only fights off galeforce winds and keeps me dry while running but it also doesn't let me get too hot.
The featherlight jacket features ventilated underarms which keep things airy and dry when I do start to work up a sweat. Plus, it's made from recycled polyamide (a material usually made from pre-consumer fabric waste) so it's great for my running experience and it's great for the planet — a win-win situation.

Looking to scoop up some more Black Friday deals? Check out my favorite Lululemon running shorts on sale right now or find some bargains in the Adidas Black Friday sale happening now.