Looking for a sale on one of the best TVs on the market? I search for TV deals every day, and this one is huge.
The Samsung 65-inch S95B QD-OLED is $1,797 at Amazon right now. This is a huge $1,200 off its usual asking price. I recommend snapping it up fast. However, if it sells out, you can also get this TV at Best Buy for $1,799.
Update: As of March 20 this Samsung OLED TV deal is still in stock.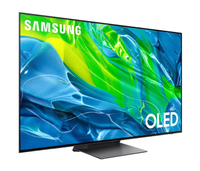 Samsung 65" S95B 4K OLED TV: was $2,997 now $1,797 @ Amazon
If you're looking for a next-gen TV experience, Samsung's first-ever QD-OLED is now $1,200 cheaper. This TV delivers the best of both QLED and OLED TVs in a single package, and it's great for gamers thanks to its four HDMI 2.1 ports that support 4K at 120Hz. In our Samsung S95B OLED 4K Smart TV review, we said it largely delivers on performance though it doesn't provide those perfect black levels of a pure OLED TV (especially if you're in a room with minor ambient light). If this deal sells out, you can also get it from Best Buy for $1,799.
Want the best aspects of LED and OLED TVs in one package? The Samsung S95B QD-OLED is the TV you're looking for, with the brightness of an LED and the picture quality of an OLED. We were so impressed with this TV in our Samsung S95B OLED review that we named it one of the best TVs on the market right now.
This is Samsung's first QD-OLED TV, and they pretty much smashed it out of the park. The S95B delivers rich, vibrant colors, covering 99.8% of the UHDA-P3 color gamut and offering an impressive 1,050 nits of brightness in SDR mode.
The downside to this TV is that unlike a regular OLED TV, the Samsung S95B sacrifices true blacks for this improved brightness. However, this TV still delivers very strong picture quality and contrast, so it's a flaw that's easy to forgive.
We were also pleased with this TVs audio out of the box. It produced crisp, clear audio with no distortion and solid bass. Unless you're serious about audio, you won't need to grab one of the best soundbars.
The Samsung S95B is a great TV for gaming, too. We recorded a very low lag time of 9.2 ms, and there's full support for HDMI 2.1 as well as a 120Hz refresh rate.
The Samsung S95B QD-OLED is one of the best TVs you can buy, and it's only got better after this huge price cut. Still looking for your perfect TV? Stay tuned to our OLED TV deals coverage.