I've been shopping at Amazon since 1999. I've also been a Prime member for the past 10 years. Over that time, I've learned dozens of tricks to get the most from my Amazon purchases. Whether it's taking advantage of Amazon's trade-in program or using my Prime membership to get free delivery on other sites, there are plenty of simple Amazon hacks you can use to stretch your dollar at Amazon.
Sure, Amazon is known for its epic deals, but as deals editor at Tom's Guide, I've found that Amazon doesn't always offers the best deals. So I'm sharing my top five Amazon tricks to help you save on all of your Amazon purchases. While most of my tips will benefit Amazon Prime members, there are a few that non-members can take advantage of as well.
1. Use your Prime member benefits outside of Amazon
Prime member perks aren't limited to just Amazon.com. Members can also enjoy free shipping/returns at Amazon-owned properties like Whole Foods, Shopbop, Audible, and Zappos. In the case of Zappos and Whole Foods, members can enjoy access to Prime member-only deals. However, my personal favorite perk come courtesy of Amazon/GrubHub. Prime members can get a free year of GrubHub Plus ($119 value). Existing GrubHub Plus members can take advantage of this deal to extend their current membership on Amazon's dime.
2. Shop the Amazon Outlet/Overstock store
Chances are you're well aware of the Amazon Warehouse Store. But did you know there's also an Amazon Outlet homepage. While the former sells refurbished and pre-owned devices, the Amazon Outlet store lets you buy overstock and clearance items at discounts of up to 50% off. This little known corner of Amazon's website offers deals on everything from electronics to fashion. Remember, most of these items are devices that aren't selling on Amazon. However, after a quick browse through the Amazon Outlet store, I spotted deals on a few premium brands like Adidas, Under Armour, Riedel and Kenneth Cole.
3. Use "Subscribe & Save" on household purchases
While I would love to save 50% on all of my Amazon purchases, the truth is that sometimes the best Amazon deals come in small packages. Take, for instance, Amazon Subscribe & Save. This free service offers you a discount when you set up regularly scheduled deliveries. The more scheduled deliveries you set up, the more you save. You'll save up to 10% when you schedule between one to four deliveries or up to 15% when you schedule five or more subscriptions in one delivery.
I use Subscribe & Save on household items like laundry detergent and paper towels. But you can use it on a wide range of items. Make sure to browse the Subscribe & Save homepage to see what items qualify. Additionally, Amazon has a Subscribe & Save coupons page where you can see current sales/promo codes on Subscribe & Save items.
Pro tip: If you don't like the idea of having things auto-shipped to your home, you can customize your settings to ship from once every two weeks to once every six months. Alternatively, you can set your Subscribe & Save order, get your 15% in savings, and then cancel future Subscribe & Save orders. That way Amazon won't auto-ship (and auto-charge) you for future items.
4. Trade-in your old devices for Amazon credits
I currently own a 3rd-gen Amazon Echo and 3rd-gen Echo Dot. At some point this year, I will likely trade-in one or both of these devices when Amazon unveils its new Alexa hardware. Anyone can do this via Amazon's Trade-In Store. You'll get an Amazon credit for the device you're trading in plus an extra 25% off select Amazon Echo devices.
Pro tip: If you want to save big, you can perform this trade-in when the Amazon device you want is on sale. (Prime Day 2023 will be here before you know it, hint, hint). In addition to Amazon devices, you can also trade in Bluetooth speakers, headphones, and gaming hardware.
5. Always look for Amazon coupons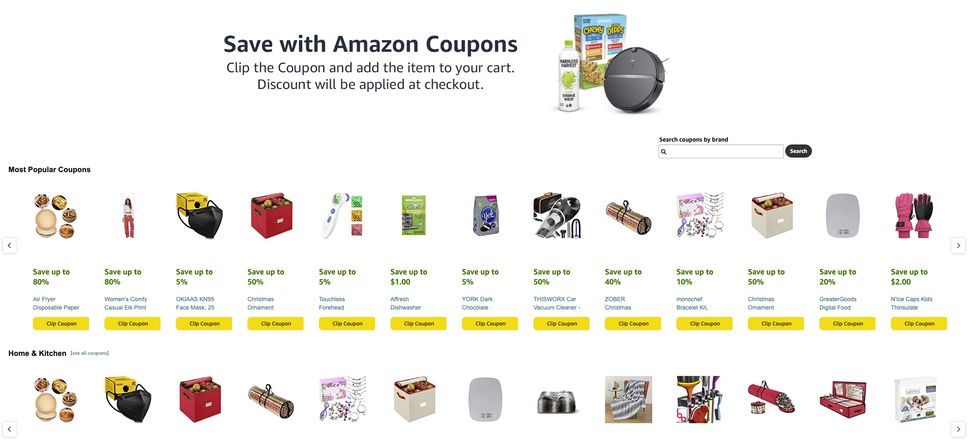 Every day there are countless of Amazon promo codes you can use to save on your Amazon purchases. At times, the coupons will automatically be applied during checkout. Other times, you'll have to manually select the coupon box to make sure you get the discount. The trick here is that it's very easy to overlook the digital coupons. When available, you'll see a tiny radio box underneath the Amazon price. Click the box and the coupon will be applied at checkout. It's such an easy trick, but it's also very easy to overlook.
More from Tom's Guide