9 Tips for Dominating Gears of War 4 Multiplayer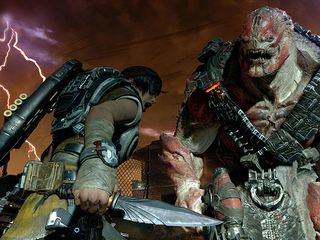 9 Tips for Dominating Gears of War 4 Multiplayer
Gears of War 4 is finally here, and if you're a competitive player, you now have a whole slew of maps and modes to slaughter your buddies on. The cover-based action of Gears multiplayer makes it a unique beast compared to other shooters, and if you're new to the series, there's a lot you'll need to learn to avoid taking constant shotgun blasts to the head. Likewise, Gears 4 introduces some key new mechanics that hardened veterans will have to get used to. Here are some tips for getting started in Gears of War 4 multiplayer; note that these pointers are focused around Gears' versus modes, but also largely apply to the cooperative Horde mode.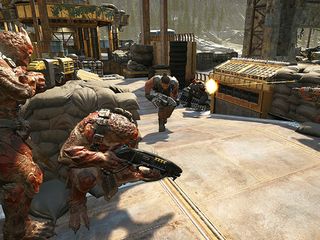 Take Cover!
If you're not taking cover in Gears of War, you're going to die fast. Tapping the A button slams you into nearby cover, and you can move in and out of different cover spots by pressing the button while moving the analog stick in different directions. Taking cover is a great way to heal up after you've suffered damage, but don't stay in the same spot too long — your enemies will find you.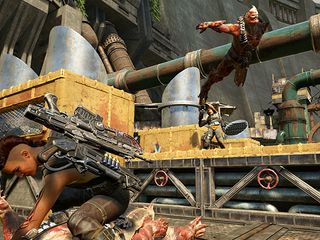 Mastering Movement
Without a doubt, having good movement is the most essential part of dominating at Gears multiplayer. One of the most important Gears techniques is the "wall bounce," in which you perform an evasion move the second you hit cover, or even a few seconds before.
For example, when running toward the edge of a piece of cover, you can press A once to cling to the wall, and then immediately press and hold A again once you hit the wall to bounce off of it and keep your momentum going. You can also cancel the animation of moving into cover by holding back or pressing A in a different direction, which can throw your opponents off. You have a myriad of ways to cancel in and out of cover, so you should spend as much time as possible practicing wall bounces in offline matches.
You should also take note of the new vaulting ability, which lets you quickly hop over cover by tapping B while running. Once you master these methods, you'll be speeding through each map like a beefy war-ninja.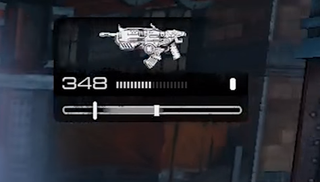 Active Reloading
Mastering Gears of War's signature active-reload system is key to getting an edge on your opponent. To perform an active reload, you tap the RB button, and then tap it once more as soon as your reload marker hits the whited-out area on your ammo meter. If it lands in the slim white area, you'll score a perfect active reload that gives you a damage boost. If you hit the grey area, you'll still reload faster, but with no bonus.
You can active reload even when your ammo is full, so there's always a chance to get a damage boost. Be careful not to miss your active reloads, or you'll get stuck in a long animation that leaves you vulnerable.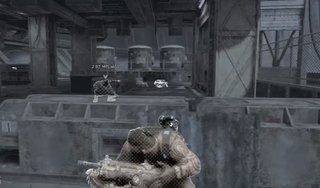 Know Your Surroundings
Your Tac-Com (accessible by pressing LB) is one of the most important tools in your arsenal, as it will point out the location of both your teammates and any power weapons on the map. A huge part of winning matches in Gears is securing these weapons, because powerful tools such as the Boomshot and Torque Bow can turn the tide of battle.
The better you memorize weapon-spawn locations, the more dangerous you'll be. And while it should go without saying, stick with your teammates! You're far less likely to die (and can get revived) if you're not flying solo.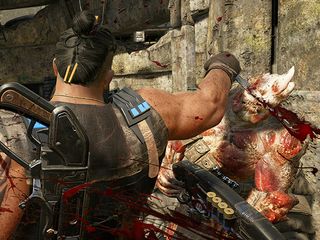 Kick Ass in Close-Quarter Combat
Gears 4 introduces two new, key close-quarter moves that you'll need to master: the Vault Kick and the Yank. To Vault Kick, run toward cover and press B to kick an opponent on the other side. To Yank, hold forward and press X when your opponent is on the other side of cover.
Both of these moves will temporarily stun your opponent, giving you a chance to perform a quick headshot or an instant execution when the Y-button prompt appears. Careful though — these moves can be countered with a well-timed press of the B button, so be sure to mix things up.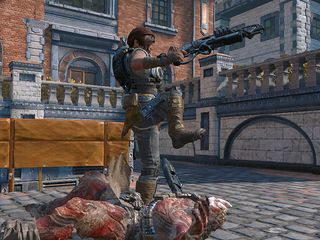 When in Doubt, Shotguns Out
Speaking of close quarters, you should get comfortable with almost always having your Gnasher shotgun out. This is the ultimate tool for winning close encounters, and you should have it ready if opponents are remotely close by. You can even blind-fire it from cover for a surprise headshot; just play close attention to where your barrel is facing.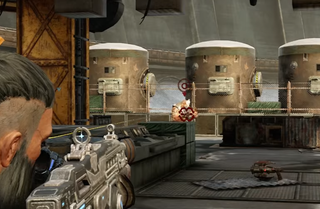 Spot Your Enemies
Spotting your enemies allows your whole team to find them, which becomes especially key at the end of a close death match. To spot an enemy, simply aim at the individual and click in the left analog stick.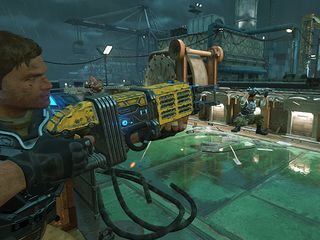 Experiment with Control Schemes
Gears of War's default control scheme is second-nature for many, but it still makes moving and running at the same time feel pretty cumbersome. Fortunately, the game offers a few other button layouts, including an Alternate scheme that lets you use the left bumper to run while keeping both of your thumbs on the joysticks. If you have a pro pad such as the Elite Wireless Controller, you can experiment and map running to one of the rear paddles. Find what works best for you.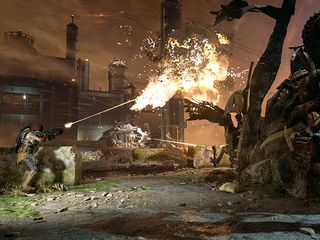 Practice Without Pressure
If you're not ready for live competition, Gears of War 4 offers a few options for practicing pressure-free. You can set up a private multiplayer match against bots, or enter the co-op versus playlist that lets you and your friends take on AI enemies. These modes are great for practicing techniques and learning the layout of each map without getting headshotted by a 13-year-old saying foul things about your mother.