Best High-Tech Cars on the Road in 2017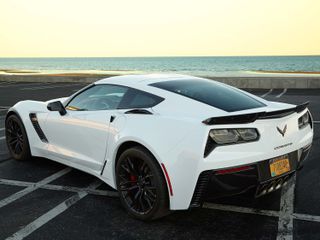 With several automakers promising to deliver self-driving cars as early as 2020, car companies are pushing semiautonomous features more this year than ever before. More models can steer themselves down the road with active lane keeping, for example, and some cars not only park themselves but even help you find a parking spot.
Most of the technology is aimed at improving safety, but there's new competition in the electric-car space as well. And as always, there's plenty of tech designed to boost driving pleasure. Here are the current leaders in the high-tech road race.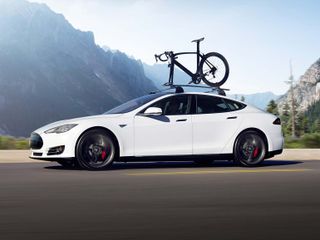 Tesla Model S P100D (from $145,800)
What started as a tour de force of electric performance (0 to 60 mph in less than 3 seconds) has been transformed into a showcase for semiautonomous driving. For this year, the Tesla Model S has completely revamped the hardware and software for its Autopilot feature. An Nvidia-based machine learning system backs up a new array of eight video cameras, 12 short-range ultrasonic sensors and forward-facing radar. The latest software update limits the semiauto driving mode to a maximum speed of 45 mph and will slow down the car if you don't heed its warnings to put your hands back on the wheel after a few seconds. Tesla hopes to increase the semiauto driving speeds later this year.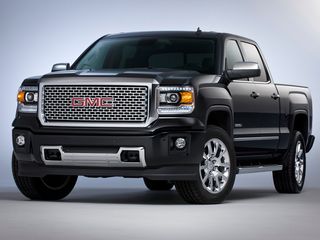 Sierra 1500 Denali (from $51,190)
Pickup trucks are much better behaved these days than they used to be. The Sierra Denali model includes high-tech appointments such as a wireless charging pad, collision warnings and automatic high-beams. A nifty Bose sound system uses active noise-cancellation to keep the cabin comfortable, and although this truck is as wide as a grizzly, drivers will quickly master its girth thanks to haptic vibrations in the seat that tell you when you're straying too far left or right (without alerting your passengers).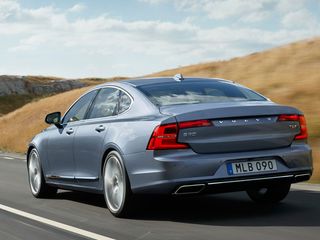 Volvo S90 (from $46,950)
The Volvo S90 has more standard safety technology than any other vehicle on the road: pedestrian, cyclist and large-animal detection; lane keeping and auto braking up to 80 mph; and road-edge detection. Throw in bending headlights that illuminate curves; parking assist; and a 9-inch, touch-screen-based, connected car system and you've got a winner.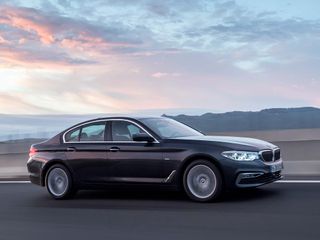 2018 BMW 5 Series (from $51,200 to $81,900)
Most of what's new in the BMW 5 Series is beneath the skin. To its gesture-recognition touch-screen system with Apple CarPlay support (from the 7 Series), BMW has added predictive on-street parking information and garage-space booking with ParkNow. You can park perpendicularly while standing outside the car by using the key fob as a remote control, and there's Alexa support for making remote commands from home, plus a 360-degree camera view that you can see on a smartphone. Semiautonomous features include lane keeping and auto stop and start in traffic for those days when it's less about handling and more about getting to your destination.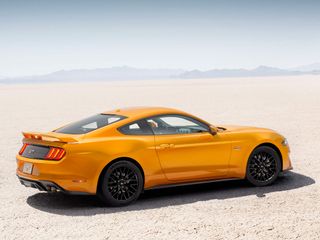 2018 Ford Mustang (pricing to be announced)
Technology comes to American muscle cars with the 2018 Ford Mustang. It's the first time the automaker is putting a 12-inch, customizable LCD instrument cluster in the car, with a system that memorizes your preferences (including suspension and drive settings). It will also feature Alexa support ("Mustang, start your engine!"), and the sports car now includes safety tech such as a pedestrian detection system with lane-keeping assist and distance alerts. The Mustang has a new 10-speed automatic option that smooths the ride and is so fast it will embarrass manual shifters. Topping it off, the car has an optional engine audio enhancement that delivers a throaty roar.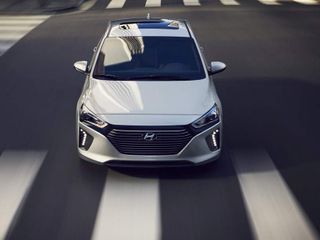 2017 Hyundai Ioniq (pricing to be announced)
There's a new mpg leader in hybrids this year: the Hyundai Ioniq Blue, which has a 58-mpg combined rating from the Environmental Protection Agency. Not green enough for you? There's an electric-only version that should go 124 miles between charges, as well as a plug-in hybrid version (gas/electric, like the Chevy Volt) coming later this year that will go 27 miles on battery power before the gas engine kicks in. The Ioniq is as slippery as a Tesla Model S, with a drag coefficient of 0.24, and uses an active air shutter in the front grille. Of course, there's also a welter of tech safety features, including auto braking with pedestrian detection.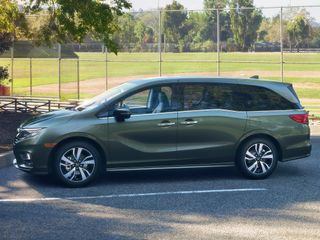 2018 Honda Odyssey (pricing to be announced)
Minivans may not be cool, but the brand-new 2018 Odyssey is definitely smart. Honda has outfitted it with an interior ceiling video camera that lets the driver or front passenger see what's happening in the back seats (night or day) via the 8-inch in-dash touch screen. Press another on-screen button, and the driver can use the front microphone and rear speakers (or passenger's wireless headphones) to talk to rowdy kids in the back without raising his or her voice ("Don't make me stop this car.") In back, kids can do an "are-we-there-yet" check on your trip progress via a 10.2-inch screen, and a smartphone app lets them control their own heat and A/C, as well as launch personal playlists.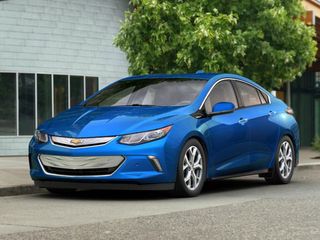 Chevrolet Volt (from $35,690)
Much maligned for initial marketing missteps, the second-gen Chevy Volt nevertheless represents a technical milestone thanks to its plug-in, hybrid design that can run like an EV (up to 53 miles) but use gas when that runs out. Result: no range anxiety. Proving this car's technological leadership, there will be a slew of copycat designs introduced this year, including models from the likes of Hyundai and Toyota.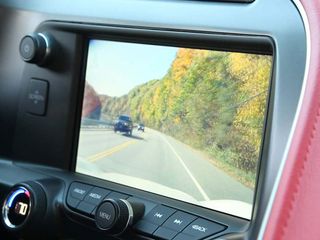 Corvette Stingray Coupe (from $56,395)
The first car to add a built-in GoPro-style video camera, this Corvette is a blast to drive. The sports car's 720p performance-data and video recorder has modes for the track (rpm and lap times included), fun (speed and G force) and touring (outside temperature and elevation). It's probably not a good idea to post videos of overly energetic drives, but when you're not hammering the throttle, there's the in-dash, 8-inch, touch-screen system that includes Apple's CarPlay to keep you entertained.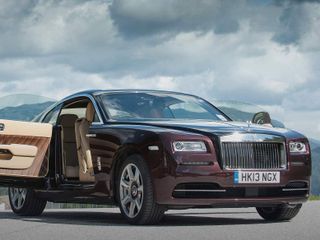 Rolls-Royce Wraith ($398,350 as tested)
Supple yet powerful, this Rolls-Royce has a 6.6-liter V12 engine and a 600-watt sound system that's pretty darn swell. But the tech highlight in this bespoke beast is a satellite-assisted transmission. It uses topographic information about the road ahead to automatically adjust the shifting of the car for smooth mountain ascents and easy downhills. Nifty feature: If the exterior temperature dips below 37 degrees Fahrenheit, an alert lets you know there's an increased risk of ice on the road.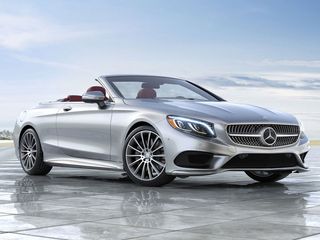 Mercedes-Benz S-Class Cabriolet (from $132,325)
Possibly the sweetest luxury convertible available, the new baby Benz comes with an array of safety tech that keeps this car ahead of the competition. Systems anticipate impacts, and there's pedestrian detection, auto braking, cross-traffic detection, a night-vision system, active lane-keeping and a rollover-protection system with roof bars that are automatically triggered by yaw sensors.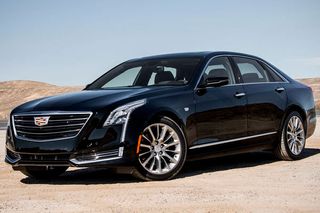 Cadillac CT6 (MSRP to be announced)
Cadillac is cooler than you may think. Witness not only Apple CarPlay and Android Auto support, but also the first "rear camera mirror" in the CT6 that at the flick of a switch turns the rearview mirror into a full rear-video display that eliminates blind spots. For use under all driving conditions, the 1280 x 240-pixel display uses an HD camera for a clear streaming view of what's behind you on the road.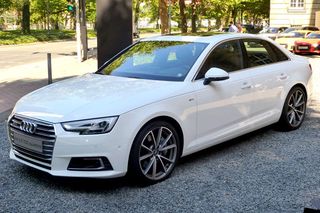 Audi A4 (from $48,700)
Audi has revamped the A4, making tech like pedestrian- and vehicle-collision warning and auto braking standard. There's also Apple CarPlay and Android Auto, but most impressive is an optional 12.3-inch "virtual cockpit" multifunction instrument cluster. Drivers can set it to show a dynamic arrangement of personalized data ranging from navigation and music info to traffic alerts and 3D Google Earth graphics.