The 10 Best Cars of the 2018 New York International Auto Show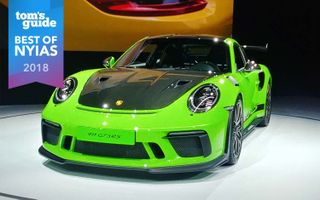 The 10 Best Cars of the 2018 New York International Auto Show
Car shows are becoming somewhat schizophrenic affairs, with high-tech and electrified vehicles trotted out alongside massive, horsepower-hectoring SUVs. But increasingly, that horsepower is also coming from battery packs — along with a healthy injection of advanced safety features. From Jaguar's first electric SUV and a 258-mph supercar to vehicles with Alexa skills galore, here's the best of the best from the New York International Auto Show.
Credit: Tom's Guide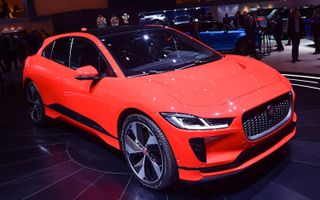 2019 Jaguar I-PACE
Making its North American debut, the I-Pace is an all-electric, compact, five-seat SUV. In a short, race-between-the-flashing-pylons test drive, the all-wheel-drive car demonstrated smile-inducing agility and acceleration. It's definitely a Jaguar, with a sensuous interior, dual LCD screens for handling the 4G-connected systems and a voluptuous exterior. Jaguar says this car will get 240 miles on a single charge, with the base model starting at $69,500. And the company is working with Waymo on autonomous versions of the I-Pace.
Credit: Fabrice Coffrini/AFP/Getty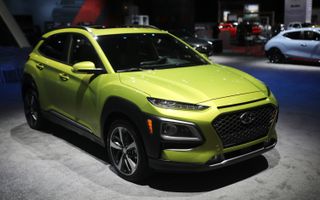 2019 Hyundai Kona
Electric cars used to be basic boxes on wheels, but Hyundai's new Kona is anything but. It will have a 250-mile range on a single charge and come with a raft of high-tech options, including a head-up display, smart phone remote controls, auto braking, lane-keeping assist, and support for CarPlay and Android Auto. The Kona arrives this fall, and with tax incentives, it is expected to cost less than $30,000.
Credit: Atilgan Ozdil/Anadolu Agency/Getty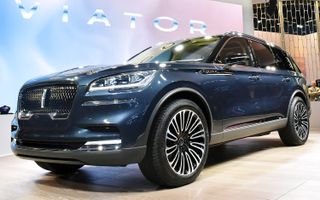 2019 Lincoln Aviator
Taking its cues from the Howard Hughes era of elegant air travel, the all-new Lincoln Aviator is an SUV with the latest technical accoutrement. It starts with the smart phone app that doubles as a key to the SUV (no fob needed). Next come Alexa skills that not only control features in the car but can also call home to turn on the lights. And there are advanced safety systems like auto braking for pedestrians and reverse auto braking to prevent those embarrassing parking-lot fender benders. Lincoln is also promising a plug-in hybrid version of the Aviator.
Credit: Sam VarnHagen/Lincoln Motor Co.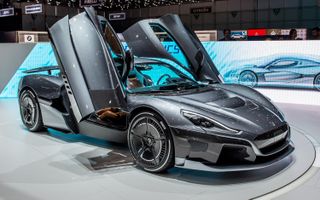 Rimac C_Two
Dubbed an electric "hypercar," the $2 million-plus Rimac C_Two made its North American debut as perhaps the most photographed exotic at the show. A carbon shell with active aerodynamic flaps and butterfly doors, the sports car has four motors to generate roughly 1,900 horsepower, a 0-to-60-mph time of just 1.85 seconds and a top speed of 258 mph.
Of course, with all that power, you'll want to take this car on the track, so Rimac will load selected racetracks into the C_Two's onboard computer, along with a virtual driving coach to tell you when to brake and accelerate — a "very practical application," the company says. Right.
Credit: Robert Hradil/Getty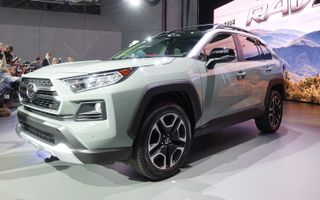 2019 Toyota RAV4
The new Toyota RAV4 is the fifth generation of the small SUV. Yes, the new vehicle includes the Entune 3.0 in-dash system (now supporting Apple CarPlay, but not Android Auto), Wi-Fi and an available 11-speaker JBL sound system. But what garners Toyota the "best of" nod is that the company makes its high-tech safety package standard equipment. This package includes not only collision-mitigation systems but also a new sign-recognition feature that can alert drivers to pay attention to yields and speed limits.
Credit: Tom's Guide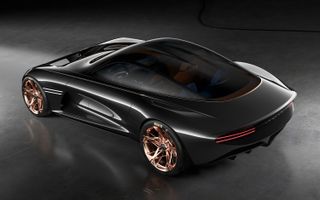 Best Concept: Genesis Essentia
Fantastic fantasies are always a part of the auto show, and the wildest this year is the Genesis Essentia concept car. With a single-piece hood and windshield, carbon-fiber body panels and scissor doors, the electric car envisions an autonomous future. Loaded with technology like fingerprint and face-recognition biometrics (no more keys), the Essentia is designed to be the transportation cocoon of the future with voice recognition and enough smarts to understand its passengers' moods. Naturally, it's a speed demon, too: 0 to 60 mph in 3 seconds.
Credit: Genesis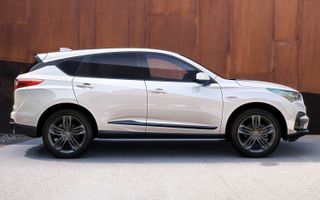 2019 Acura RDX
Acura has a reputation for pushing the limits of the human-machine interfaces in cars, which is not always a good thing. The brand-new RDX may finally get that interface right. For interactions with all its infotainment options, the 10-speed AWD crossover uses something the company calls a True Touchpad interface. Rather than having to lean forward to use a touch screen, a driver accesses the touchpad under their hand on the center armrest. Acura has also added physical dials for adjusting settings like the A/C and volume. A safety-tech package that includes auto braking, lane-keeping assist and rear cross traffic alert is standard.
Credit: Acura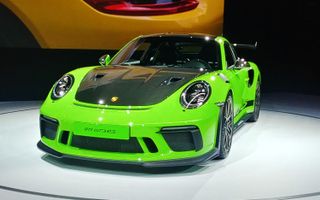 2019 Porsche 911 GT3 Weissach Edition
What's a car show without a new Porsche? The Weissach version of the racy 911 GT3 is named after the place where Porsche does its R&D. The engineers this time have worked to cut the weight of the 911 (using lots of carbon-fiber pieces) and up the horsepower to 540 HP (that's 20 more than in the standard GT3). It took a lot of finicky technical work to get the car lighter for better handling and a 0-to-60 time of 3 seconds. For all this engineering, you'll pay about $220,000, but that's a bargain compared to the Rimac and the Bugatti.
Credit: Tom's Guide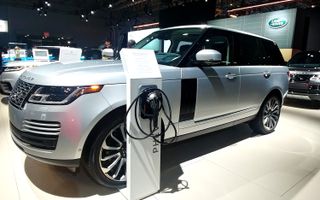 2019 Range Rover PHEV
If you want to spend a lot of green on going green, Land Rover has the SUV for you: the plug-in hybrid version of the 2019 Range Rover. Initial reviews are positive — even about the vehicle's nearly silent electric off-roading — and the lux SUV still offers plenty of performance, such as a top speed of 137 mph. Land Rover says the SUV can go up to 31 miles in pure electric mode.
While its onboard features, like navigation and remote options, may seem pedestrian by today's standards, the 825-watt Meridian Surround Sound system should keep owners happy. The base model starts at $95,150.
Credit: Tom's Guide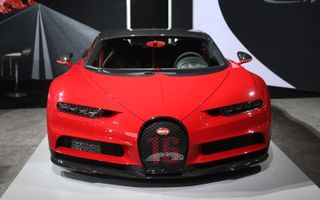 Bugatti Chiron Sport
The Bugatti Chiron Sport is the new 1,500-horsepower version of the $3.26 million supercar, now making its North American debut. The hand-built two-seater is supposed to offer improved handling and make its way around twisty tracks with more panache. While Bugatti can't match the 0-to-60 acceleration of the Rimac (the Chiron is tardy at 2.5 seconds), Bugatti's car has a higher top speed of 261 mph. So what's with the "16" emblazoned on the front grill? That's how many cylinders the Chiron has.
Credit: Atilgan Ozdil/Anadolu Agency/Getty