Lenovo Chromebook Duet Specs
Price: $249 (64GB eMMC)
CPU: 2.0GHz octa-core MediaTek Helio P60T
Graphics: ARM G72 MP3
Display: 10.1 inches, 1920 x 1200 pixels
Memory: 4GB
Storage: 64GB eMMC, 128GB eMMC
Size: 9.64 x 6.66 x 0.71 inches (docked)
Weight: 2 pounds (docked)
Ports: USB-C
Wi-Fi: 802.11 a/b/g/n/ac
The Lenovo Chromebook Duet is, in a way, exactly what I've wanted Apple and Microsoft (among others) to release. It's a $249 tablet with a detachable keyboard that comes included by default, so you're not paying extra for the laptop experience. We're also pretty impressed by its fantastic battery life, as well as some neat new tablet optimizations for Chrome.
The biggest problem I found while writing this Lenovo Chromebook Duet review is that its typing experience is hampered by a weird keyboard layout and weak-feeling keys. That being said, the Lenovo Chromebook Duet's a must-consider for families looking for a shared device around the house; the low price tag, packed-in keyboard, and lengthy battery life effectively make it one of the best 2-in-1 laptops and best budget laptops you can buy when price is paramount.
Wondering about what's next for Chromebooks and laptops? The best laptops of CES 2021 include a gorgeous Chromebook from Samsung, the lightest ThinkPad ever and much more.
Lenovo Chromebook Duet review: Price and availability
The Lenovo Chromebook Duet came out in May 2020, with an original MSRP of $279.
Lenovo now sells the Chromebook Duet for $249, but you may be able to save on this price with one of our Lenovo coupon codes. A year of accidental damage protection bumps the default pricing up to $271. Consider combining it with a discount to stretch your budget further.
Lenovo Chromebook Duet review: Design
The Chromebook Duet is an all-in-one package, but you can see where some costs were cut to get to that $249 starting price. For example, the kickstand it uses to stand upright isn't as strong or rigid as that of the Surface Go 2.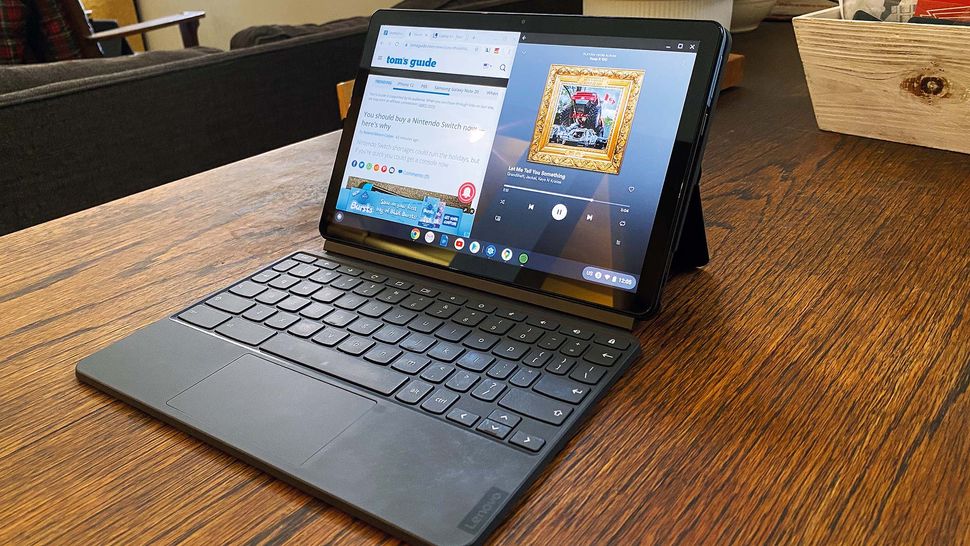 While its tablet shell is made of aluminum alloy — which is great, don't get me wrong — that material is hidden by the overall casing, as the back plate has a fabric material and its keyboard's underside is plastic. After attaching the keyboard and back cover piece to the tablet, and holding it in my hands, I immediately noticed how the keyboard didn't want to stay in place, and moved around as I held the docked tablet and keyboard in my hands.
The setup process, connecting the tablet, cover and keyboard, couldn't be easier. The fabric-covered back plate snaps on with strong magnets, and the keyboard attaches magnetically as well, connecting to the tablet via pogo pin connectors — just like the Surface Go Type Cover and iPad Smart Keyboard. Detaching the tablet from the cover and keyboard is one step too complicated, as you have to remove each item separately.
The Chromebook Duet's cover is necessary because you need its kickstand, which works most of the time but feels a little frustrating. Several times when trying to deploy the kickstand, I've pulled on the entire back plate, because the little edge where your fingers are supposed to grab onto for the kickstand is ever so slight, almost as if they're optimized for kids' fingers.
Minus the keyboard and back plate, the Chromebook Duet tablet measures 0.3 inches thick and weighs just under a pound. That's slightly lighter than the 2019 10.2-inch iPad (0.3 inches, 1.1 pounds) and the Surface Go 2 (1.2 pounds, 0.3 inches). Attached, the Chromebook Duet measures 0.7 inches thick and weighs 2.1 pounds, which makes it lighter than the Samsung Chromebook 4 (0.7 inches, 2.6 pounds).
Lenovo Chromebook Duet review: Ports
Lenovo's gone a bit light on ports, keeping it simple with only a single USB-C, which you'll use for charging and connecting any accessories, such as the included headphone adapter. Power and volume buttons sit on that same edge.
That USB-C port supported the USB-C hub I use to extend my MacBook Pro's display, providing a dual-screen experience and letting me use my wired keyboard and wireless mouse with the Duet. The only flaw I hit there was that keyboard shortcuts didn't work as anticipated, so I'd need to download a key mapping extension for customization.
Lenovo Chromebook Duet review: Display
Watching the Fast & Furious 9 trailer on the Chromebook Duet's 10.1-inch, 1920 x 1200-pixel panel, I noted crisp picture quality and solid color reproduction. The panel is sharp enough for me to see the interlocking links of Dom's silver chain (even when viewed from a distance) and his cherry red tractor rendered accurately. Similarly, forest ferns surrounding a humvee rendered in a verdant green and Dom's long-sleeve shirts bore a crisp white, as if they were fresh out of the wash.
Our colorimeter rates the Chromebook Duet as producing 106% of the sRGB spectrum, which is close to the 105% rating from the iPad and the 107% rating from the Surface Go 2. The Samsung Chromebook 4 notched a lowly 64%.
The Chromebook Duet emits up to 372 nits, which enables a wide range of viewing angles, as I saw colors only slightly darken when I viewed videos from over 30 degrees to the left and right. The Duet proved bright enough for clear picture quality, but not strong enough to eliminate the glare and reflections picked up from natural lighting in every spot in my apartment. The iPad (450 nits) and Surface Go 2 (408 nits) get brighter, while the Samsung Chromebook 4 is much dimmer.
Navigating the internet and Chrome OS, I found the Chromebook Duet's touchscreen display accurate at registering touches and swipes. Dragging icons around the screen, I noticed a little bit of lag, especially moving apps around the drawer, but it's the kind of performance issue you can accept at this price.
Lenovo Chromebook Duet review: Keyboard and touchpad
The Lenovo Chromebook Duet's keyboard will be great for some, and tricky for others. I clicked my way to 67 words per minute with 90 percent accuracy on the 10fastfingers typing test. That's a bit of a fall from my 80 wpm/98% averages, and I attribute those dips to the keys not having much feedback at all and how the layout feels a little cramped.
Those with smaller hands, especially children, might not mind the keyboard layout, but I quickly realized I'd have a tough time. That's because of the keyboard's comma, period, minus, equals, bracket, semicolon and apostrophe keys are all narrower than the normal keys. I'd probably adapt to it if a parent handed me this keyboard when I was a kid, but I have no affinity for this keyboard today.
The Chromebook Duet's 3.4 x 1.9-inch touchpad proved adequate at enabling scrolling web pages and navigating Chrome OS. I even discovered that ChromeOS has a "see all open apps" function, where you swipe up with three fingers.
Lenovo Chromebook Duet review: Audio
Listening to Fiona Apple's album "Fetch the Bolt-cutters," fill my relatively large living room on the Chromebook Duet, I made notes about the good, the bad, and the not-there. While her vocals were clear and crisp enough, high pitched instruments sounded a little sharp and the album's bass was non existent.
Lenovo Chromebook Duet review: Performance
The Chromebook Duet runs on a Mediatek Helio P60T 2.0GHz octa-core CPU and 4GB of RAM, which provides enough speed for light multitasking. I was worried about how poor it would perform (Mediatek processors have never inspired much confidence), so I started off slow, splitting my screen between a 1080p YouTube video of J. Kenji López-Alt cooking smashburgers and a few Chrome tabs.
The Duet stayed snappy and responsive as I moved between tabs and scrolled up and down. Performance stayed reliable as I added more tabs, including the Google Doc for this review. But once I hit 11 tabs open alongside cooking videos, the Duet started to lag. Tabs paused slightly while loading, as I navigated between them. The bigger frustration I found came while watching YouTube, as it took about 2.5 seconds for videos to resize.
Benchmark testing showed how the Chromebook Duet is outclassed by the slightly more expensive competitors. For example, the Duet earned a 5,526 on the Geekbench 4 general performance benchmark (running via Google Play emulation), which fell under the 6,815 from the Surface Go 2 (Intel 8th Gen Core m3 processor, 8GB of RAM), but above the 3,613 from the Samsung Chromebook 4 (Intel Celeron 3000N processor and 4GB of RAM).
On the JetStream 2 benchmark, which tests web browser application performance, the Chromebook Duet posted a 31.9. That's less than the 49 from the Samsung Chromebook 4, the 74.9 from the Surface Go 2 and a fraction of the iPad's 91.9. The WebXPRT 3 test, which tests with HTML5 and JavaScript-based scenarios, handed the Chromebook Duet a score of 58. The iPad (92) and Surface Go 2 (139) posted much higher scores.
To test its gaming chops, I downloaded two Android games: the cartoonish Alto's Adventure and the more-realistic Asphalt 9 racing game. While both ran at playable speeds (neither is exactly ultra demanding), the latter ran with a small stutter, even in its opening credits.
Lenovo Chromebook Duet review: Battery Life
The Chromebook Duet provides serious endurance, enough to be passed around the family all day long. On our battery test (web surfing at 150 nits), the Duet posted a time of 12 hours and 47 minutes, which beats the iPad (10:07), the Surface Go 2 (11:38) and the Samsung Chromebook 4 (10:36).
Lenovo Chromebook Duet review: Webcam and camera
Tablets are not great cameras, and neither is the Lenovo Chromebook Duet. Yes, even in the work from home era, the 2-megapixel front-facing camera is best described as adequate. Selfies I shot on the slate show that while you'll look recognizable, there won't be much detail, so don't expect this to be the device you shoot your quarantine vlog on.
The rear-mounted 8MP camera in the Duet is also not great, especially when daylight hits its sensors. When I took it outside for a brief walk in downtown Manhattan, all the shots I took were washed out or blown out, if the blue sky was involved. Only closeups of flowers looked at all decent, though they lacked detail, with a fuzzy look.
Lenovo Chromebook Duet review: ChromeOS evolves for tablets
Chrome OS' first big pivot was to Android apps, with Google Play access. The Lenovo Chromebook Duet marks the platform's push to touch, with tablet mode optimizations you'll only see when the keyboard is detached. My favorite of these features is the new tabs interface in Chrome. Tap the number box (a 1 inside a box, if you have no tabs) and you'll open up a row of tabs at the top of the screen, with a big + button for new tabs. It's a great way to make use of the large tablet screen.
Navigation gestures (edge swipes to go backwards and forwards) aren't really a big revelation, but I am happy to see that web apps in Chrome act like their mobile app counterparts. Take YouTube, for example, where taps on the left and right sides of the screen rewind and fast forward. I still want Desktop Chrome to offer this.
While you've been able to split the ChromeOS screen between two windows, they've added a new drag and drop way to do it. Swipe up from the bottom of the screen to see the black bar, which shows you all of your open windows. Then, drag open windows to each side of the screen.
Google Assistant's still proving clever in ChromeOS. The pair of far-field microphones in the Chromebook Duet make it easier to set things up by saying "OK, Google," and making some verbal commands. When I asked about my calendar appointments for the rest of the week, it even got a little cute, saying "At 6pm tomorrow you have yoga, namaste."
Lenovo Chromebook Duet review: Verdict
This Lenovo Chromebook Duet review shows why it should garner deserved attention for its value proposition, giving you a 2-in-1 with a solid screen and long endurance for less than the iPad or Surface Go 2 cost, before their keyboards. If only its keyboard weren't so cramped and its hinge felt a bit more solid.
Those who opt for the Surface Go 2 for its faster performance and superior 2-in-1 design, you'll be dropping about an hour of battery life and paying at least $221 more after throwing in the Type Cover keyboard. But for families looking for a device that everyone can use, from kids watching YouTube to parents drafting emails, the Lenovo Chromebook Duet is a compelling option.