Eva is an Australian company that designs its products locally, but sources the mattresses from a family-owned, China-based manufacturer. Eva doesn't just sell mattresses — it also has a big range of other related products, such as beds, bedding, bedside tables, couches, tables and more.
The Eva mattres lineup has two models — the original Comfort Classic mattress covered in this review, and the newer (but more expensive) Eva Premium Adapt mattress. Eva offers a typical 100-night trial period for the Comfort Classic, but bumps that up to a fantastic 365-night trial period with the Premium Adapt mattress, so you can have no worries about being stuck with a dud.
Eva sent us the King Size Comfort Classic mattress for this review, and we previously tested and reviewed the excellent Premium Adapt mattress in the same size.
Eva Comfort Classic Mattress review in brief
Zoned pocket springs
100-night trial
Decent edge support
Mattress preference and sleeping comfort can be a very personal experience, but Eva has attempted to create an all-round option that will suit the majority of sleepers without needing any extras. The Comfort Classic is rated as medium firm, but in practice feels softer than it is. The mattress comes in Single, King Single, Queen and King sizes - all of which are 32cm thick. The mattress is backed up by a 10-year warranty for peace of mind.
Eva Comfort Classic specs
Type: Foam upper layers over pocket springs
Materials: Foam, polyester, steel
Firmness: Medium-firm (7.5/10)
Height: 32cm
Trial period: 100-nights
Warranty: 10 years
RRP: AU$900 - AU$1,300
We tested the mattress through cool winter nights, but also simulated some balmy summer sleeping using a heater to ensure we tested all-season comfort. Overall, it is warm and snuggly when the weather is cold, but has enough breathability to keep you reasonably cool on hotter nights.
The Eva Comfort Classic has excellent edge support, which means you don't tend to roll towards the sides when getting in and out of bed, and can sit on the end or side of the bed without it sagging too far. Keep in mind the Comfort Classic is a very substantial mattress at 32cm thick, and weighing in at an above average 30kg for the Single, 38kg for the King Single, 45kg for the Double, 55kg for the Queen and 60kg for the King. Notably the mattress needs to be used on a solid base (including slats) — not on a sprung or adjustable bed base. You can use it on a gas-lift bed, but we found the weight threatened to overwhelm the mechanism.
Underneath the foam comfort layers, the Eva mattress uses a 5-zone pocket spring layer for the base support, with a focus on excellent spine alignment. We found the upper foam layers did an excellent job of transitioning support to the firm pocket springs, without creating any pressure zones. Movement isolation is also very good for a hybrid mattress, and only the most easily disturbed sleepers would have an issue.
Read on for our full thoughts but, all in all, the Eva Comfort Classic is a great option for those who just want a mattress that is simple and comfortable.
Eva Comfort Classic Mattress review: price and deals
A relatively affordable option
Free metro delivery and returns
100-night trial
The Eva Comfort Classic offers a lot of comfort considering the price, even if it doesn't have the swappable layer options of the Eva Premium Adapt mattress. And importantly, the most expensive Comfort Classic in a king costs the same as the cheapest Premium Adapt mattress in a double.
In the broader mattress market the pricing compares well to the similar-specced competition. Eva also offers options for flexible interest-free third-party finance using Afterpay, Zip or Humm.
Below is the current pricing for the Eva Comfort Classic Mattress in the various sizes:
Single: AU$900
King single: AU$1,000
Double: AU$1,100
Queen: AU$1,200
King: AU$1,300
To put that pricing into perspective, the Eva Premium Adapt mattress in double is AU$1,300 while the queen and king sizes cost AU$1,640 and AU$1,950 respectively.
The price of the Eva mattresses include free delivery during the week, or AU$40 for weekends. It also includes a 100-night trial period that starts the day you receive the mattress. If you do want to return the mattress during the trial period and live in a metro area, Eva will organise a free pickup by a charity. For those in regional areas (which includes Tasmania), Eva will refund you if the mattress is donated to an ACNC registered charity, or work to find another solution.
The Eva mattresses come with a 10-year warranty, which includes any sag more than 3.5cm with no weight applied. That's pretty standard, depending on the mattress type, and gives decent peace of mind that your Eva mattress is going to be comfortable for a long time. You do need to use the mattress on a solid slatted bed frame (no more than 8cm apart) — not a sprung or flexi slat frame.
Keep in mind that we have quoted RRPs for the prices given, but Eva often runs sales throughout the year that can save a decent amount of money. Eva also offers various bundle deals if you also want to buy other furniture such as a bed.
At the time of writing, Eva is hosting a Halloween sale, with up to AU$350 off the Comfort Classic Mattress.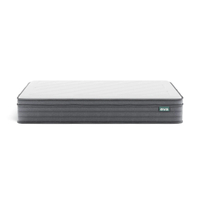 Eva Comfort Classic (queen) | AU$1,200 AU$850 (save AU$350)
The Classic Comfort is only one of two mattresses in Eva's range and is the cheaper model. Featuring a hybrid design that promises to provide good support and comfort, this discount makes the mattress quite affordable indeed. You can always try it for 100 nights to decide for yourself.
Eva Comfort Classic Mattress review: Materials
Breathable fabric top layer
Three varied foam support layers
5-zone pocket spring base support
While we have slept on some amazingly comfortable all-foam mattresses, pocket springs can typically better accommodate the varied support needed from head to toe. It often comes down to personal preference, but we have found that pocket springs also tend to give a bit more internal airflow, which aids warm sleepers. The downside is that pocket springs are generally heavier, and don't have the same deeper give and damping of motion transfer experienced with an all-foam mattress.
The Eva Comfort Classic has a fabric top cover, but since it is not removable, a breathable mattress protector should also be used. The underlying foam layers (from the top down) are made up of gel memory foam, premium latex foam and supportive density foam. Below that are the 5-zone pocket springs to provide underlying support but which still has some give. All the foams used are CertiPur-US certified materials, which means they are safe and non-toxic.
Eva Comfort Classic Mattress review: firmness and comfort
Medium firm comfort
Tom's Guide firmness rating of 7 out of 10
Excellent spine and overall support
Eva rates the Comfort Classic mattress as medium-firm, and harder than the medium-soft Premium Adapt mattress. Of course, softness feels different for everyone, and in our testing, the Comfort Classic generally comes across softer than the rating would suggest. As a contrast, we found the Premium Adapt mattress (in the default configuration) to be firmer than the rating suggested, due to the softer upper foam layers compressing until the pocket springs provided support. During testing we tried swapping directly from the Premium Adapt mattress to the Comfort Classic mattress, and found the latter very similar to the Premium Adapt, but after we had adjusted the layers to suit our preferences.
We also invited a range of other people to give the mattress a try, and the general consensus was that while it felt quite firm overall, it was very supportive without creating any pressure points. Spine alignment was excellent, and we had no problems adjusting to the mattress very quickly — though we had been sleeping on a similar mattress. Keep in mind that Eva recommends you sleep on the mattress for at least 30 days, because it can take a while to adjust, depending on your previous mattress.
We also tested the mattress with both a memory foam overlay, and a plush padded protector. While breathability is naturally reduced, the Comfort Classic mattress worked well with the toppers, and it's an effective way to add a little extra softness if needed. We also tested the mattress with an electric blanket, and had no specific issues — though the foam layers do tend to trap in the heat, so we found it best to run the electric blanket at a low power level.
Eva Comfort Classic Mattress review: performance
Relatively cool in hot weather
Minimal motion transfer
Great spine alignment
Some aspects of mattress comfort are very subjective, whereas other performance metrics are more easily quantified. We've gone through all the important factors below to help provide a deeper understanding of the features offered by the Eva Comfort Classic mattress, and how they might help improve your sleep experience.
Setup
Score: 3.5 / 5
For those who have not had the mattress-in-a-box adventure, it can be a fun experience. The Eva Comfort Classic mattress comes in a single large box, with a grab handle on one end and wheels on the other. Especially if opting for the King size, the box is a monster, and the whole thing weighs in at over 60kg. While it's delivered to your door, you do need to handle the rest, and having two people available is helpful.
While the Eva mattresses may be made of high-end materials, the box it comes in is a disappointment. We had a similar experience with the Eva Premium Adapt mattress, so we were prepared this time around. Our key complaint comes back to the mattress box wheels, which use external metal supports with exposed screws. This time the box didn't have any especially sharp edges, but the exposed metal supports can still easily scratch or damage floors, and we don't recommend wheeling it around inside unless being very careful. The handle on the box is also undersized considering the weight, so carrying the mattress before unboxing can be rather awkward. While the Eva Comfort mattress itself is very high quality, the box is a letdown compared to other mattress brands we have tested, which avoid having any exposed metal.
Getting the mattress out of the box, unwrapped and unrolled on the bed is not too tricky, and using the included cutter to open the plastic bag and let the mattress expand is always fun. The plastic bag over the mattress is quite thick, so we recommend cutting carefully at one end, so you can re-use the bag to cover and protect the mattress from dirt if moving it in the future. The mattress includes strong, well attached end handles, which are a big help during setup and tough enough to easily support the weight of the entire mattress. We do wish the mattress also had the same handles on the sides — especially in the larger sizes, where final positioning is easiest with someone on each side of the mattress.
One other quirk of the Eva mattresses is that it is recommended to be used on "flat, solid surfaces that provide air circulation". In other words, it should be used on a bed base with solid slats (no more than 8cm apart), and not on flexi or sprung slats, or adjustable bed bases. That's a reasonable recommendation, but keep in mind that your warranty is void if this recommendation is not followed, which means some buyers would also need to get a new bed, or install new slats.
The Eva Comfort Classic mattress is notably tall at 32cm, so you will need deep-sided sheets and mattress protectors. The mattress sizing is accurate, and meets Australian specs, but even so some sheets can be tight to fit. This is especially noticeable in a King size because many sheets are an undersize 180cm wide, whereas the mattress (and Australian standards) are for a 183cm width. On the plus side, once the sheets are on, they stay in place very well with no wrinkling. The mattress height also means it feels quite high on a bed (which this tall reviewer loves), though may not suit some buyers. The weight (up to 60kg for the King size) means that some lift-up beds with storage underneath may struggle with the mattress.
Off-gassing
Score: 5 / 5
Any volatiles trapped in with the mattress are released when it's opened, so a plastic type odour is not unexpected at first. The Eva Comfort Classic mattress is excellent in this regard, with very little smell, which very quickly dissipates. Eva recommends waiting at least three hours before sleeping on the mattress, and we found that by that stage there was almost no residual smell. After a day or two we couldn't smell anything even pressed right up to the surface.
The mattress is certified to use safe and non-toxic materials, so what little smell is produced is not harmful at all. The Comfort Classic mattress is rated to take about 48 hours to reach 90% of its final height, but it's perfectly comfortable and near indistinguishable from its final form after just a few hours.
Pressure relief
Score: 4.5 / 5
Two reviewers of different height and weight slept on the Eva Comfort Classic mattress during testing. Overall the mattress provided excellent pressure relief, even when side sleeping.
Spine alignment was also great — even for those who weigh more — due to the foam layers evenly spreading support into the zoned pocket springs. Both reviewers are prone to lower back pain and stiffness if using a mattress that does not help facilitate good sleep posture, and the Comfort Classic mattress did an admirable job of avoiding any issues.
Temperature regulation
Score: 4.5 / 5
Even with air-conditioning, a hot mattress can make a scorching Australian summer miserable. When cooler weather prevails, a lack of airflow or moisture wicking can quickly build up humidity, leading to clammy sleeping. Overall, we found the Eva Comfort Classic mattress did an excellent job of maintaining a steady sleep temperature across hot and cold nights. It's critical to use a breathable mattress protector (we favour cotton or bamboo) if you want a washable top layer, so as to avoid trapping heat in the underlying layers.

While not as breathable as specialty mattresses such as the Emma Zero Gravity mattress, the Comfort Classic does a good job overall — especially considering the price bracket. We found the comfy foam layers meant it tended very slightly towards a warmer feel, but not enough to cause any issues when sleeping within minimal covering, or build up of humidity during cold weather use.
Motion transfer
Score: 4.5 / 5
Overall the Eva Comfort Classic mattress does offer great decreasing motion transfer compared to older box spring mattresses or even lesser pocket spring models, but sleepers who are very easily disturbed might be better looking at a highly motion isolating foam mattress.
Normal movements in bed are quickly damped by the mattress, and rolling over or changing position doesn't cause significant movement for another sleeper. The mattress does use pocket springs right to the edge of the base layer, rather than having a layer of foam encasement. This meant that accidental sideways impacts to the springs when getting in and out of bed tend to be more easily felt throughout the mattress. That said, this issue is easily avoided by taking care when getting in and out of bed if a partner is sleeping. Using undersized sheets on the mattress is also best avoided, as the tight fabric can also transfer a bit of extra movement.
Edge support
Score: 4 / 5
The Eva Comfort Classic mattress has pocket springs all the way to the sides and end of the mattress, but still manages to give pretty good edge support. The mattress comes across quite solid when sitting on the end or sides, and you can sleep right to the edge without feeling like it sags downwards. The edge firmness is also enough to make getting on and off the mattress easy.
Importantly, the edge doesn't tend to pull in too far when under pressure, which helps give more even support. While the edge is still softer than a mattress with dedicated edge support (such as foam encasement), the Comfort Classic does a great job overall.
Durability
Score: 5 / 5
As expected, the Comfort Classic mattress showed zero signs of wear or sagging during our testing, and we have no doubt it will see out the 10-year warranty period (and longer) trouble free. The fabric is quite robust, the stitching uses strong thread, and the cover is reinforced where needed.
Importantly the end handles are thick fabric and very well attached, and are more than capable of being used to move the mattress. No amount of lifting, carrying, dragging and shaking the mattress by the handles could induce any separation in the stitching — an impressive result!
As the cover is not removable for washing, it's worth having a mattress protector just to make it easier to keep the mattress clean and fresh long term.
We also flipped, rotated and stood the mattress up to see how the internal layers flexed and moved, and found everything very well attached. There's no indication at all the Eva Comfort Classic mattress has any problem spots that may cause the need for a future warranty claim. Eva does recommend rotating the mattress end to end every few months, to help give even weight dispersion.
Eva Comfort Classic Mattress: user reviews
At the time of writing, on productreview.com.au (Australia's most popular consumer opinion site) the Eva Comfort Classic mattress has 1,067 reviews (808 of them 5 star), and an overall 4.5 star rating. That's an excellent result, and matches our experience testing the mattress. The reviews also give further insight into the things other customers find good and bad.
A common theme is praise for the overall comfort levels, as well as the affordable price, motion isolation and edge support. Eva customer service also gets a lot of praise, as does the returns process. Importantly, Eva gets a 4.6 rating for customer service from 777 reviews, and frequent excellent feedback on how easy they make the entire mattress buying process.
Some negatives include the mattress being too hard (and a few that consider it too soft), overly heavy, not enough handles, and the sizing not giving a good fit with all fitted sheets. Some users didn't have a good experience with Eva support, such as the warranty process feeling complex, and the returns process being onerous if outside metro areas. These are all fairly typical negatives (and often borne from personal preference or circumstances) and no reason for concern when considering an Eva mattress.
Should I buy the Eva Comfort Classic Mattress?
For those in the market for a new mattress, the Eva Comfort Classic is definitely worth adding to the short list. It's a great mix between affordability, comfort and features such as zoned pocket springs. The 100-night trial period makes it easy to try out risk free, but if you live outside of a metro area, it may be best to speak to Eva customer support about your local returns process before purchasing.
Of course, the Eva Comfort Classic does have a few minor niggles. It's fairly heavy, and you do need a solid slat bed base. A better box would improve the unpacking experience, and we would be over the moon if it had side and end handles — especially for the larger sizes.
Still, overall the Eva Comfort Classic mattress is an affordable, well-rounded option that will suit most buyers shopping for a new mattress.