The DreamCloud is an award-winning foam and coil bed that ranks highly in our best mattress guide as a great choice for people who want a touch of affordable hotel luxury at home. This hybrid gets a lot right, but that doesn't mean it's the right choice for everybody, as I'll explain here.
The DreamCloud is frequently on sale. In fact, we've just discovered that the DreamCloud has dropped to just $419 in huge pre-Black Friday sale and this 50% saving could even rival this year's official Black Friday mattress deals. But while we're all for saving money, it shouldn't be at the expense of your sleep comfort so you need to know what you're getting into with the DreamCloud.
As a professional mattress reviewer who has tested a wide range of beds including the DreamCloud Luxury Hybrid, I've got the scoop on what you need to know about this popular mattress in a box and whether it's worth buying this Black Friday. Here's what I think, based on my testing experience...
What it feels like to sleep on a DreamCloud
I slept on a twin DreamCloud mattress for three weeks in May 2022. You can read my full DreamCloud mattress review for an in-depth take, but if you're only interested in the highlights here's a snapshot: I'm an average-sized person with a nagging back injury who sleeps mostly on my side and stomach. How did the DreamCloud fare for me?
Well, it wasn't so great for me at first! DreamCloud rates its mattress as medium-firm, or a 6.5 out of 10 on the firmness scale. To me, it was more on the firmer side, or an 8 out of 10. It took me some time to really break it in and feel comfortable sleeping on it.
My patience paid off. By the end of the testing period, I found the DreamCloud exquisitely cozy. (This is why mattress trials exist.) It offered the perfect amount of pressure relief along my hips and shoulders while keeping me perfectly aligned whether I was on my side or stomach.
If you're searching for the best mattress for back pain, trust me when I say that the DreamCloud is well-deserving of that distinction. I had just gotten over a flare-up of my lower back injury and weeks of sleeping on the DreamCloud provided me with much relief. I'm not the only one, either – I asked several people with back and hip pain to nap on the DreamCloud and they reported very little, if any, discomfort.
I'm occasionally a hot sleeper, but I barely broke a sweat on the DreamCloud – a credit to its cashmere cover, gel-infused foam layer, and individually-wrapped coils. It also aced our drop tests, indicating that it's good at dampening movement so couples should especially get on well with it.
Edge support is the only area where the DreamCloud underperformed. I initially thought the issue was because I had a twin size bed, but I've also spotted plenty of DreamCloud customers with larger mattresses voicing similar gripes.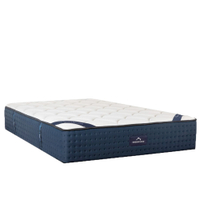 DreamCloud mattress: from $839 $529 at DreamCloud
Ignore the MSRP as the DreamCloud is perpetually on sale. With a one-year sleep trial and a forever warranty included, it's one of the best values for money out there. A firmer bed feel and subtle contouring makes it a great choice for back and front sleepers, as well as those with back pain.
3 reasons to buy the DreamCloud on Black Friday
Before you're swayed by the flashy sale banners, consider if this is the right mattress for you. Here are three reasons why you should buy the DreamCloud on Black Friday:
1. It's supportive for front and back sleepers
I eventually got on with the DreamCloud as a side sleeper but it received the most emphatic praise among the front and back sleepers in my testing group. Though it's not quite in the echelon of the best firm mattresses, it's still firmer than you'd expect. It offers outstanding support for most stomach and back sleepers, as well as larger bodies. If you're a petite to average side sleeper who prefers a softer bed feel, browse the best mattresses for side sleepers.
2. The DreamCloud could help you avoid sleep divorce
The DreamCloud is a fantastic option for couples who share a bed with a restless co-sleeper or operate on wildly different schedules because it dampens movement exceptionally well.
It aced my drop tests and has earned heaps of praise from DreamCloud customers who claim they no longer wake up from their partner's movements. It's also available as a split king, which is ideal if you don't want to share a sleep surface but don't necessarily want to be away from your partner.
3. It appeals to champagne tastes on a sparkling cider budget
The DreamCloud is a luxury mattress at a more attainable mid-range price point and it's never sold at list price. It's far cheaper than our #1 rated mattress, the Saatva – read our full Saatva Classic mattress review for more – but just like Saatva, DreamCloud also includes a lifetime warranty and a one-year sleep trial with purchase. That makes it one of the best value mattresses out there.
While it may not have the same level of build quality as a Saatva, the DreamCloud is still remarkably luxe thanks to its lofty 14-inch height and soft cashmere top cover.
3 reasons not to buy the DreamCloud mattress
The DreamCloud is an excellent mattress but it isn't for everyone. Here are three reasons why you shouldn't buy the DreamCloud on Black Friday:
1. The DreamCloud could be too firm for lighter bodies
For sleepers under 130lbs, the DreamCloud might feel too firm for comfort. Sure, you get a generous year-long trial period, but preparing a return and starting the buying process over again can be a hassle. If you're smaller in stature or just prefer something plush, look elsewhere.
2. Getting on and off will be a challenge for some
The DreamCloud's less-than-stellar edge support could be a deal-breaker if you rely on the mattress edges to get in or out of bed. Plus, at 14 inches high, it might pose more problems than benefits if you're not very tall or don't have other means of pushing up or getting down.
3. One level of firmness doesn't suit all
The DreamCloud only comes in one firmness level – medium or firm, depending on whom you ask. For tailored comfort, higher-end options like Saatva and WinkBed let you pick your firmness (and also height, in the case of Saatva). However, if you're looking for something priced similarly to the DreamCloud, the Brooklyn Bedding Signature Hybrid mattress boasts three comfort levels and a multitude of bed sizes.
Where to find DreamCloud Black Friday deals
Although you can find DreamCloud mattresses at Amazon, your best bet is to buy directly from DreamCloud during this year's Black Friday mattress sales. Not only does Amazon usually match DreamCloud's sale prices, but it may not honor DreamCloud's original warranty and trial terms, despite what the product page may suggest.
In the rare event that Amazon does offer a lower price or DreamCloud runs out of stock, do your homework and know what to expect in case you need to return your mattress to Amazon. Otherwise, bookmark our DreamCloud mattress sales hub so you don't miss a minute of savings in the lead-up to Black Friday.