Preparing for college can be stressful, especially when it comes to deciding which laptop best suits your needs. You'll need a notebook that's light, thin, offers excellent performance and can last you through a full day of classes on a single charge.
That might sound intimidating, but there's a laptop I'd recommend that meets all of those needs.
It's been well over two decades since I set foot on a college campus. However, I review laptops for a living, so I know exactly what laptop I'd get if I was going back to school in 2023. There are a lot of great choices out there, from the best Chromebooks to the best MacBooks and best Windows laptops. However, the laptop I'd suggest for college students is none other than the 13-inch MacBook Air M2.
The MacBook Air M2 has everything you likely need for school, including a sturdy ultraportable design, vibrant and colorful display, a comfortable keyboard, speedy performance and fantastic battery life. There's a reason it rests at the top of our best laptops list. It's that good.
If I was going to college, this is the laptop I'd bug my parents to buy me — and the laptop I'd recommend for most people. Let's get into the details so I can show you why.
MacBook Air M2: A great college laptop value
The entry-level MacBook Air M2 originally cost $1,199 at launch. Now that the MacBook Air 15-inch is here, the 13-inch model has dropped to $1,099 — making it more affordable for college students who have to squeeze the most out of every penny.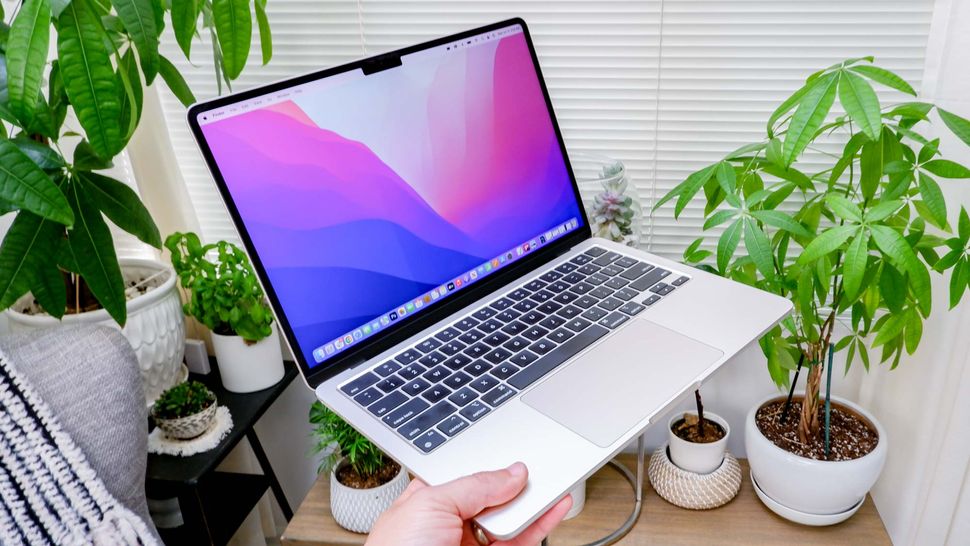 To be fair, $1,099 is still a relatively steep price. You can opt for one of the best budget laptops or best laptops for college if money is really tight. That said, I'd argue that you're getting your money's worth with the MacBook Air M2 — especially if you plan to use this notebook throughout your college career.
I say that because these laptops don't lose their edge quickly. The MacBook Air with M1 is three years old yet it still outperforms some modern Windows laptops, especially in terms of battery life. The newer 13-inch Air with its more powerful M2 chip could easily last you through four (or more) years of college. That makes it an excellent value.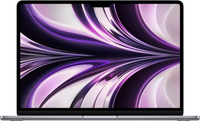 MacBook Air (M2/512GB): was $1,099 now $999 @ Best Buy
This entry-level MacBook Air M2 is $100 off at time of writing at Best Buy. It features this version with 8GB of RAM and a 256GB SSD to go alongside the powerful M2 chip. On top of that, you get a 1080p FaceTime camera, a four-speaker system with Spatial Audio, and MagSafe charging.
Price Check: $999 @ B&H
MacBook Air M2: Highly portable
As we said in our review, the 13-inch MacBook Air is so thin it could easily be mistaken for an iPad when closed. At 0.44 inches thick with the lid open, even an everyday Bic pen appears chunky next to this laptop.
Overall, the Air M2 is 20% smaller than the previous Air in terms of volume, which is rather remarkable. It's not quite the thinnest laptop you can buy since the 0.43-inch thick LG Gram is thinner, but the difference is negligible.
And since this is an Air laptop, it's also extremely light at 2.7 pounds. Its combined light weight and thin profile make this notebook extremely portable — which is important if you're running around a college campus all day. On top of that, the all-aluminum chassis delivers great durability, which is also crucial.
MacBook Air M2: Solid performance
You need a laptop that can keep up with your workload as a student and the MacBook Air M2 is up to the task. For instance, we only noticed it slowing down when we had over 100 open Chrome tabs. That means you won't have to worry too much about having a lot of open windows and documents at the same time. The MacBook Air M2 can handle it.
On Geekbench 5.4, which measures overall performance, the entry-level MacBook Air M2 hit 1,911 on the single-core CPU test and 8,965 on multi-core. On a slightly older 5.3 test, the MacBook Air M1 hit 1,736 on single-core and 7,575 on multi-core. The Air M2 outdid Windows laptops like the new Asus Zenbook S 13 OLED (7,482) and older Lenovo Yoga 9i Gen 7 (7,140) in multi-core performance. However, the Dell XPS 13 Plus with a 12th gen Intel Core i7 reached a higher 10,621.
Swipe to scroll horizontally
Performance test results

| | |
| --- | --- |
| Row 0 - Cell 0 | MacBook Air M2 (8-core CPU / 8-core GPU / 256GB SSD) |
| Geekbench 5 multi-core | 7,575 |
| 25GB file copy (MBps) | 1,609 Mbps (read) | 1,535 (write) |
| Handbrake video encoding | 9:32 (mins:secs) |
On our Handbrake video editing test, which involves transcoding a 4K video clip, the MacBook Air M2 took 9 minutes and 32 seconds to complete the task. The previous Air M1 needed 9:15, so that's a tad slower. On the Blackmagic Disk Speed test, the entry-level Air averaged 1,609 MBps for reads and 1,535 for writes.
The MacBook Air M2 is great for those who use Photoshop. In the Adobe CC Photoshop test, the Air scored 706 compared to the 13-inch MacBook Pro's 817. But the Pro widened its lead on the Premiere Pro video editing test, notching 552 compared to 495 for the Air.
While the Air M2 might not perform better in certain tests compared to other laptops, its overall performance is still quite remarkable for the average college student.
MacBook Air M2: Killer battery life
College life can be hectic so you'll want a laptop that can last all day and then some. While the MacBook Air doesn't last for an astonishing 18 hours and 20 minutes like the M2-powered MacBook Pro 13-inch, it still delivers phenomenal battery life.
On the Tom's Guide battery test, which involves continuous web surfing at 150 nits of screen brightness, the Air M2 averaged 14 hours and 6 minutes. That's a bit behind the previous Air M1 (14:41), but this is still superb endurance.
For an extra $20, you can upgrade from a 30W USB-C charger to a 35W Dual USB-C charger. This particular charger lets you plug in another device at the same time, which is super useful if your phone is running out of juice.
MacBook Air M2: Excellent display
The MacBook Air M2's bright and colorful 13.6-inch (2,560 x 1,664) panel is excellent for school work, photo editing or unwinding by watching some videos after classes.
The MacBook Air M2's panel impressed us in our lab tests. It averaged 473 nits of brightness and peaked at 499 nits with HDR content. That's a bit better than the MacBook Pro M2 (474/490 nits) and brighter than the Dell XPS 13 OLED's 357-nit average.
Swipe to scroll horizontally
Display test results

| Header Cell - Column 0 | MacBook Air M2 |
| --- | --- |
| Nits (brightness) | 473 |
| sRGB | 110.9% |
| DCI-P3 | 78.6% |
| Delta-E | 0.22 |
Color reproduction and accuracy also impressed us. The Air M2's display registered 107% of the sRGB color gamut and 75.9% of the more demanding DCI-P3 color space (closer to 100% is ideal). The XPS 13 OLED notched a higher 117% and 83%, respectively. However, the Air's Delta-E accuracy score of 0.2 was the same as the XPS 13.
MacBook Air M2: Bottom line
In addition to everything outlined above, the MacBook Air M2 also has a decent 1080p webcam for video calls and a comfortable keyboard you can type on all day. Plus, it comes in four colors: the striking Starlight (pale gold) and Midnight (dark blue), or the more traditional Silver or Space Gray.
If you're looking for a dependable laptop for college, the 13-inch MacBook Air M2 is hard to top thanks to its ultraportable design, strong performance and battery life. For $200 more, you can get the MacBook Air 15-inch if you want a bigger laptop that's just as reliable as its 13-inch counterpart. If you prefer Windows laptops, the Acer Swift 5 is a good choice since it's comparable to the 13-inch Air in many ways.
More from Tom's Guide