I've tested dozens of the best wireless earbuds, and sometimes my favorite pairs surprise people. For example, I often reach for the Sony LinkBuds S over a plethora of pricier earbuds. Going forward, that'll be the case more often now they've received a new, violet-colored, Olivia Rodrigo-tuned treatment.
Designed in partnership with the pop star, the limited-edition Sony LinkBuds S x Olivia Rodrigo take what I already liked about the earbuds — all-day comfort, balanced bass performance and an effective ambient awareness mode — and tailored them for the singer's fans. Not only do they have a purple marbled look, but they've been preloaded with custom EQs for listening to Rodrigo's GUTS and SOUR albums.
Available now for $199, the same price as the other colors of the LinkBuds S, the Olivia Rodrigo-branded buds target those who might regularly listen to the singer's freshman and sophomore albums. Rodrigo and her producer worked together to tune the EQs to work through whichever streaming service you might use, including Spotify and Apple Music.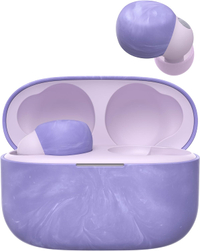 Sony LinkBuds S x Olivia Rodrigo: $198 @ Amazon
The Sony LinkBuds S x Olivia Rodrigo are available now, though they're a limited-edition run. Fans of the pop singer will appreciate the top-rated buds, now exclusively paired with EQs for listening to GUTS and SOUR.
Price check: $199 @ Best Buy | $199 @ Sony
The buds already appealed to me and my fellow Gen Zers with an emphasis on a modern look made of recycled materials. (The case and earbuds are compromised of factory-recovered plastic and reclaimed water bottles.) That said, the new color-and-marble finish combo is totally on trend with what I see among popular accessories on TikTok. Plus, dozens of sound snippets from both of Rodrigo's albums have gone or still go viral on social media.
In fact, we appropriately used a remix of her ultra-popular song "Good 4 U" as the soundtrack to unboxing the earbuds on our own TikTok channel.
Essentially, if you're a member of Gen Z, you know that Olivia Rodrigo is inescapable. And I mean that in the best way possible. Her tracks are simultaneously fresh and nostalgic. The bridges become instant earworms, while the breakup anthems make you feel empowered by heartache. Listening to them through the special EQs available on the Sony LinkBuds S x Olivia Rodrigo may make the music sound all that more emotional.
Now, do I think the Sony LinkBuds S are the best earbuds someone could buy? Not quite, considering Sony's own Sony WF-1000XM5 are probably the best earbuds ever released. I'm also a big fan of the new Bose QuietComfort Earbuds, and AirPods Pro 2 are always in the rotation.
But for Olivia Rodrigo fans who might need a new pair of wireless earbuds under $200, it's easy to recommend her limited-edition version of the LinkBuds S. Better yet, bring them with you when you see her on the GUTS tour next year — maybe you'll manage to get your pair signed.