The Game Awards 2022 recap — all the big winners and reveals as they happened
The Game Awards 2022 honored some of the year's best titles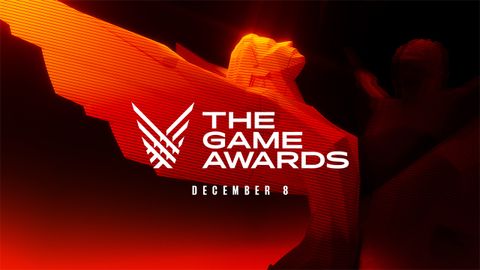 (Image: © The Game Awards)
The Game Awards 2022 have just wrapped up, and Tom's Guide provided live coverage of the big event as it happened.
This show was in line with previous events. We saw a handful of awards sandwiched between numerous world premiere trailers and advertisements. And it wouldn't be The Game Awards without random celebrity appearances, such as Al Pacino and Michael Madson. The Last of Us HBO series also showed up for good measure.
As far as the winners are concerned, Elden Ring took home the crown for game of the year. God of War Ragnarök was the other big title of the night as it won numerous awards. Kratos voice actor Christopher Judge also took up the most time with his acceptance speech, but we don't need to talk about that much further.
In terms of exciting game reveals, we saw new trailers for Star Wars: Jedi Survivor, Cyberpunk 2077: Phantom Liberty and Final Fantasy XVI. We also saw several new indie games get announced. Overall, we saw a diverse range of games people can look forward to in 2023 and beyond.
Below, you'll find our live posts from the event. You can also watch The Game Awards in case you missed it.
THE GAME AWARDS 2022 WINNERS LIST
Games for Impact: As Dusk Falls
Best Esports Athlete: Jacob "Yay" Whiteaker
Best Esports Team: LOUD
Best Esports Coach: Matheus "bzkA" Tarasconi
Best Esports Event: 2022 League of Legends World Championship
Best Audio Design: God of War Ragnarök
Best Independent Game: Stray
Best Debut Indie Game: Stray
Best Performance: Christopher Judge, God of War Ragnarök
Best Action: Bayonetta 3
Best Art Direction: Elden Ring
Best Role Playing Game: Elden Ring
Best Score & Music: God of War Ragnarök
Content Creator of the Year: Ludwig
Best Multiplayer Game: Splatoon 3
Best Mobile Game: Marvel Snap
Best Narrative: God of War Ragnarök
Best Action/Adventure: God of War Ragnarök
Best Ongoing Game: Final Fantasy XIV
Best Community Support: Final Fantasy XIV
Innovation in Accessibility: God of War Ragnarök
Best Sports/Racing: Gran Turismo 7
Best Game Direction: Elden Ring
Best Esports Game: Valorant
Best Family Game: It Takes Two
Best Fighting Game: Kirby and the Forgotten Land
Best Strategy Game: Mario + Rabbids Sparks of Hope
Most Anticipated Game: The Legend of Zelda: Tears of the Kingdom
Game of the Year: Elden Ring
Refresh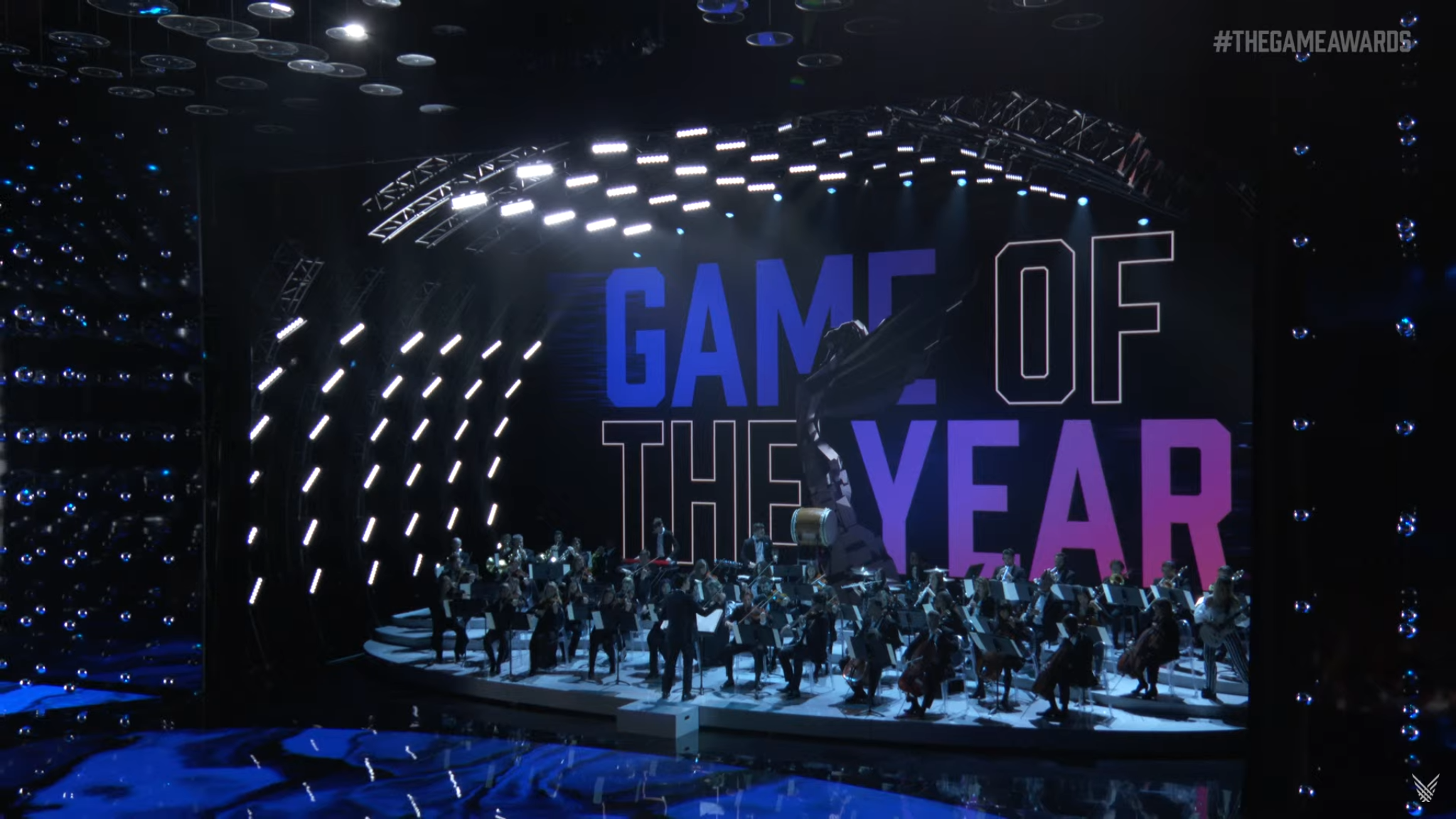 Tom's Guide covered The Game Awards 2021 around this time last year, and the show had its ups and downs. It was unbelievably long, and spent more time on advertisements than it did on actually distributing awards. On the other hand, we did see some cool game announcements, including Sonic Frontiers, Star Trek: Resurgence and Final Fantasy VII Remake Intergrade's PC port. We have to assume that the show will follow the same basic format this year, so we'd recommend having a game at hand to keep you busy during all the ads.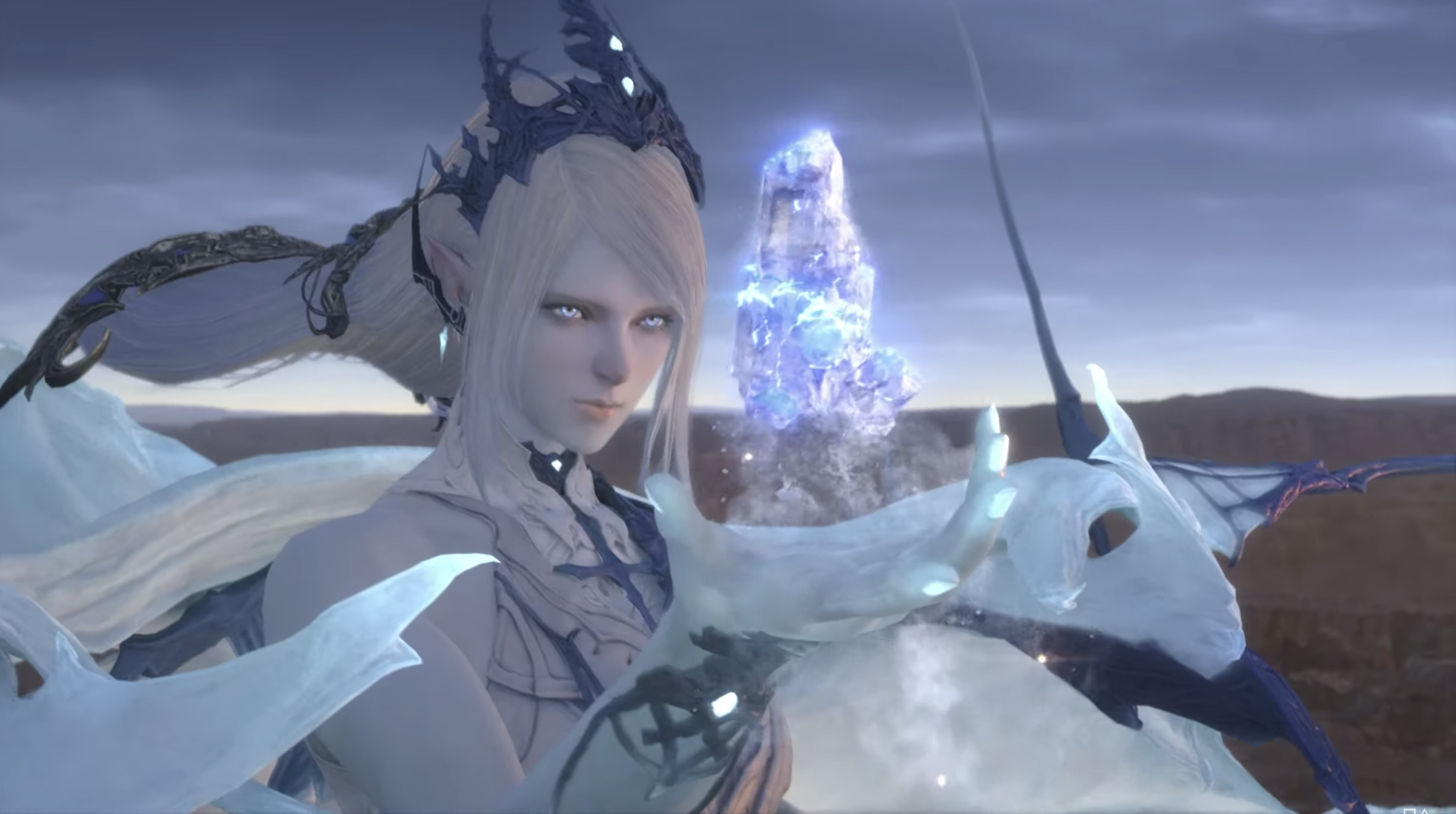 One game that fans are hoping to see tonight is Final Fantasy XVI. The next entry in the mainline Final Fantasy series is currently slated to debut in summer 2023, and will be exclusive to the PS5 for at least six months. We've seen a few isolated clips of the game's story and gameplay, but we've yet to see an extended preview of either element.
Naoki Yoshida, the game's producer, will make an appearance at The Game Awards tonight — and that's about all we know so far. We expect that Yoshida, whom fans affectionately call "Yoshi-P," will discuss FF16, but that's not a guarantee. After all, Yoshi-P is also the director of Final Fantasy XIV, the ongoing MMORPG. But we think that tonight is probably FF16's time to shine. Call it a hunch.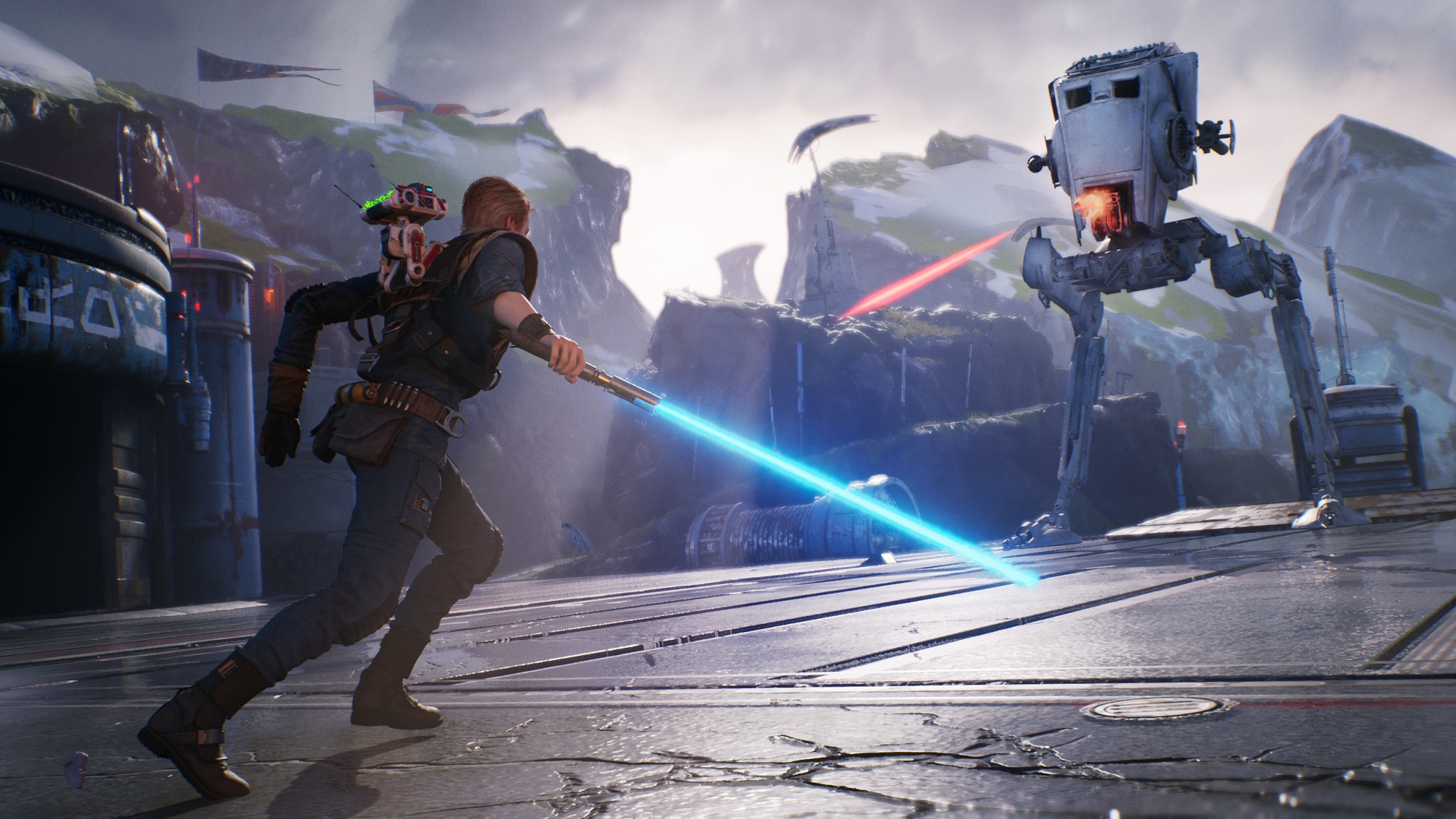 One game we know for sure that we'll see during The Game Awards is Star Wars Jedi: Survivor. This sequel to 2019's Star Wars Jedi: Fallen Order will continue Cal Kestis' journey in a galaxy far, far away. EA has promised a gameplay reveal later tonight. If we had to guess, we'd say that Jedi: Survivor will be a third-person action/adventure game with big, explorable levels and refined lightsaber combat — but this time around, maybe either the platforming or the combat will feel a little more fluid than before.
That's admittedly not our most daring guess tonight, but Fallen Order was a fantastic game. "More of the same, but slightly better" is exactly what fans — including us — probably want to see from the sequel.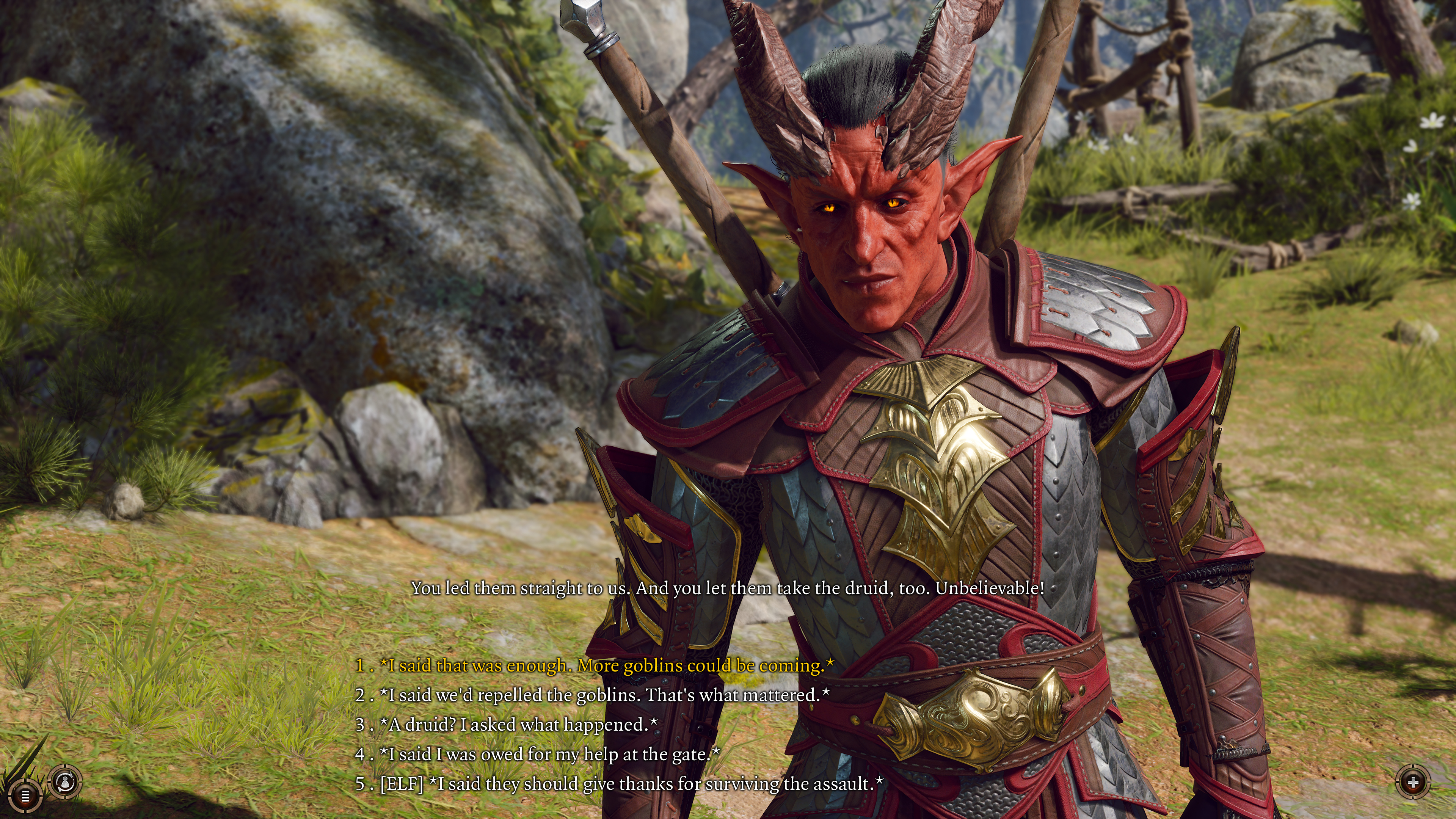 Another confirmed game for the Game Awards tonight is Baldur's Gate III. The game has been in early access for quite some time, adding features piecemeal. But more than two years after Larian Studios first offered players the chance to buy the game, there's no release date in sight.
However, the company has suggested that 2023 will finally be the year that BG3 gets a full launch, with a complete story, and every promised race and class available. This is good news for Dungeons & Dragons fans, who have been waiting for a faithful video game adaptation of the popular Fifth Edition ruleset for a while. For fans of the first two Baldur's Gate games, though, it's less of a surefire pitch, as it doesn't seem to have much to do with the first two titles.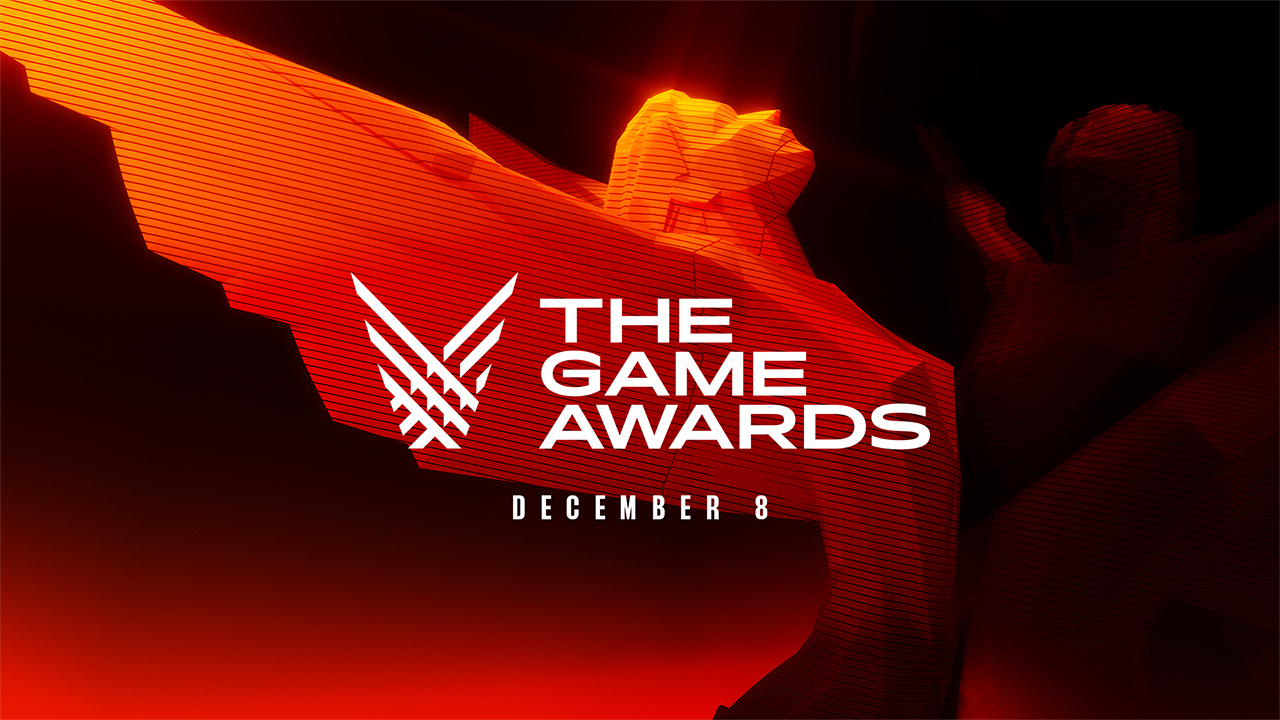 Hey! Computing Writer Tony Polanco here. I'll be covering The Game Awards tonight and do my best to keep you up to date on the biggest news items to come out of the event.
Tonight promises to be a big year as we should get our first glimpse of titles made specifically for PS5 and Xbox Series X. I don't know about you, but I'm ready for cross-gen games to go away so we can have games that fully utilize current-gen systems.
As for the awards themselves, I hope they get some more air time since the actual awards portion normally seems like an afterthought.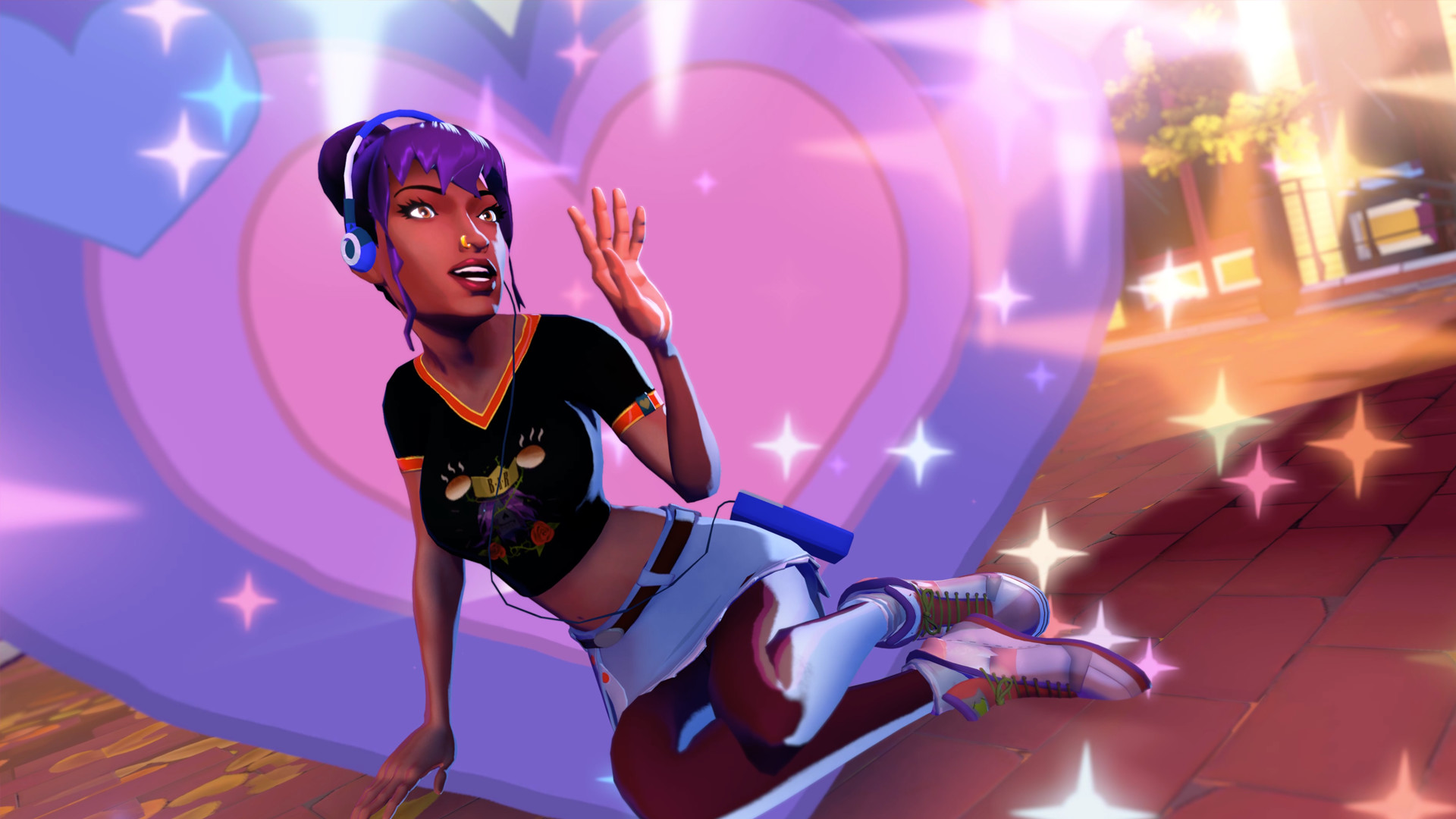 As reported by sister site GamesRadar, the PlayStation Demo Fest has gone live in time for The Game Awards. Right now, you can check out indie games like Thirsty Suitors (pictured above), Season: A Letter to the Future, Bramble, and You Suck at Parking.
The demos are now available on the PlayStation Store.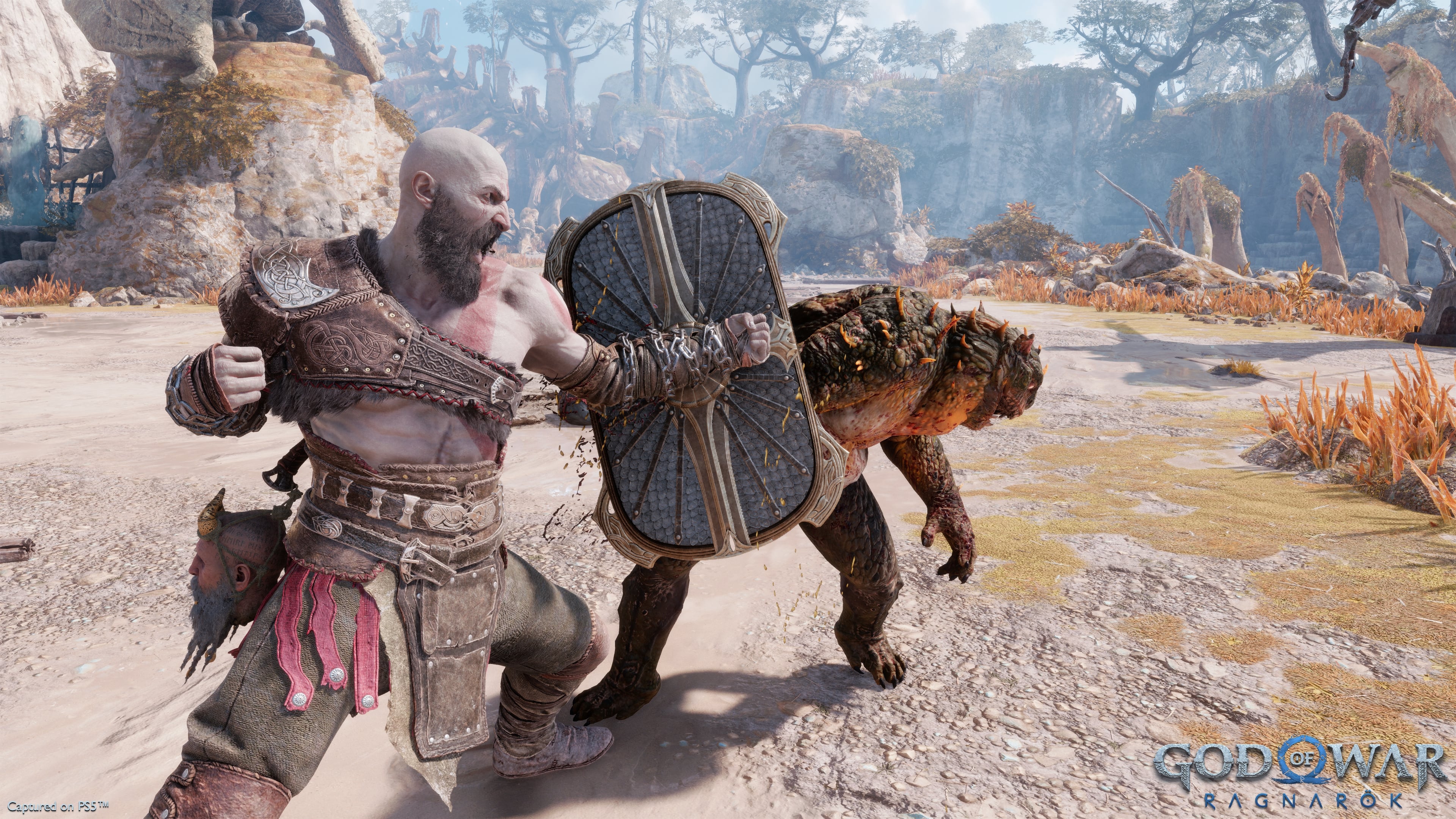 The titles nominated for game of the year include: Stray, A Plague Tale: Requiem, Horizon Forbidden West, Xenoblade Chronicles 3, Elden Ring and God of War Ragnarök.
Which one do you want to win?
We're 15 minutes away from The Game Awards pre-show. If this is anything like previous years, we'll get a barrage of announcements and awards. It's a bit insulting that so many awards get given during a pre-show, but that's how this program works. Hopefully, they'll slow down a bit so we can see who and what won.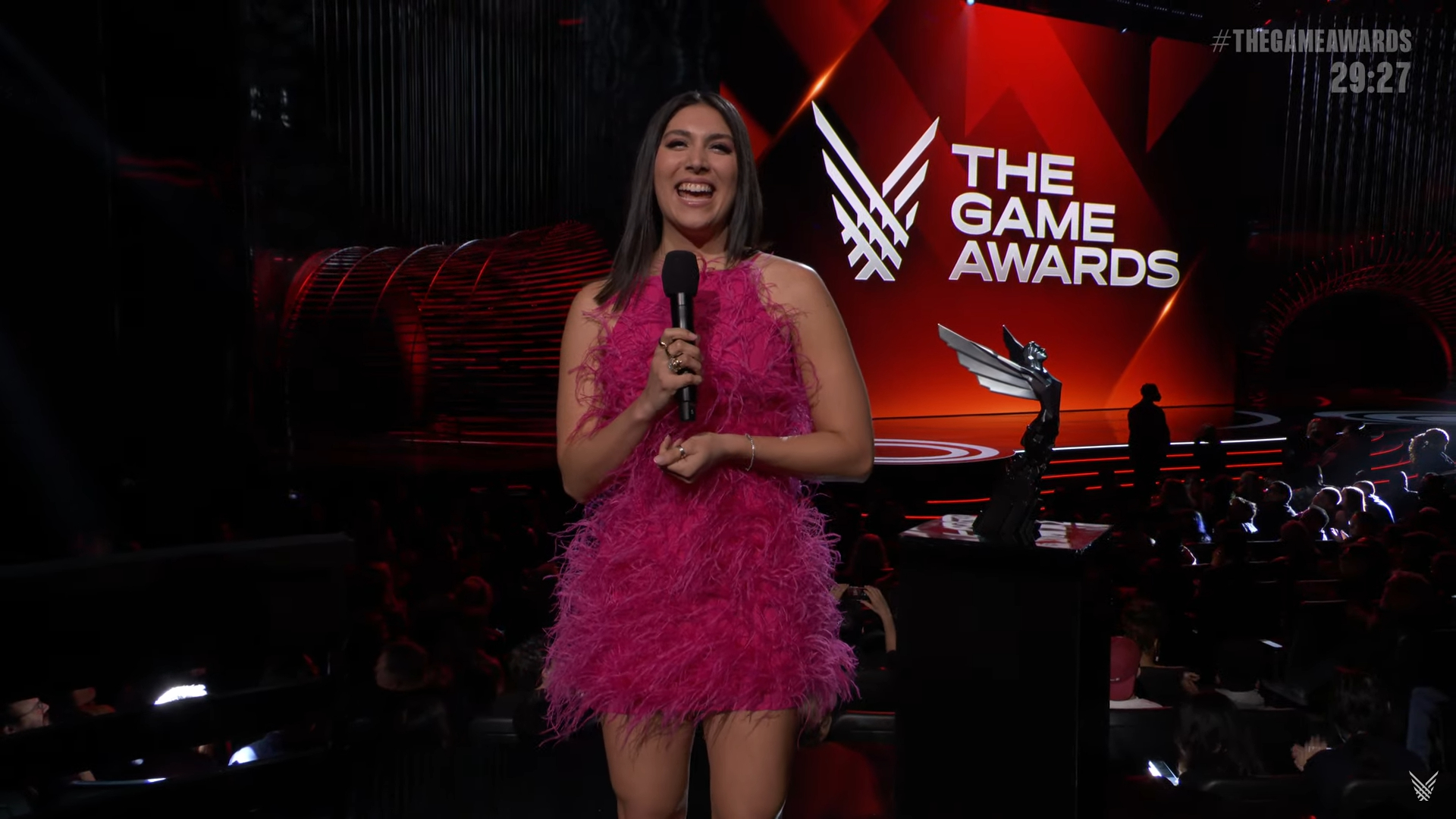 Sydnee Goodman kicks off The Game Awards pre-show. We're shown a glimpse of the next Dead Cells DLC, which seems to be a cross-over with Castlevania. I'd say this is a good way to kick off a show!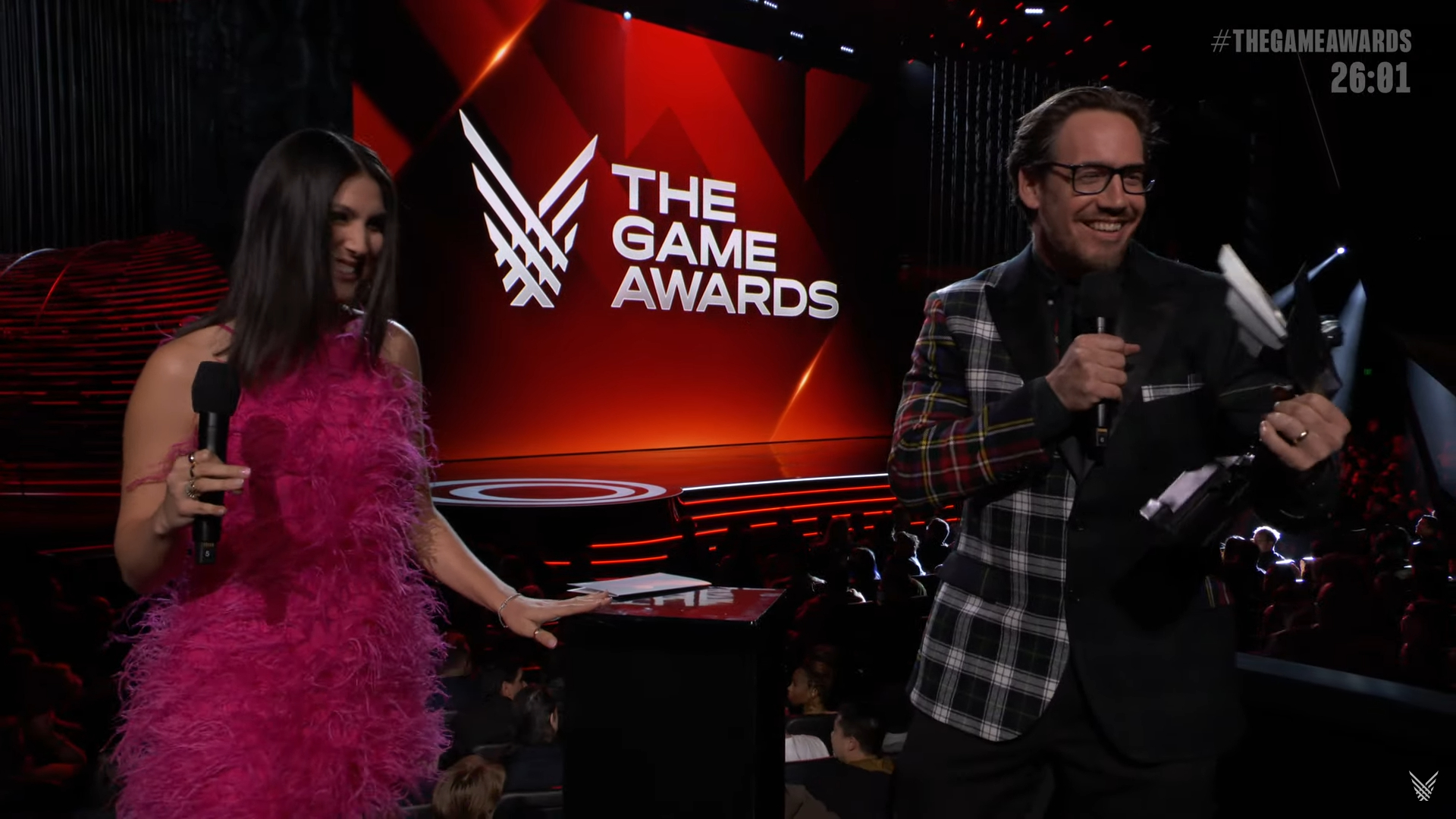 Marvel Snap predictably wins best mobile game of the year. I say predictably since everyone on Twitter seemed to be playing it. Not me though. I don't endorse mobile or card games. But hey, do you, people!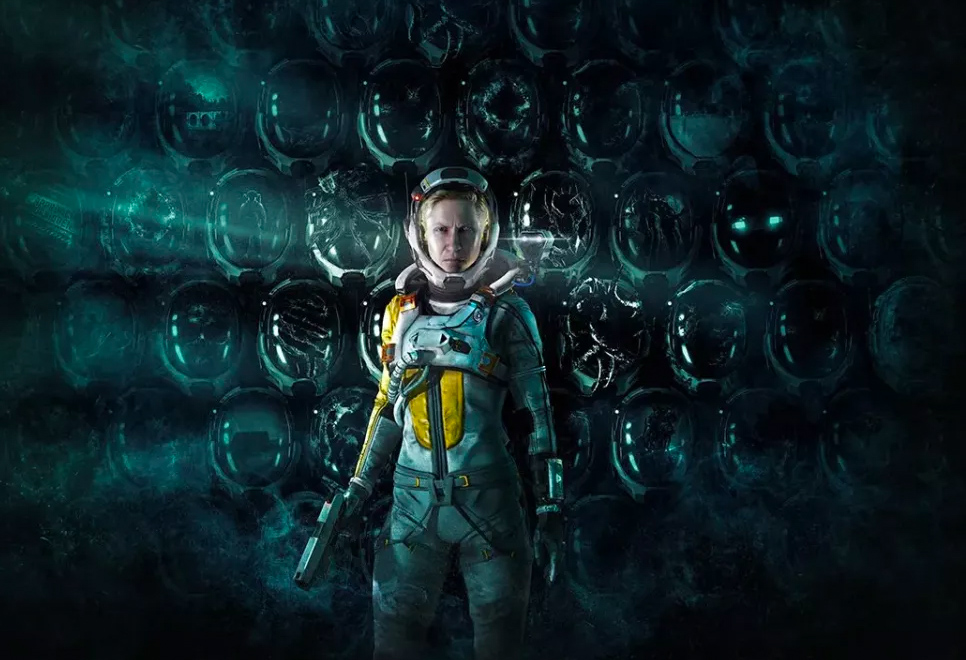 Returnal is coming to PC. This is yet another PS exclusive coming to computers. This one is noteworthy because it's the first PS5 exclusive to come to PC, whereas previous PS exclusives were on PS4. Does this signify a change in direction?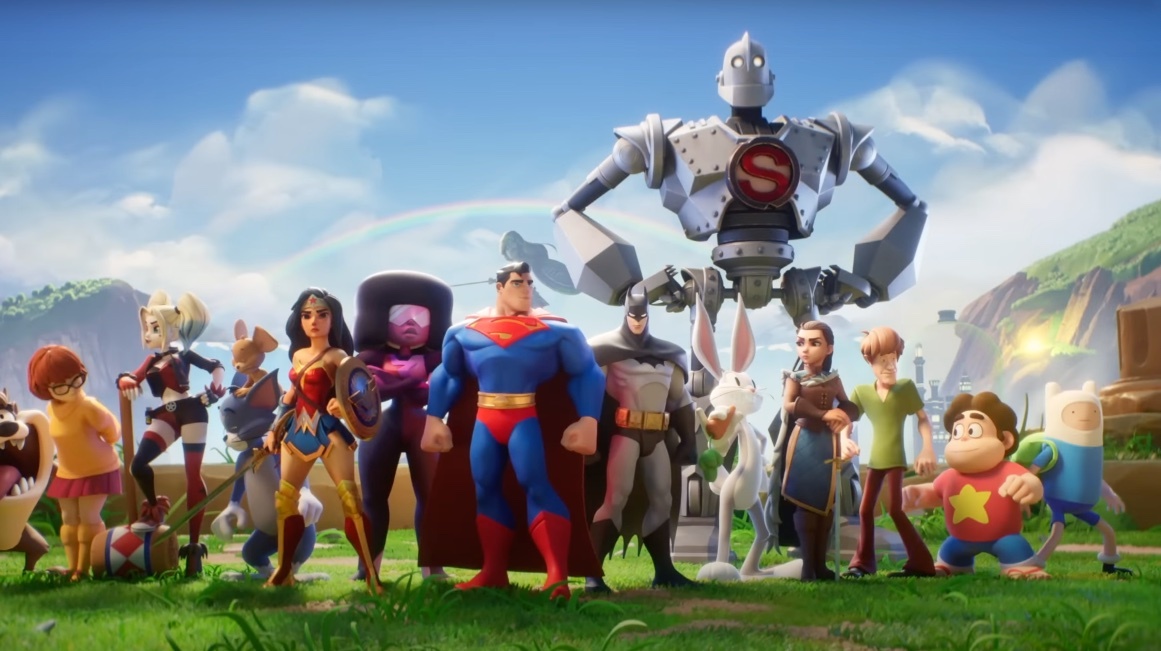 Multiversus wins best fighting game of the year. I played the open beta and found it good at what it presents, even if I don't care for Smash Bros. clones. But shout out to the team for winning!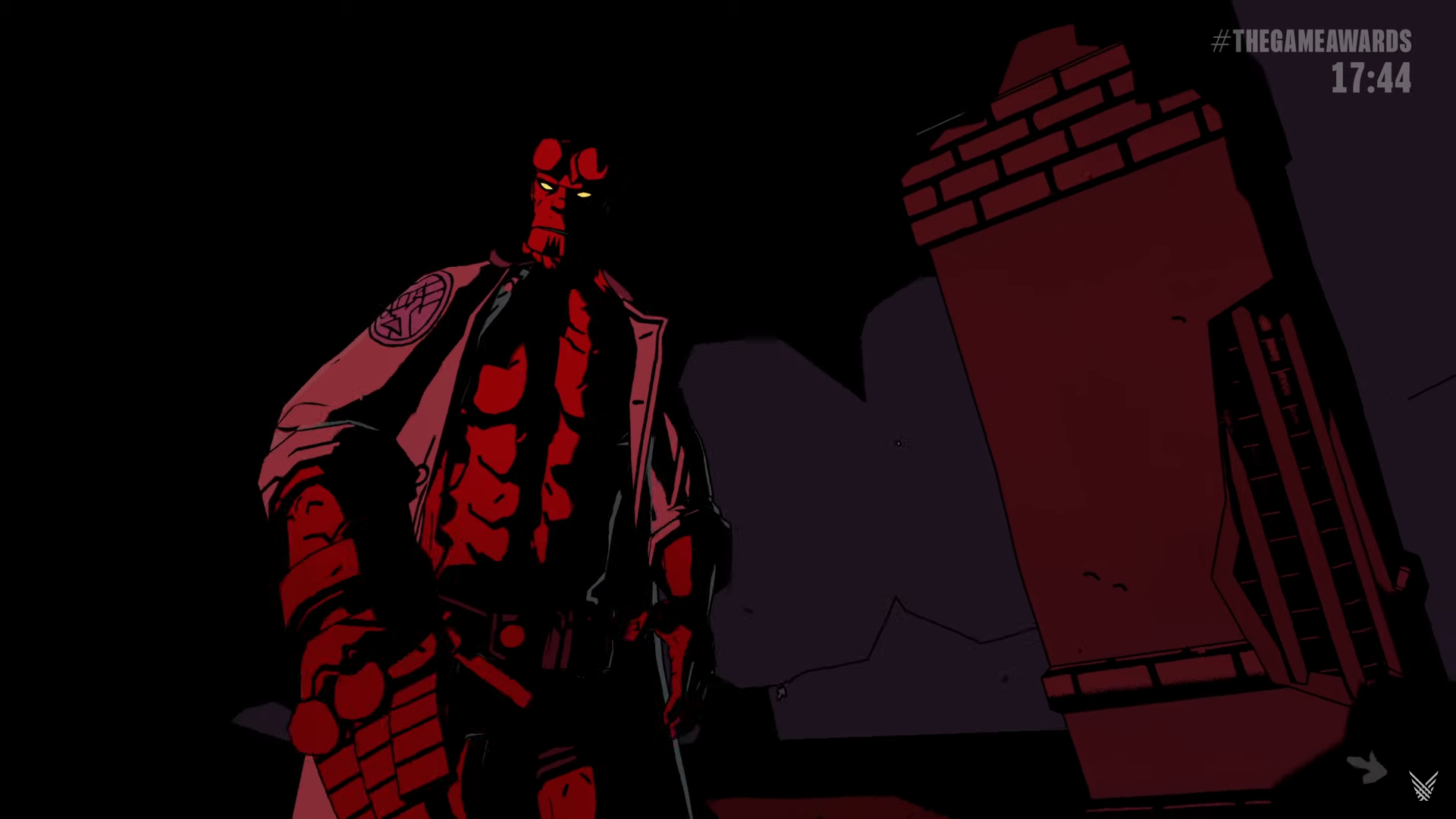 Okay, this is awesome. There's a new Hellboy game coming! I love how it captures the art style of the original comics. Let's hope this is good.
After this, we got a barrage of esports-related awards. Hilarious how they just rattled off the winners. No one to accept the awards.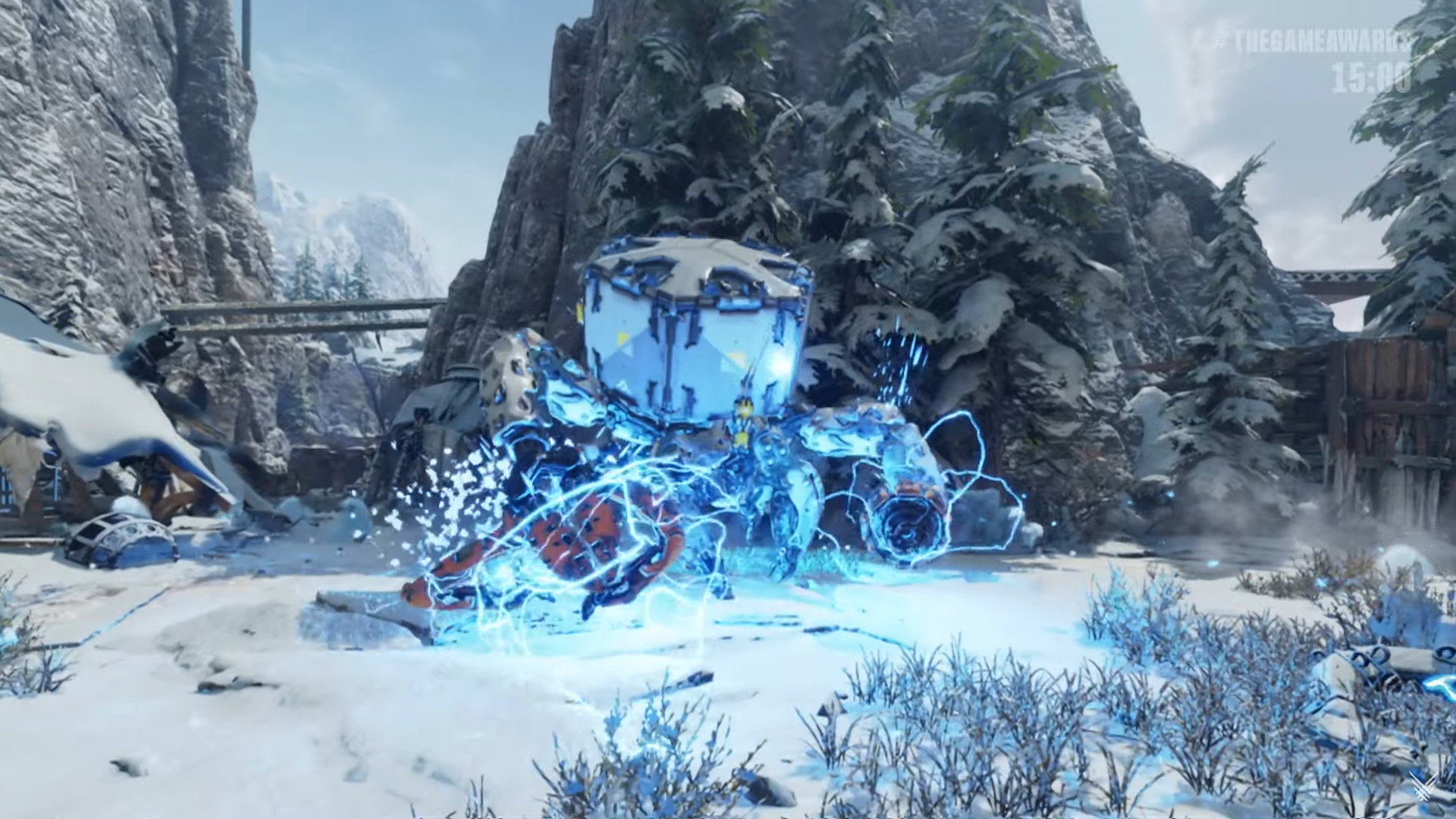 We have a number of world premiere trailers for Horizon: Call of the Mountain, Post Trauma and Viewfinder. The most notable is clearly Horizon: Call of the Mountain since it's a PS VR2 exclusive.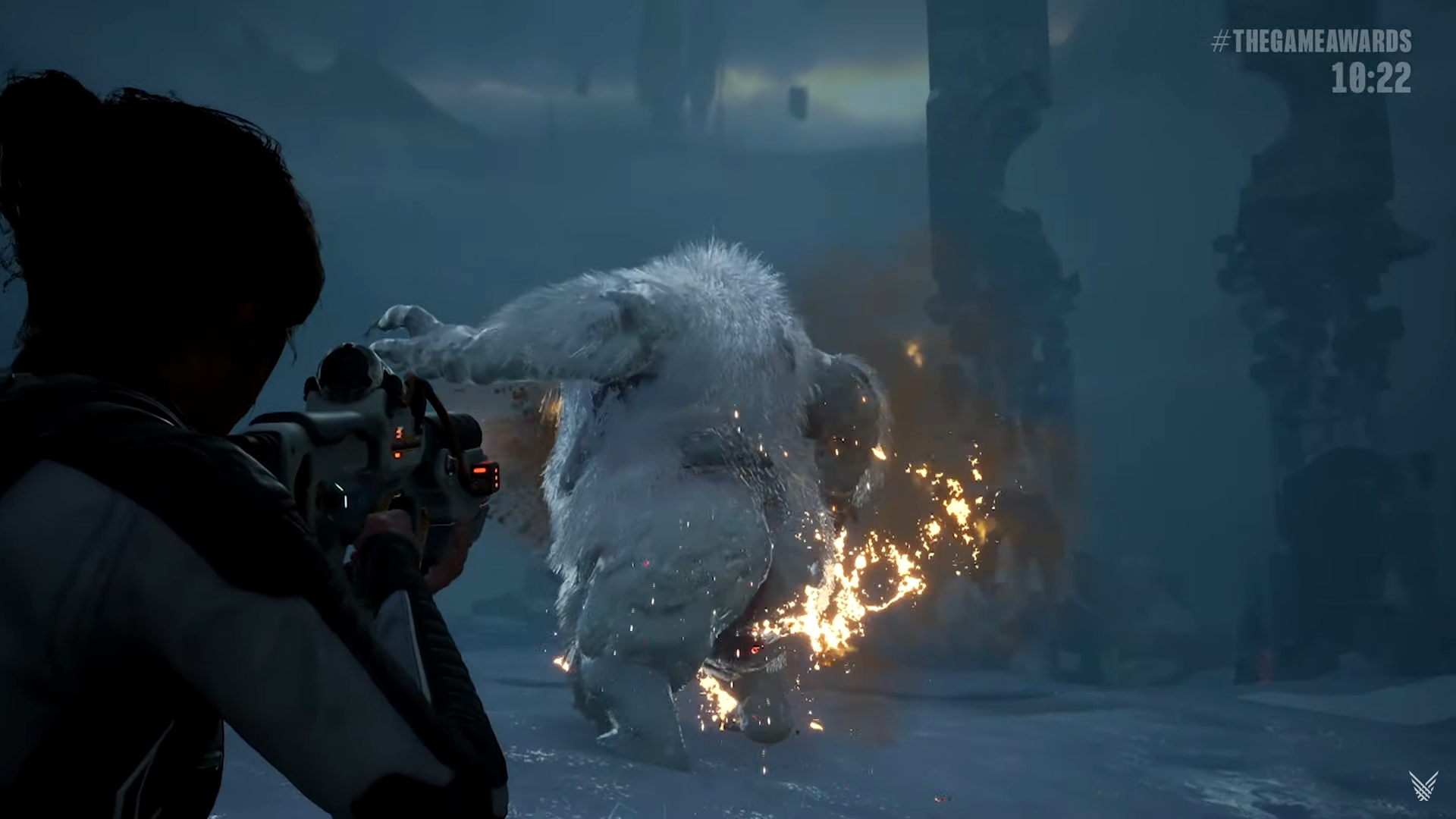 Relic Hunters, Scars Above (pictured above) and Atomic Hearts get some new trailers. Not sure if these are part of the show or simply ads, but nice to see them regardless.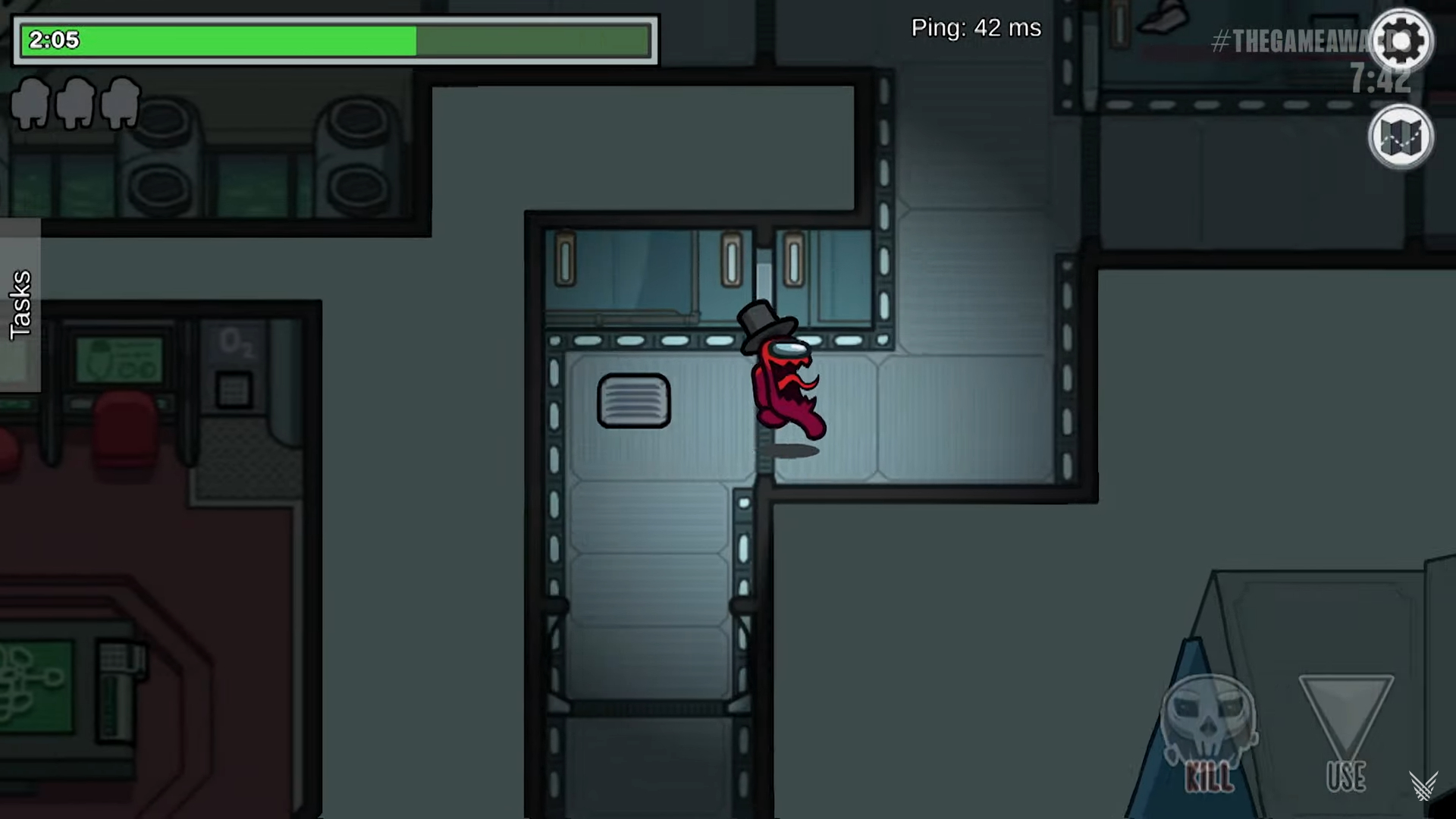 Among Us: Hide n Seek gets announced. I don't understand the appeal of this game. I find it very 'sus.
We also get a trailer for a game called After Us, which looks kind of interesting. Definitely not 'sus.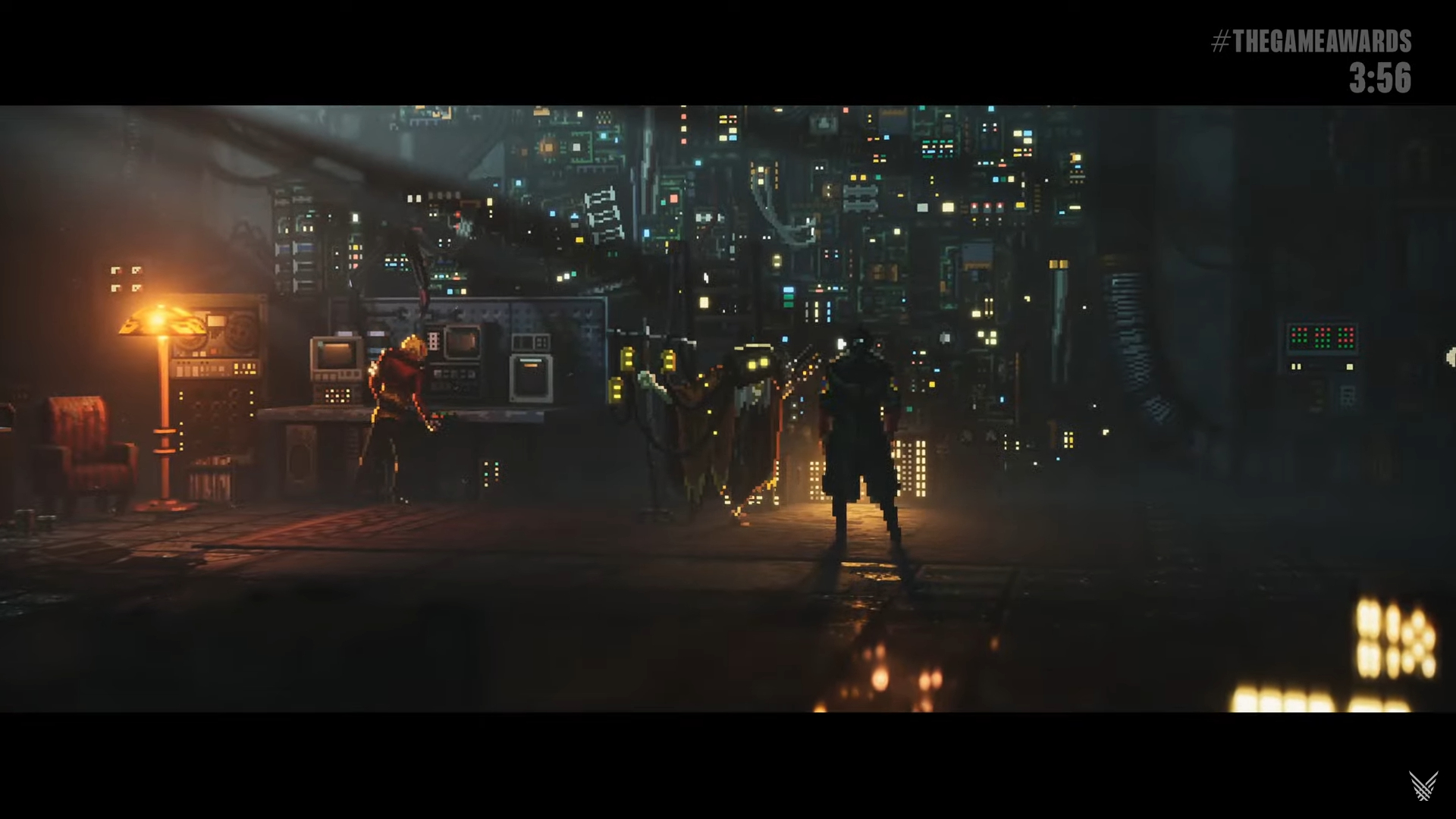 I've had my eye on Replaced for some time. I know pixelart games are played out now but this one seems special. I love the cyberpunk look.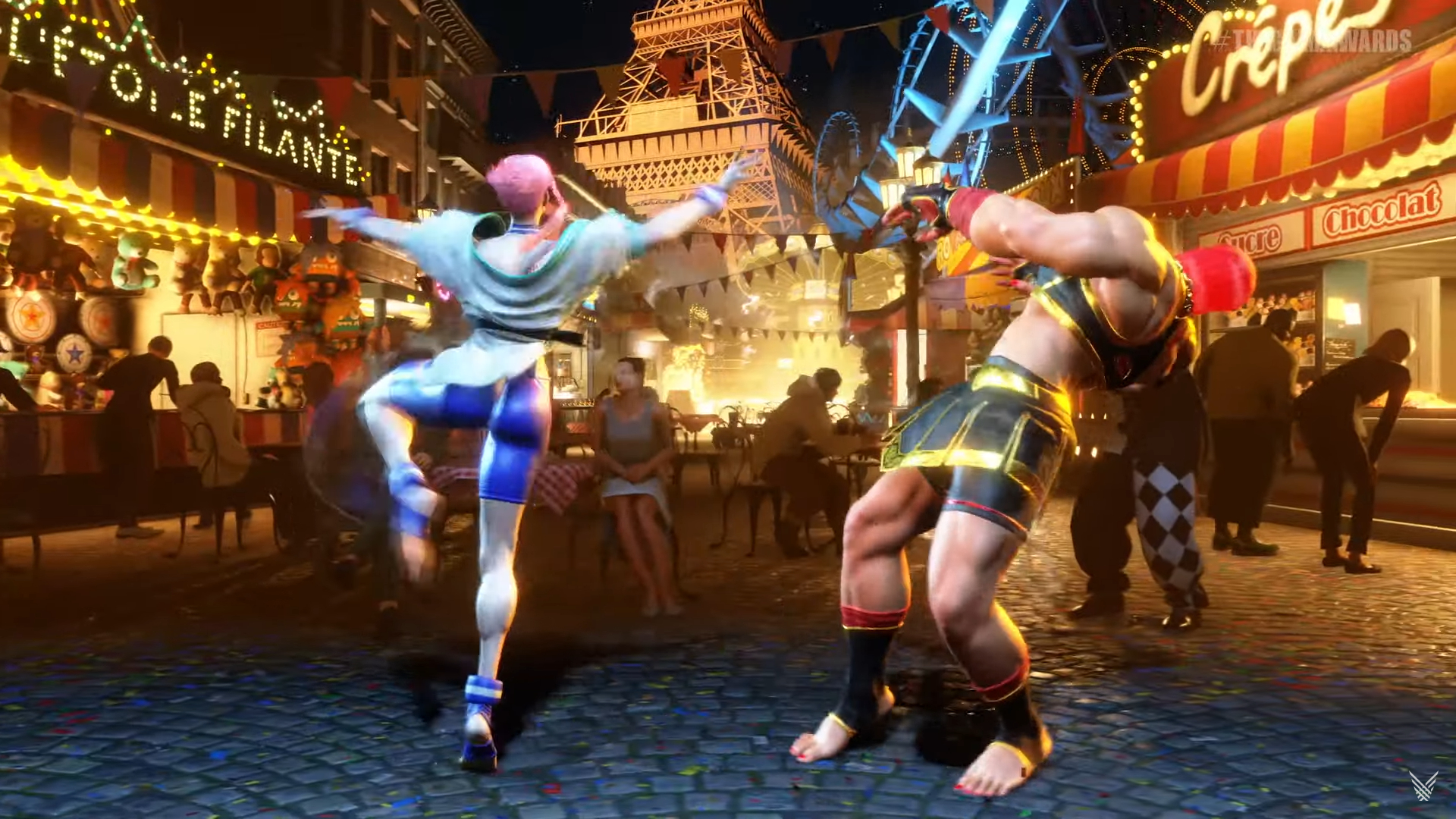 The pre-show ends with a preview of Street Fighter 6. We see new fighters and new content. Expect this one to land in June.
Now, let's get ready for the big show!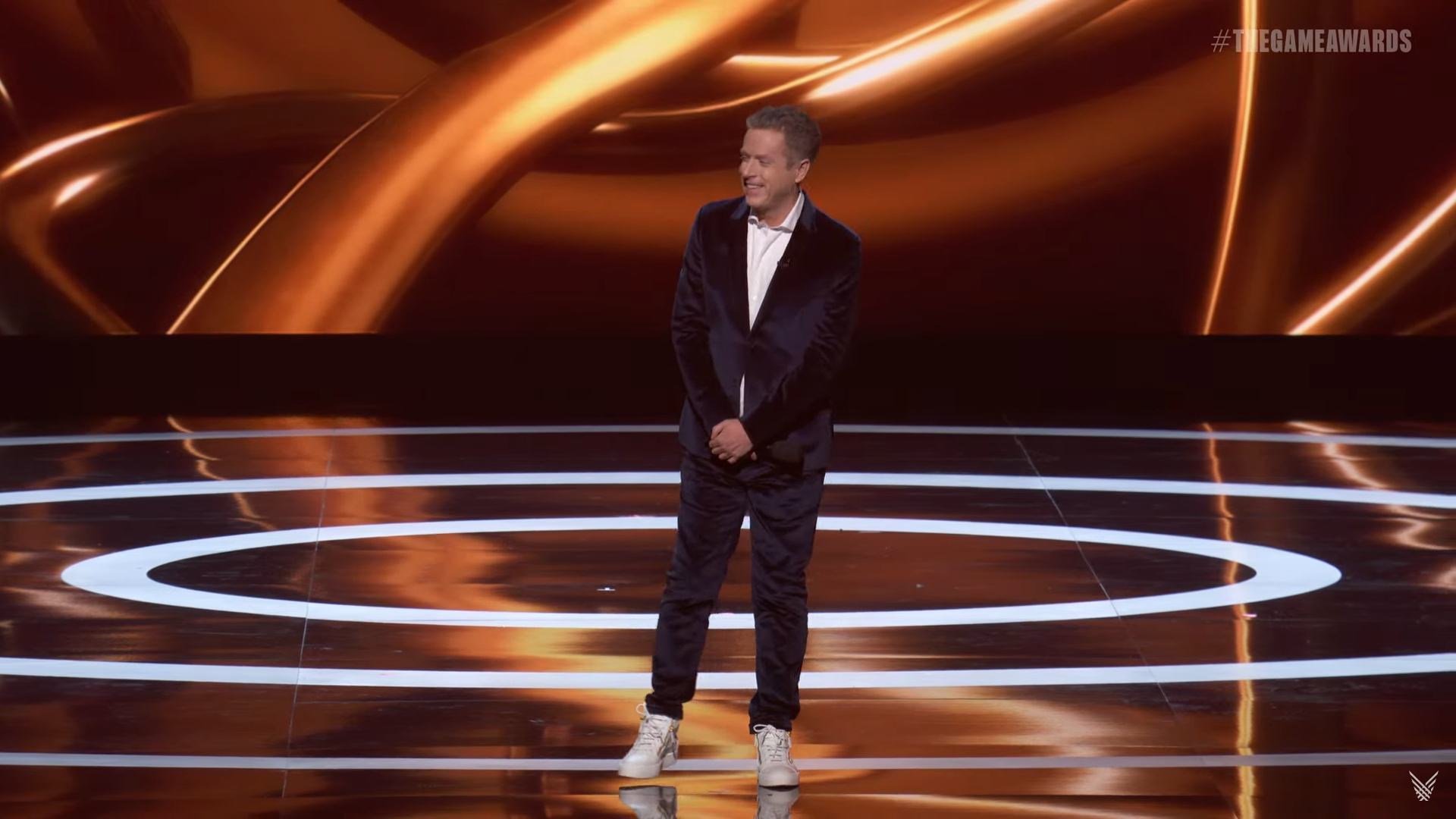 Geoff Keighley takes the stage to kick off The Game Awards. He introduces some special guests, like Phil Spencer, Christopher Judge, Hidetaka Miyazaki, and Animal from Sesame Street.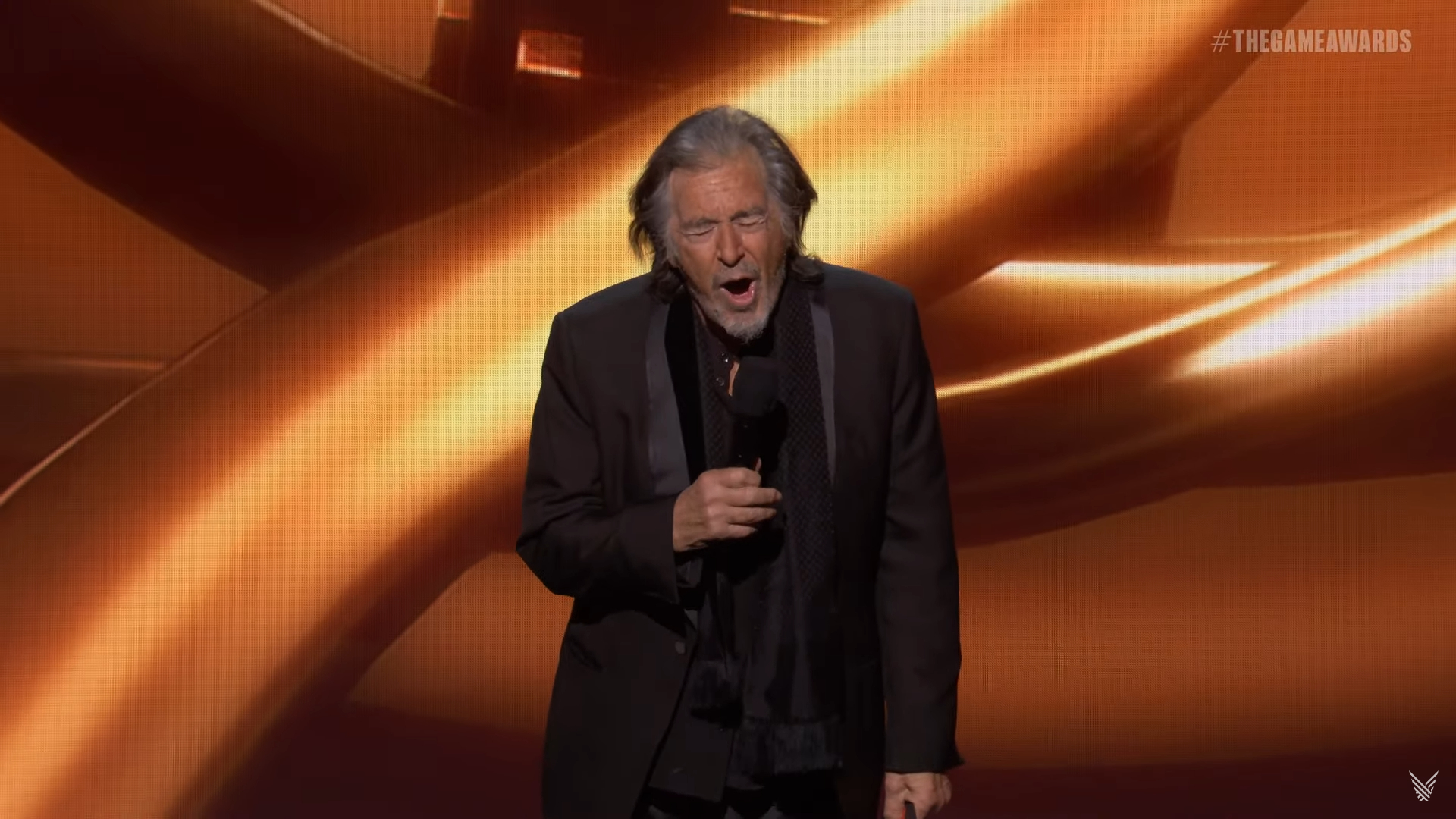 Al Pacino, yes that Al Pacino, takes the stage. He discusses the importance of performance, so I'm guessing he's about to list the nominees for best game narrative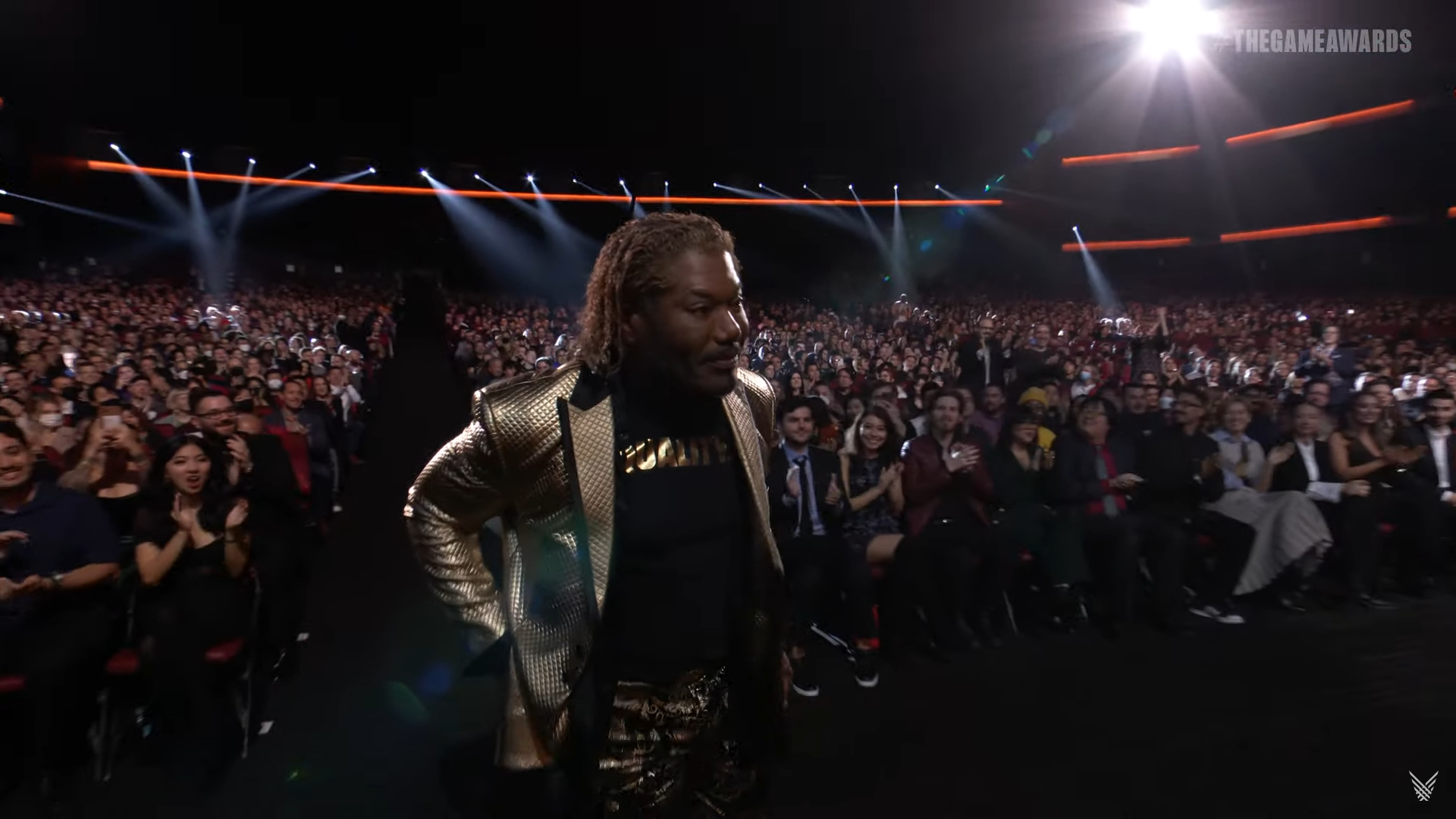 Christopher Judge wins best performance awards for his portrayal of Kratos in God of War Raganok. This is well deserved!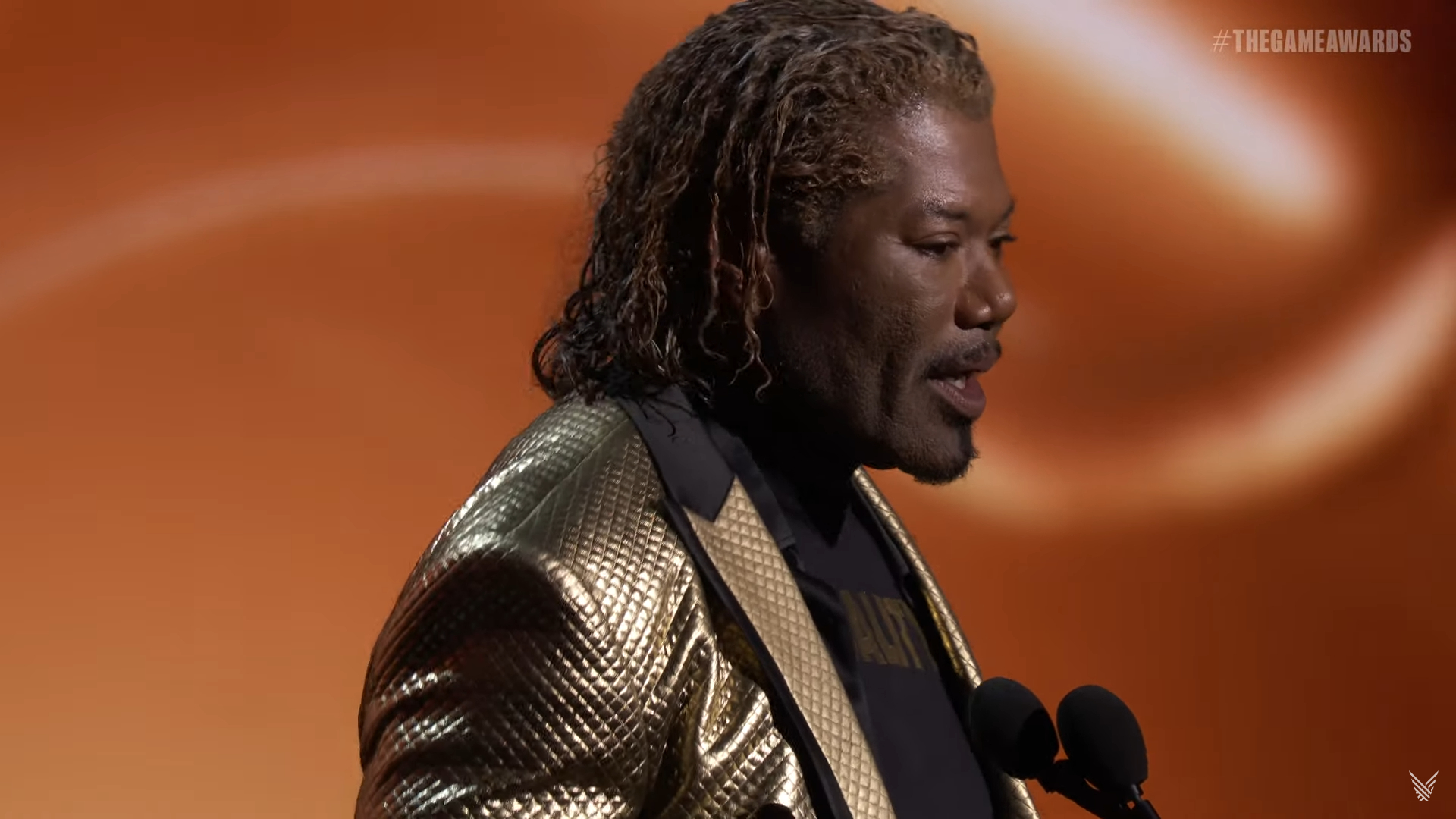 I'm surprised they're letting Christopher Judge go on for so long. I hope this doesn't mean they'll cut the other presenters short. But it was nice to see him up there!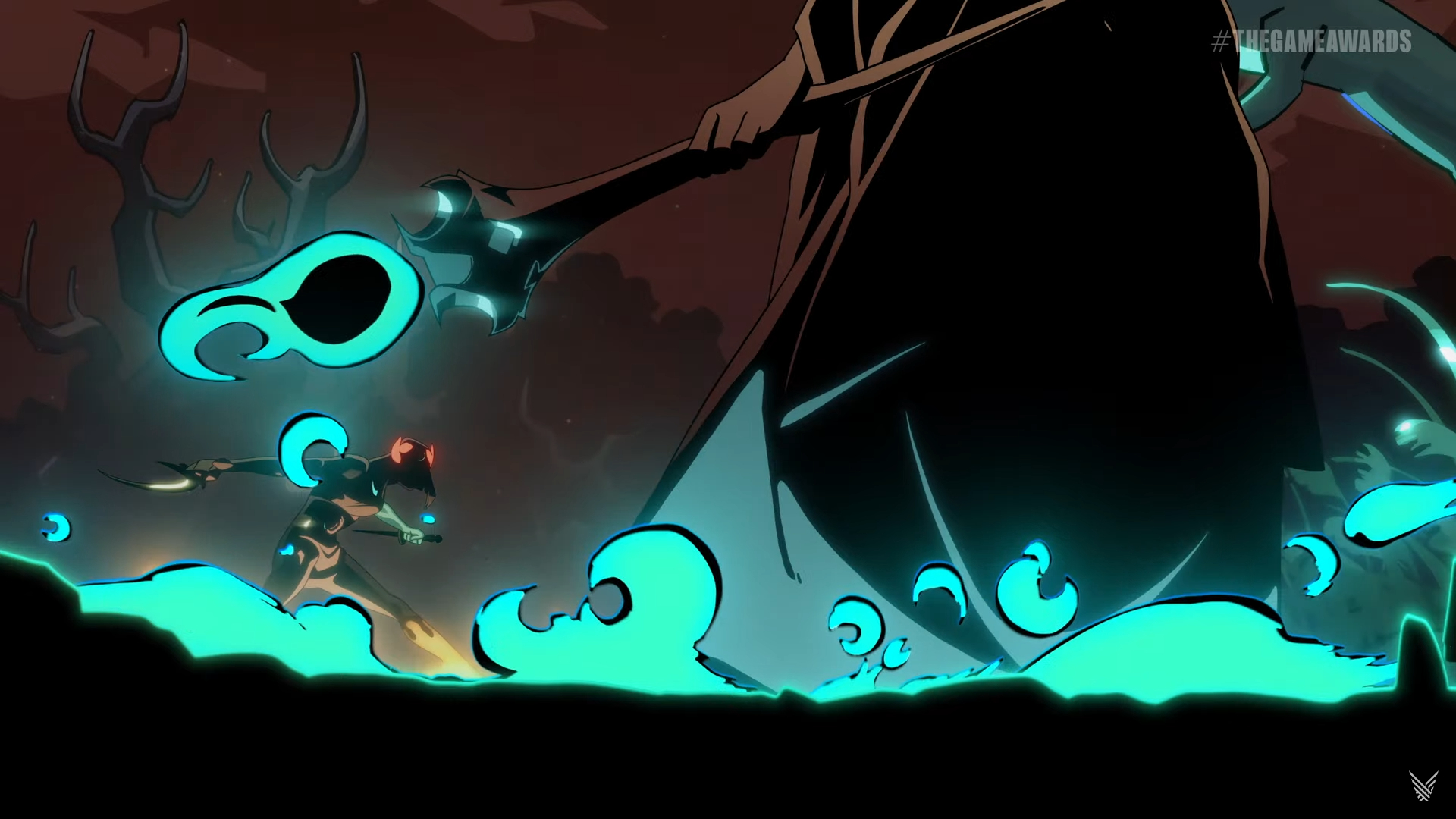 We get our first glimpse of the next Hades game, named Hades II. This one seems veyr much in the game of the original, so fans of Hades should enjoy this one. I didn't care for Hades so I'll skip it. Sorry.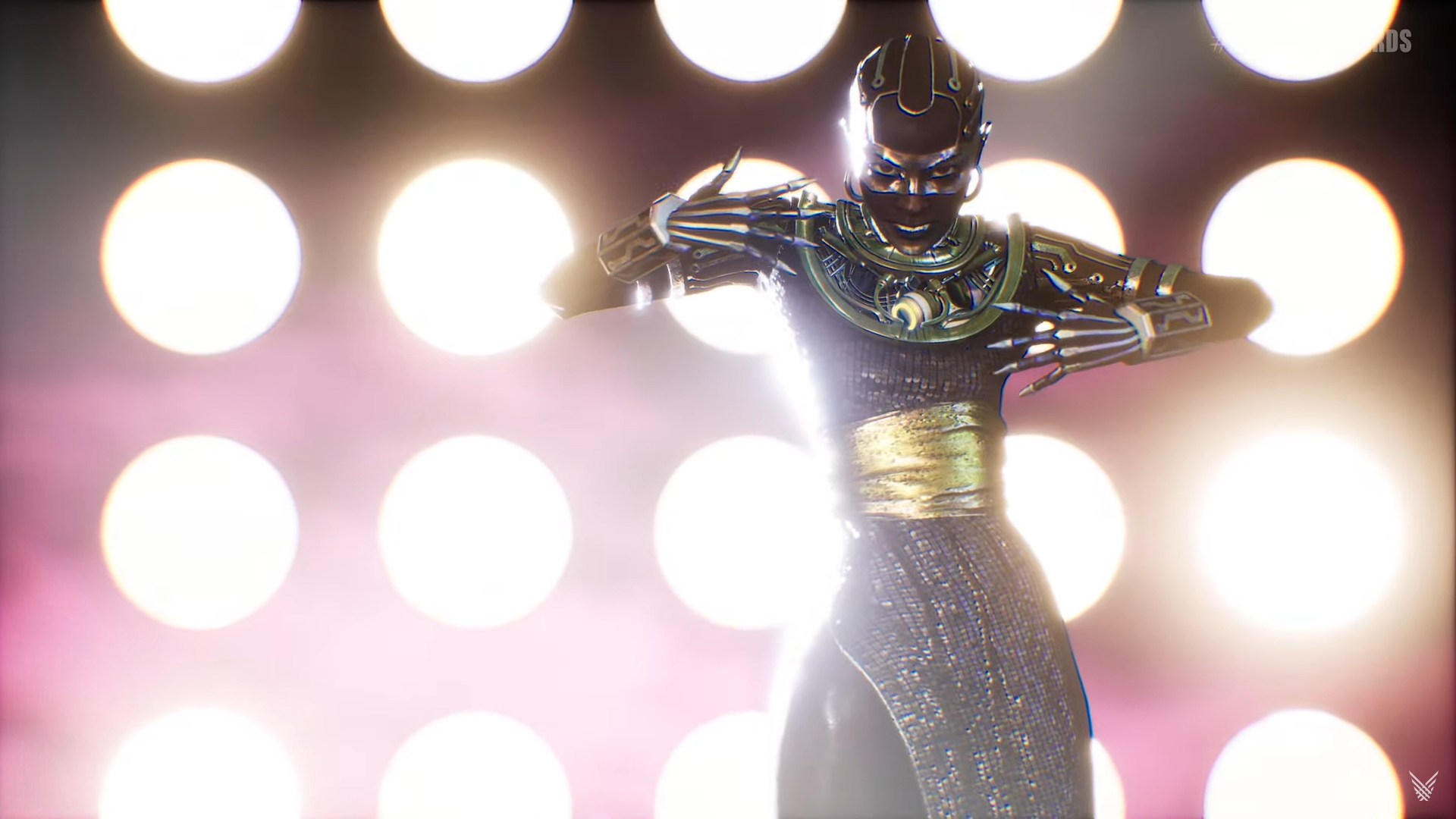 Judas is the new game from Bioshock creator, Ken Levine. This one has been in development for a long time so it's great to see it finally see the light of day. Absolutely a spiritual successor to Bioshock, which I'm all for. I look forward to hearing more about Judas.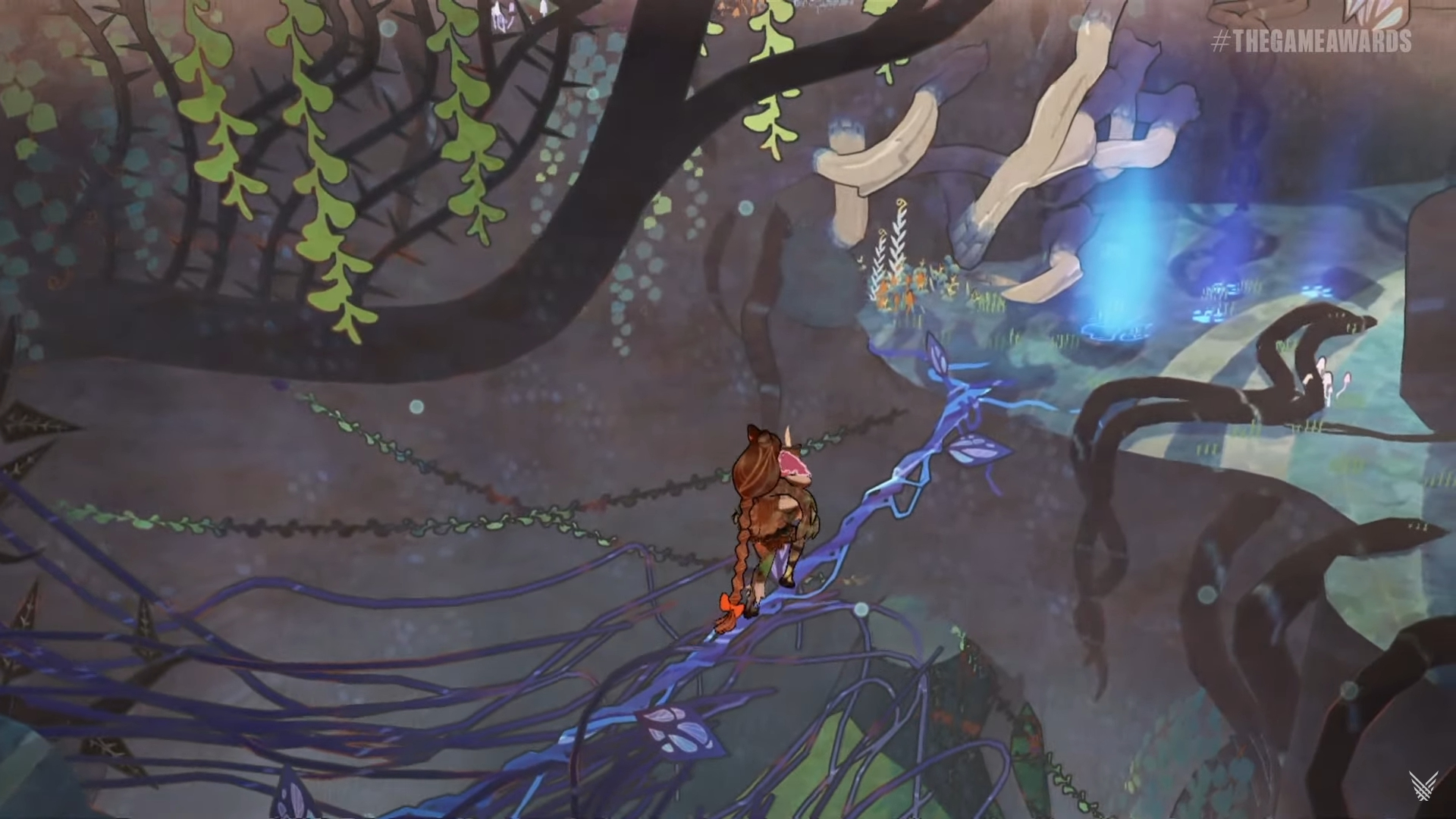 Bayonetta Origins is coming on March 17, 2023 as a Nintendo Switch exclusive. This one has an isometric view and has simpler graphics. I guess Nintendo wanted a Bayonetta game that could actually run well on Switch. Not sure how the fans will react to this entry since it seems so different.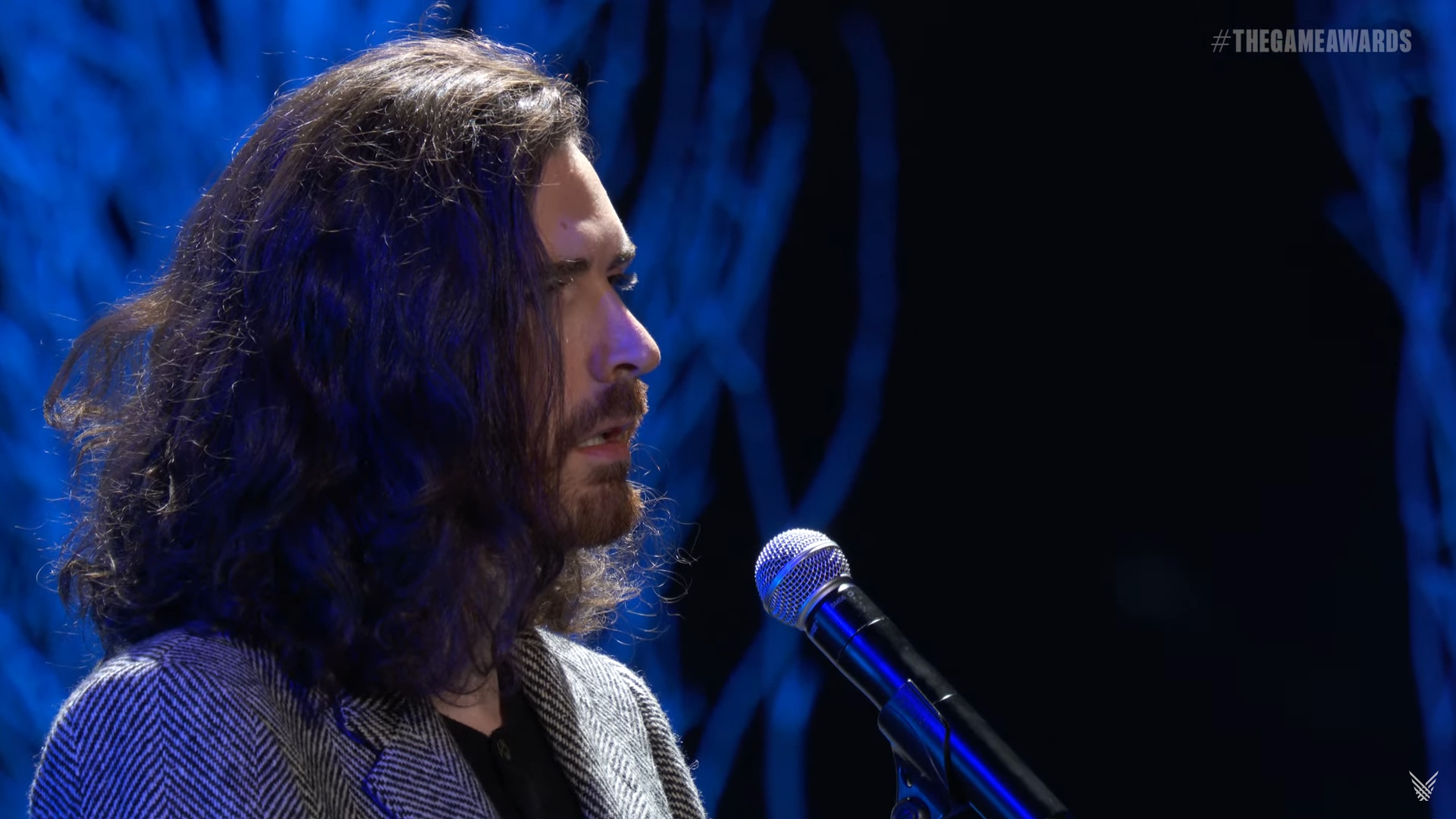 We have our first musical performance of the night. This song, Blood Upon the Snow, is from God of War Ragnarok. A nice performance overall.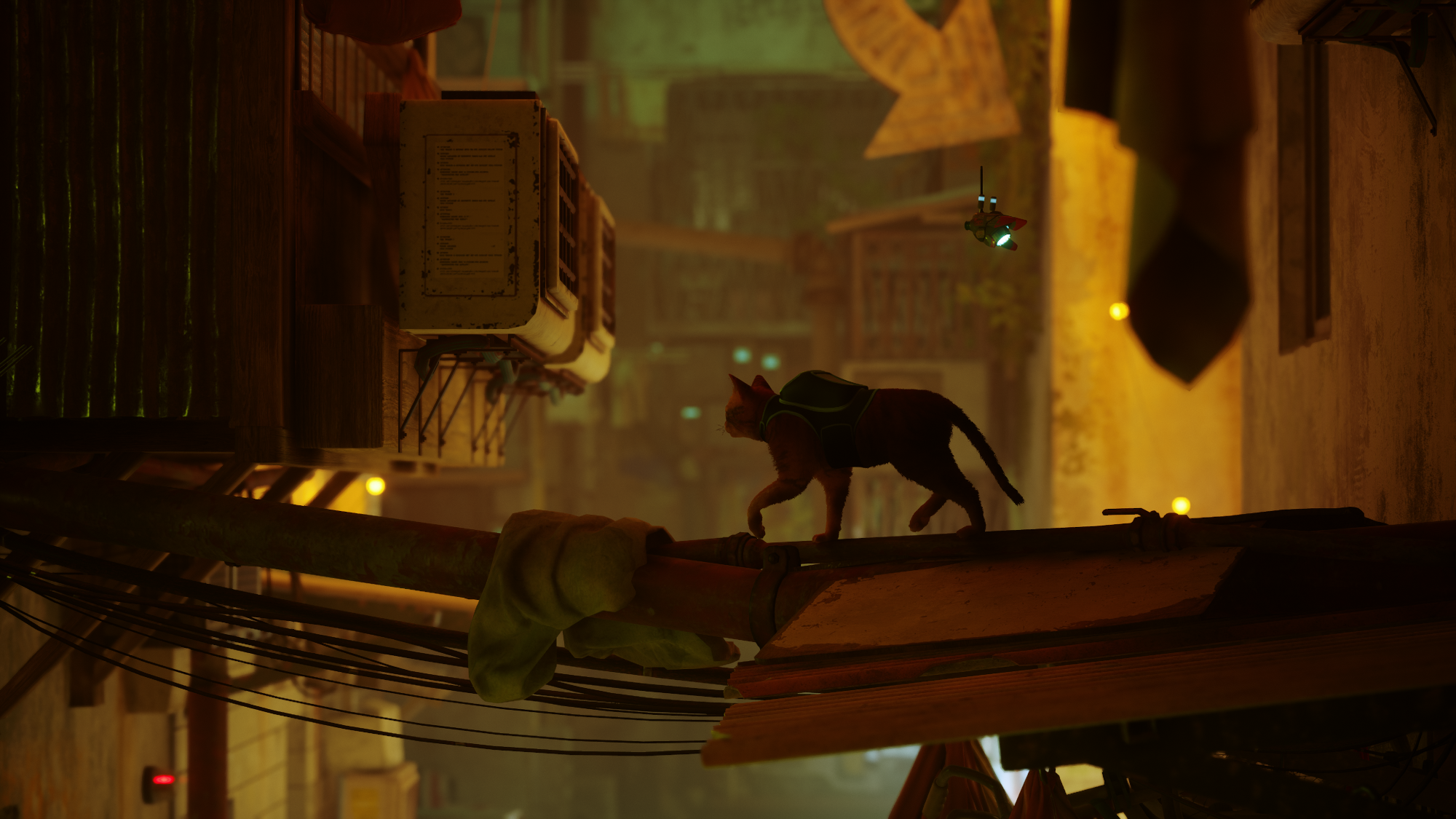 Stray wins for best debut indie game. This award is notable for being presented by Daniel Craig and Rian Johnson. But seriously, everyone loved Stray so I'm not surprised it won in this category. Remember when everyone was posting photos of their cats watching the game? Good times.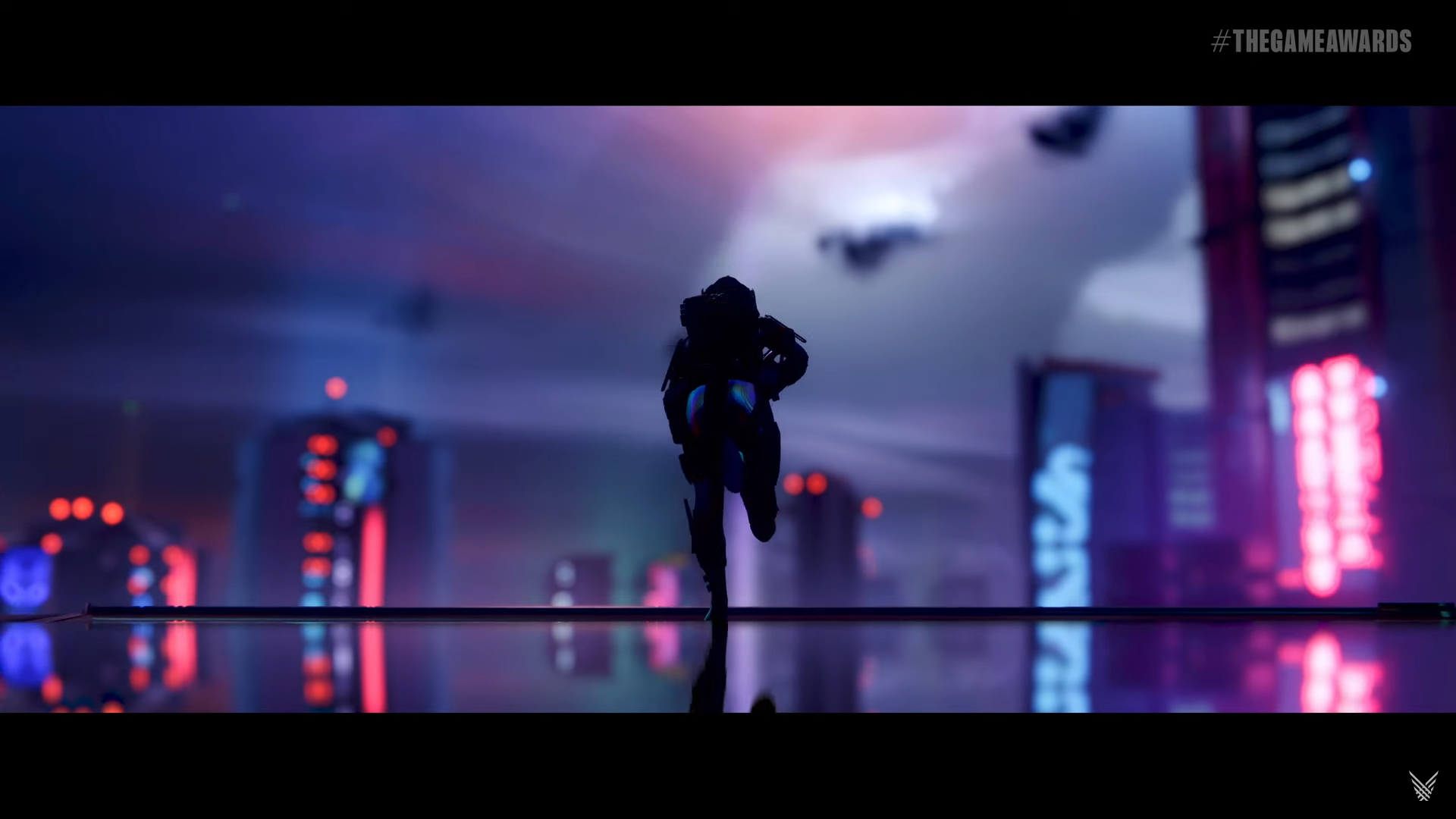 Destiny 2: Lightfall gets a trailer. This one drops on Feb 28, 2023. If you're still playing this game, you have something to look forward to.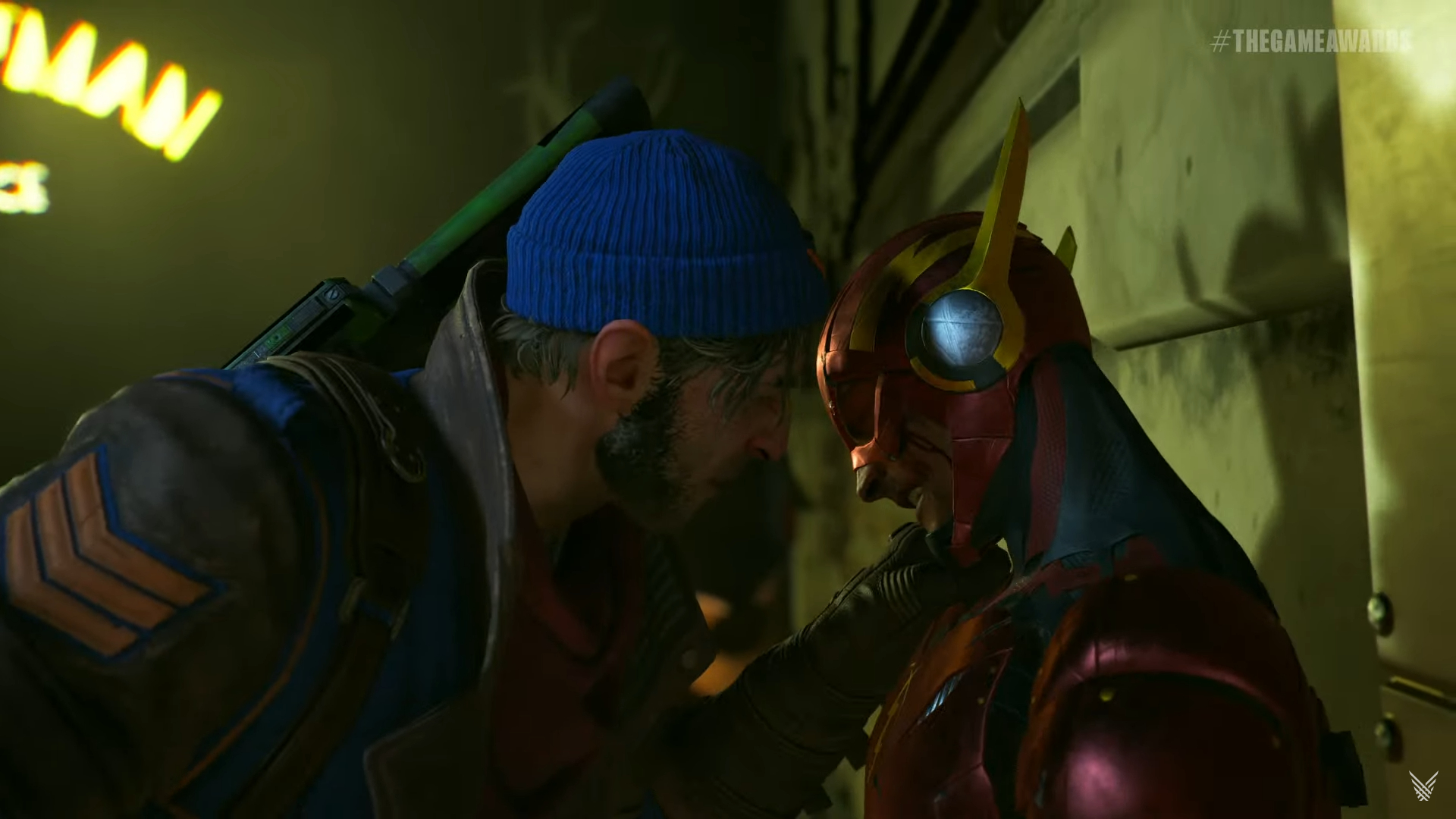 Suicide Squad: Kill the Justice League gets a new trailer. Most importantly, this trailer lead to a tribute to the late great Kevin Conroy. Mister Conroy will voice Batman in the game, which is certainly a good thing.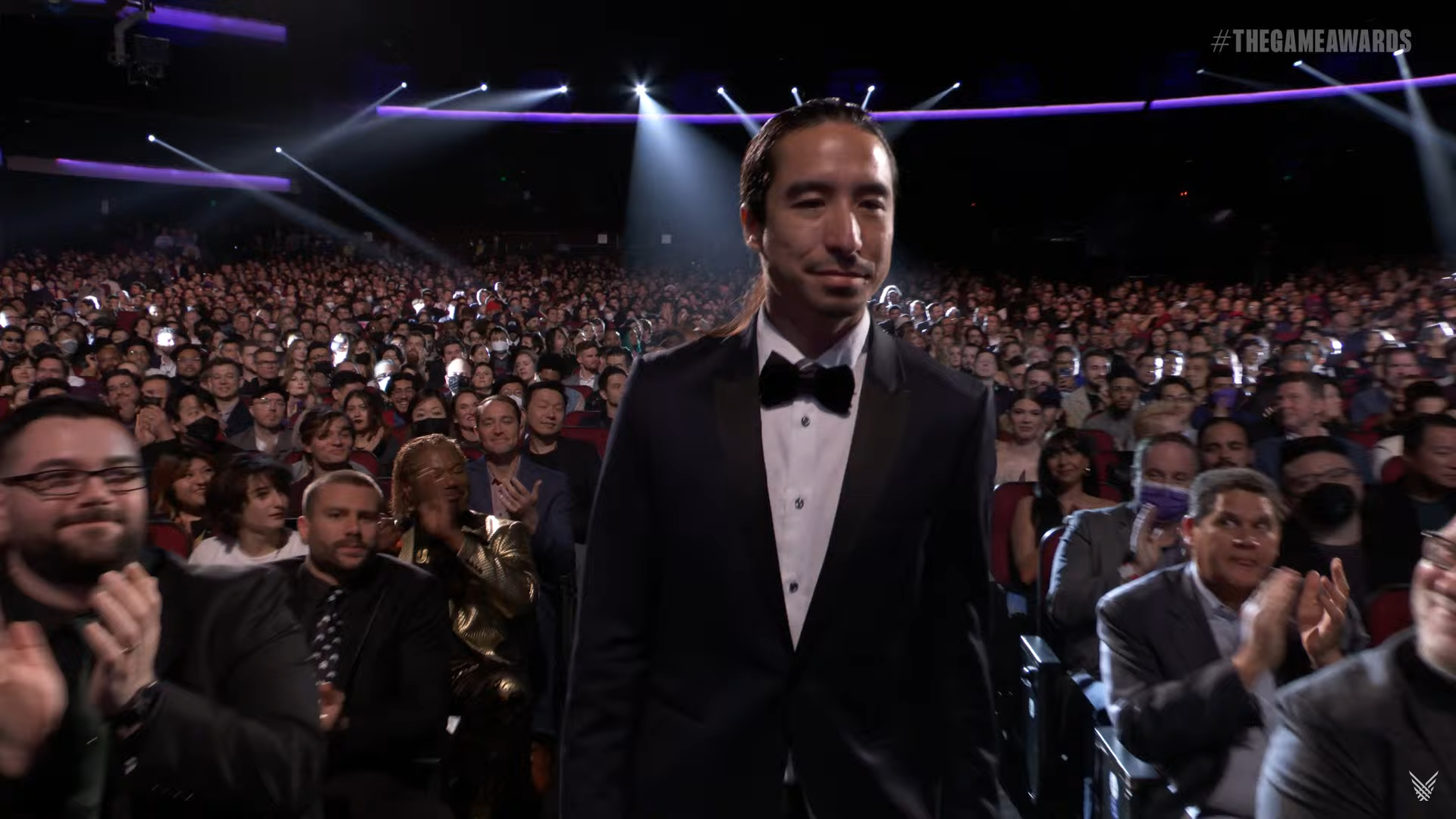 Arcane: League of Legends wins best adaptation. Kind of an upset over Cyberpunk: Edgerunners, but I'm happy for those involved in this project. Also happy for the fans of the show and game.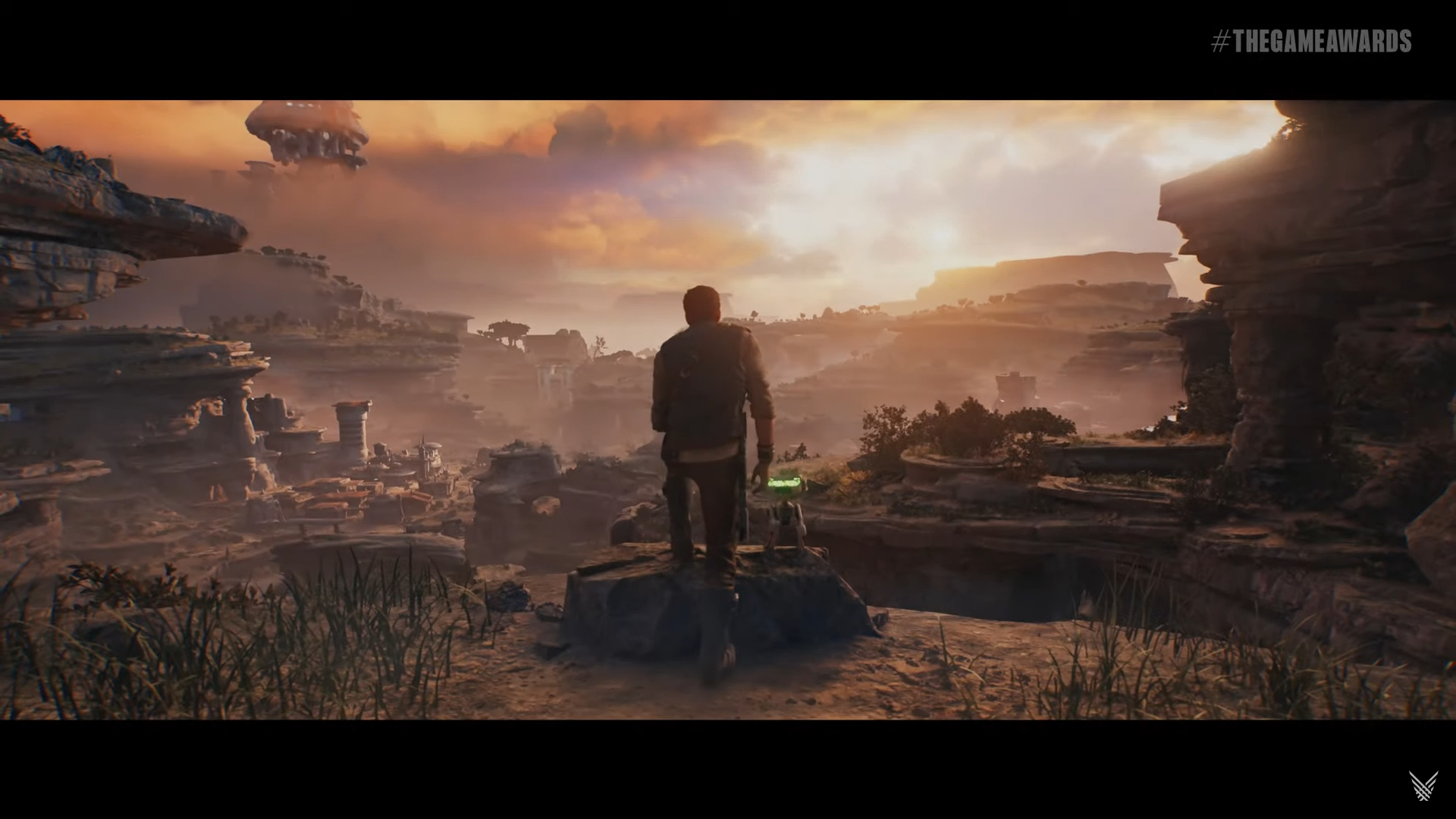 Star Wars: Jedi Survivor gets a brand new trailer and it looks phenomenal. I was a huge fan of Jedi Fallen Order and cannot wait to play the sequel. It will run on Unreal Engine 5 and be exclusive to current-gen consoles. It arrives on March 17, 2023.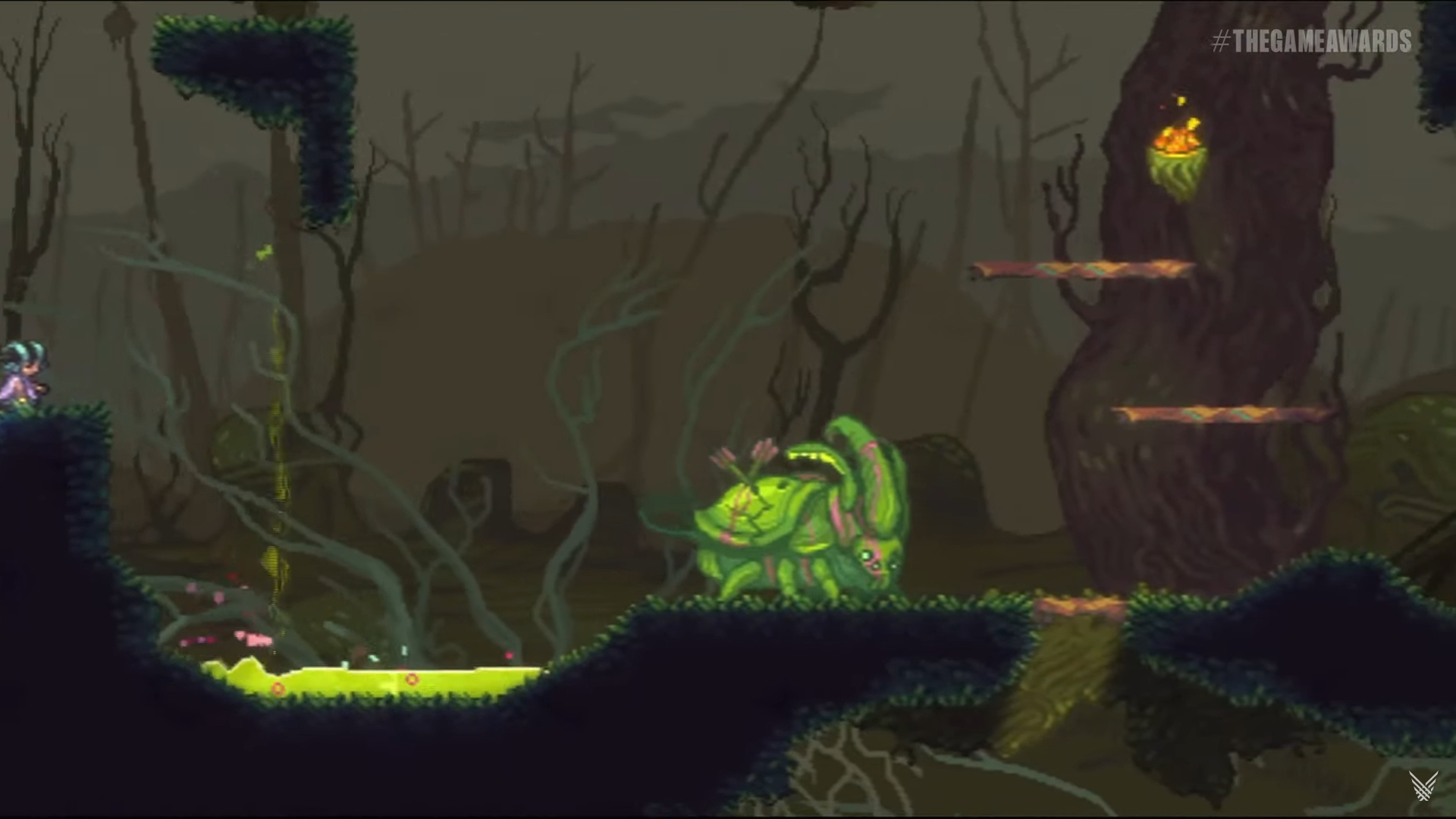 Earthblade is an upcoming indie game. It seems like another Metroidvania title, but it certainly looks gorgeous. I'll keep an eye on it.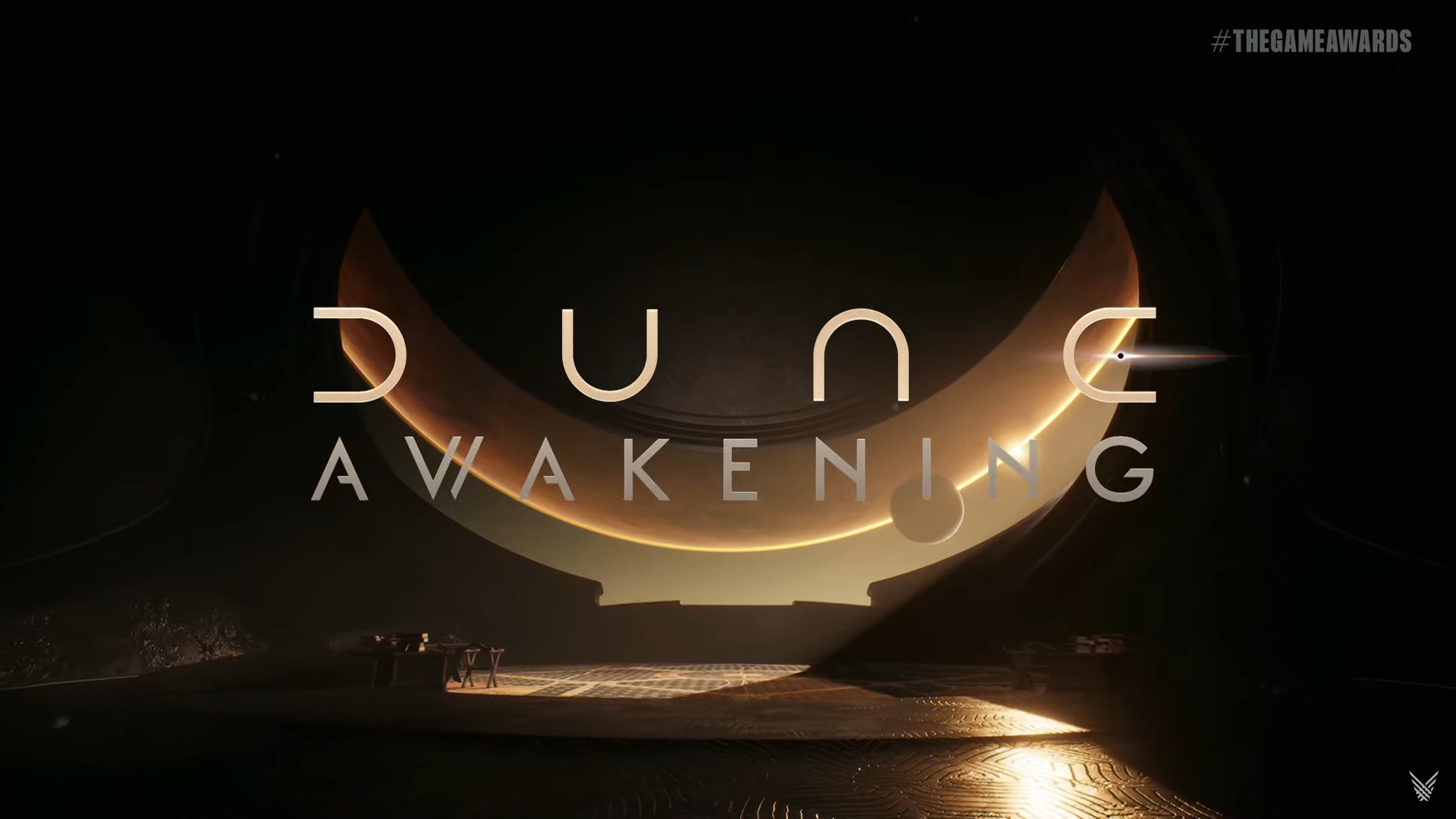 Dune Awakening gets a trailer. This is a survival open world MMO, which I suppose makes sense for the world of Dune. No release date for this but we'll keep you updated.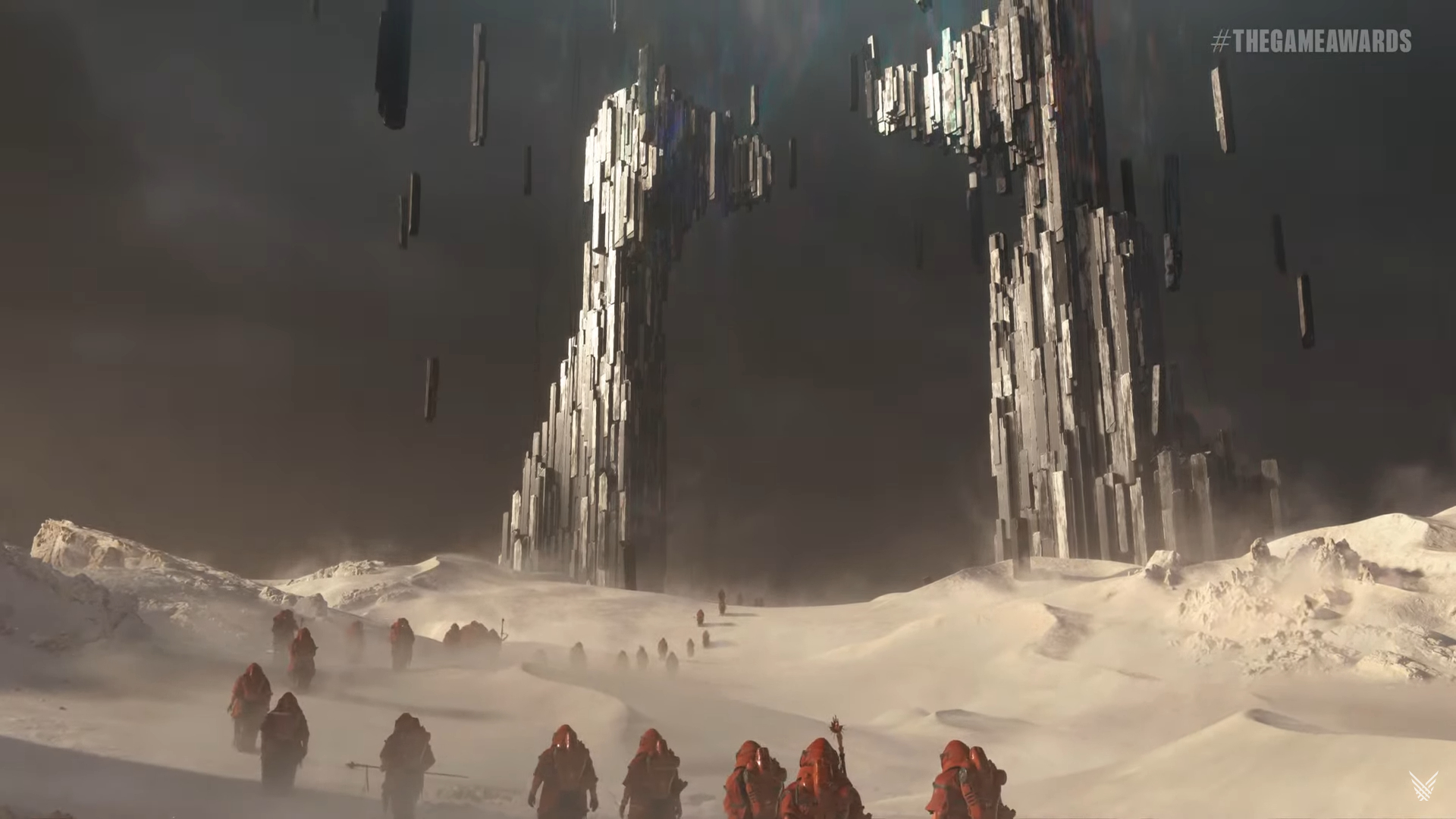 Now this is huge. Death Stranding 2 gets a trailer. It was unclear if the game would get a sequel considering the first didn't sell too well, but I guess dreams do come true. As is usual for a Hideo Kojima game, this title looks appropriately weird and creepy. And of course, it has a giant mech... because Kojima.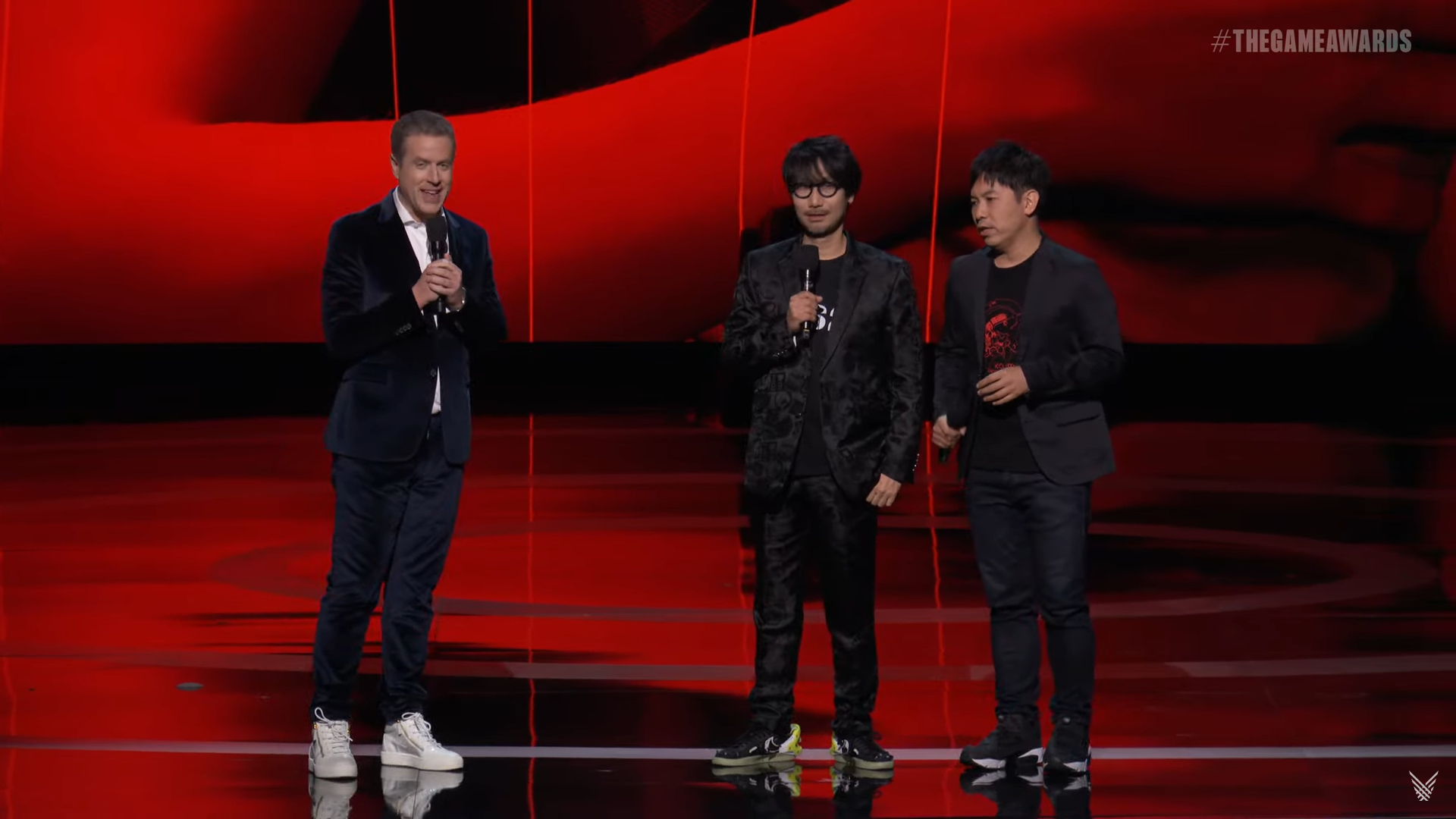 Hideo Kojima comes on stage to discuss Death Stranding 2. Or rather, not discuss anything as he was tight-lipped about the upcoming title. He did tease another game in the works as well. No idea what that could be but color me excited.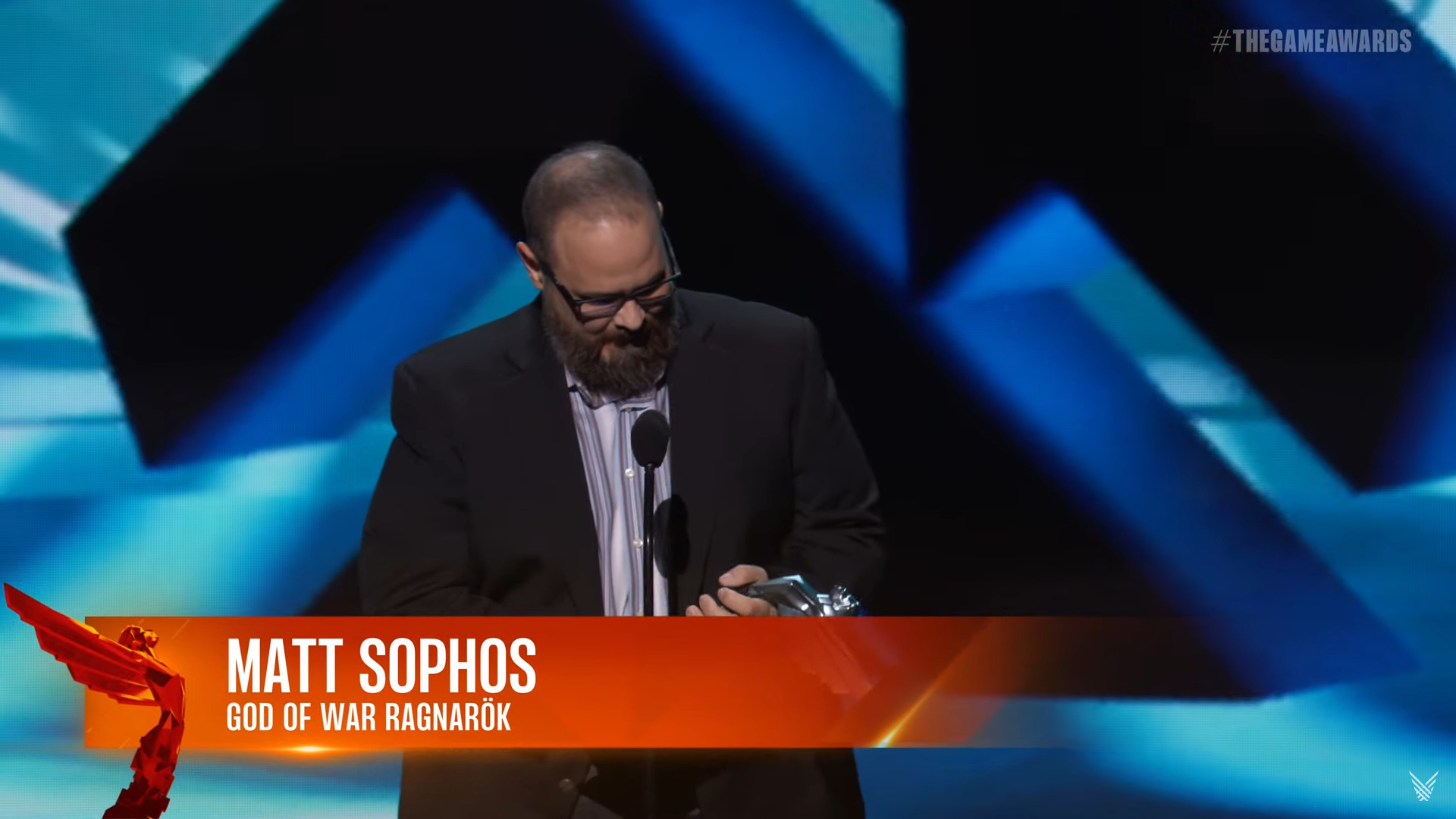 Matt Sophos takes the stage to accept the award for best narrative, which God of War Ragnarok won. This was my personal favorite story of 2022 so as far as I'm concerned this award is well deserved.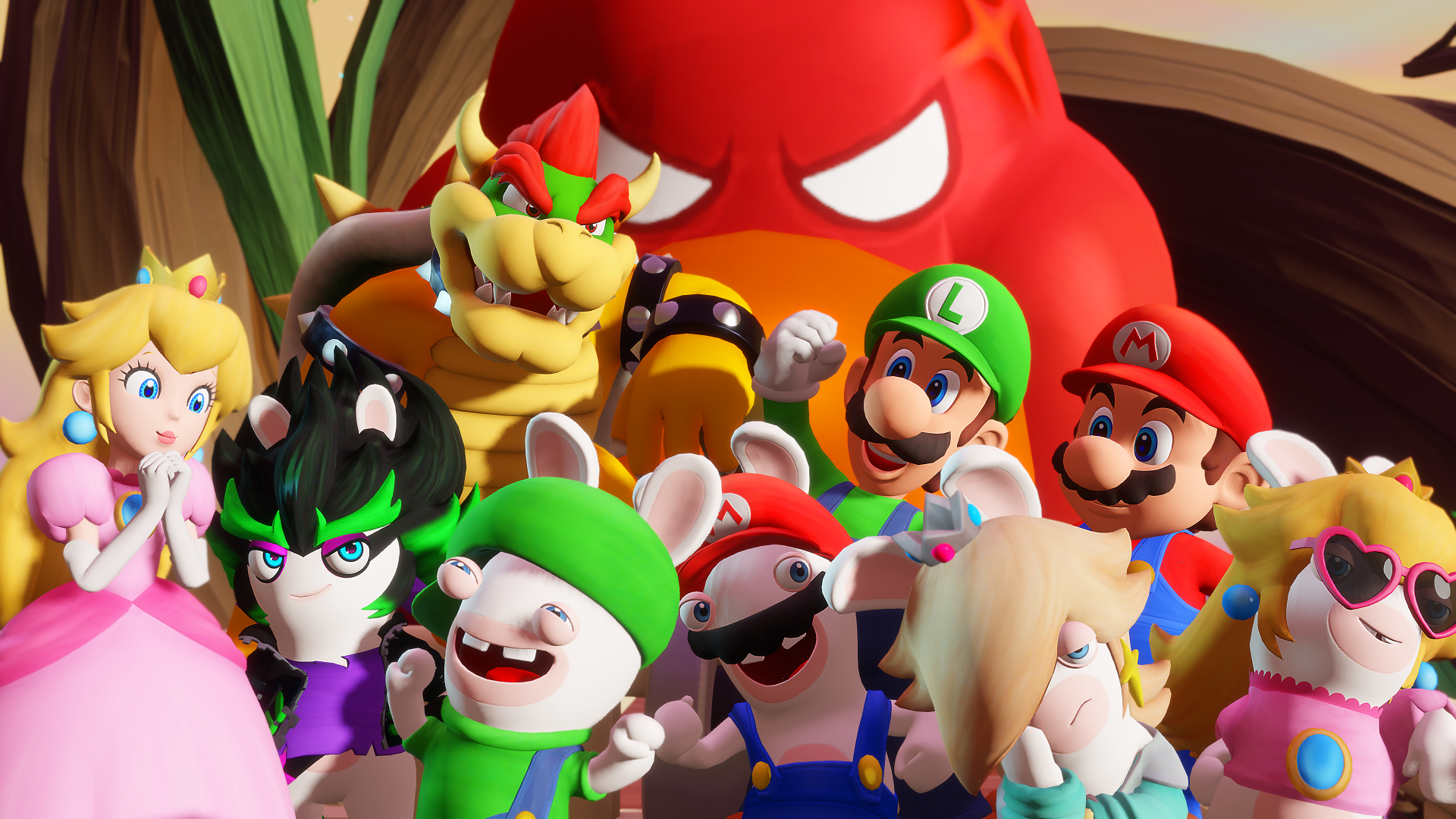 We get a rapid fire announcement of some game awards. I'll spend as little time on these as The Game Awards did.
Elden Ring: Best art direction
Moss Book II: Best VR game
Mario + Rabbids: Sparks of Hope: Best sim game goes to Mario + Rabbids: Sparks of hope
Final Fantasy XIV: Best community support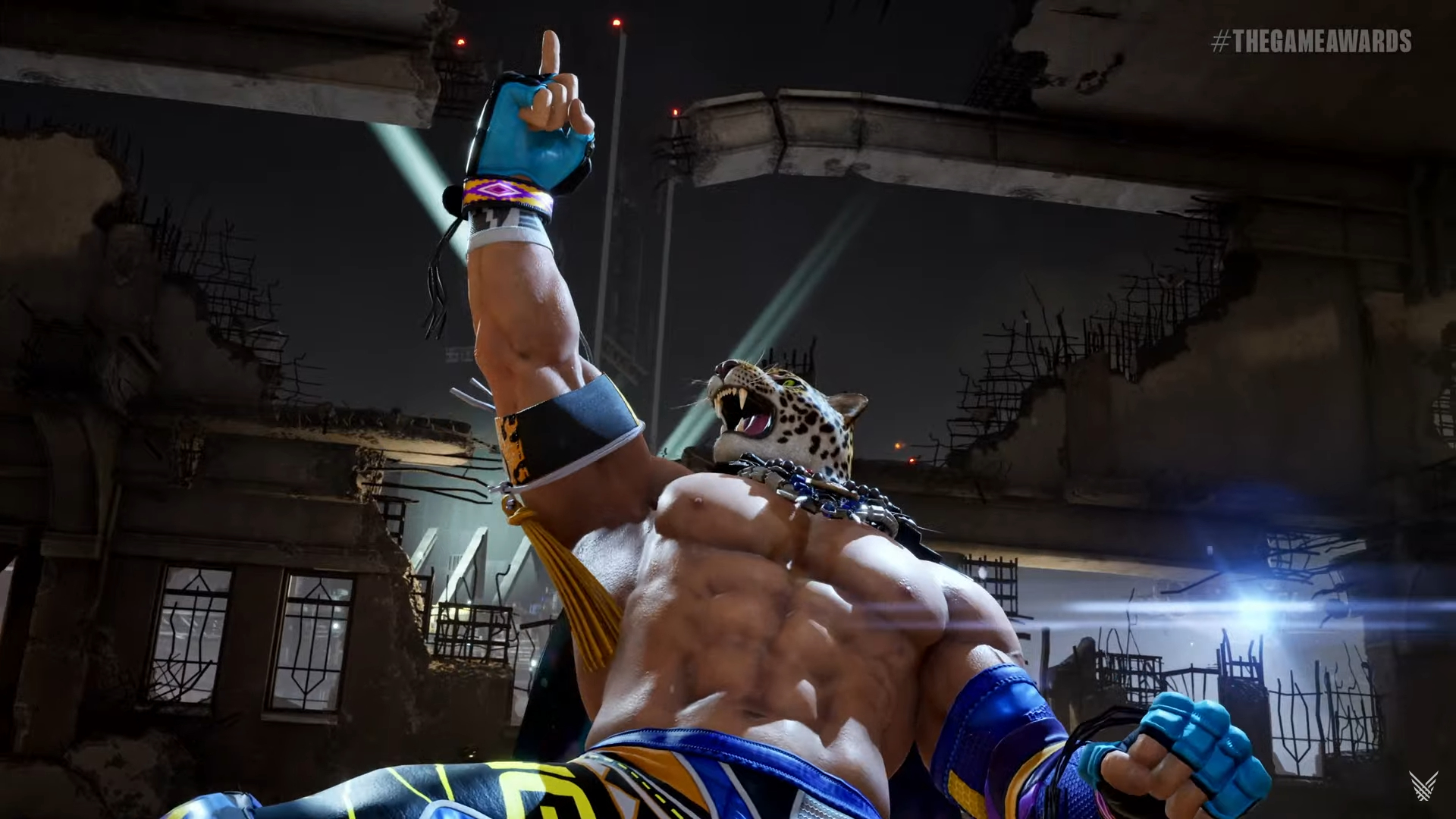 Tekken 8 is announced. I was more of a Virtua Fighter guy so I never got into the Tekken series. But unlike my beloved Sega fighting game franchise, Tekken at least gets new games. This one looks fun.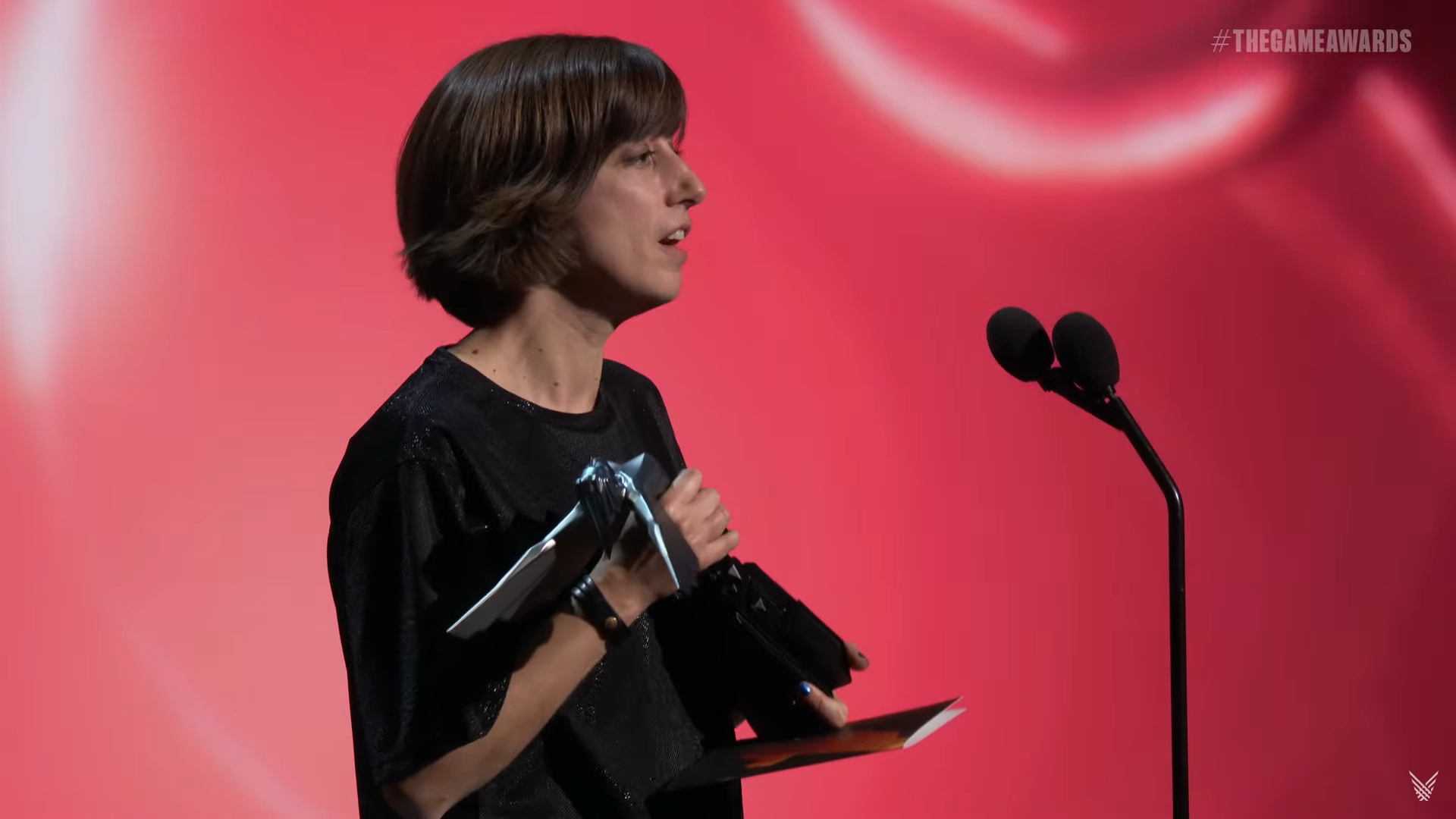 The award for games for impact goes to As Dusk Falls. I hate to admit that I'm not familiar with this title. Regardless, it's good to see an indie game get shine at The Game Awards.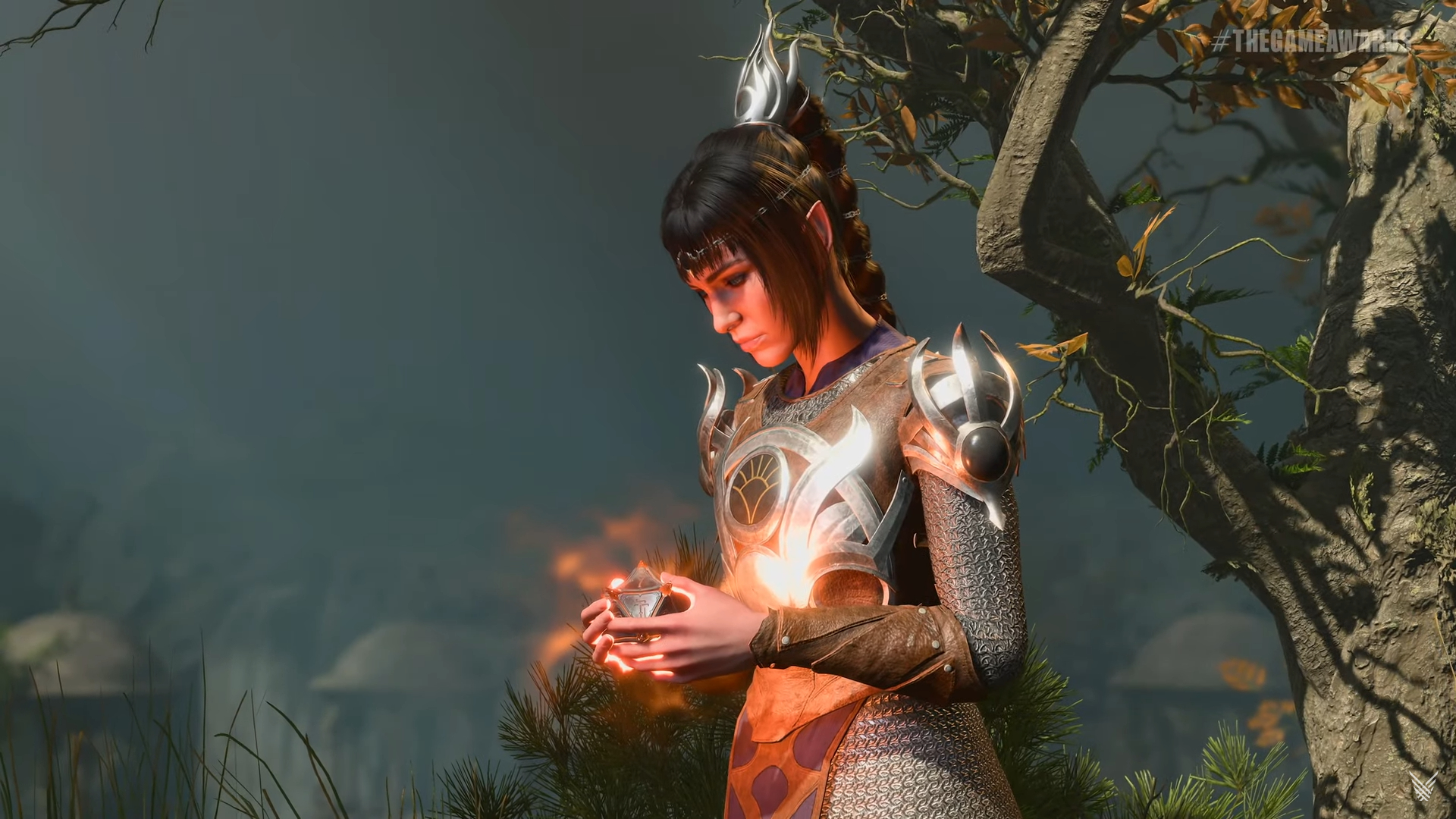 Baldur's Gate 3 is finally getting a full release in 2023. Baldur's Gate is a legendary franchise so it's awesome to see the latest game come out. I played the beta many years ago and look forward to the finished product.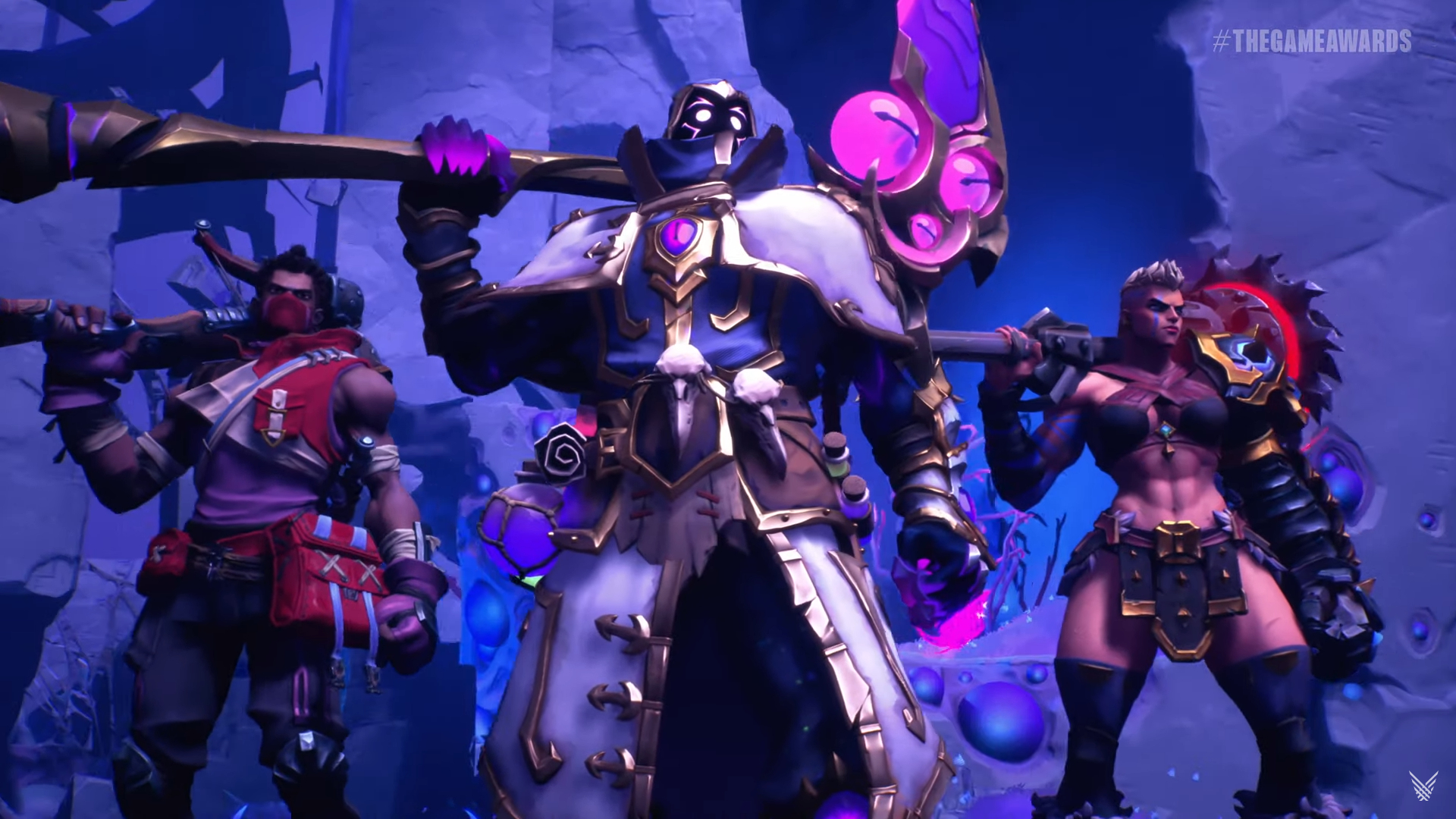 Wayfinder is a new game from comic book legend Joe Madureira. This looks like a mix between Diablo and World of Warcraft. If you know Joe Mad, then the fact he's behind a game like this is not surprising. Still, I was hoping for a new Darksiders game.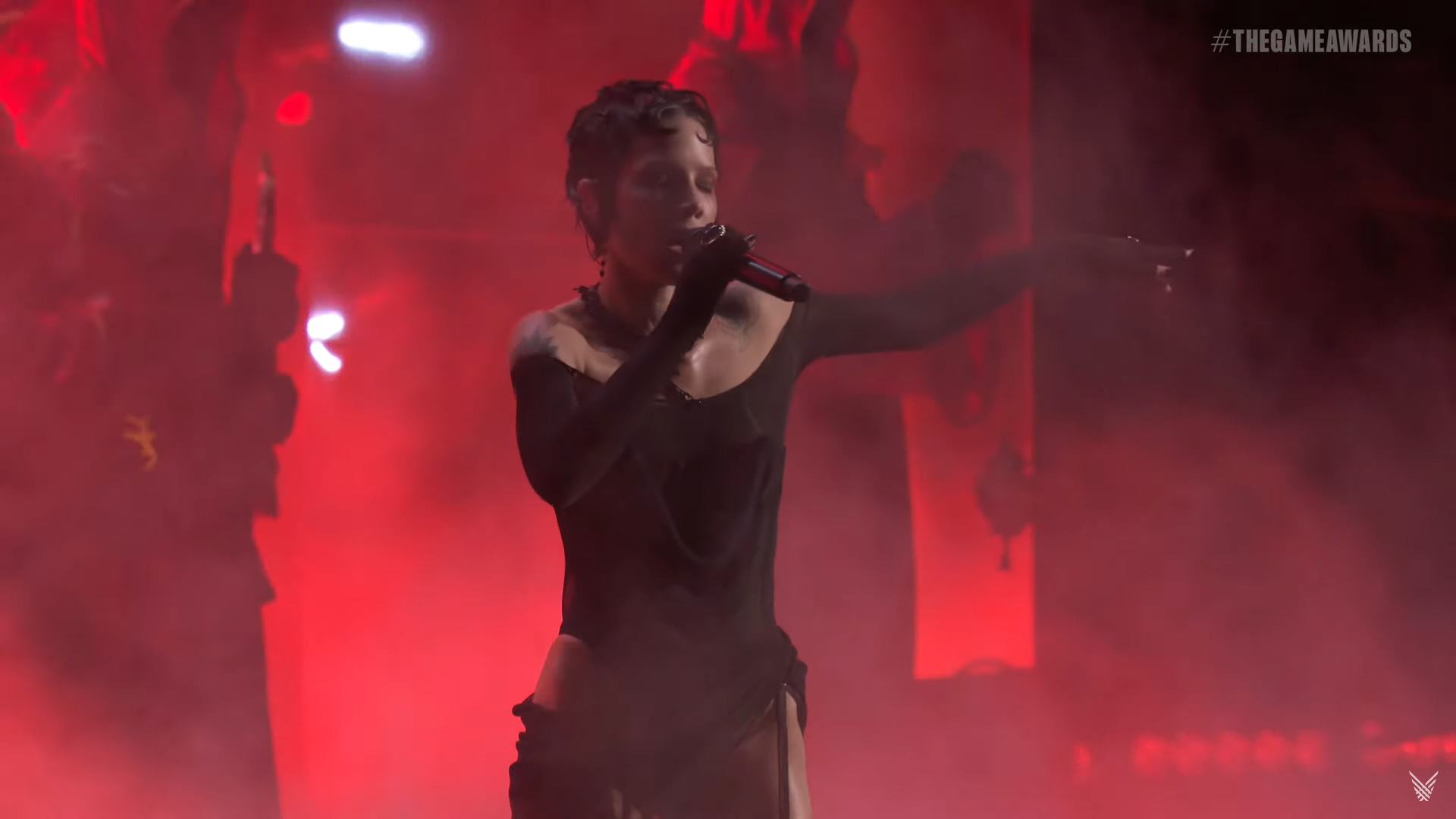 We get a brief musical performance for Diablo 4. I'll admit, I have no idea if the singer is famous or not. I'm not hip with what the kids are on about these days. But, hey, at least Diablo 4 looks cool!
Another fire round of awards.
Gran Turismo 7: Best sport game
Splatoon 3: Best multiplayer game.
God of War Ragnarok: Best audio design.
Ludwig: Best content creator of the year.
The Legend of Zelda: Tears of the Kingdom: Most anticipated game.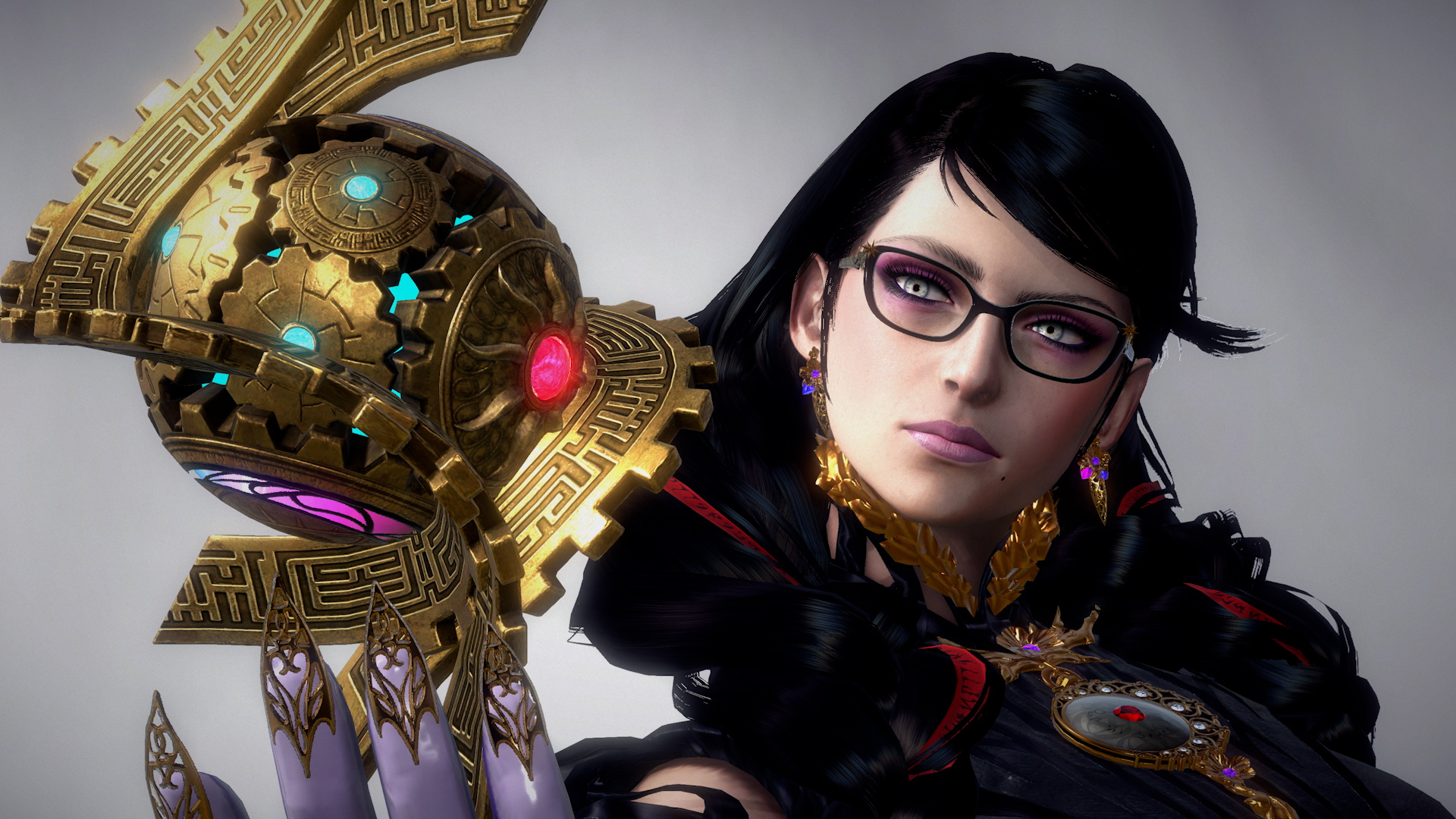 Bayonetta 3 wins best action game of the year. This award was presented by both version of Joel and Ellie from The Last of Us TV show and video games. Doug Bowser accepts the award on behalf of Platinum Games.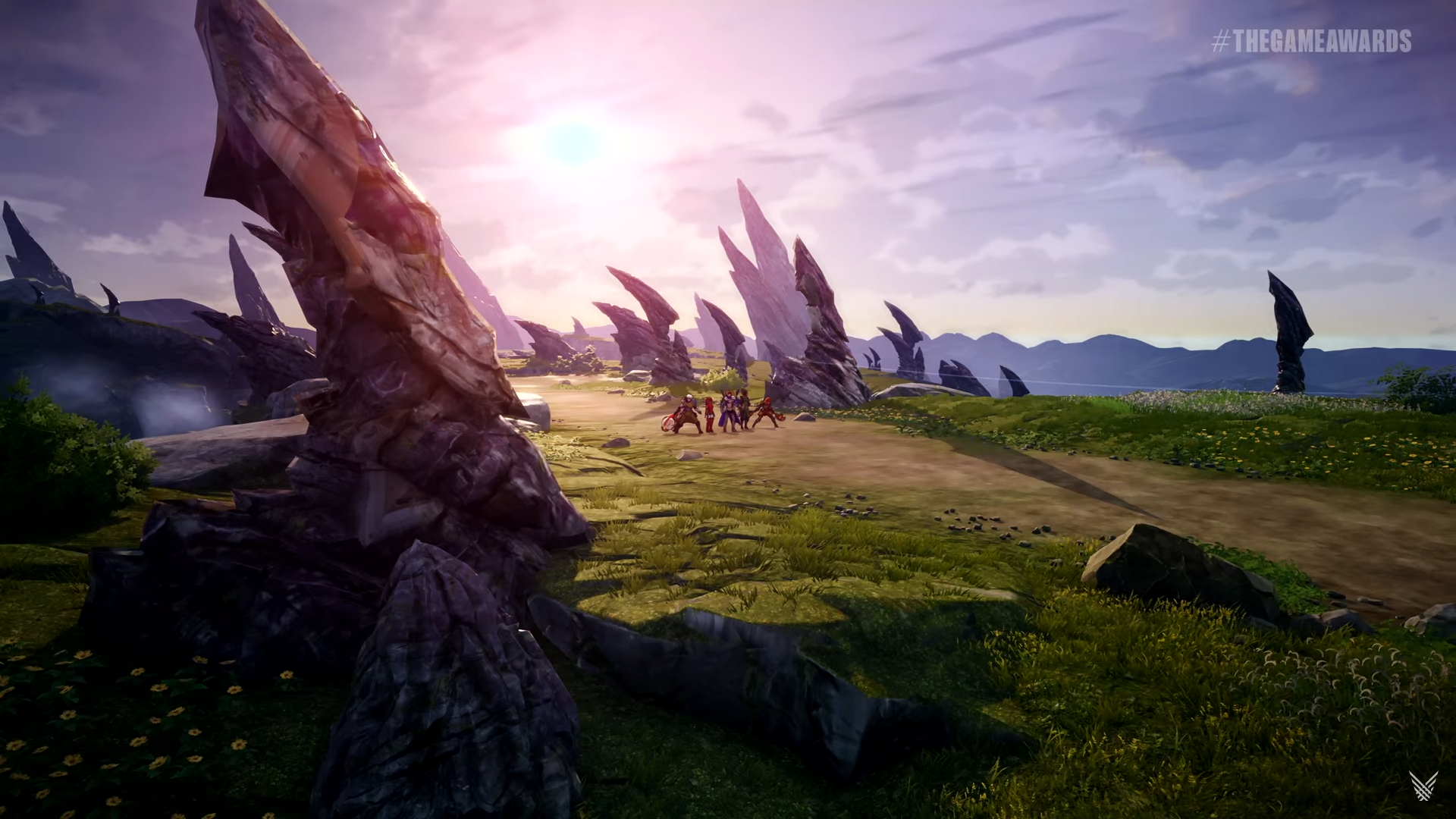 We get a trio of announcemetns. The first is from Bandai Namco, who briefly discusses Blue Protocol (pictured above), a new online MMORPG. This seems like what you'd expect from the genre, which is either good or bad.
The second trailer is for a game called Remnant II, which seems to be heavily inspired by Dark Souls. I suppose this game distinguishes itself by having firearms... though Bloodborne already did that.
Lastly, we get a trailer for a new Transformers game... which is playing an... interesting cover version of Wanted Dead or Alive from Bon Jovi.
Horizon Forbidden West: Burning Shores launches April 19, 2023. First details on the expansion set in the untamed wilds of Los Angeles: https://t.co/uL14rIdYxp pic.twitter.com/sscRAtfXroDecember 9, 2022
Horizon Forbidden West: Burning Shores launches April 19, 2023. What's noteable about this is that this is a PS5 exclusive i.e. it won't be coming to PS4. Hopefully this is another sign that we're done with cross-gen games.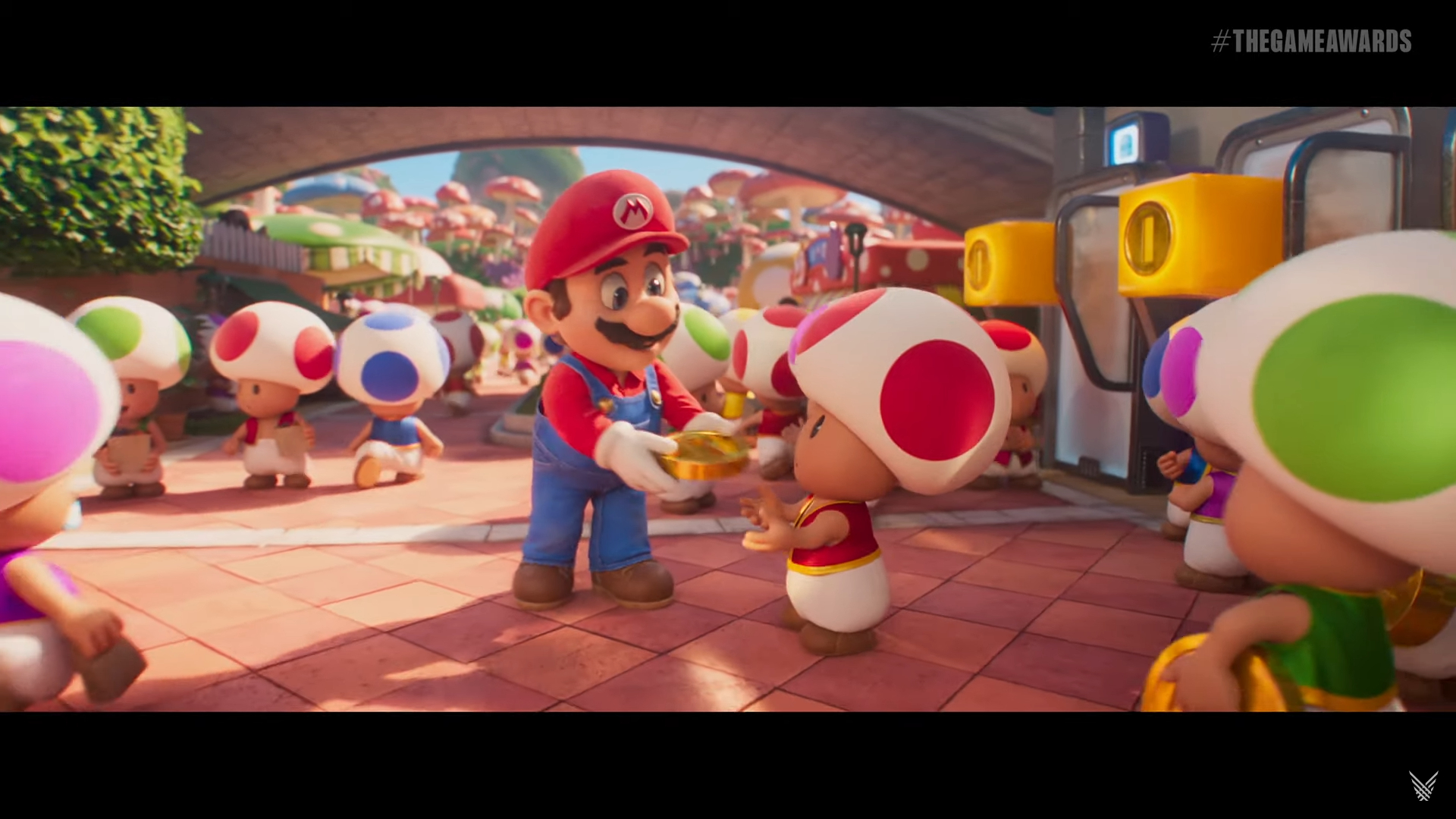 There's a new trailer for The Super Mario Bros. movie. This trailer sees Mario in a town full of Toad people. It's still weird to hear Chris Pratt voicing Mario but I think I'm getting used to it. This movie looks authentic to the games, which is more than we can say about the Sonic the Hedgehog movies.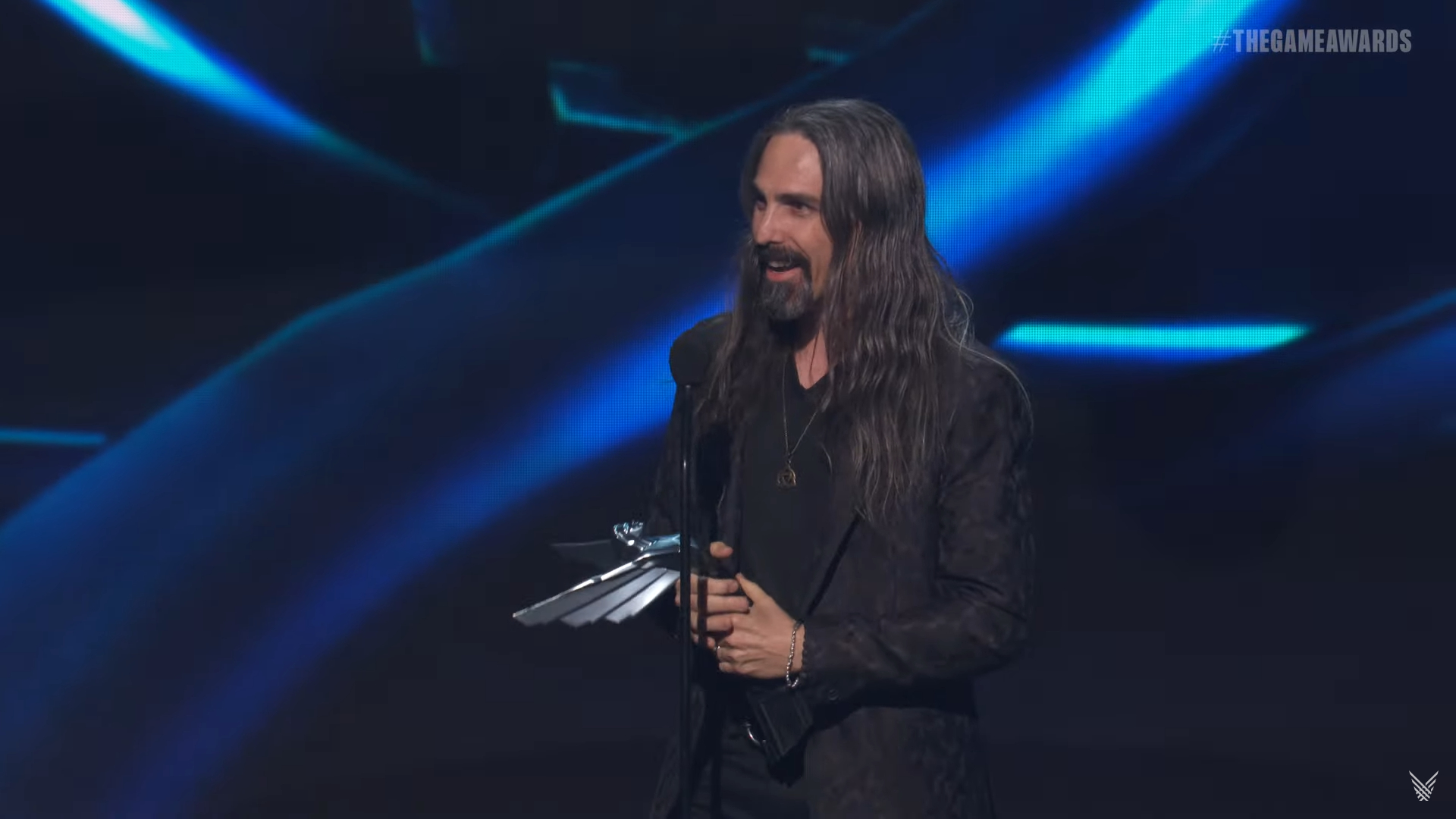 God of War Ragnarok wins best score. The game had an incredible soundtrack so this win was well-deserved. Also, this game is crushing the awards so far. I won't be surprised if it takes home the big prize when this is all over. But we shall see!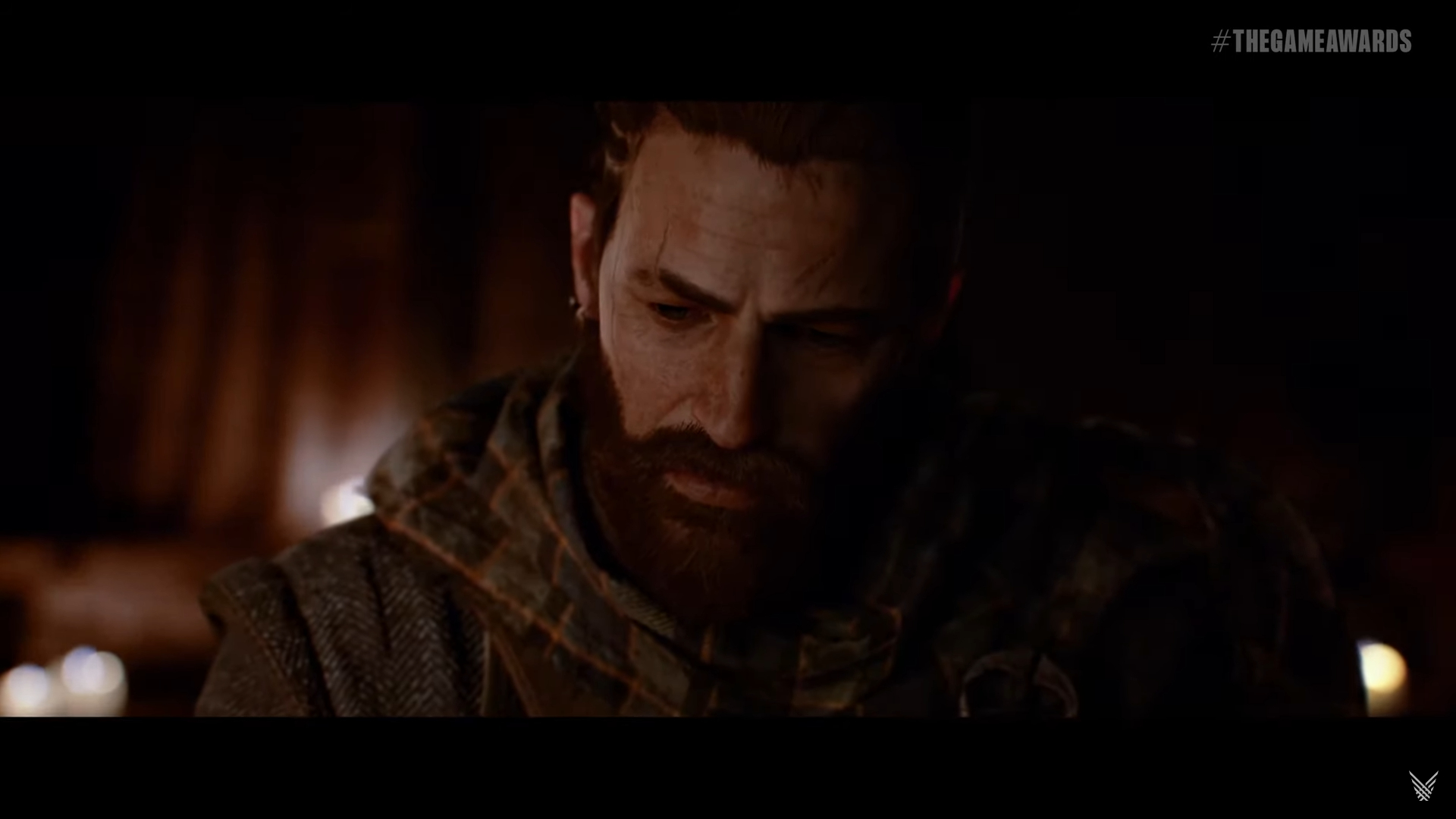 We get some back to back trailers for Banishers: Ghosts of New Eden (pictured above), Warhammer: Space Marine and Meet Your Maker.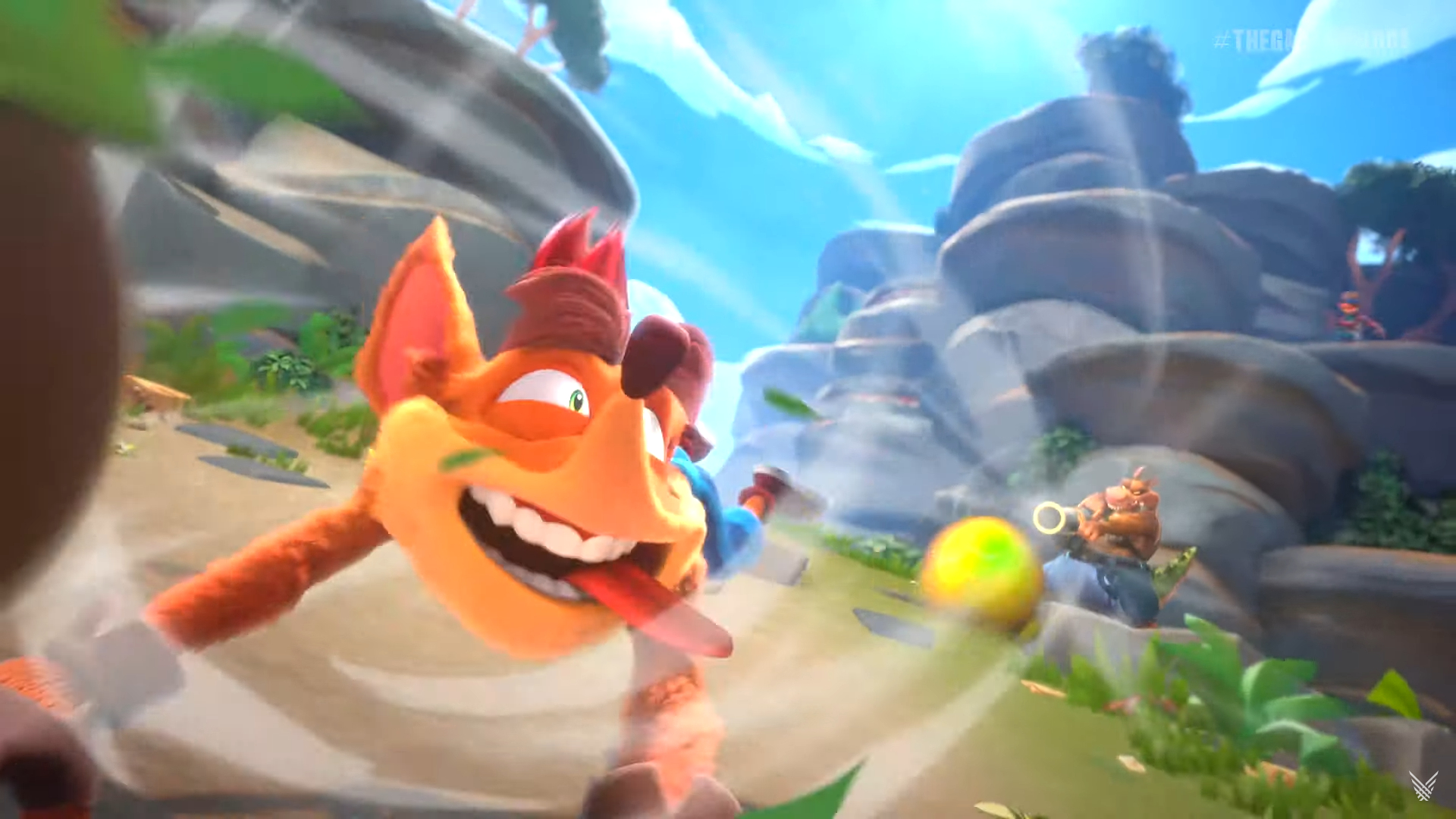 There's a new Crash Bandicoot team battle game coming. I don't really know what to make of this but it seems fun.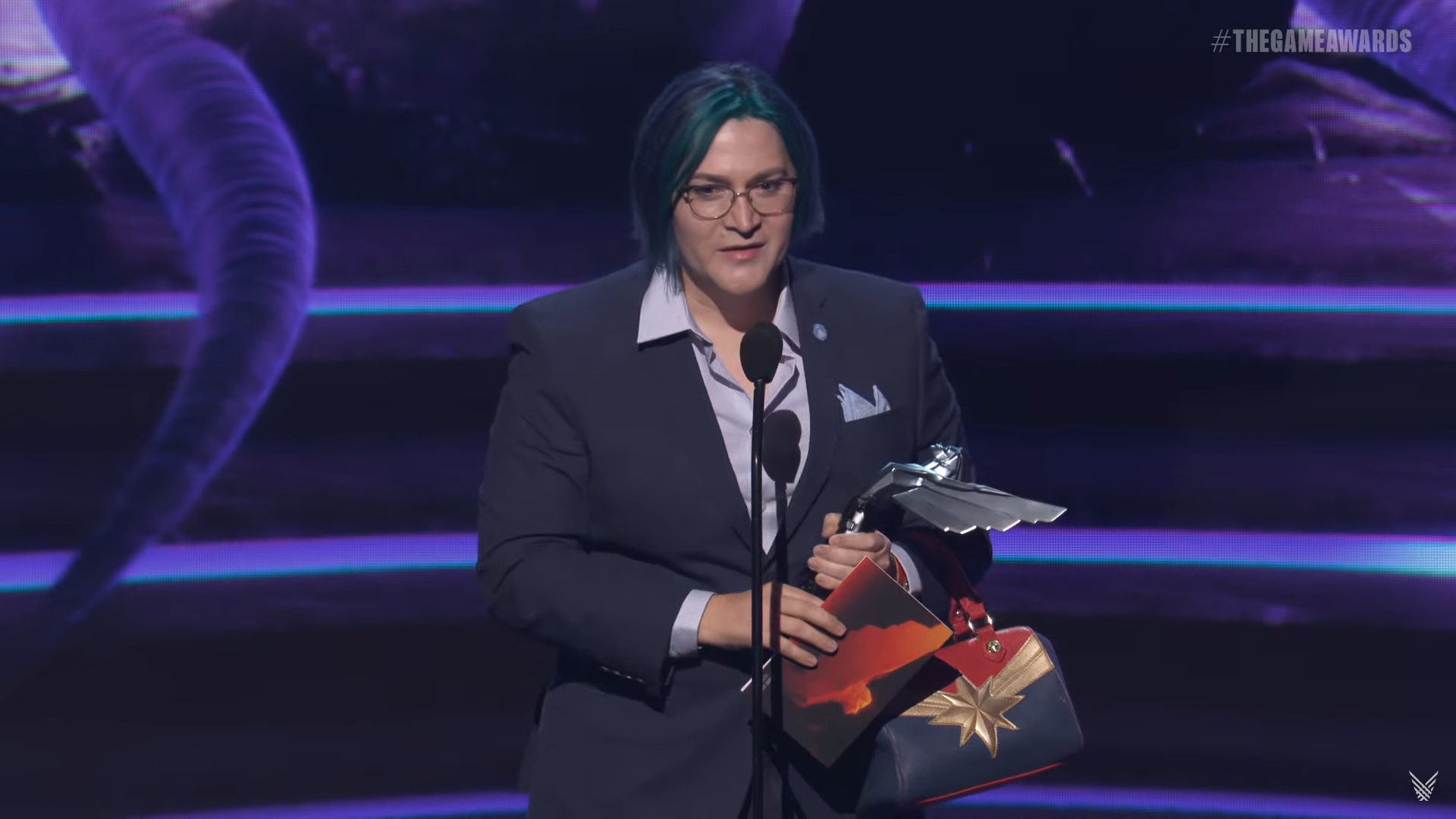 God of War Ragnarok wins another award, this time for best accessibility in games. Sony's first-party titles have become more accessible in recent years and the latest God of War game takes this ethos to the next level. Another well-deserved award.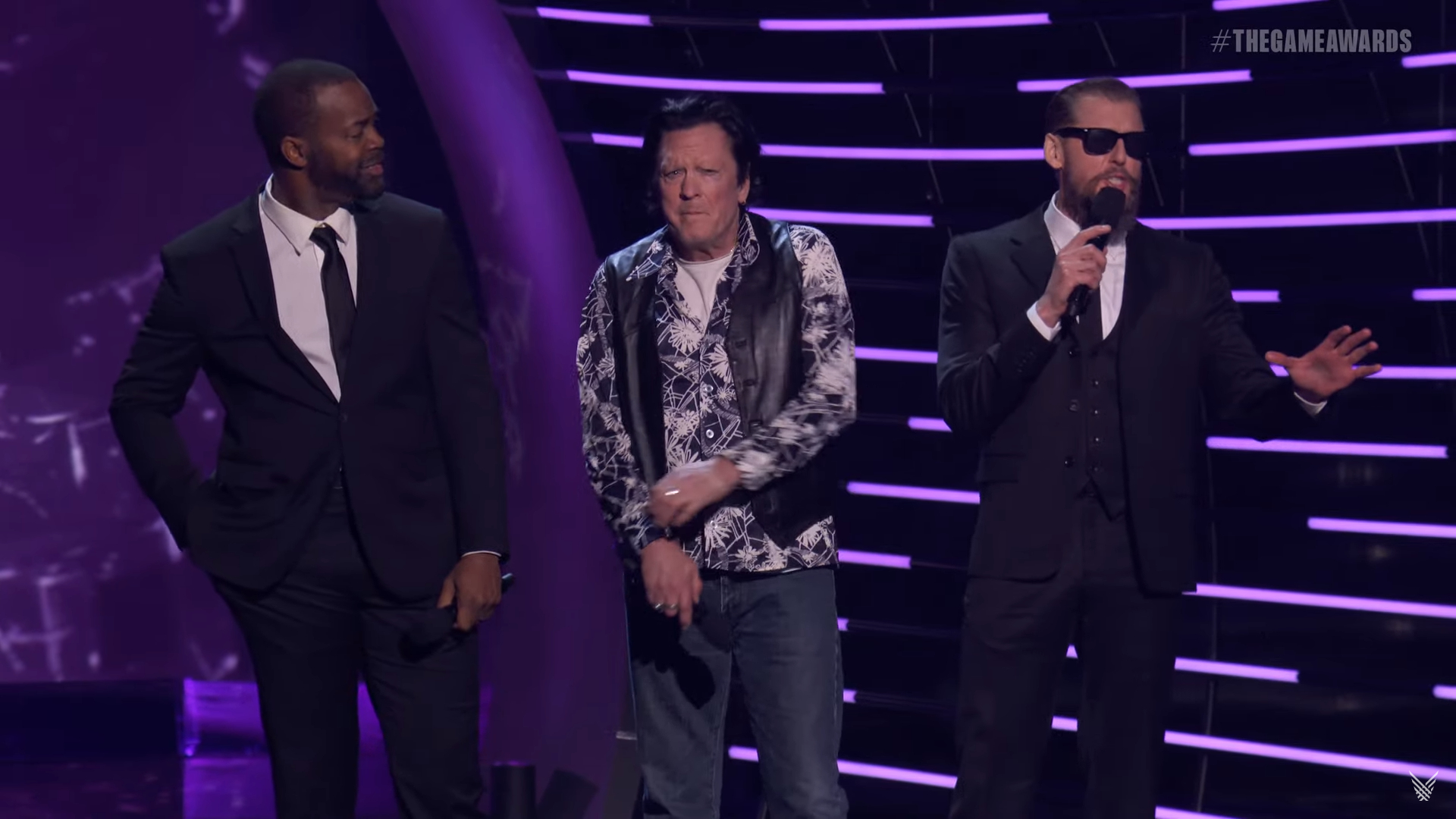 Michael Madson takes the stage to introduce Crime Boss: Rockay City. This game has an all-star cast of Hollywood elites... even Vanilla Ice and Chuck Norris! Expect this one to arrive on March 28, 2023.
Another slew of winners. Is God of War Ragnarok about to sweep this show?
Elden Ring: Best RPG
Genshin Impact: Players voice
Stray: Best independent game
God of War Ragnarok: Best Action/Adventure game
Final Fantasy XIV: Best ongoing game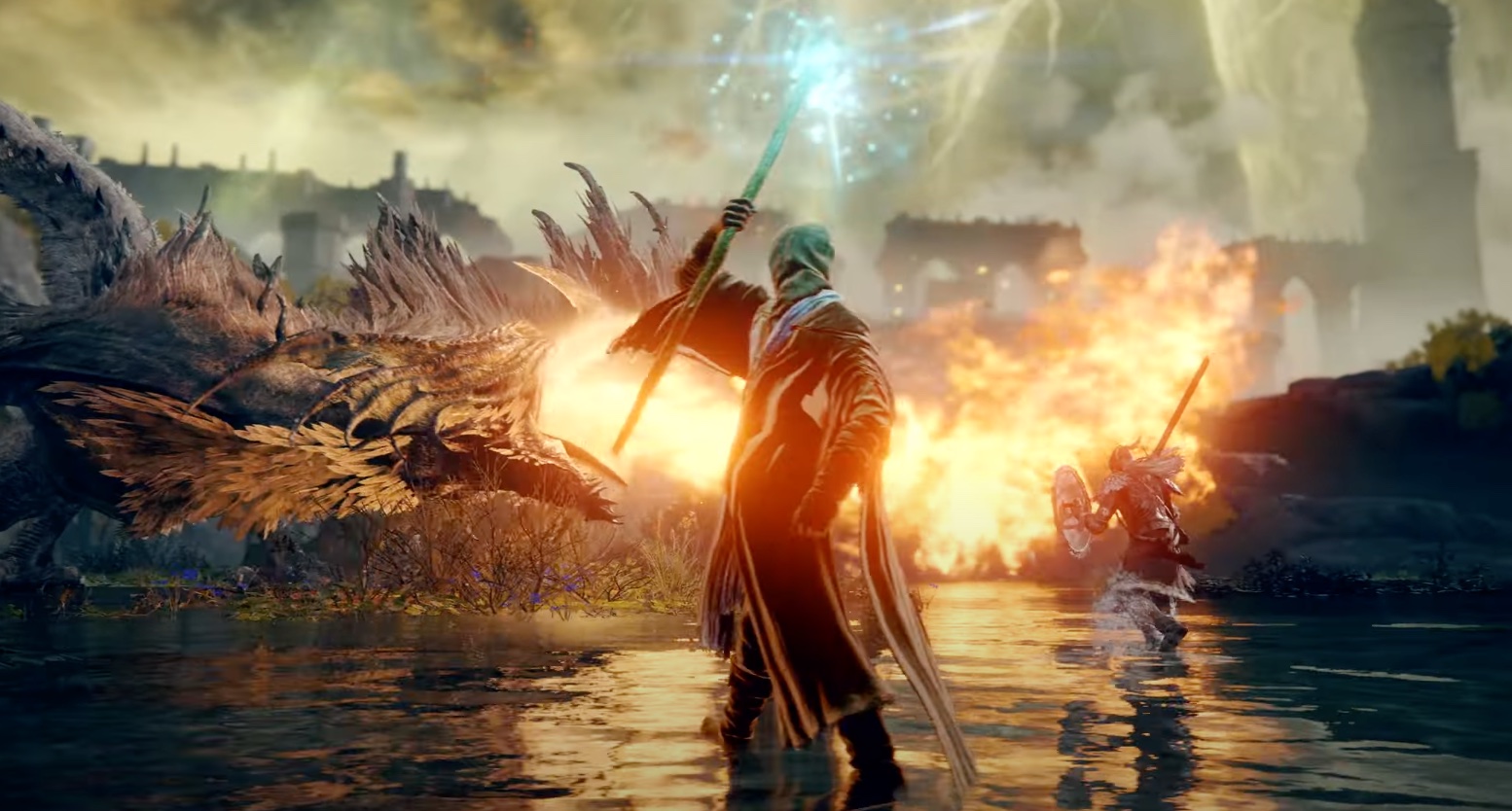 Elden Ring wins best game direction. It's awesome seeing Hidetaka Miyazaki on stage to receive the award. Also fun to see the award presented by former Nintendo of America president, Reggie Fils-Aime.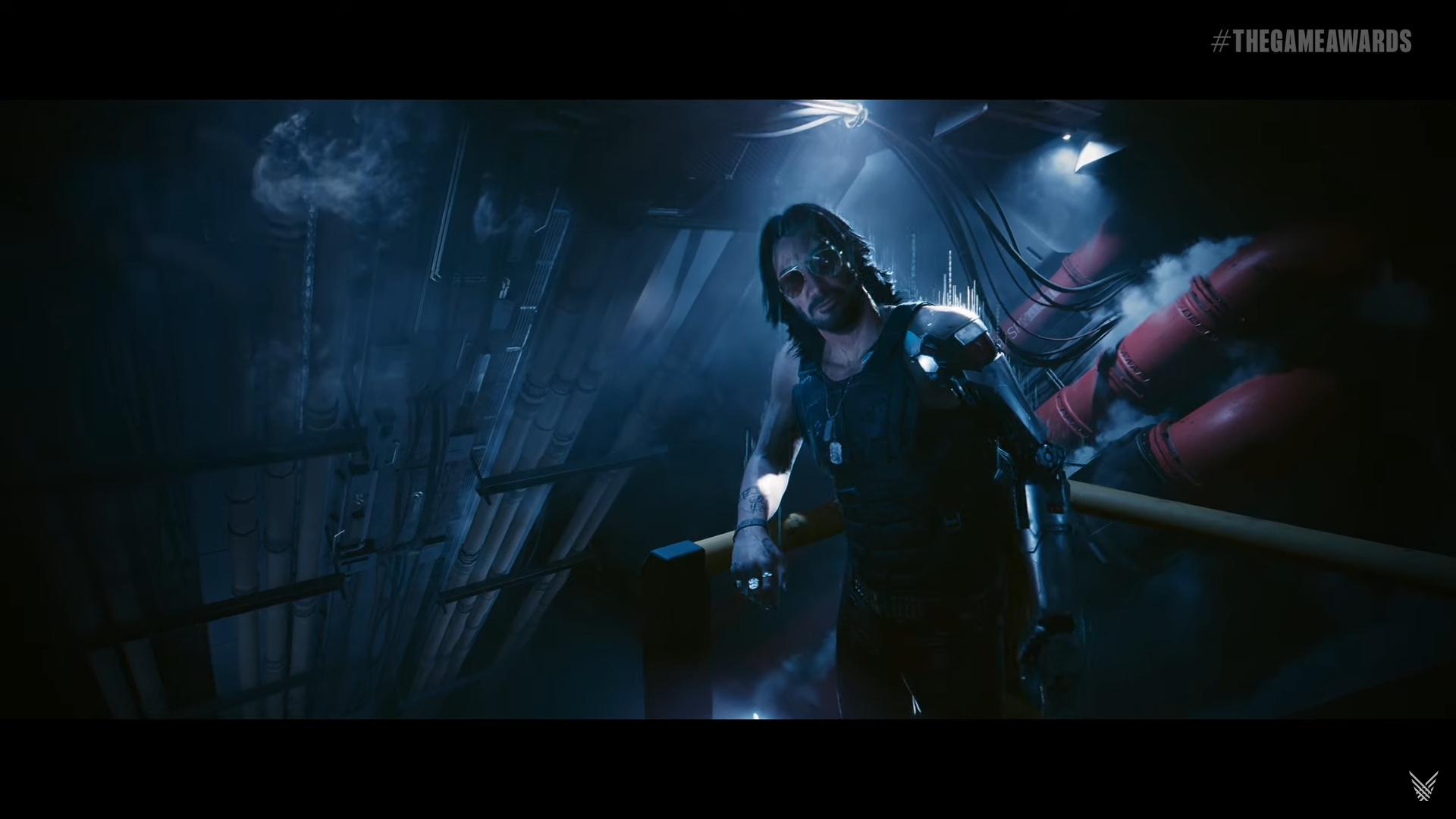 We see a new trailer for Cyberpunk 2077: Phantom Liberty. Actor Idris Elba lends his voice and likeness to this one, which is pretty awesome. Expect this DLC to drop in 2023.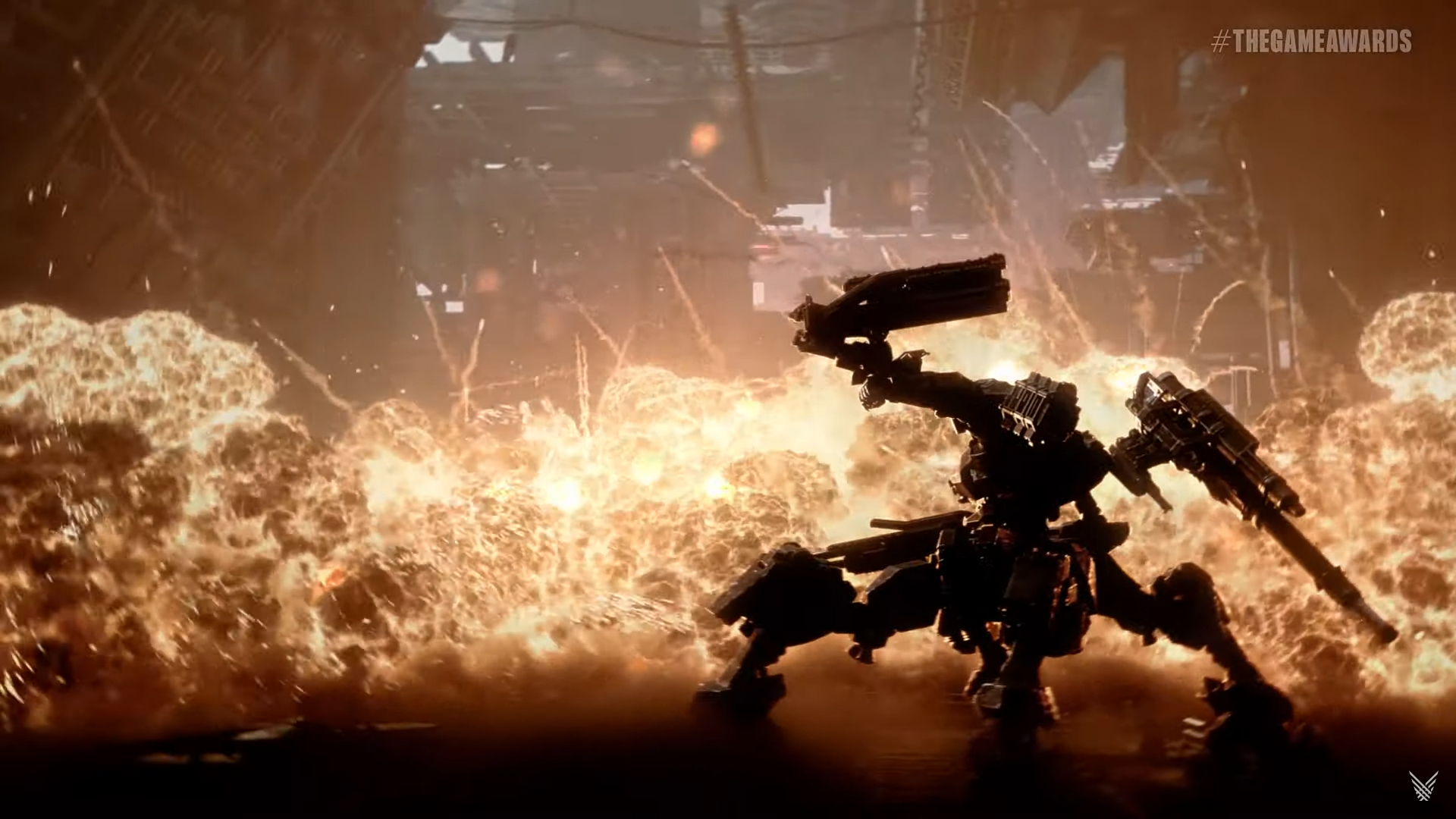 FromSoftware announces Armored Core VI is coming. People have been asking for this game for years so it's pretty exciting to see it finally manifest. It'll be interesting to see the studio release a mech game after non-stop Soulsborne titles. Consider me curious!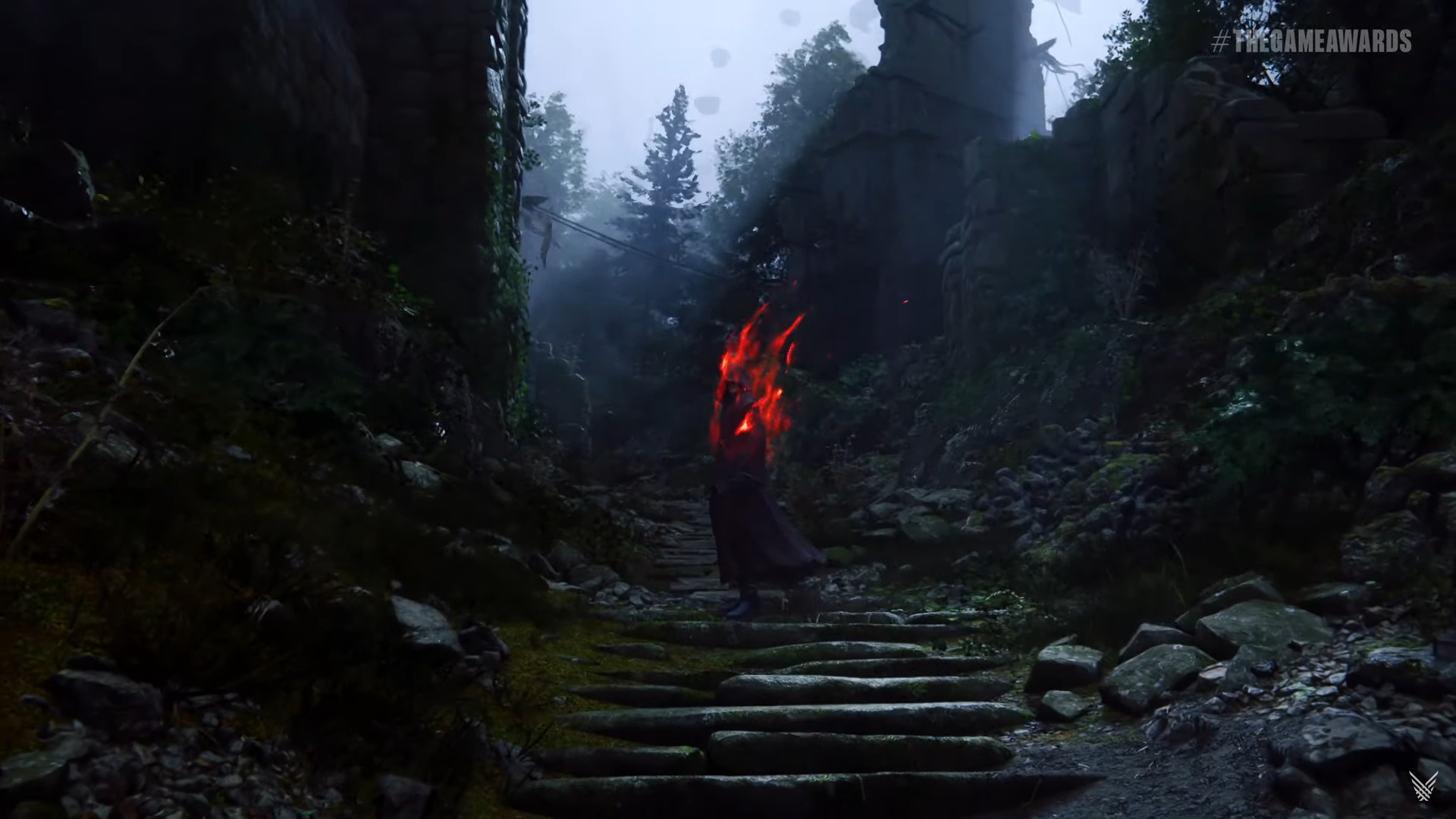 The new Final Fantasy XVI trailers looks absolutely insane. I have to maintain professional composure, but rest assured I'm extremly excited for this game. June 22, 2023 cannot come fast enough.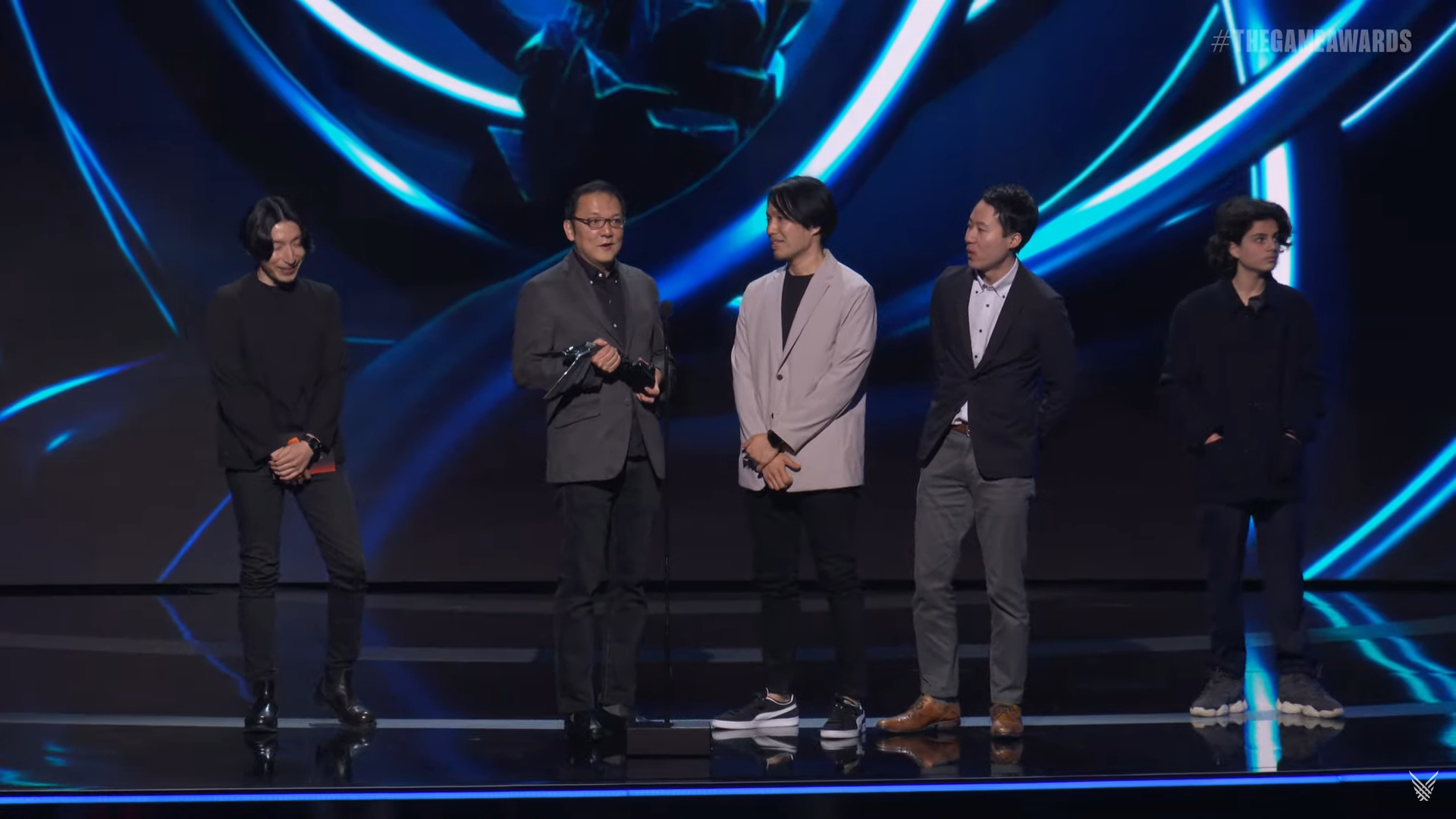 And there it is! Elden Ring has won game of the year! I was sure God of War Ragnarok would take it but FromSoftware's masterpiece took the win instead. Elden Ring was celebrated by the gaming community so it's good that it won this award.
Thanks to everyone who stuck with this live blog during the entire show. You're the true winners!
Get instant access to breaking news, the hottest reviews, great deals and helpful tips.
Thank you for signing up to Tom's Guide. You will receive a verification email shortly.
There was a problem. Please refresh the page and try again.