PS5 State of Play April recap — Ratchet & Clank: Rift Apart, Subnautica and Among Us
Sony shows off Ratchet & Clank: Rift Apart on PS5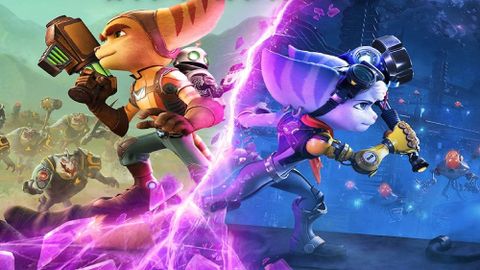 (Image: © Sony)
Ratchet & Clank: Rift Apart is still two months away. But thanks to Sony's April State of Play, we were able to see 15 minutes of gameplay footage this afternoon (April 29). That's good news for eager Ratchet & Clank fans, as well as PS5 owners who wanted to see what else Sony has in store for the next few months.
For those who don't know, Sony occasionally hosts a State of Play: a gaming livestream where the company discusses its upcoming gaming plans, particularly as they relate to popular titles. Every State of Play usually has a big focus — in this case, Ratchet & Clank: Rift Apart — as well as a few smaller announcements leading up to it.
First things first: the April State of Play will took place on April 29 at 2 PM PT/5 PM ET. You can check out the official PlayStation Blog for more information. The livestream was available via YouTube and Twitch. We've embedded the YouTube link below, so you can watch right on this page:
As stated above, Ratchet & Clank: Rift Apart was the star attraction. We also got a sneak peek of what Sony intends to show off earlier this week. We know that the mysterious female Lombax now has a name in Rivet. We also know that she'll be a playable character, and that Ratchet and Clank will be separated for a chunk of the game. (Longtime fans will also remember that this happened in Ratchet & Clank: A Crack in Time, and it was easily one of the best games in the series.)
The State of Play also showcased Subnautica: Below Zero expansion, and revealed that popular multiplayer game Among Us will be coming to PlayStation platforms. (It will, of course, have a Ratchet & Clank skin available.)
Tom's Guide live-blogged the entire event. Check out the posts below to learn how Sony's April State of Play unfolded.
Refresh
The Sony State of Play event for April is about to get underway!
First up is Subnautica: Below Zero, which will come out on May 14 for PS5 and PS4.
Among Us will get a PlayStation release later this year, complete with a Ratchet & Clank skin. And now, onto the main event!
First up: A look at Ratchet's gameplay in Ratchet & Clank: Rift Apart. Cities are huge, and full of traffic and civilians. Ratchet finds himself in Nefarious City, where the recurring villain Dr. Nefarious has been elevated to Emperor.
Ratchet makes contact with Ms. Zurkon, sure to please any longtime fan of the series She claims that she can sell Ratchet weapons, although the enterprising young Lombax didn't buy anything just yet.
Ratchet works his way into Club Nefarious, where he hopes to find more information about the missing Clank and the mysterious new ally(?) Rivet.

Ratchet can now wall-run and "rift-tug," which helps them traverse levels more quickly and efficiently.
Insomniac took some time to explain how the PS5's DualSense controllers will leverage their adaptive triggers to help combat feel more immersive. Push a trigger down partway for single shots, or all the way for a barrage.
We also got our first look at a boss fight: Ratchet vs. the Nefarious Juggernaut. Ratchet leaped through dimensional rifts, and the PS5's powerful SSD loaded whole levels within seconds, and continued the boss fight seamlessly.
Next up: Rivet and Clank. Rivet explores a lush jungle world that mirrors earlier levels in the Ratchet & Clank series.
Here's our first look at Ms. Zurkon: this game's weapons vendor.
Rivet and Clank will also be able to explore smaller "pocket dimensions," which offer short, challenging sections in a totally different section from the main level.
Another new weapon is the Shatterbomb, which uses the DualSense's haptic feedback to help players "feel" explosions based on distance and intensity.
That was the end of the main demo, but we got a sneak preview of additional modes, including open areas, aerial combat and an extremely stylish photo mode.
See a few more tantalizing screenshots below:
And that's it for Sony's April State of Play! It was short and sweet, but we did, indeed, see 15 solid minutes of Ratchet & Clank: Rift Apart gameplay. The game will be available on June 11, and Tom's Guide will have a full review closer to then.