Halloween is my favorite holiday — so much so that I started putting up decorations back in August. But finding tasteful Halloween decor isn't always easy, and quality items can become costly when trying to outfit a large space with the spooky spirit.
I'm no stranger to DIY projects, especially when I find a good source of inspiration. So when I stumbled upon this large-scale, $1,200 colorful sugar skull neon sign on Pinterest, I started researching ways I could make something similar myself that cost less.
There is no shortage of strip lights made to replicate the effect of real neon lights. Just search "neon strip light" on Amazon to see what I mean. But I wanted a well-rated product that had smarts and would survive the post-Halloween months in storage with the rest of my decoration. I was between the Govee RGBIC Neon Rope Light ($99) and GE Lighting CYNC Dynamic Effects Smart LED Neon Shape Light ($119), and though I like both brands pretty equally, I opted for the latter.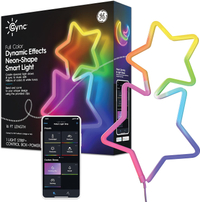 CYNC Neon Shape Light: $119 @ Amazon
These flexible rope lights are ideal for creating custom-shaped designs. I used them for Halloween decoration but they would be great for gaming setups, college dorms and more.
The next order of business was figuring out how to mount the lights temporarily. I know from experience that smart light strips can strip paint and ruin walls when removed. I also didn't want to have a skeleton on my wall all year-round. Embracing the DIY neon light concept, I figured a ⅛-inch clear acrylic sheet would make for a good mounting board. After selecting and measuring where I would want to hang my masterpiece, I ordered a two-pack measuring 24 x 36 inches on Amazon for $44. That said, I think any kind of acrylic sheet would do.
Once my materials arrived, I got to crafting. I'll admit, I can be quite hasty (and a smidge ambitious) when I take on projects like this one. The amount of half-finished DIYs I have stored under my bed is, frankly, embarrassing. But I was determined to make a great-looking neon skull light I'd enjoy for Halloweens to come.
Per the instructions, I prepared the surface so it was dry and dust-free for the adhesive clips. Then, I started to lay out my configuration. CYNC's lights come with a paper grid that's handy for mapping out designs (which I probably would've used if I were mounting the lights directly to my wall) but I felt comfortable eyeballing it.
Unlike many other smart light strips, these neon rope lights aren't themselves adhesive. Instead, a generous pack of small adhesive clips help keep the design aligned and situated. It took a bit of experimentation to see how to best position the clips to capture the curves of my skeleton skull, but overall, it was rather intuitive.
All in all, it only took 15 minutes to create my design. I was left with extra rope, and while I could've figured out a way to use the 16-foot strip in its entirety, I grabbed a pair of scissors to cut it to size. A few test cuts suggested I should leave about two inches if I didn't want to compromise the LEDs at the endpoint in my design.
With my design complete, I used some heavy-duty Command strips to hang the acrylic sheet on my wall. The white adhesives don't distract too much, though if I were hanging this permanently I would install a set of standoff screws. Assuming I want to re-hang my lights next year, I think I'd use a clear adhesive like I did when I saved my old Philips Hue lights from the trash can.
Anyway, with the fixture installed, I could finally start the light show. By default, the strip was illuminated in a warm white light, which I thought looked very modern and classy. Hanging from the strip itself is a physical controller that cycles through different light presents, most of which leverage the strip's distinct segments for displaying multiple colors at once.
But the CYNC Dynamic Effects Smart LED Neon Shape Light is also a smart light, so it paired to the CYNC app and my Amazon Alexa home system for both app and voice control. I set the timer to turn off automatically at 11 p.m. so that the lights don't run all night, too.
For about $150, and not even an hour of my time, I have a great-looking Halloween decoration inspired by neon lights that cost several hundred dollars more. Plus, by installing it on the acrylic sheet, I'll be able to store away the skull when Halloween is over and break it out again next year. And the best part of all? I'm able to take pride in knowing I brought the vision to life.
More from Tom's Guide