Flip phones — the compact handsets that ruled the mobile world in the pre-iPhone days — are having a moment.
Influencers are singing the praises of the stripped-down handsets. The New York Times is touting them as the device of choice for teens weary of the always-connected lifestyle. And CNN is spotlighting flip phones, too, portraying them as "vintage technology" that's caught the fancy of Gen Z.
Any sort of resurgence for flip phones seems surprising. After all, smartphones have dropped dramatically in price if you don't demand premium features — you can find some decent options among the best cheap phones under $300. With even low-cost smartphones putting a mini-computer in your pocket, why go back to the type of phone that was popular when Tom Brady was an upstart rookie quarterback and not an aging veteran eyeing his second retirement?
"There is definitely a desire among people of many age groups to remain connected without getting completely drawn into the rabbit hole that is your smartphone," said Avi Greengart, lead analyst for Techsponential. "Especially social media apps."
Here's why flip phones are enjoying a bit of a resurgence at the moment, and why you might want to consider one in lieu of — or in addition to — some of the best phones out there.
Flip phones: What's the appeal
There's no denying that we live in a connected world. No matter where we are, we can reach just about anyone, look up just about anything and never have to worry about missing a moment. And for some people that's part of the problem.
"Many smartphone users [are] beginning to recognize they are spending too much time glued to their devices and [have] a strong desire to disconnect and 'be fully present' to improve their quality of social connections," said Jackie Kates, the head of marketing in North America for HMD Global, which makes Nokia's smartphone and feature phones. "While it may be difficult to completely go off the grid for everyone, switching to a classic phone takes them back to basics."
Put another way, it's one thing to leave your phone behind when you want to take a step back from the connected lifestyle. But then you risk being totally cut off, without a way to call or message people you need to get a hold of.
For some people who need to stay a little bit connected, then, a flip phone is the next best thing to going completely off the grid. You've still got the phone for any incoming or outgoing calls, and cellular connectivity keeps you apprised of any text messages. But other types of apps — particularly the social media kind — aren't available, allowing you to stop doom-scrolling cold turkey.
That's particularly appealing to younger phone users, according to Kates. "They're now discovering that it is possible to 'switch off,' and they really like it," she added.
How big is the demand?
Don't confuse flip phone sightings with a full-blown revival, though. Nabila Popal, research director with IDC, tells me that feature phones like flip phones make up a small percentage of the market for mobile phones in the U.S.
"Since 2018, they have been less than 5% of the total phone market," Popal said. "In 2021, only 5 million feature phones were shipped to the US versus 153 million smartphones, and we expect a similar number of [feature phones] for 2022."
The percentage of feature phones increases when you consider the worldwide phone market, as you take less connected parts of the globe into account. But even there, falling smartphone prices have eaten into the market share of flip phones, which made up 60% of the global market a decade ago, but account for just 17% of mobile handsets these days.
In other words, you may see some people turning to flip phones as a way to cut down screen time. But the smartphone isn't going anywhere. "Feature phones in all form factors are still a declining category overall," Greengart said.
Should you consider a flip phone?
Still, maybe you're mulling over a flip phone purchase as way to spend less time staring and scrolling at your phone. If so, shopping for a flip phone isn't all that different from trying to track down the best smartphone for your needs.
"While consumers are looking to disconnect and be more present in activities with friends and family, they are still looking for a reliable device that includes basic functions including call quality, text capabilities and battery life, wrapped in an easy-to-use, reasonably priced, pocketable phone," HMD Global's Kates said. "Additionally, they are looking for a device that is built to last, one of the cornerstones of Nokia devices."
Swipe to scroll horizontally
Kates said that HMD Global sells "tens of thousands of Nokia flip phones" in the U.S. every month, and two of the more popular models include the Nokia 2760 Flip and Nokia 2780 Flip. Both phones get high marks from customers for their large display and 5MP cameras.
TCL — another phone maker that generates solid sales of flip phones, according to Techsponential's Greengart — offers the TCL Flip, which stands out for its cover display. The Alcatel Go Flip 4 has also proven to be a popular model among people looking for just the basics.
Foldable phones gaining
Of course, it's difficult to talk about flip phones without noticing that higher-end models have emerged in recent years that take the flip phone design of old and expand upon it. There's no better example than Samsung's Galaxy Z Flip 4, a device with a foldable screen, high-end chipset and features that are right at home among the leading flagships. It also costs hundreds of dollars more than the feature phones enjoying a bit of a resurgence right now.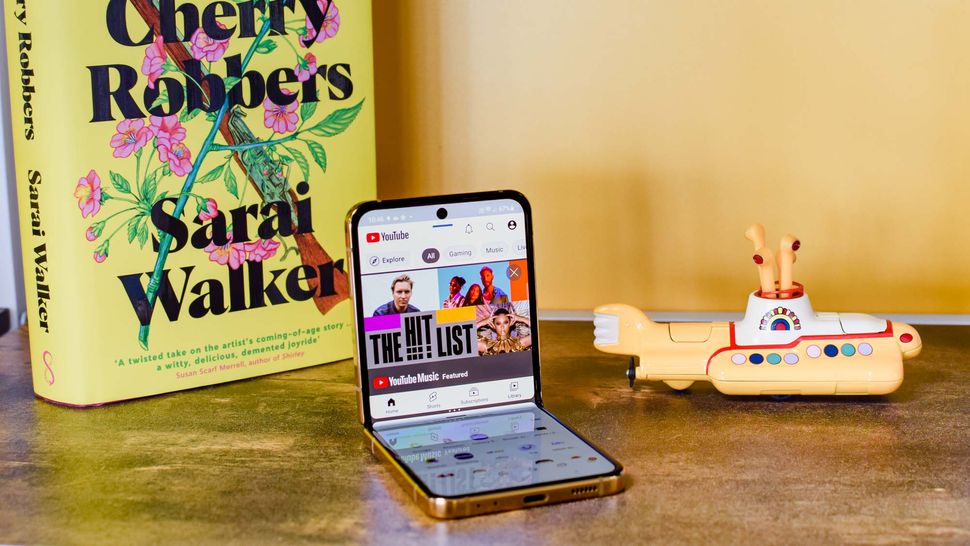 "Samsung's Galaxy Z Flip is another thing entirely," Greengart said. "Foldables are growing quickly, and the appeal is simple: the Galaxy Z Flip is a premium full-featured Samsung smartphone that's satisfying to close when you're done with it, acts as its own stand when it's open, and fits better into your pocket when it's not."
Like the market for feature phones, foldable phones make up a small segment of the mobile market — but it's growing quite rapidly. IDC has foldables making up 5% of the U.S. smartphone market, up from 0.2% in the middle of 2021.
Credit Samsung's Galaxy Z Flip for a lot of that growth. At $999, it's the most affordable foldable phone available, costing about as much as many flagship devices. And there's no denying the appeal of that flip phone-style design.
"I personally also think the attractiveness of the nostalgic clasping sound the Flip gives us when 'shut' — has an impact and shouldn't be underestimated," IDC's Popal said. "It's a nice reminder of the 'good old days.'"
And Samsung isn't the only smartphone maker to capitalize on the appeal of the flip phone design. The Motorola Razr 2022 and Oppo Find N2 Flip are foldable phones that take similar approaches, though neither one has reached the U.S. market yet, where Samsung is the dominant force among the best foldable phones.
So feature phones with old-school flip designs may be enjoying a moment in the spotlight right now. But the long-term future for flip phones lies with devices that are just a bit smarter.