The wilderness outside may be no match for the wilderness inside, a theme that Yellowjackets season 2 will continue to explore when it premieres this week.
The Showtime series, which debuted in November 2021, developed a fervent fanbase over the course of its first season for its enthralling blend of genres: survival drama, mystery box thriller, horror and coming-of-age story. Often dubbed "Lord of the Flies, but with girls," Yellowjackets transcended that label thanks to stellar performances by the cast led by Melanie Lynskey and Christina Ricci. It was one of our picks for the best TV shows of 2022.
Now, Yellowjackets embarks on the trickiest of feats: its sophomore season. The show must juggle providing answers with raising new questions, all while deepening our understanding of the characters. After producing such riveting work in season 1, co-creators Ashley Lyle and Bart Nickerson are more than up to the task.
It's been a minute since the show last aired so we've rounded up the seven most important things to know and remember before you watch Yellowjackets season 2.
1. Yellowjackets is about trauma, survival and incurable wounds
Yellowjackets toggles between two timelines: the past (starting in 1996) and the present (2021).
In the past, a New Jersey high school girls soccer team (the titular Yellowjackets) are traveling to a tournament when they crash in the remote Canadian wilderness. Stranded there for 19 months, they endure harrowing circumstances, from hunger to death to pregnancy. Ultimately, some become cannibals who seemingly hunt the non-compliant as food.
At some point, some of the group left the wilderness, since at least five known survivors have reached the present day: Shauna (Melanie Lynskey), Jasmin (Tawny Cypress), Sammi (Christina Ricci), Natalie (Juliette Lewis) and Travis (Andres Soto). While nearly 25 years have passed, all of them continue to grapple with the trauma of their experiences.
2. Yellowjackets season 1 ended with huge revelations
The finale of Yellowjackets season 1 drops some huge bombshells on fans.
Jackie is dead: The first revelation was the status of Jackie (Ella Purnell), Shauna's teenage best friend and the queen bee of their school. Unseen as an adult in the present day, it became clear she didn't survive the wilderness. However, her demise turns out to be even more devastating than we imagined. After arguing with Shauna (Sophie Nélisse) and the others, Jackie decides to sleep outside the cabin. That night brings the first snowfall, and she freezes to death.
Lottie is alive: Conversely, the finale reveals that Lottie (portrayed as a teen by Courtney Eaton) is still around in the present day. As Natalie's friend informs her, Lottie withdrew all of Travis' money from his bank account. This is recounted in a voicemail while Natalie herself is being kidnapped by a mysterious group.
Taissa has a secret shrine: Throughout season 1, adult Taissa grapples with sleepwalking, but she seems the most stable of the four survivors. Then, while Tai is winning her election, wife Simone (Rukiya Bernard) discovers a creepy shrine in their basement. It's built around the sacrifice of their missing dog and what seems to be a human heart.
3. Lottie's Antler Queen has a big role in the past and present
Lottie slowly becomes a key figure over the course of Yellowjackets season 1. By the end, we know that she is the Antler Queen and leads a cannibalistic society (which includes Misty, as played by Sammi Hanratty).
In the past, Lottie begins spouting prophecies after her antipsychotic medication runs out. The morning after Doomcoming, Lottie's premonition that they "won't be hungry much longer" comes true when a bear wanders into their camp. They kill it, and after Jackie's death, offer its heart as a sacrifice to the wilderness. "Let the darkness set us free," Lottie intones.
In season 2, Lottie turns out to have survived and even thrived. The adult version, who now goes by Charlotte (Simone Kessell), will be a major part of season 2. "Charlotte has completely recreated herself as a survivor," Kessell told Entertainment Weekly. "She's healed. She's created a way to push the darkness down."
She's still a leader, though, and of a cult-like collective. "This woman is a guru," co-showrunner Jonathan Lisco told EW. "But she's also, like many self-proclaimed gurus, very volatile."
4. The show's casting is on fire
One of the reasons Yellowjackets became a hit is the pitch-perfect casting of the adult and teen versions of the main characters (though the stand-out has to be the Ricci and Hanratty pairing).
From almost the start, fans have been sharing their dream actors for various roles. And one bit of fan-casting has come true: Lauren Ambrose (Six Feet Under) was tapped to play adult Van. She certainly shares a physical resemblance to Liv Hewson, who plays teen Van.
Ambrose is the latest, not only, new cast member to have industry roots in the 1990s. The show has also added Elijah Wood, a prolific child actor who was a veteran by the time he starred in the Lord of the Rings movies.
Wood plays a "citizen detective" who teams up with Misty to find the missing Natalie. Fun fact: Wood and Ricci first starred together in 1997's The Ice House.
5. Season 2 will combine a murder, a missing person's case and motherhood
Yellowjacket season 2 will have a lot going on, but three big storylines loom.
Shauna's murder of Adam: Believing her lover was blackmailing the survivors, Shauna killed Adam (Peter Gadiot) and enlisted Misty, Taissa and Natalie to cover it up. The real blackmailer was Shauna's husband Jeff (Warren Kole), but that info hasn't been shared. Adam's disappearance ominously makes the news, and Shauna's daughter Callie (Sarah Desjardins) is aware they were involved. Family dysfunction and nosy police should make for some great drama.
Natalie's kidnapping: In the finale, just as she is about to commit suicide, Natalie is kidnapped by mysterious figures. At the same time, she's left a voicemail about Lottie. The implication is that Lottie's new followers took Natalie. What Charlotte wants with Natalie, her role in Travis's death and Misty's attempts to find her friend should make up a major part of season 2.
Shauna's teen pregnancy: In the 1996 timeline, Shauna is pregnant (by Jeff, Jackie's then-boyfriend and Shauna's future husband). By the events of the finale, she is around four or five months along. As season 2 progresses, so too will her pregnancy. Then again, she could miscarry (they have little food and resources). But Shauna does give birth, it'll be a game-changing event. It'll also beg the question of what happened to the baby, since 16-year-old Callie is too young to be it.
6. Some Yellowjackets theories have been debunked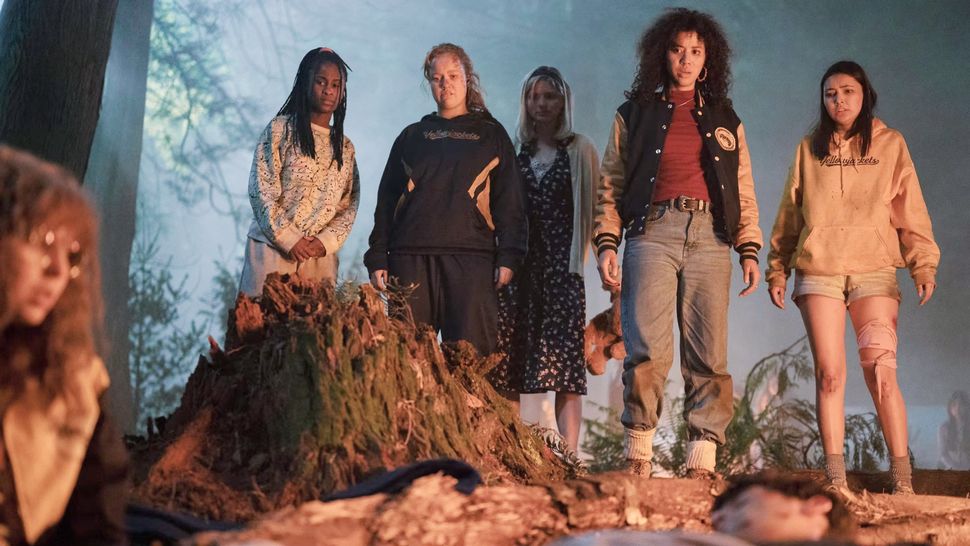 As part mystery box show, Yellowjackets has inspired many theories on various online platforms (most notably Reddit).
Some have been debunked along the way. The biggest one is that Adam was Javi, grown-up. There was a slight resemblance, plus Adam's sudden entry into Shauna's life felt suspicious. However, the showrunners have confirmed they are not the same person — though they did consider it.
Lisco told Variety, "Well, we did entertain the notion that Adam was basically Javi coming back to torment Shauna in a way, or torment the Yellowjackets. We fairly early on dispensed with that idea. It did not feel organically right to us."
Lyle has also previously said that Adam is not Shauna's 1996 baby, grown-up.
Another disproven theory was that Jackie was "Pit Girl," the teen seen running from the cannibals in the pilot's prologue. Since then, we've seen that Jackie dies from exposure.
Still, season 2 should give us some morsels to come up with new theories about Javi's whereabouts, Pit Girl's identity and what happens to Shauna's baby.
7. Yellowjackets has the most reliable '90s needle drops
Many different elements help make Yellowjackets so utterly watchable, but we have to give special props to the music. The '90s needle drops have been killer: Liz Phair, Smashing Pumpkins, PJ Harvey, the Cranberries, Jane's Addiction, Mazzy Star and The Offspring are just some of the artists featured on the season 1 soundtrack.
Season 2 is also a Gen Xer's mix tape come to television, with songs by Garbage, Tori Amos, and The Breeders. A cover of No Doubt's "Just a Girl" by Florence + the Machine played over the trailer.