A Google Pixel 7a vs. Pixel 7 comparison is just what we need now that, as of Google I/O 2023, both phones are on sale.
The Pixel 7a brings some big changes, such as a new $499 / AU$749 price point, with a powerful new 64MP camera, a smoother 6.1-inch 90Hz display and wireless charging. Meanwhile, the Google Pixel 7 ($599 / AU$999) is powered by the same M2 chip that we're expecting to find in the Pixel 7a. But Google's current flagship features a larger 6.3-inch screen and a more premium design with Gorilla Glass on the front and back.
So what else is the same and what's different? That's what our Google Pixel 7a vs. Pixel 7 guide is for.
Google Pixel 7a vs. Pixel 7 specs
Swipe to scroll horizontally
| | | |
| --- | --- | --- |
| | Pixel 7a | Pixel 7 |
| Starting price | $499 / AU$749 | $599 / AU$999 |
| Display | 6.1-inch FHD OLED | 6.3-inch OLED (2400 x 1080) |
| Refresh rate | 90Hz | 90Hz |
| Chipset | Google Tensor G2 | Google Tensor G2 |
| RAM | 8GB | 8GB |
| Storage | 128GB | 128GB, 256GB |
| Rear cameras | 64MP main, 13MP ultrawide | 50MP main, 12MP ultrawide |
| Front camera | 13MP | 10.8MP |
| Battery | 4,385 mAh | 4,355 mAh |
| Charging / Wireless? | 18W wired / Yes | 21W wired / Yes |
| Software | Android 13 | Android 13 |
| Colors | Charcoal, Sea, Snow, Coral | Obsidian, Snow, Lemongrass |
Google Pixel 7a vs. Pixel 7: Price
Starting at $599 / AU$999, the Pixel 7 is already pretty affordable relative to other flagships. Phones like the iPhone 14 and Galaxy S23 start at $799. The Pixel 7 undercuts those phones' prices by $200, making it something of a bargain.
Last year's Pixel 6a cost $449 but the Pixel 7a now goes for $499 / $749. That's still less than $500 in the US, but it narrows the gap between the Pixel 7a and the Pixel 7 to just $100.
Google Pixel 7a vs. Pixel 7: Design and display
You'll find it hard to see the differences between the Pixel 7 and the Pixel 7a. Both use Google's distinct metal camera bar on the back, and flat displays with a punch-hole selfie camera in the top center. The Pixel 7a is a little smaller at 6.1 inches, while the Pixel 7a measures a still compact (by today's smartphone standards) 6.3 inches.
Google's chosen materials differ a little too. The Pixel 7 has a Gorilla Glass Victus back panel, but the Pixel 7a uses thermoformed plastic. Both use aluminum sides and Gorilla Glass displays though.
Both displays on these phones use a 90Hz adaptive refresh rate. This is a first for a Pixel a-series model, and narrows the gap between the phones considerably.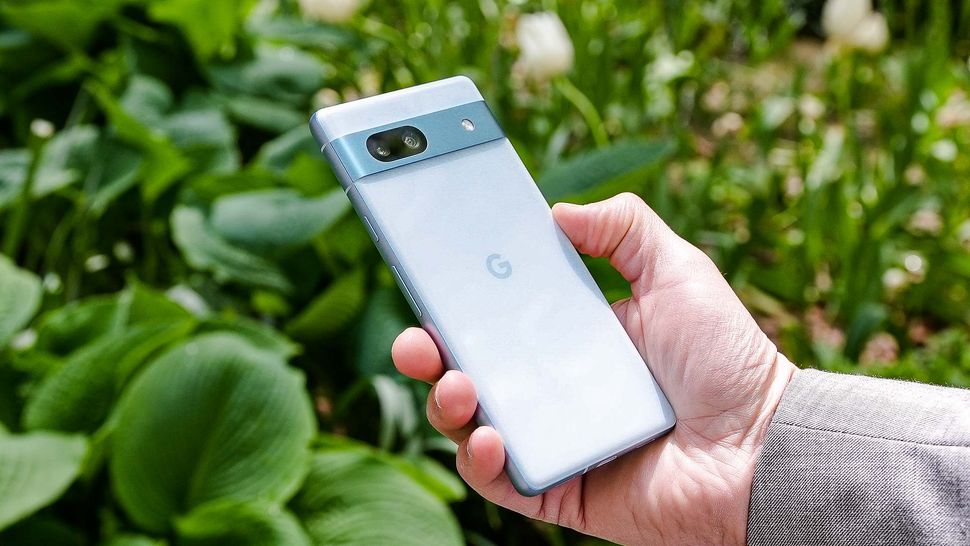 Refresh rates on past Pixel A phones have been stuck at 60Hz, but a rumor suggests that's about to change with the Pixel 7a. A leaked prototype of the phone revealed a settings panel with a 90Hz refresh rate option. If that turns out to be true, it's one less difference between the Pixel 7 and Pixel 7a.
Color-wise, Google offers both phones in Snow (white), but there are different choices apart from that. The Pixel 7a comes in Charcoal (grey/black), Sea (pale blue) and Coral (orange), the latter being a Google Store exclusive. Your unique Pixel 7 choices are Obsidian (black) and Lemongrass (pale green).
Google Pixel 7a vs. Pixel 7: Cameras
When Google moved to a 50MP main camera with the Pixel 6 release, it created a noticeable split with A series phones, which continued to use a 12.2MP sensor — though has changed with the Pixel 7a's new 64MP sensor.
Along with a new 13MP ultrawide camera and 13MP main camera, the Pixel 7a beats the 50MP/12MP/10.8MP combination of the Pixel 7a when it comes to resolution. The cheaper Pixel has a size advantage too with its main sensor, important as this determines how much light a camera can capture.
We'll get back to you with a full camera comparison soon. There's a chance the Pixel 7 could still win overall, but we're leaning towards the Pixel 7a based on the specs.
Google Pixel 7a vs. Pixel 7: Performance
The similarities continue under the hood. The Pixel 7 introduced the Tensor G2 silicon last fall, and now the same chip can be found in the Pixel 7a.
Since both phones also use 8GB RAM, this may have made you assume the two phones perform the same. But as you can see in the selected benchmarks below, there are some differences. While the Pixel 7a does a little better on the CPU-taxing Geekbench 5's multi-core portion and the Wild Life Unlimited GPU test, it lags behind on the Adobe Premiere Rush video transcoding test. Clearly Google's done some tinkering to keep parts of the Pixel 7 ahead of the cheaper upstart.
Swipe to scroll horizontally
| | | |
| --- | --- | --- |
| Row 0 - Cell 0 | Google Pixel 7a | Google Pixel 7 |
| Geekbench 5 (single core/multicore) | 1018 / 3065 | 1054 / 3021 |
| 3DMark Wild Life Unlimited (fps) | 41.1 | 40.3 |
| Adobe Premiere Rush (Mins:Secs) | 0:56 | 0:47 |
Another difference the Pixel 7 still comes off best in is storage. You only get a 128GB option on the Pixel 7a, but the Pixel 7 can offer 256GB if you pay an extra $100.
Google Pixel 7a vs. Pixel 7: Battery life and charging
Battery life is one area where we hoped the Pixel 7a does stand out from its more expensive sibling. And it certainly seems to, although looking at only the new model's slightly larger 4,385 mAh battery (compared to the Pixel 7's 3,355 mAh battery) undersells the gap.
On our custom battery test, the Pixel 7a managed to last 10 hours and 5 minutes in 60Hz mode (the default), while the Pixel 7 got to 7 hours and 30 minutes in the same mode. We're still waiting for 90Hz test results, but it looks like Google's made huge strides in efficiency for the Pixel 7a.
The Pixel 7a gained wireless charging for the first time too, bringing it in line with the Pixel 7. The 7 still wins on speed though, able to charge at 21W when plugged in compared to the Pixel 7a's 18W.
Google Pixel 7a vs. Pixel 7: Software
While the Pixel 7a is newer than the Pixel 7, it still ships with the same Android 13 OS. Android 14 won't be ready for another few months, but both phones should get access to it quite quickly after launch.
As noted above, the Tensor G2 is found in both phones, which means all the Pixel 7's software features are on hand in the Pixel 7a. That means the budget phone supports Photo Unblur (which uses AI to unblur faces in photos — even ones it didn't shoot), plus other abilities like call management and live translation.
Google Pixel 7a vs. Pixel 7: Outlook
It's hard to explain just what the extra $100 you'd pay for a Pixel 7 gets you over the Pixel 7a. Unless its photos come back remarkably better than the cheaper phone, the flagship Pixel's only advantages are screen size, potential storage capacity and a few performance parameters.
Meanwhile, the Pixel 7a looks like an incredible value phone, offering the same refresh rate and display quality as its big sibling along with improved battery life and a new suite of cameras. It even looks pretty much the same as the Pixel 7.
If we were spending our own money, the Pixel 7a looks like the smarter bet right now. But the canniest smartphone buyers may want to hold off on upgrading until the end of the year to see what the Pixel 8 changes about Google's flagship phone line. It'll likely offer several new features that may make you regret picking up a Pixel 7a early.
More from Tom's Guide