If you've been fortunate enough to own your PS5 for a little while, you might find the relatively paltry 667GB of useable storage is struggling to hold your growing library of games. That's where one of the best PS5 internal SSDs can help — and we've just spotted an epic discount on a top model.
Right now, the Samsung 980 Pro SSD w/ heatsink is on sale for $109 at Amazon. That's more than 50% off its eye-watering full retail price of $229. This is the lowest price ever for the 1TB model, and it's one of the cheapest PS5 SSD deals we've spotted this year.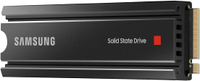 Samsung 980 Pro 1TB SSD w/ heatsink: was $229 now $109 @ Amazon
The Samsung 980 Pro SSD is fully compatible with Sony's PS5. It takes just minutes to add to the console's storage expansion slot and will significantly boost your hard drive allowing you to store dozens of games at once. This 1TB model also comes with a heatsink preinstalled so is ready for use with your PS5 console straight out of the box.
As mentioned, the Samsung 980 Pro easily makes our guide to the best PS5 internal SSD. Unlike the WD_Black SN850, it's not technically an officially-licensed PS5 accessory, but it nevertheless comfortably meets all of Sony's requirements for a compatible drive. And if that's not enough to put your mind at ease, we've personally tested the SSD and can confirm its suitability. Plus, Samsung itself has also marked it as compatible with the PS5.
Even better, this model comes with a heatsink pre-installed. This is important because Sony advises that any hard drive added to the PS5 needs to come with some form of cooling. While you could buy a standalone SSD and attach a third-party heatsink yourself, this pre-configured model saves you the hassle and is guaranteed to fit in the console's storage expansion slot without fuss. The Samsung 980 Pro SSD without a heatsink is on sale for $99, but we strongly advise shelling out the extra $10 for the convenience factor alone.
One of the best things about adding a new SSD to your PS5 is that it doesn't replace the console's base hard drive. So, if you install this Samsung 1TB SSD, you'll get all that additional storage on top of the 667GB of usable space that comes with the console as standard. And you just might need all that room as some of the best PS5 games can demand as much as 100GB of hard drive space to install — and that's before you account for any DLC or software patches later down the line.
The Samsung 980 Pro SSD is one of the most popular PS5 storage options on the market, and at this all-time low price, now really is the ideal time to upgrade your console's storage space. Alternatively, if you're looking to spend as little money as possible, a WD_Black SN850 500GB SSD w/ heatsink is currently $84 at Amazon, but it's hard to deny that the Samsung 980 Pro doesn't offer better value for money.