This is probably the craziest Black Friday gaming deal of the year so far. But if you want a PlayStation 5 and one of the best TVs to go with it, you may just be tempted.
Right now the Sony 98 Inch 4K Ultra HD TV X90L Series TV and PS5 bundle is $8,497 at Amazon, which is a humongous chunk of change. But it's a whopping $2,002 cheaper than it'd normally be at the $10,499 full price.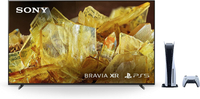 Sony 4K TV + PS5 bundle: up to $2,000 off @ Amazon
This is one of the most unique Black Friday TV deals I've seen so far. For a limited time, Amazon is taking from $100 to $2,000 off select Sony 4K TVs bundled with a PS5 Disc console. The sale includes Sony TVs ranging from 55-inches to 98-inches. Models include the Sony X90L Full-Array LCD series, Mini LED X93L, and the Bravia XR A80L OLED. Prices start at $1,497 after discount.
The PlayStation 5 is one of the most sought-after gadgets for Black Friday this year. And while you can check out our constantly-updated list of the best PlayStation 5 Black Friday deals here, this particular offer is so eye-catching, I felt it was worth mentioning on its own. It's too rich for my blood, but you may feel different.
Obviously, not everyone is going to have $8k to hand (or the wall space for a 98-inch telly for that matter) but there's actually more on offer than just the monster from Sony's stable. This limited Black Friday sale from Amazon includes Sony TVs ranging from 55-inches to 98-inches. You can get the Sony OLED 65 inch BRAVIA XR A80L with a PS5 thrown in for a more modest $2,197.
If you did decide to go for the 98-inch juggernaut, you'd be getting LED full array local dimming to provide deeper shadows and brighter highlights than other LCD backlighting technologies. It won't measure up to the best OLED TVs, but it still gives you a boost when gaming in HDR. And it's basically a cinema screen in your house.
I don't need to wax lyrical about Sony's latest tower of gaming goodness. While the PS5 vs Xbox Series X debate rages on (and there's really not a definitive answer) I can comfortably say that the PS5 is an excellent gaming device that has now built up a deep library of must-play titles. Check out our best PS5 games ranking to find out what you should play first.