I love the Alienware AW3423DWF. It's hands-down the best gaming monitor I've ever owned. Heck, I'm writing this article on the epic QD-OLED display.
Prime Day 2023 might be upon us, but Amazon isn't the only place you can make some serious savings this week. The Alienware AW3423DWF is on sale for $899 at Dell — that's a wallet-friendly discount of $200; thanks PC Gamer.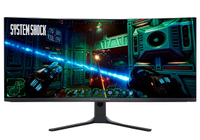 Alienware 34" QD-OLED Gaming Monitor: was $1,099 now $899 @Dell
Lowest price! This amazing display is one of the best gaming monitors you can buy today. Its 21:9 aspect ratio gives you a wider field of view in games — particularly useful for first-person shooters — and ultrawides remain great for productivity tasks, too. In our Alienware AW3423DWF gaming monitor review, we said contrast, color reproduction and screen uniformity on this Alienware are all first class, and you really can't beat OLED when it comes to black levels. Just bear in mind you're going to need a pretty big desk to accomodate this sensational screen.
My colleague Tony has already done a great write-up on this panel in our Alienware AW3423DWF review, and I agree with every word. A minor update to the existing (and awesome) Alienware 34 QD-OLED, I think it's the best gaming monitor you can buy in 2023.
Long story short, I've owned both of these displays in the last 12 months. I initially bought the Alienware 34-QD-OLED last summer, but after I noticed OLED burn-in, Dell kindly replaced my faulty panel with a brand new AW3423DWF. The biggest difference between the two monitors? The former supports Nvidia G-Sync, while the latter has AMD FreeSync features.
As someone who games on a Nvidia RTX 4090 GPU, I was initially worried that I would miss G-Sync, yet that's not been the case. I've played some of the best PC games of the year on my AW3423DWF — at the monitor's native 3,440 x 1,440 resolution at 165Hz — and the experience has been overwhelmingly positive.
I blasted my way through the Resident Evil 4 remake on Steam at an uncapped frame rate, and every undead battle felt incredibly smooth and responsive on my AW3423DWF. As someone who was a bit of a G-Sync snob, Alienware's monitor has made me do a double take.
Circling back to that burn-in aside, it is something to consider if you're thinking about buying the AW3423DWF. Dell has a generous warranty policy that protects against OLED screen burn — last time I checked the company offers five years of coverage by default — but it's obviously better if your monitor is never blighted by this defect in the first place.
To safeguard against OLED burn-in, I suggest using dynamic desktop wallpapers (Wallpaper Engine is incredible) and learning how to hide the taskbar in Windows 11. The best way to prevent screen burn is to ensure you don't have the same on-screen element stuck on your display for hours at a time, so turning off HUDs when playing games is also a good idea.
With sensible everyday usage, your chances of being struck down by OLED burn-in are pretty low. And that's the only caveat I'd put up against buying the AW3423DWF, because otherwise, it's an incredible gaming monitor.
That 21:9 ultrawide format is great for both work and play, HDR performance is strong and nothing in the display world can beat the perfect blacks OLED screens provide. If you're a PC gamer with a chunk of change to spare, there's no other monitor I'd recommend as highly as the Alienware AW3423DWF.
Oh, and if you're in the market for a new OLED TV, be sure to check out the best Prime Day TV deals.