If you enjoy cooking up a storm, the best gas ranges will have the power to produce delicious, meals that are cooked to perfection each time. That's why it's so important to invest in the right one to suit your kitchen and cooking needs.
Quick Menu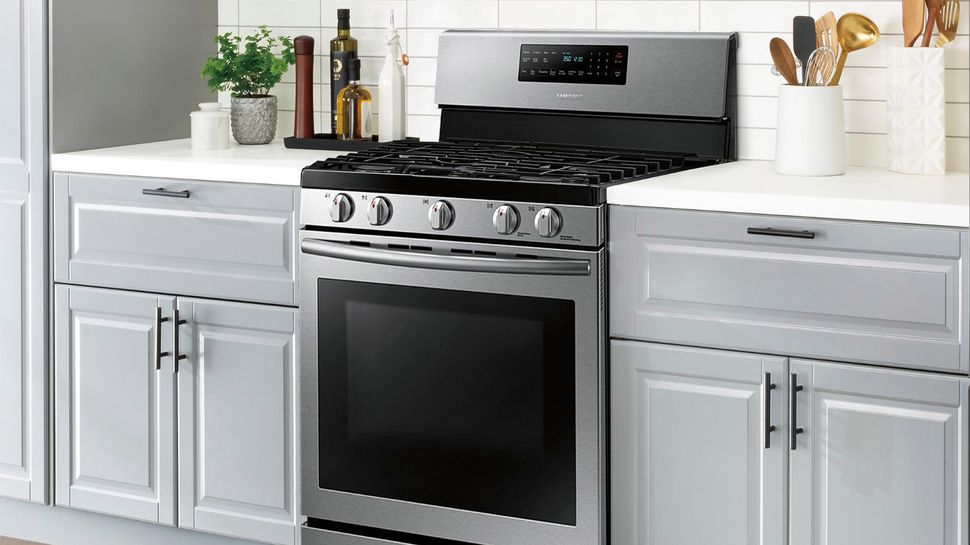 1. The quick list
2. Best overall
3. Best with air fryer
4. Best for extra features
5. Best slide-in
6. Best with double oven
7. Best premium
8. Best dual fuel
9. Best smart
10. Best range for families
11. Best professional-style
12. What to look for when buying
13. How we picked
Before you buy one of the best gas ranges, there are some things to consider. Firstly, do you require a slide-in or freestanding range? If you want it to seamlessly blend into your kitchen, then a slide-in would be suitable. What features are you after? If you're a smart home user, you might want a premium range that has smart connectivity, where you can connect and monitor the range from your phone.
You also need to factor in your budget as well as the settings on offer, as this will come at premium price. In any case, you can get basic ranges that are just as impressive, without the mod-cons.
To help you decide, we've selected the best gas ranges to suit every home, cooking need and budget.
The quick list
Here's the best gas ranges you can buy right now based on our comprehensive online research. Scroll on for our full in-depth reviews.
What are the best gas ranges?
After extensive research, not to mention first-hand experience, we can strongly recommend the GE Café CGB500P2MS1 as the best gas range overall. It's easy on the eye with pro touches, offers great versatility and excels in baking. It's not the cheapest, but it's the best option for anyone who cares about aesthetics as much as performance.
If you constantly struggle for space in your oven, then we suggest investing in the Samsung NX58K7850SS, our best double oven gas range. It features an innovative divider, which transforms a single oven into two. Each oven can then be programmed independently to cook multiple recipes at once. This means you can bake and roast at the same time!
Looking for the best value for money? Then the GE JGB635DEKSS is worth considering. It offers all of the basic settings you need, as well as a self-cleaning program, and delivers brilliant results despite the reduced price. It's not bad-looking either.
If your kitchen is designed to fit a slide-in range, then we suggest the Bosch 800 Series HGI8056UC. Its heavy-duty construction gives it a premium appeal, not to mention it features a useful warming drawer. Finally, if you're looking for the latest tech, then our top smart range would be the Whirlpool WFG975H0HV. It can even read bar codes from frozen pizzas and take orders from Alexa.
The best gas ranges you can buy today
Best overall gas range
If you're looking for gas cooking and are on a budget, the best freestanding gas range for you is the GE JGB635REKSS. This low-cost model has less cooking power than more expensive options, but it comes with GE's excellent reputation for cooking performance and a self-cleaning oven that we think no range should be without.
The oven is 5.0 cubic feet, which is plenty large for a Thanksgiving turkey, but it doesn't have a convection system. And, it has only four burners, so there's no center griddle. This GE comes in a variety of finishes, including black, stainless steel or white. We also like its drawer in the bottom, which is great for storing baking sheets when you're not using them. While this model is not rock-bottom priced, it's worth stepping up a bit for the self-clean feature.
Best with air fryer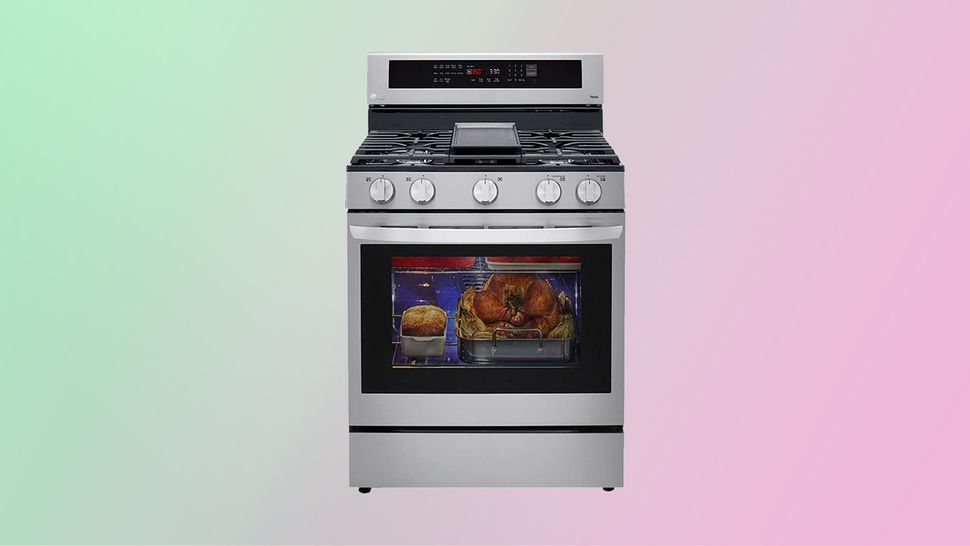 You get a lot for your money with the LG LRGL5825 F, a freestanding gas range. On the cooktop there are burners ranging from a super high one for getting spaghetti water boiling fast to an ultra low one for keeping gravy hot. In the center there's an oval burner and a griddle to use on it is included. The oven is large and has convection and air fry settings. When you want to check on your roast chicken or chiffon cake, you knock twice on the glass window and the oven light comes on.
LG has equipped this range with the latest smart features. Using an app on your phone, you can monitor and control the range remotely or you can give its marching orders via Google Assistant. The range also connects to cooking apps which will automatically send temperature settings to the oven. Before you call for a service visit, you can use the app to troubleshoot and diagnose problems.
Best for extra features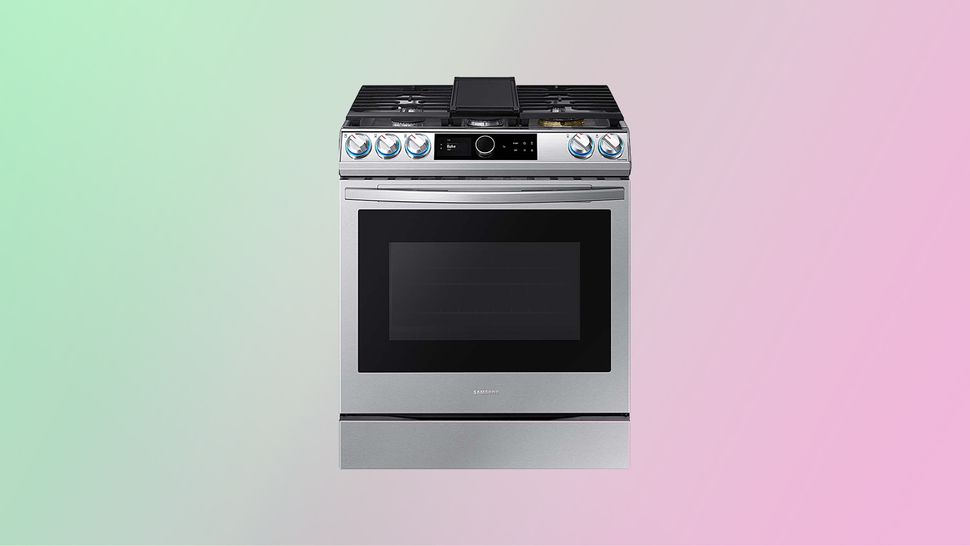 The Samsung NX60T8711SS/AA slides in between two cabinets giving you an upscale built-in look. As the controls are up front, they're easy to use without reaching across the stovetop. When you turn on the dials they light up so you can easily see the settings and tell at a glance if you forget to turn one off.
On the cooktop, you'll find one of the most powerful gas burners on any range you can buy. When you're stir frying and need intense heat and bringing water to a boil for pasta and want it fast, you'll find it super handy. The stovetop has an oval griddle burner and a cast iron reversible grill/griddle is included. The oven is exceptionally large and has both convection and air fry settings and an air fry basket comes with the range. We only wish you got 3 instead of 2 racks so you could bake more cookies at once. You can control your range with an app on your phone or through Alexa or Google Assistant.
Best slide-in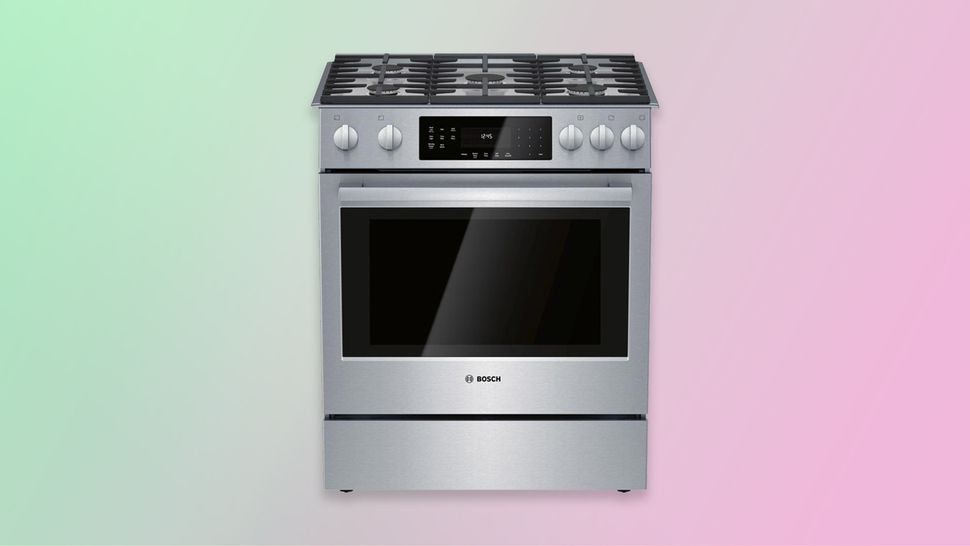 A slide-in range gives you the upscale look of a built-in unit. While the Bosch 800 Series HEI8046U is a step up in price from most free-standing models, it's a lot less expensive than a custom-fitted or professional-style range and is still a significant upgrade when it comes to aesthetics. It has heavy-duty construction, a glass panel and metal control knobs.
You do sacrifice some oven space with this model. With a 4.8-cubic-foot capacity, you will be able to fit in the turkey, but you may not be able to pack in as many side dishes at once. Below the oven, in place of storage space, there's a warming drawer, which will come in particularly handy when you're entertaining. As you would expect at this price, the oven comes with three racks and is self-cleaning. However, the stove tends to scratch easily.
Best with double oven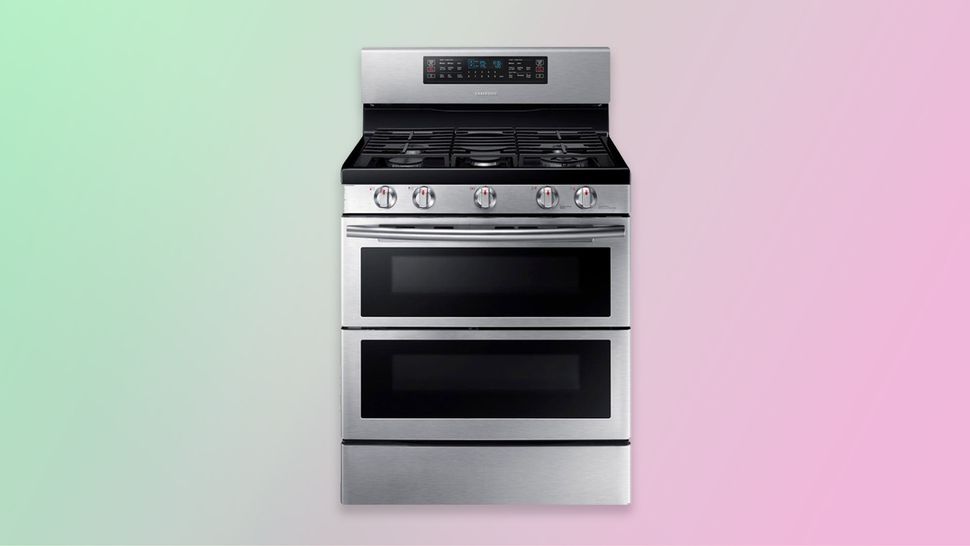 Gas cooks who need a very flexible oven will find a lot to love in the Samsung NX58K7850SS. It's one of Samsung's fancy FlexDuo models — a freestanding gas range — which means that it has one large oven that can be divided into two.
When you're cooking a Christmas ham or are in a holiday cookie baking frenzy, you have one huge (5.8 cubic foot) oven. If you need to cook two things at once, let's say broil some burgers and bake a pan of brownies, simply insert the divider and you have two ovens, one with 3.2 cubic feet of space and one with 2.6 cubic feet. Each of these can run at a different temperature and has an individual timer. The only downside is that you do have to fiddle with the divider to get it to fit properly.
In addition to the dual ovens, your $1,500 gets you five burners, including a large oval burner for the center griddle that comes with the range as well as one for keeping food warm. The controls are large and easy to read so you don't need to pull out your reading glasses.
Best premium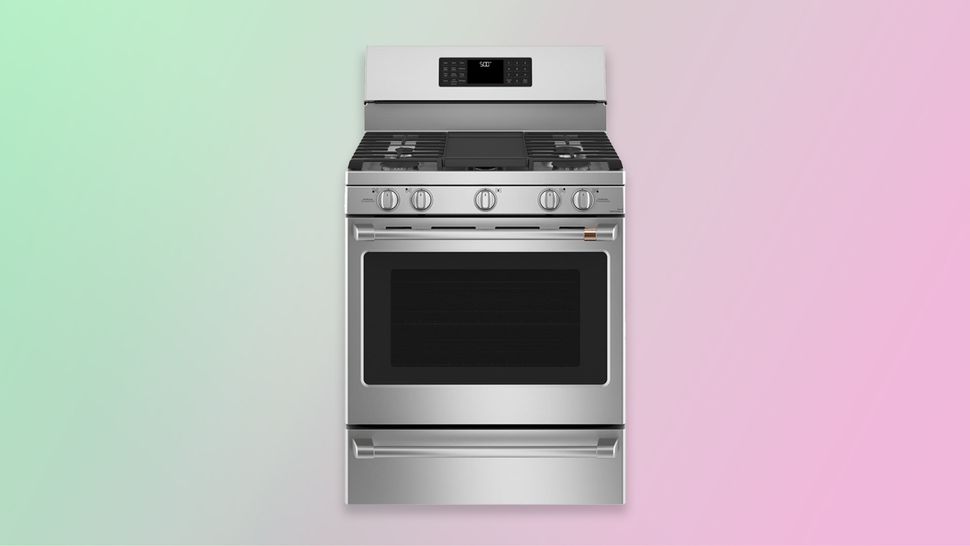 Although it's a bit pricey, we're convinced that the Café CGB500P2MS1 is the best freestanding premium gas range for your money. For starters, it has a sophisticated design with towel bar handles and large stovetop knobs like the ones on pro ranges. To give you lots of flexibility, it has five burners, including a high-powered one for quick boils and an oval center burner for a griddle (included with the Café).
GE ranges are known for their even heating pattern, which means you can make several layer cakes or sheets of cookies at a time without having to rearrange them during baking. The generously sized convection oven comes with three racks and a temperature probe, and has both a steam-clean feature for quick touch-ups and a full, self-cleaning cycle. If you like asking Alexa or Google Assistant to do things for you, you can add preheating the oven to their chores, as this model works with both voice assistants. Overall, this is the best gas range you can buy.
Best dual fuel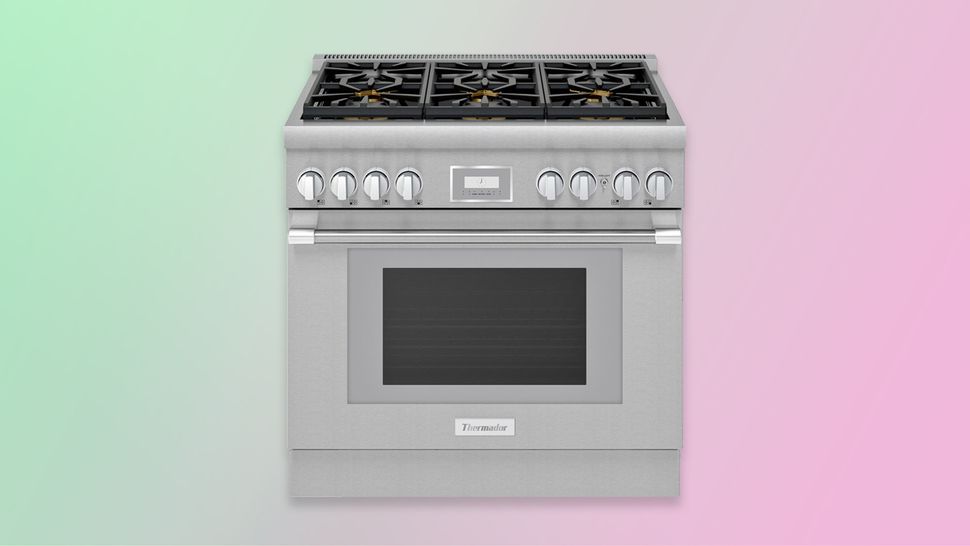 People who love to cook and are lucky enough to have access to both gas and electric lines may be willing enough to invest in a 36-inch, pro-style, dual-fuel freestanding gas range. On the top of the Thermador Pro Harmony PRD366WHU, you get six powerful burners, two of which can be dialed down very low for keeping a sauce warm without curdling it, or for melting chocolate.
Although you don't get an oven that's any bigger than the one on a typical 30-inch model (just 5 cubic feet), you do get luxuries. In addition to convection capabilities, the oven has three racks that slide out, two interior halogen lights and the fastest self-cleaning cycle on the market. However, the main reason you're paying the big bucks is for an absolutely beautiful all stainless-steel statement piece.
Best smart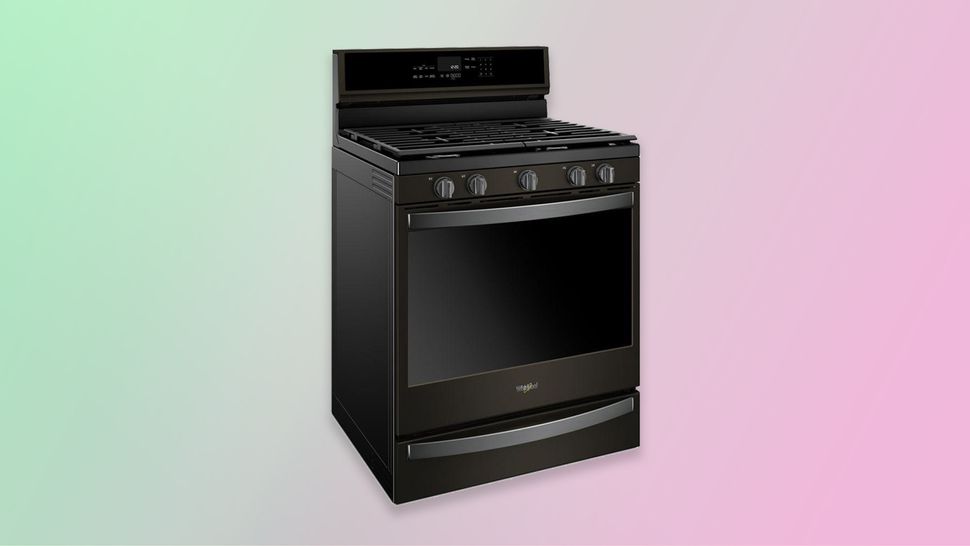 If you have fantasies of a robot cook that makes you dinner, the Whirlpool WFG975H0HV is as close as you'll get right now. It has a Scan-to-Cook feature, which sets the cooking temperature automatically after you scan the food package's bar code. It can also integrate with Amazon's Alexa voice control service, Google Assistant and Siri, so you can ask your voice assistant to start the oven for you and get alerts on your smartphone when everything is ready.
This freestanding gas range has a very generously sized 5.8-cubic-foot oven and five burners of varying power, including one for quick boils, an oval one for a griddle or fish poacher and one for keeping the soup warm for a latecomer. Thanks to an innovative design, you can clean messes from boilovers without removing the grates, and the grates themselves can be cleaned in the dishwasher. One thing to keep in mind is that Whirlpool's AquaLift is a steam-cleaning cycle and won't make much of a dent on burnt-on stains. It's best to do quick wipe outs after any messy baking or roasting.
Best range for families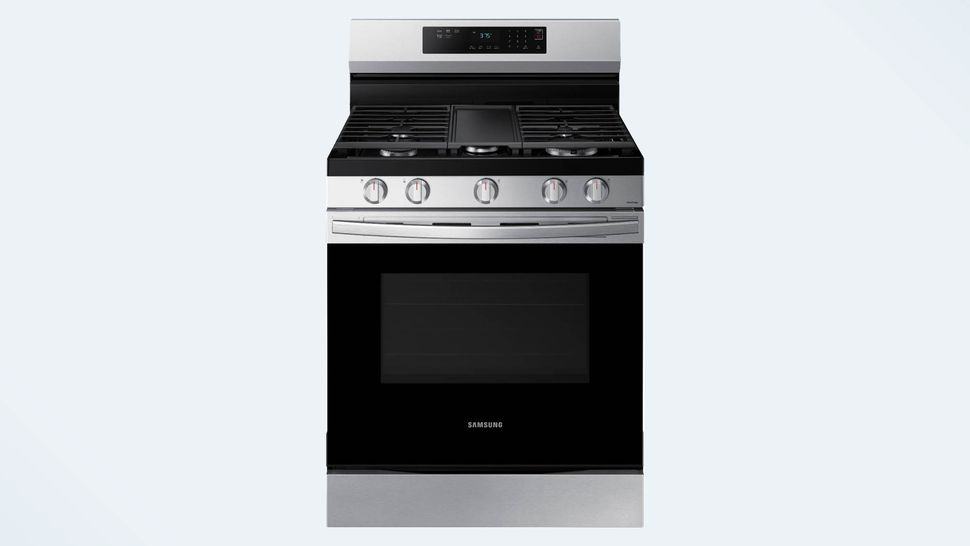 The Samsung NX60A6311SS/AA offers almost everything you can ask for from a freestanding gas range. The large 6.0 cu. ft. oven capacity can easily accommodate a full roast meal, while the stovetop burners will provide ample power to meet your needs, thanks to the Dual Ring Burner. It appears modern and yet conservative with a digital display and five large dials to control the burners.
It also offers smart connectivity through Wi-Fi, allowing you to control and monitor the range through your phone as well as giving you access to Samsung's SmartThings Cooking Service. With this, you can search for and plan out your meals, including saving them. The only thing this range is missing is the convection oven setting, so cooking won't be as even as it could be. If that setting isn't important to you, this is the one to get.
Best professional-style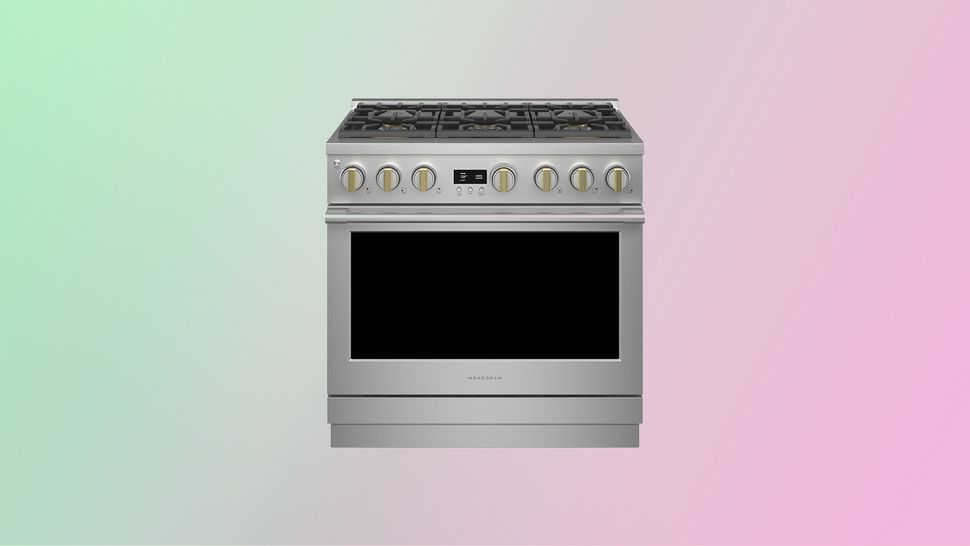 People who love cooking enough to invest in a pro-style range are often willing to make room in their kitchen for a 36-inch range. The Monogram ZGP366NTSS offers two high-powered burners, each one offering a steak-searing 23,000 Btu of power as well as four other burners. They are all able to be turned down very low for simmering. The grates can also be reversed to accommodate a round bottomed wok.
This Monogram's oven is one of the largest you can find, with 6.2 cubic feet of space and three racks; two of the racks glide out. The convection oven distributes heat evenly, so it can bake several sheets of cookies at one time.
When you connect the range to the SmartHQ app on your mobile device, you can control the oven settings remotely and even take advantage of cooking programs for specific foods. Lights around the knobs add a luxurious touch, letting you change the intensity or the color of the illumination through the app as well. Unlike previous versions of the Monogram, this range does not have a self cleaning oven, but rather a steam clean function. At more than $6,000, the ZDP366NTSS is a sizable investment, although it's well priced for this caliber of range. You can also get a version with four burners and either a grill or a griddle.
When to replace a gas range
Generally, most brands will offer a one year warranty on gas ranges, however the National Association of Home Builders says your range should last around 13 years. Because of this, we don't recommend buying an extended warranty — repairs over the range's life tend to cost less than the extended warranty itself.
If a repair costs 50% or more than the price of a new range, it's time to think about buying a replacement rather than repairing it. A frequent complaint about a faulty range is that it can't reach or maintain the correct temperature. It's worth checking your manual to see if you can recalibrate this yourself, but if not a serviceperson should be able to help without charging a large sum. If you need replacement parts, such as a burner or igniter, these can be sourced for a reasonable price. However, if you find you need to replace the control board, that's when things get expensive and you should consider a new range instead.
What to look for when buying
Features to look for when buying a gas range
Power burner/simmer burner: Every range features at least one power burner which allows you to quickly sear, or boil water. The stove should also feature one burner which you can use to sear slowly and create a simmer.
Griddle: If you like making pancakes, then you should look for a gas range with a center bridge burner and griddle. If you use a griddle or poacher, then the bridge burners will come in use for those.
Convection oven: If you're into baking breads and sweets, a convection oven — which uses a fan to help distribute heat — should be on your list. Most ranges are available with convection settings and warming drawers. Some ranges also come with pre-set programs for certain dishes, so you don't need to worry about the temperature, such as turkey or proofing bread.
Smart features: The latest ranges can also connect to Wi-Fi, which lets you control the oven from your smartphone, Alexa or Google Assistant. Some ranges can even self-diagnose faults and notify the manufacturer's service center. Another useful feature for some models is recipe app connectivity. With these, the range will automatically adjust the temperature and time based on the recipes. Regardless, you should invest in one of the best meat thermometers to make sure you don't overcook anything.
Self-Clean Functions: Look out for self-clean functions too — your oven can clean itself with this underrated setting. If you don't have it, you will need to learn how to clean an oven from scratch.
Keen to learn more? I test appliances for a living — here are 9 oven tips you need to know.
How we picked
How we picked
Our guide for the best gas ranges were based on extensive, consumer report research and online reviews. We rated things like power and how well each gas range performed for various settings. In addition, we looked at how user-friendly and practical it was to use, design, capacity and number of extra features.
Check out more of our appliance coverage:
Best refrigerators | Best electric ranges | Best dishwashers | Best washing machines | Best clothes dryers| Best vacuum cleaners | Best microwaves | Best grills | Best bread machines | Best blenders | Best stand mixers | Best coffee makers | Best espresso machines | Best food processors | Best juicers | Best air fryers | Best Cuisinart coffee makers | Best patio heaters | Best solar lights | Best coolers | Best inflatable hot tubs