5 Must-See Fighting Game Matches From Evo 2016
The Super Bowl of Gaming
The Evolution Championship Series is essentially the Super Bowl of fighting games, where thousands of competitors from around the globe gather in Las Vegas to virtually beat one another up until a world champion is crowned. The stakes were extra-high this year; the all-new Street Fighter V brought in over 5,000 players, and the finals were even broadcast on ESPN 2.
Evo 2016 produced some of the most memorable moments in all of pro gaming, with enough drama and excitement to rival real-life sports. From epic Smash Bros. showdowns to huge Mortal Kombat upsets, here are five matches that will make you want to pick up a controller and start training.
Long Island Joe vs. Eita (Street Fighter V)
LI Joe vs Eita
As the sole remaining American Street Fighter player to make it to finals day, Joseph "LI Joe" Ciaramelli had the weight of the whole nation on his shoulders. When he managed to take out fierce Japanese competitor Eita in an intense Nash vs. Ken match, it felt like a win for not just Joe, but for the whole country -- especially after seeing the emotional reaction of his father (who flew in that day) from the crowd. LI Joe ended Evo in 5th place, but he left the Mandalay Bay as the people's champion.
Hungrybox vs. Armada (Super Smash Bros. Melee)
Hungrybox vs. Armada
For Juan "Hungrybox" Debiedma, Evo 2016 was an achievement 10 years in the making. The Super Smash Bros. Melee player is one of the game's absolute best, but often ended up in second place at the tournament that mattered most. Not this time. After an intense back-and-forth with defending champ Adam "Armada" Lindgren, Debiedma's smart Jigglypuff play eventually crowned him the victor -- which was followed by a tearful, well-deserved celebration.
Arturo Sanchez vs. Momochi (Street Fighter V)
Arturo Sanchez vs. Momochi
In one of the most exciting upsets in all of Evo 2016, veteran American player Arturo Sanchez took out Evo 2015 champ Yusuke Momochi well before finals day. The match was an exciting mix of styles -- Sanchez' hyper-defensive Dhalsim vs. Momochi's relentless Ken -- that ended in a nailbiting finish that could have gone either way. The fact that Sanchez, who splits his time between broadcasting and competing, managed to defeat a former Evo champ makes his win all the more impressive.
SonicFox vs. Tekken Master (Mortal Kombat X)
SonicFox vs. Tekken Master
Most people expected undisputed Mortal Kombat champ Dominique "SonicFox" Maclean to be in the grand finals at Evo, but very few could have predicted his opponent: a relative unknown competitor known as Tekken Master. The newcomer pushed the normally calm SonicFox to his absolute limit with his strong Kotal Kahn play, forcing Maclean to change up his tactics and even toss off his signature blue fox hat. However, SonicFox found a way to prevail at the very end by switching to his devastating Alien, reminding everyone in the arena who Mortal Kombat's absolute best player is.
F3 Sleep vs. UA Bass (Killer Instinct)
Sleep vs. Bass
If you've never played Microsoft's Killer Instinct, the game's Evo 2016 finals will make you want to. Evo's KI tournament culminated in a tense matchup between Darnell "Hollywood Sleep" Waller and Ken "Bass" Armas -- two veteran players who never quite made it to the top, and who put on a heck of a show filled with smart counters and combo-breakers. The match got extra-exciting when Sleep pulled out Gargos, giving fans a taste of one of the game's newest characters while taking the entire tournament in the process.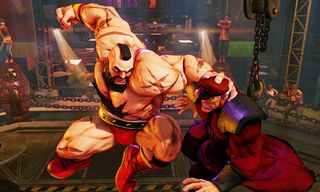 Up Your Game at Tom's Guide
Looking to become the next Evo champ? Check out our massive Street Fighter V guide as well as our primer on all things Evo. If you need to gear up, we can help you find the best gaming monitors, headsets and controllers.
If you're hungry for more live gaming, we've rounded up the 15 Best Twitch Channels. And if you want to become a streamer yourself, check out our Ultimate Guide to Twitch.