17 Windows Explorer Extensions & Replacements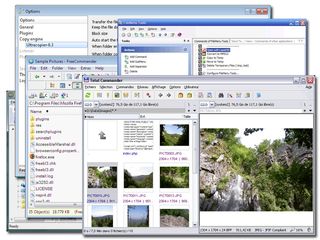 Extend Explorer
Windows Explorer is the fundamental file and folder management and navigation system for the Windows GUI, and has evolved over the many iterations of the Windows operating system. While many users are fine with Explorer's performance features (others would say design quirks), there are always power users trying to get more out of their interface. As a result, there are a lot of custom extensions, toolbars, and other add-ons to Windows Explorer, as well as entire programs such as Total Commander or Xplorer2 that aim to be total replacements of Windows' built in file and folder manager. Here are a few of our favorite picks for Windows Explorer extensions, as well as a few Explorer replacements worth taking a look at.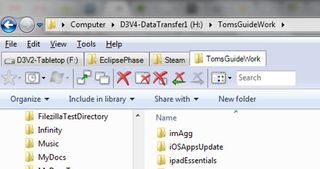 QTTabBar
QTTabBar is an extremely customizable open-source Windows Explorer tweak that adds a whole mess of additional features to the default Windows Explorer, most noticeably the addition of tabbed browsing, allowing you to keep open instances of Explorer to a minimum. Other features include the ability to view folders in an "exploded" view from the view pane, a favorite folders selection, recently closed folders, a customizable navigation and search toolbar, and plugin support for even more customizability.
Verdict: The tabbed browsing alone would already make it a nice addon to Windows Explorer, but the additional folder views, search functions, plugin support, and general level of customizability make this excellent for improving Windows Explorer's features.
Score: 4.5/5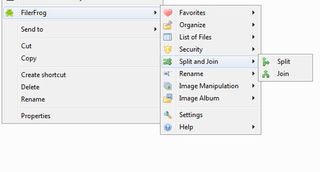 FilerFrog
FilerFrog is a freeware program that helps users with file, folder, and image management operations. FilerFrog adds additional options to Windows Explorer's right-click context menu, allowing users to extract files to and from folders, create and manage a list of favorite folders, split and join large files, batch rename and sort files, batch delete empty files and folders, encrypt and decrypt files, perform batch image manipulation, create photo albums, and more.
Verdict: While no single feature of FilerFrog is a must have, it is a good grab-bag of little tools that can help automate otherwise tedious file and folder management tasks.
Score: 3/5

StExBar
StExBar is a simple Explorer toolbar that adds a few functional buttons for certain Explorer operations, such as showing or hiding system files, opening the console, copying file or folder names or paths, but what would make this toolbar interesting for some users is the ability to add new toolbar buttons with customized taskbar functionality, letting you add the features and shortcuts you want or need right on the explorer toolbar.
Verdict: The stock buttons on this little toolbar are okay, but the ability to make your own is what makes this toolbar an interesting addition.
Score: 4/5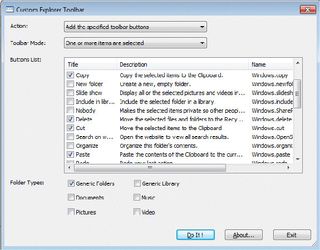 Custom Explorer Toolbar
NirSoft's Custom Explorer Toolbar is a Windows 7 utility that gives users the ability to add a host of toolbar buttons that existed in previous versions of Windows Explorer. If you missed having dedicated buttons for such tasks as Cut, Paste, Delete, etc, then load this toolbar up, and even if you're not nostalgia tripping, you might still get some extra use out of some of the dedicated buttons you can add to the explorer toolbar.
Verdict: If you miss some old features and buttons from previous versions of Explorer, or are looking for a few more shortcuts to add to the toolbar, you might want to consider this addon.
Score: 3.5/5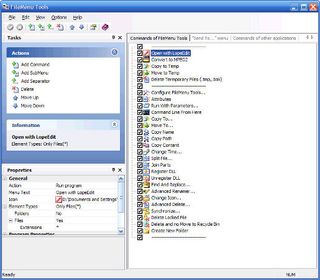 FileMenu Tools
FileMenu Tools allows users to add more items to Explorer's right-click contextual menus, coming with a host of extra options such as synchronizing folders, copy to or move to buttons, and joining and splitting files. In addition, like StExBar, you can use FileMenu Tools to create custom commands for running external applications.
Verdict: Heavy users of contextual menus can get even more functionality through FileMenu Tools, whether with its built-in buttons, or with user-defined custom commands.
Score: 4/5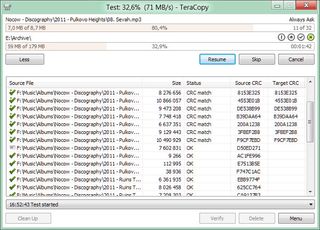 TeraCopy
Users unsatisfied with Windows' native file copy system would do well to try out Code Sector's TeraCopy, an alternative file copy tool designed to be faster and more functional than the default tool. TeraCopy includes numerous features that put it leagues ahead of the basic file transfer tool, such as the ability to pause and resume file transfers, error recovery or skipping of bad files, shell integration to replace the default tool, as well as Windows 8 support. TeraCopy is free for non-commercial use.
Verdict: A popular replacement for the default file copy system, TeraCopy is a good file copy tool that is faster and provides a better feature set.
Score: 4/5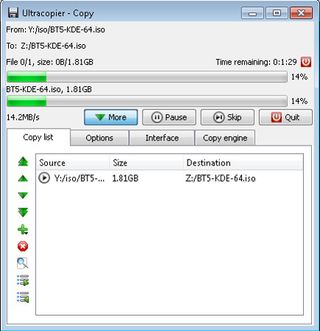 UltraCopier
UltraCopier is an open source, multi-platform file copy tool that includes some interesting features lacking in the TeraCopy, such as the ability to dynamically throttle copy speed, move items up and down on thefile transfer queue on the fly, while also retaining many of the same kind of features, such as collision and renaming handling. UltraCopier is also skinnable, and supports plugins for those users looking for additional features or tweaks for the default program.
Verdict: Another excellent replacement for the default file management tool that slightly edges out the popular TeraCopy with some of its additional features.
Score: 4.5/5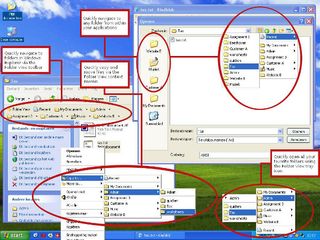 FolderView
FolderView is an Explorer toolbar and file box extension that allows users to quickly define a series of favorite or commonly used folders, allowing for one-click access on the Explorer toolbar or file box. In addition, you can quickly copy or move selected files to the favorite folders through the right click menu.
Verdict: Need quick, one-click access to particular folders for file and folder management? FolderView's toolbar should be helpful.
Score: 3.5/5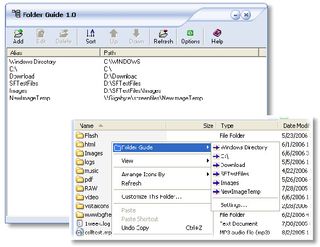 FolderGuide
For a slightly leaner implementation of the same idea, try FolderGuide, another Explorer extension that allows you to define favorite folders for quick contextual menu and open file/save file prompt access. Unlike Folder View, Folder Guide eschews the toolbar and Recent folders.
Verdict: Leaner than Folder View while still getting you where you need to be for quick open file/save file prompts.
Score: 3/5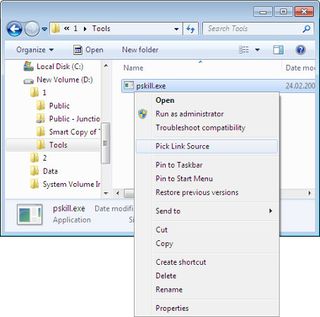 Link Shell Extension
Link Shell Extension (LSE) exploits the NTFS file system's ability to create 'hard links', which allow you to create and keep a single copy of a file or folder, and then have 'hard link' pointers to that object so that it can appear and be accessed from different locations. LSE allows users to create these hotlinks across the filesystem, allowing for more complex and customized file and folder management. Link Shell Extension's website gives some neat tutorials and explanations for how it all works, though it could be better worded. Of course, these features require NTFS, and won't work on other file systems, such as FAT.
Verdict:Link Shell Extension allows users to create more complex file and folder structures using some of the features available to NTFS.
Score: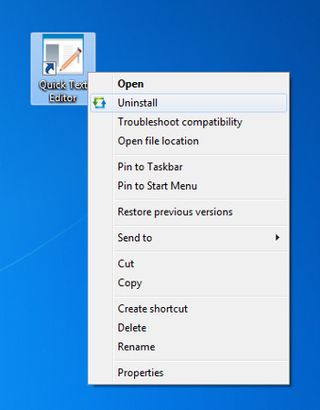 Menu Uninstaller Lite
Menu Uninstaller Lite adds on to Explorer's contextual menu by allowing you to right-click on a program shortcut to quickly bring up the program's uninstaller, without any need to bring up Control Panel or an uninstall manager like Revo Uninstaller. If you're doing a quick sweep of your desktop program shortcuts and find something you want to remove, just right click, and away the offending program goes!
Verdict: A time-saving extension if you install and uninstall many programs on a regular basis, but as it calls only the program's uninstaller, you might get some detritus left behind, unlike using dedicated uninstallers like Revo Uninstaller.
Score: 3.5/5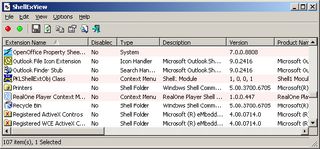 ShellExView
With all the extensions, tools, and contextual menu add-ons we've featured above, we'd be remiss in not including a tool to help manage all those extra programs. ShellExView helps keep track of your shell extensions, flags extensions with dubious characteristics, and gives you the ability to enable and disable them at will, giving you total command over extensions to your contextual menu.
Verdict: A great extra tool for managing, enabling, and disabling add-ons to Explorer's contextual menus.
Score: 4/5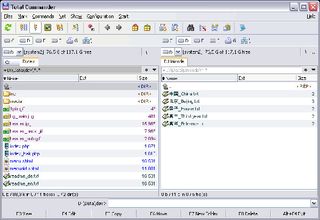 Total Commander
At first glance, Ghisler Software's shareware file manager, Total Commander, isn't particularly welcoming, but new users who stick around long enough to get over the initial learning curve will find a powerful and adaptable alternative to Windows Explorer. A 'tree' button gives you a comprehensive directory of the entire drive you've selected, an integrated FTP client makesfile transfers a snap and extensive plug-in support lets picky users add more functionality. But what really makes Total Commander stand out is the ability to manage everything via keyboard with existing shortcuts and programmable ones.
Verdict: Total Commander gives you unparalleled oversight with a much more intuitive set of controls and faster loading times. When combined with a host of features that can barely be described here, you get a program that makes file management a lot more efficient.
Score: 4/5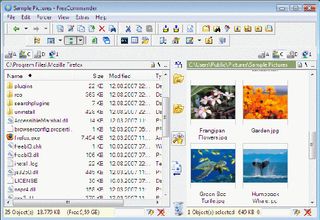 Free Commander
FreeCommander is an easy to use application by Marek Jasinski that is inspired by Total Commander. However, it is deliberately marketed as a free alternative for thrifty users who can do without some of the unnecessary muscle. It has the customary dual pane interface, built-in FTP, USB portability and some of the keyboard functionality. However by divesting itself of some of the brawnier functions of Total Commander, it is also a very resource light file manager. Unfortunately, some of the right-click context menus are kind of wonky and the program has trouble displaying funky file names such as those with Cyrillic characters.
Verdict: A lightweight experience that is comparable to one of the most robust file managers out there, FreeCommander is a great choice for those who don't really want to shell out too much for an Explorer alternative.
Score: 3/5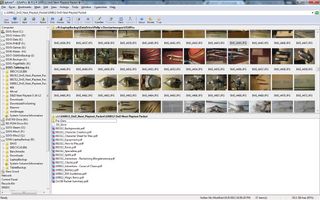 Xplorer2
Zabkat's xplorer2 is an excellent alternative to Windows Explorer that also comes with a free lite version. A highly customizable, dual-paned interface makes searching through and moving files a breeze, and it can be set to replace Windows Explorer, so that when you fire up "My Computer" or open a Desktop folder, stands ready to serve. The paid version unlocks even more functionality, but the free lite version is certainly no slouch.
Verdict: There are a lot of good file managers/explorers out there, and every techie's got their favorite. xplorer2 Lite strikes a good balance between utility and interface, and the fact that you can get most of its functions for free is excellent.
Score: 4/5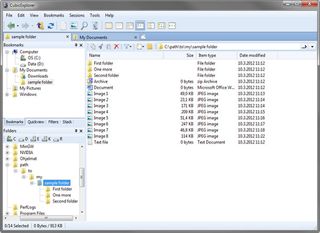 Cubic Explorer
While many file managers opt for a dual-paned view, Cubic Explorer emphasizes a tabbed window browsing experience, which is great for those already accustomed to the tabbed interface used in many popular web browsers like Opera or Firefox. That means Cubic provides an effective workspace for managing your files without having to deal with a crowded taskbar. It is also a very visually appealing program that is easy on the eyes and can be customized with themes and skins for those of us who have outgrown the oatmeal gray and brushed steel of typical GUIs.
Verdict:Cubic Explorer is a prime choice for users who just want a more effective way of dealing with files while having the option to work within an aesthetically pleasing environment.
Score: 3/5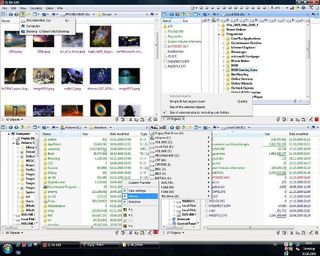 QDir
At less than 800kb, Q-Dir is a free application that rivals just about any application in terms of file size, but is about finding experience that works for you while being the answer to those that consider Total Commander to be like driving a Lamborghini in a small tropical island. By default, Q-Dir uses four panes, but you can switch to one of twelve different layouts (including a three-pane setup) if you don't have to headspace to manage all that. Each pane can also accommodate tabs, for those of you who want to work with even more.
Verdict:Q-Dir simply substitutes expanded workspace for operational complexity, which is perfect for those who do okay with Windows Explorer but need a bit more to work with.
Score: 3/5