20 HTML5 Games to Pass the Time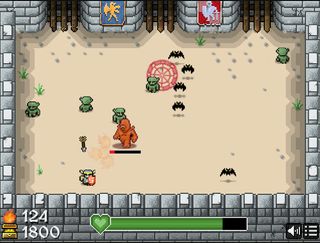 Take A Break, Play A Game!
HTML5 is fertile ground for professional and amateur game designers with the new platform quickly catching up to the ubiquity of Flash-based browser gaming. Here are a few fun HTML5 games to while away the time when you need to take a break.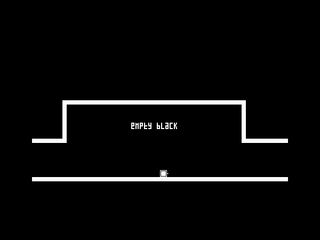 Empty Black
Behind the extremely minimalist interface of Mary Rose Black's Empty Black is an engaging platform puzzlerand shooting game. Players take control of a white block navigating around a 2D maze, shooting (or evading) other blocks and using the simple keyboard controls to pick up and throw crates, explosives, and engage in wall-grabbing jump puzzles.
Verdict: Minimalist graphics may be a turn off, but gameplay is solid and engaging.
Score: 4.5/5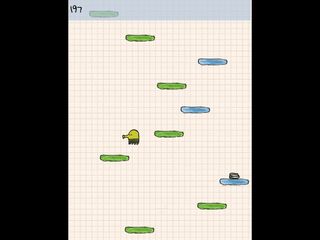 Doodle Jump
A fan-made recreation of the iOS and Android Doodle Jump, a fun platform-jumping game where players take the role of a bouncy little green creature that needs to go up, up and up by bouncing off platforms. As you rise higher, the bottom of the screen matches your ascent. If you miss a platform and fall off, well, game over. And then you find yourself starting again. And again. Simple gameplay and cute graphics make for a fun, passive game.
Verdict: A good, cute time waster, even if it's only a copy of another game. The lack of the several features present in the full Doodle Jump and failure to add anything new to the mix is a downer.
Score: 2.5/5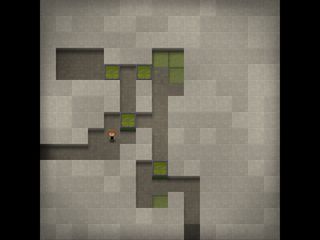 Hinder
Hinder is an HTML5 Sokoban-style game where the main character pushes around blocks to in order to get through the maze and save his friend from bad guys. Neat retro-gaming repackaged to a (only slightly) more modern look, making for a neat result.
Verdict: An okay effort that, if not incredibly spectacular, will provide some entertainment for fans of the block-pushing genre.
Score: 3/5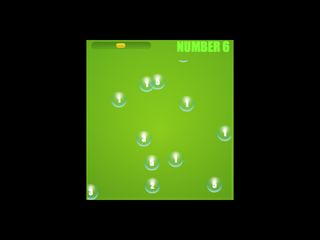 Zlizer
Zlizer is an interesting math game using the mouse or your touch screen. Every level, you are given a magic number. You must generate this number by encircling floating numbers (adding them together) or slicing through them (splitting a number into two), and plays quite nicely whether on PC or mobile.
Verdict: The math involved is no big deal, really, but okay for perking you up a bit when you start to zone out. The fact that it works just fine on touchscreen or mouse is also great.
Score: 3/5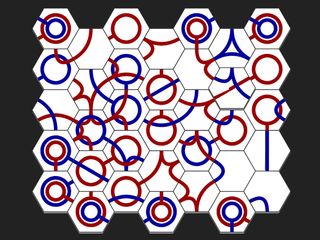 Curvy
A tough tile-basedpuzzle game, Curvy presents you with a hex grid of colored paths, and its your job to spin the hexes around until all of the colored paths fit together into a seamless whole. Sounds easy in concept, but in practice, can be quite challenging. Not particularly groundbreaking in graphics but a great game to pass the time during your break.
Verdict: A tough tile rotation puzzle that is elegantly implemented. Good for a casual break.
Score: 3/5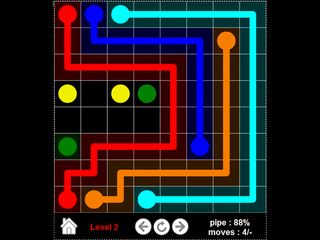 Flow
Flow is an abstract pathing puzzle where players must connect colored nodes together by laying down pipes on the grid. Players must use up the entire grid, and cannot allow pipes to overlap each other.
Verdict: Simple and elegant pathing puzzle game. Multiple levels give a fair amount of replayability.
Score: 3.5/5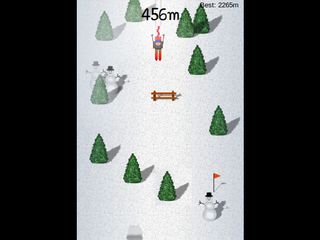 Ski!
An HTML5 game inspired by the classic SkiFree, Ski! works perfectly well whether controlled by mouse or touch screen. Navigate your skier through a ridiculously cluttered ski route littered with trees, fences and snowmen and achieve the highest score you can based on distance. We're not sure if this little game features SkiFree's abominable snowman that will chase you down past a certain point, as we've inevitably crashed into an obstacle before reaching any decent distance. Still, that in itself is motivation to carry on playing.
Verdict: An okay pastime if you just want to test reflexes without going into anything too engaging.
Score: 2.5/5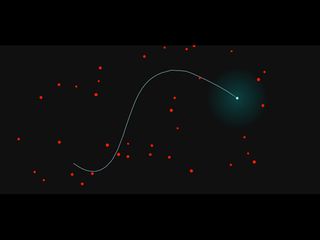 Sinuous
A pretty and minimalist little game, Sinuous puts you in command of a glowing blue worm thing that has to navigate through an endless cloud of drifting red dots. Bumping into a red dot takes away one of your lives, while moving around a lot and dodging the red dots earns you more points. There's also occasional powerups to provide you with brief periods of respite.
Verdict: Simple gameplay, but with a beautiful presentation. Having the scores go up as the player wiggles around more is a nice way to encourage players to dive in and take risks, rather than simply scrolling through safe paths.
Score: 4.5/5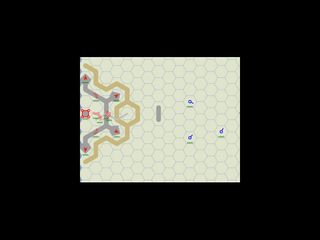 Fortaleza
A wickedly difficult fortress defense game, Fortaleza pulls no punches in launching wave after wave of infantry, cavalry, and armor towards your fortress, which you must defend by constructing ramparts, moats, and gun turrets. While the initial learning curve is a bit steep and the instructions aren't too helpful, the game's frenetic pace makes up for the lack of polish.
Verdict: This game's learning curve is no gentle curve, it's a bloody cliff. Still, if you're a fan of tower/maze defense games with a penchant for masochism and challenge, the build your own maze aspect is engaging, as is the hell mode opening.
Score: 3/5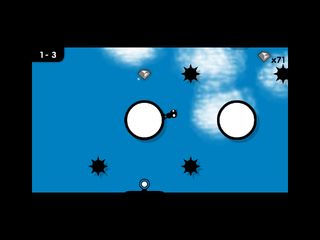 They Need To Be Fed
They Need To Be Fed is a cute platform game that plays around with gravity. Your little character must run around collecting gems and feed monsters with creepy gaping maws. What makes it stand out is that each platform you jump towards has its own independent gravity field, which can make for interesting puzzles and player disorientation as you fall skyward.
Verdict: The platform puzzles are disorienting, but in a good rather than vomit-inducing way. A quirky platformer.
Score: 4/5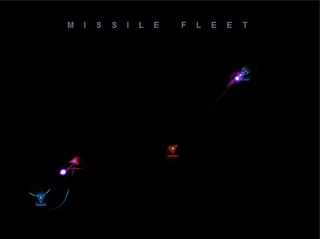 Missile Fleet
Missile Fleet puts you in command of a fleet of warships represented by red triangles armed with different weapons. Each level puts you in a tactical puzzle as you must out-maneuver and out-fight the generally superior blue fleet. Mouse control is simple, with drag select. Clicking on the map directs your selected ships to move in that direction, while clicking on an enemy ship orders your fleet to focus fire. Pretty explosions and Macross Missile Massacres will flood your screen in no time.
Verdict: The simple icons for your ships have a nice retro feel to them while rendering sharp. The tactical puzzles are pretty solid, and the bright lines, streaking missiles and rail gun volleys, make for a nice display as your fleets annihilate each other.
Score: 3.5/5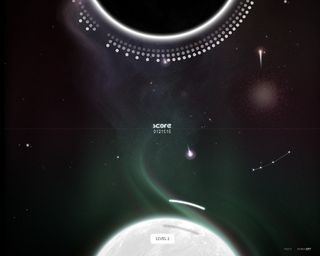 Sketchout
An Arkanoid-style game, Sketchout puts players in command of a shield deployed to protect a world under bombardment, striking back at the invaders by bouncing their own projectiles back at them. The spherical alien ship continuously revolves, with speed depending on difficulty, and players must break through its shields to advance. Besides the old horizontal bat, you can also "draw" shield segments to more proactively bounce back projectiles, but you can only have one shield online and it breaks down as you deflect attacks. A well-made take on an old idea.
Verdict: A great riff on Arkanoid, with some nice touches to keep gameplay fresh, all wrapped up in a nicely rendered package.
Score: 4/5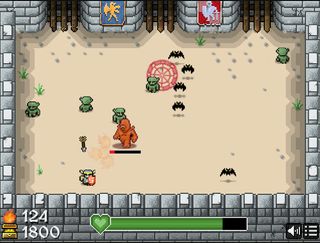 Onslaught
Onslaught is a medieval fantasy shooter puts you in the shoes of a pixellated gladiator taking on endless hordes of creeps and boss monsters for the delectation of the crowd. Shoot weapons while dodging enemy attacks and picking up new weapons and loot. Nice, fast-paced fun.
Verdict: The pixel-retro feel is great, and the monsters are a nice nod to many pen and paper RPG staples. Good, arcadey fun.
Score: 4/5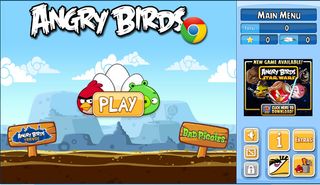 Angry Birds Chrome
There is no escape from Angry Birds, even on the PC. Angry Birds now features an HTML5, Chrome-optimized version. In the unlikely event that you're unfamiliar with this game, Angry Birds took the classic "throw projectiles to demolish structures" genre and made it massively mainstream by packaging it in cartoony graphics and pitting angry birds against snorting piggies. The HTML5 version is optimized for Google Chrome and features exclusive levels.
Give in. There is no escape from Angry Birds.
Verdict: Love it or hate it, it popularized an entire genre of projectile games. Though the franchise might be milked for all that it's worth, part of the reason this game is so popular is that it's actually good, and the cartoony graphics and decent level of difficulty make it very accessible.
Score: 4.5/5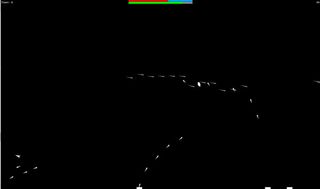 3Bored
A bullet hell survival game, 3Bored puts you in command of a flying white dot arrayed against tanks, planes, and even orbital death beams all out to take you down. All you're armed with is the ability to crash to the ground at incredible speeds, destroying all in your path. Survive as long as you can. The post-game screen provides some amusingly informative stats about how many bullets you've dodged, enemies killed, etc.
Verdict: If you're a reflex-twitchy, masochistic, challenge-seeking player looking for a new game (and you don't mind retro minimalist graphics), this one can be quite enjoyable. There's something satisfying about spitting in the face of bullet hell death and setting up a righteous air-dropped super combo strike.
Score: 4/5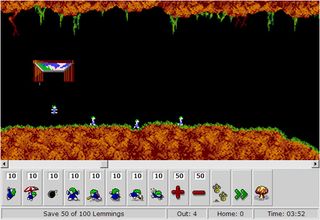 DHTML Lemmings
A faithful remake of the classic Lemmings game, players guide the lovably stupid little creatures to the exit point, assigning special abilities to certain lemmings in order to deal with obstacles in the way. Retro, fun and still a great puzzle game.
Verdict: It's nothing new or groundbreaking but the classic Lemmings is a great puzzle game and the HTML5 port does nothing to change that.
Score: 4.5/5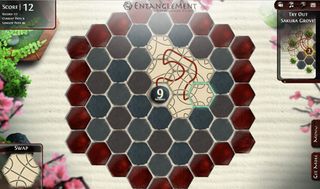 Entanglement
Entanglement is a gorgeously designed tile puzzle game where players lay down tiles in order to generate the longest path possible. The soothing music and calm, zen sand garden background make for a relaxing puzzle experience.
Verdict: Soothing and very well presented, this is a really nice, abstract puzzle game.
Score: 4.5/5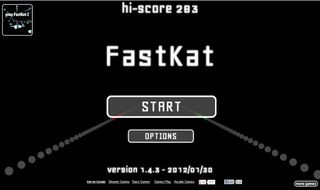 FastKat
FastKat puts players in the role of a starship pilot, zooming through space while trying to avoid obstacles. The game's visuals are reminiscent of a science fiction jump to hyperspace, only each glowing dot is an obstacle that you can slam into. A bad thing to do at superliminal speeds, we're told. Get as far as you can without being turned into interstellar roadkill!
Verdict: Having the game's particles whiz by you at crazy speeds is actually visually stunning. Just don't forget to actually dodge them. FastKat 2 changes up the presentation with 3D polygon graphics but the simplicity of this older version makes it feel more endearing.
Score: 4/5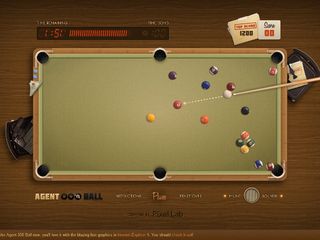 Agent 008 Ball
A visually polished billiards game, Agent 008 Ball takes a page out of Bond thrillers like Casino Royale. Agents of the nefarious organization CHALK have infiltrated the International Billiards Tournament. Prevent them from winning by sinking as many balls as possible before the game's timer runs out. The time pressure is a fun addition, though it can detract from letting players appreciate the slick graphical polish of this game.
Verdict: Slick visual prsentation and the Bond riffs give this otherwise "meh" billiards game a nice atmosphere, and the time pressure charges things up a bit by keeping you on your toes. A good time-waster.
Score: 4/5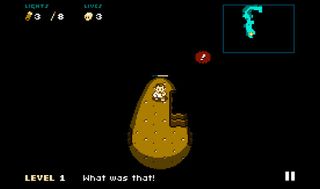 Sinkhole
Sinkhole puts players in the shoes of poor, unfortunate Tomo, who has just fallen down a deep sinkhole and broken his arm. Now, you need to make your way out of the cave armed only with a flashlight with limited battery life, and a book of matches. Luckily, Tomo's alone. Or at least he thinks he's alone. Or he hopes he's alone down there. Just make sure to keep a good supply of light, otherwise...well, let's not go there.
Verdict: Exploring the procedurally-generated underground hell that Tomo is stuck in is actually pretty creepy (and fun!) as hidden...things stalk you, only to be driven away by the light. Atmospheric while also equipped with a built-in tension mechanic (light sources and the creepy things) to keep players on their toes, it has a very nice pace to it.
Score: 4.5/5
There's a wealth of HTML5 games out there! Do you have any favorites of your own you'd like to share? We'd love to hear from you in the comments section below.