Tomorrow's Kitchen Arriving Today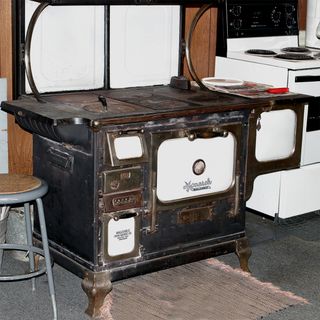 The 21st Century Kitchen
In a sense, conventional gas and electric appliances aren't that much more evolved than the iron stoves of the 19th century. Lightbulbs aside, are today's refrigerators significantly better than those of the 1950s? Not yet, but we're now seeing computing give mainstream appliances a major makeover. Our kitchen components are getting smarter in a lot of exciting ways. Read on and explore what may be in store for the high tech kitchen of tomorrow.
Source: http://en.wikipedia.org/wiki/File:Iron_stove.jpg. Creative Commons Attribution 3.0 License.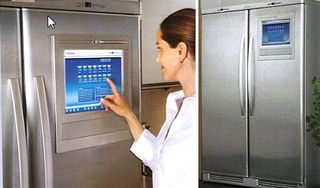 (Not-So-)Humble Beginnings
When Electrolux and LG launched the world's first Internet-enabled refrigerators in 2000, they were priced up to $20,000 and almost instantly became a symbol of dot-com extravagance and failure. However, "smart" appliances (meaning those with some degree of IP connectivity and network-based control) were an idea before their time. Today, vendors are taking another, much bigger stab at the smart market, and this time they're playing for keeps.

Get Ready For Growth
According to Zpryme Research & Consulting, the rise of smart appliances will be inextricably tied to smart grid adoption. A smart grid is the conventional 20th century electrical grid updated with digital sensors and control systems. Thomas Friedman's Hot, Flat, and Crowded offers an excellent near-future vision of the smart grid, in which consumers use advanced appliances to moderate energy use (such as running dish loads at 3:00 AM, when power is cheaper).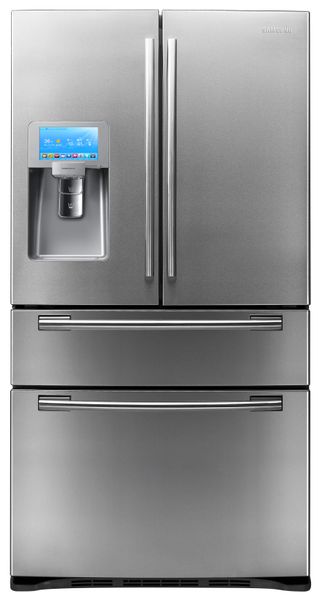 Fridge of the Future
Samsung's top-end smart fridge retails for $3,699. You'll pay a $300 premium for the 800x480, 8" LCD and all of the apps running behind it. (Otherwise the 28 cu. ft., four-door, stainless steel monolith is just like its non-computing $3,399 cousin.) Apps aside, we like that the unit is ENERGY STAR rated CEE Tier 1 (Most Efficient), builds in water filtration, and sounds an alarm if the door has been open for two minutes.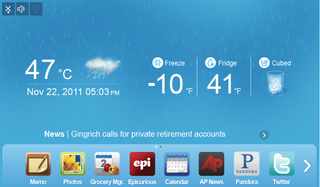 Putting the App in Appliance
Apps are where the heart is. The RF4289 refrigerator builds in Wi-Fi to feed real-time data to eight included titles: Memo, Epicurious Recipes, Picasa Photos, WeatherBug, Google Calendar, AP News, Pandora, and Twitter. The whole shebang is fueled by a Marvell Aspen CPU, 512MB ROM, 256MB RAM, and Linux 2.6.28. A covered SD/MMC slot below the LCD lets you load JPEG images, or you can pull images from any DLNA server on your LAN.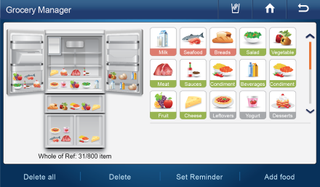 Out of Sight? No Problem
Samsung's smart fridge is upgradable, and software version 2.5 delivered the Grocery Manager app. Grocery Manager lets you track expiration times and set consumption reminders. Without a scale or barcode scanner, food management is a bit on the manual side, but it's a good start. Now, if Samsung could figure out how to give kids another three minutes of Angry Birds for every ounce of vegetables consumed, that would be a selling point.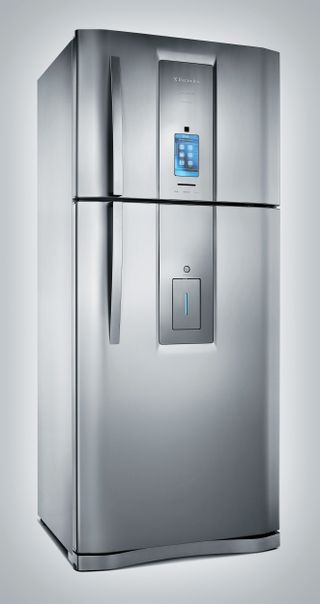 Sweet Brazilian
Of course, there are a few competing smart fridges already, and more sure to follow. Over a decade after the original Screenfridge, Electrolux gives us the Infinity I-Kitchen refrigerator, currently available in Brazil. Sporting a 400Mhz Freescale i.MX25 SoC processor and an 800x480 touchscreen LCD. Electrolux seems to have skipped connectivity, although the fridge does offer Linux-based apps, including recipes, notes, calendar, and contacts. More impressively, users can leave video notes for each other.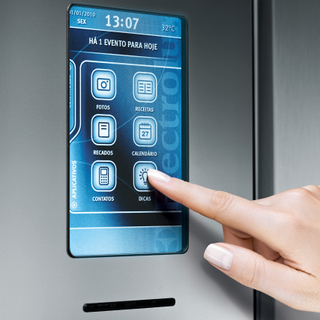 Is Less More?
Without question, Electrolux's "smart" implementation is far more scaled back than Samsung's. Even the display seems little larger than that of a common smartphone. Why? Enthusiasts may bash the approach, but we have to wonder if Electrolux is on a more intelligent track. When in the kitchen, do users want to manage new tasks or only perform current tasks more easily? Especially in regions with lower broadband penetration, less may be more.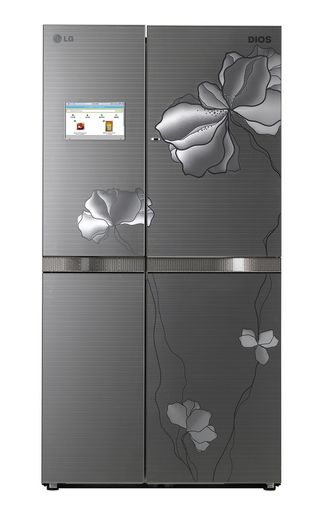 Divine Design
At the other extreme, we have LG's DIOS series, which still seems to be unavailable to us technologically and aesthetically conservative North Americans. When, if ever, have you seen a refrigerator with this sort of decoration in an American appliance showroom? When touring Samsung's d'light facility in 2010, we were struck by how common such artistry is on Korean appliances. Does a Linux GUI belong in the midst of such designs? You decide.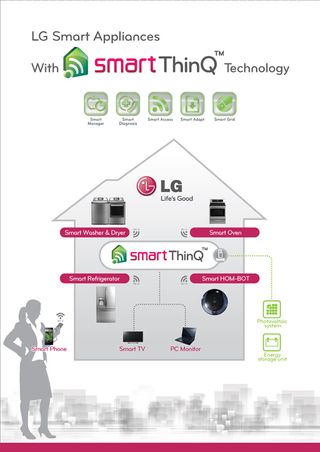 Greeting the Grid
When shown at this year's CES event, LG's flagship fridge (sans artsy designs or DIOS branding) demonstrated the company's Smart ThinQ and Home Energy Management System (HeMS) technologies, which harness wireless communication to bind multiple LG devices together and facilitate centralized monitoring and management via a PC or smartphone. These forward-looking capabilities anticipate enabling greater power savings and user control as smart grid tech becomes available.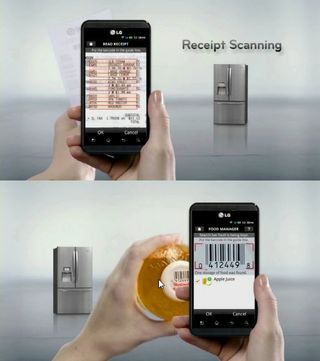 Use It or Snooze It
Smart ThinQ encompasses apps able to run on compatible devices, and one of the refrigerator's apps is Smart Manager. "Using the Smart Manager's Freshness Tracker," notes LG, "users can also enter various food items, such as eggs, milk and vegetables, and check their suggested expiration dates. Additionally, the refrigerator recommends dishes that can be cooked using the ingredients available in the refrigerator." Scanning bar codes makes sense, but store receipts? Good luck.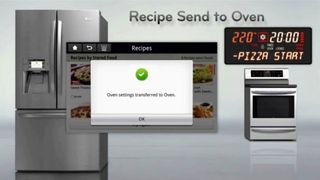 Kitchen Cooperation
Not only does Smart ThinQ help do your online shopping straight from the fridge's LCD, but it also includes a Health Manager feature that accounts for age, gender, BMI, allergies, and other factors when making menu recommendations. When you find a recipe you want, hit "Send to Oven" and the oven will get cranking with the proper heat and time settings. Want to place bets on whether such platforms to go open source?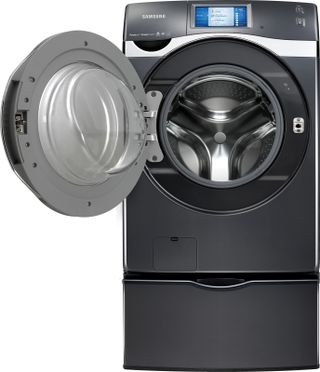 A Better Washer
There's more to smart appliances than the fridge. Samsung's WF457 washer (shown here) and DV457 dryer use the company's Smart Control system to connect with the home network via Wi-Fi. Smart Control uses a phone app so users can remotely monitor cycle selections and load time remaining, start or pause loads, and receive finishing alerts. Just as cool, whenever there is a maintenance issue, the machine will send diagnostic suggestions to the phone app.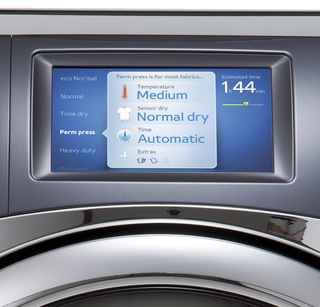 Simplicity in Pixels
Samsung's WF457 builds in a ton of features—seven specialty cycles, various detergent delivery methods, steam cycles, and so on. While most people might not think that a washer or dryer needs anything as fancy as a touchscreen LCD, the fact is that a GUI may be the only way to harness high-end appliance feature creep and make it all accessible. As you can see, Samsung's readout is both clean and intuitive.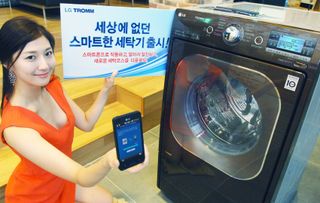 Watching the Wash While Away
Expect the major appliance vendors to adopt various approaches to remote manageability. As Samsung puts it, such functionality is "a huge benefit to busy moms who spend time running back and forth from the laundry room trying to estimate when the load is done." Here you can see LG following suit with its own high-end washer, which ties to a smartphone app. Users can also monitor the appliance's status on a compatible smart TV.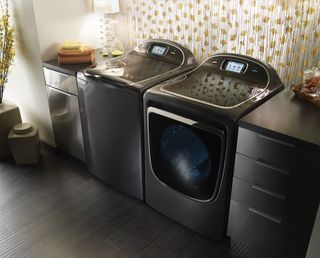 A New Vantage on Clothes
With its LCD touchscreens, the Whirlpool Vantage washer/dryer pair is able to eliminate all other controls—no dials, no knobs. The washer comes with 33 built-in cycles, so it's handy having a GUI to help navigate them. More interestingly, users can create their own custom cycles for special items, such as sports uniforms, as well as monitor resource usage and efficiency.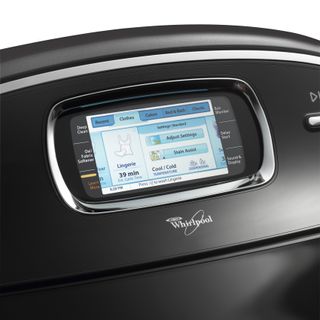 A Mode For Any Occasion
The Vantage 33 preset modes cover bath mats, swimwear, office casuals, jeans, baby items, brights, and even lingerie. Picking the right mode for the right load might prove daunting, so Whirlpool introduced its "Cycle-Logic intelligence," which looks to be a sort of wizard routine that starts with four top-level categories (cloths, colors, bed and bath, and classic), and then helps narrow down from there. The washer will also remember your last seven cycle modes for reference.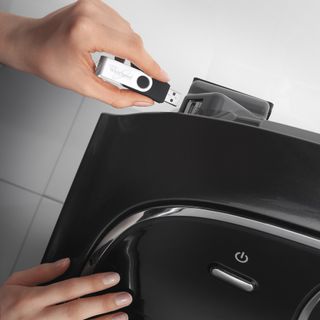 Adding USB
Yes, that's a USB port on a washing machine. Whirlpool didn't equip its 2010 model year WTW7990XG washer with Wi-Fi, but it does include USB functionality for downloading new firmware updates. According to Whirlpool, this is the first time a washer has ever incorporated USB. In the U.S., though Whirlpool's current flashship washer looks to be the Duet (WFW97HEXL), which confines the "apps" on its LCD to dispensing washing advice and answering questions.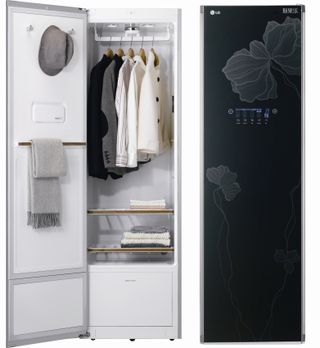 Almost Smart
While the LG Styler isn't networked (yet), it is targeted at harried executives in restaurants and hotels. The Styler uses front panel touch controls to "refresh and deodorize" your garments. Through a combination of steaming and a motorized hanger bar, the Styler manages to extract your wrinkles, plus there's an optional Aroma Spray function. With NFL-themed front panels and bacon-scented sprays, this might work in the U.S. Or not.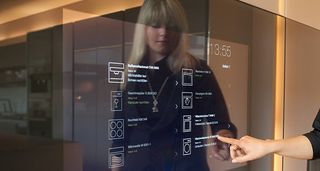 One Screen to Rule Them All
In anticipation of smart appliances sprawl becoming unruly, German design firm SieMatic worked with Microsoft Windows Presentation Foundation for Embedded Systems. The result was the S1 Grid, a one-stop touch surface through which users could control every smart device in the kitchen, surf the Web, watch slideshows and videos, monitor RSS feeds, and much more. We can easily envision this concept being updated with Kinect gesture capabilities for the future.