In Pictures: Ford Shows Off Smarter Cars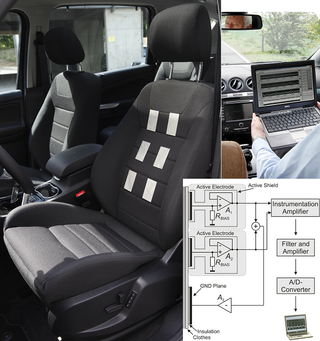 Seats that Track your Heart Rate
We recently took a tour of Ford's R&D facilities, and the Blue Oval is pulling all of its weight behind making their cars some of the smartest you'll find on the road.
Just to start, you can stick capacitive sensors on the seat and your car could keep an eye on your heart rate as you drive; that could be for general health tracking or sending details to an ambulance if you're in an accident (or even warning other drivers if you have a heart attack).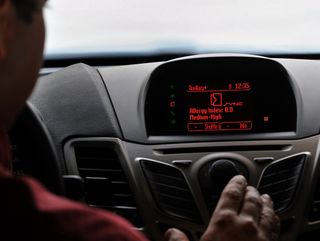 Plan a Route that helps your Hay Fever
If you have allergies or hay fever, you want to avoid areas where the pollen count is high. That's the idea behind the Allegy Alert app that Ford's research lab is working on. The app will notify you if you're approaching a High Pollen area, and can suggest alternate routes to help keep your allergies in check.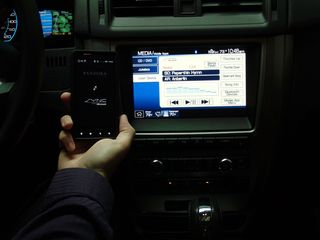 Don't get Stuck with Old Phones
The Sync platform that Ford uses for running applications like Allergy Alert is based on Windows CE, but it works with just about every smartphone platform. It takes three to five years to design and build a car, so if Ford had tried to pick a tech winner, brand new cars today would probably have MySpace built in. This is Sync AppLink, in a 2011 Ford Fiesta, working with an Android phone.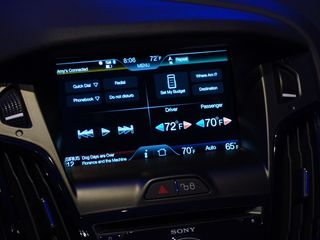 Touchscreen Controls
The screens Ford is putting in the center console of cars combine controls for entertainment, air conditioning and information for the driver (like route planning), and the range of an electric car - and they limit what passengers can do on screen to what's safe for the driver to do as well. Ford wants to give the passenger in the front seat the same entertainment and information it's safe to give riders in the back seat.

Two Screens in One
Ford is looking at split screens based on 3D TVs that use the difference in viewing angle between the driver and passenger seats to show different information. "The left-hand side of the screen gets all the driver information, the vehicle controls and on the right-hand side you can watch a movie or do some Web browsing," explains Ford CTO Paul Masceranas. Here's a similar screen that Microsoft Research is working on, showing each person a different image.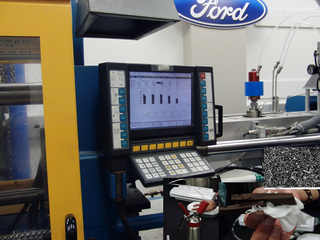 Adding Bubbles for a Lighter, Stronger Car
Squirting super-cooled nitrogen into plastic before the injection mold process gives you plastic that's full of tiny bubbles. It's up to 30 percent lighter and cheaper but just as strong as solid plastic. That could take ten pounds off the weight of a car, which means less gas to get where you're going. The team at Ford's research lab is making MuCell plastic in this injection molding machine – and showing chocolate with bubbles made by carbon dioxide in the same way, to explain the principle.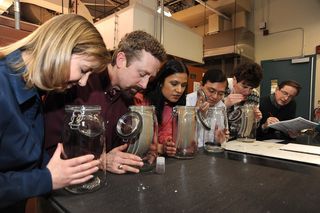 Reduce, Recycle, Reuse – if it's Not Smelly
That 'new car smell' is just the gas given off by newly-made plastics and car makers try very hard not to have your new car smell of anything – which is why recycled plastics from consumer waste aren't going to be in your car for quite some time. The 'smell jury' in Ford's lab checks out sample components for strong smells and recycled plastic often smells of fabric softener or sour milk.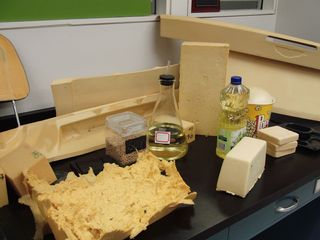 Grow your Car: Soy Foam Seats
The smell was a problem the first time Deborah Mielewski suggested using foam made from soy oil; "it was stinky" she admits. But after five years of trial and error, she had a foam that worked well and didn't smell bad. With oil hitting $100 a barrel in 2008, soy was less expensive, and easier to recycle. It started in the Mustang and now every Ford car in the US has seat-backs and head rests that are 74% soy foam. "There are 300 pounds of plastic in the average car," she says; "I want to replace all of it with things we can grow or produce in the US."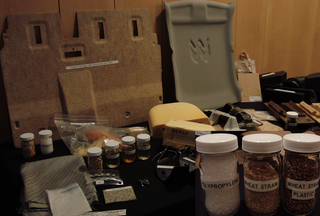 Grow your Car: Straw Plastic
The parts of a car that are or could be made of recycled and recyclable materials, from shredded currency to natural fibres to plastic reinforced with shredded wheat straw. Wheat straw parts like cubbies for storage are in the 2010 Ford Flex and they'll be used for parts under the hood in the future. The problem is that the parts have to last ten or twenty years – and compost down when they go into landfill. Mielewski plans to take 20 pounds of petroleum-based plastic parts out of Ford cars per year.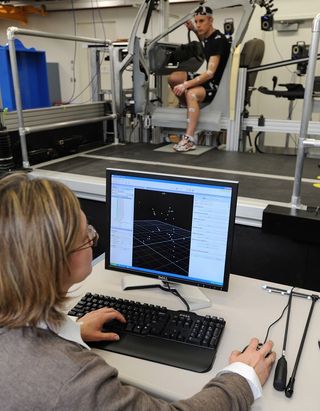 Put your Avatar in a Car
Hang up 14 infrared cameras, put tiny ping pong balls all over your body and climb into the mockup of a car interior; It's similar to the motion capture system used to film Avatar but this is the system Ford uses to decide if the seat, the pedals and the steering wheel are in the right place and you can still get in and out, whether you're tall or short. As car controls change, this will make sure there's enough space in the footwell no matter where the pedals are.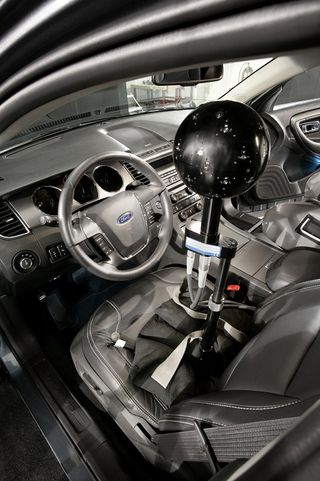 Finding the Squeak in a Silent Electric Car
A noisy car is annoying to drive, because you're always worrying that it's about to break down, and a squeak or rattle could distract you. That's going to be even more important in electric cars where there the sound of the engine to drown out rattles and clicks simply isn't there. This device records the sound inside the car from microphones embedded in a sphere and triangulates the strength of each sound to determine where the source of the noise is.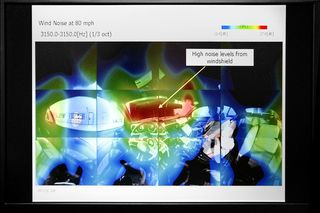 Turning Sound into Pictures
As well as the 31 microphones recording at 44KHz (that's CD quality), there are 12 digital cameras taking pictures. Ford's software morphs the pictures into a 360 degree image and overlays the 3D sound field over it as a heat map, to make it obvious where the sound is coming from – a badly-fitting part on the dashboard or external noise through the windshield.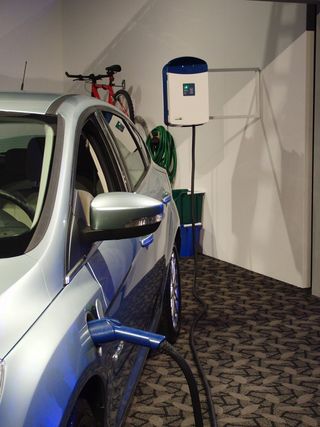 Put a Charger in your Garage
If you buy the plug-in Ford Fusion hybrid or the all-electric Focus due at the end of this year, it will charge twice as fast if you get a 240 volt charger. You'll be able to get this 6.6kW plug-in charger from Best Buy for $1,500 including installation, which Ford's Director of Electrification Sherif Marakby says is $500 to $700 less than the competition. "...you can hook it up and plug it in and you can take it with you if you move," he promises.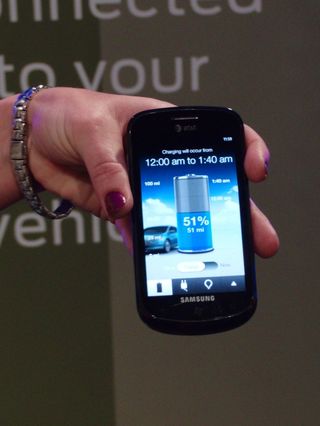 Charge your Car when it's Cheap
"The national average is 9 cents per kilowatt hour for electricity, so your plugin will charge for $2," Marakby told us, but you can save money by having it charge up late at night when power is even cheaper. The Value Charging service from Microsoft makes this process even easier. "It's like a programmable thermostat," he explains; you tell your car when you need to leave and the service will figure out how long it needs to charge for and when the cheapest time to charge up is. Simply plug in the numbers and you'll be ready to go in the morning!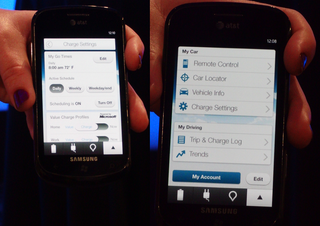 Charge your Car from your Phone
You can see when your car thinks you need to leave and when it plans to charge up from a smartphone app; If your plans have changed, you can turn on charging without getting off the couch. You can even set the AC, turn the alarm on or off, unlock the door, or check where you parked.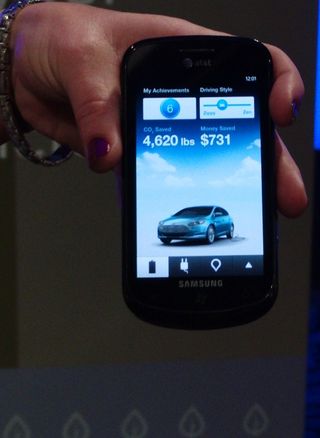 Drive Smart, Earn a Badge
Is your driving style Zen or zippy? Ford will upload the telematics data from your electric car, via a built-in AT&T module, analyze it and award you Foursquare-style badges for how far you go, how often you charge and how much you save. Up to eight drivers can have personalised keys and Ford thinks competing to earn badges will give you an incentive to drive smarter.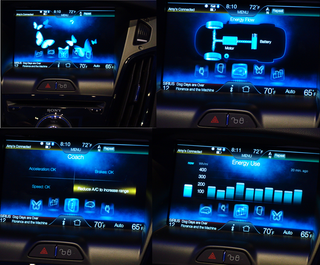 Drive Smart, see Butterflies
The in-car display in electric cars will help coach you towards a more efficient style of driving, with everything from explicit instructions like turning off the AC to diagrams of whether you're using or making power, to more subtle cues like the number of butterflies flapping on screen to give you a hint of how far you can drive without recharging.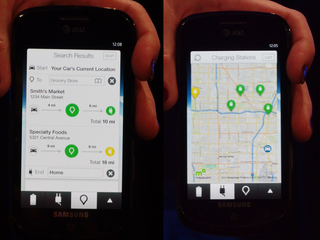 Get Directions to Charge while you Shop
How about a navigation app that knows how far your car can go before it needs charging? Ford will show you a map of the charging points you can reach easily (including friends' houses if they let you plug in) and which are on the edge of your range (shown in yellow). And when you ask for a route to a store, the route takes into account direction as well as distance, and where you can charge nearby. A store that's five miles in front of you is better than one five miles out of your way.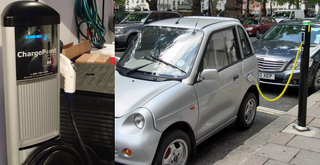 Get used to Plugging In
Charging points for electric cars are going to be common in shopping malls and parking garages. On the left, the type of charging post Ford is working to install; on the right, a charging point in use in a London street.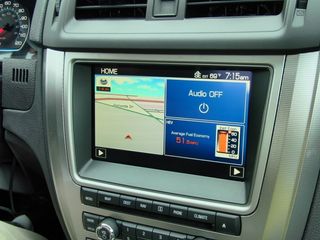 Cars that know where you want to go today.
Ford is trying out Google's cloud services in some of its prototypes. Google's tech will be used for predicting things like what email is spam and make route creation instantaneous and efficient. That driving home route tonight might take your near the gas station, because the car knows how bad the traffic is and how well you drive.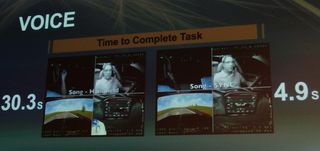 It's Safer to Speak
When it comes to making a call while driving, voice recognition is faster and safer than looking away from the road. On the left, the driver in the simulator is choosing music from an MP3 player plugged in to the car, and on the right he's using the My Ford Touch voice control to play music from a smartphone. Today you can control the air conditioning or make a phone call with your voice, and expect more voice-control features, like being able to reserve a table for two, send a tweet, or practice foreign language vocabulary.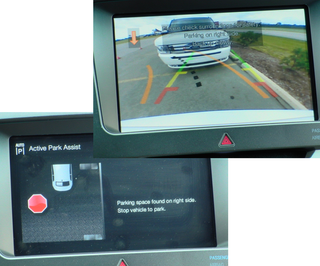 Cars that Brake for You
Today the self-parking system in this Ford Explorer steers for you but you have to put on the brakes yourself. Paul Mascarenas talks about cars that could have "fully autonomous braking" to make driving safer (especially as drivers insist on doing other things while driving, like texting). Ford already has a 'forced braking' system to help slow you down which he says is very reliable: "We're measuring [problems] in unintended events per million [journeys]; the issue becomes affordability. Radar, lidar - even camera-based safety systems are still expensive."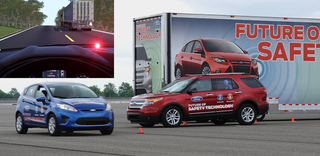 Wi-Fi Warnings for Safer Driving
Putting radar in a car that could spot dangers the driver can't see costs $1,200, and only looks in one direction. To get the price of safety systems down to where they can go in every car, Ford is looking at fitting GPS and encrypted Wi-Fi into every vehicle so they can send each other messages and show you a warning when a car is running a red light, coming over the crest of a hill, or pulling out from a blind driveway.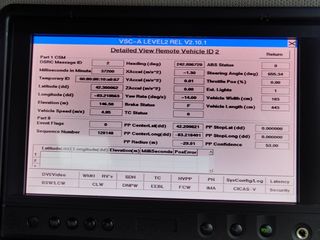 What cars would know about each other.
This test system shows the details that a car knows about itself, from its size to its speed and location. Not all of that information would be available to the other car, and the connection would be encrypted. Of course, Ford is thinking about the privacy implications; the researchers see it as a way to improve safety. They would eventually like to find a way to put it in all cars, as well as on cyclists and pedestrians.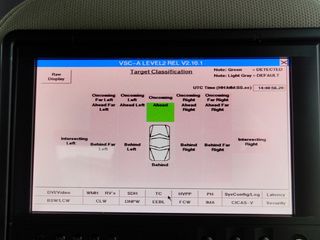 What WiFi safety systems would look for.
Trying the Wi-Fi warning system out on the Ford test track, we saw warnings of oncoming traffic when we couldn't see a car driving towards us because of distance or obstructions. The system can warn you about cars trying to pass in your blind spot and let you know what angle a car is approaching from. When it ships the warning might be a light on the dashboard; this test system showed a yellow or red triangle for what the engineers call 'standard crash scenarios' in plenty of time for the driver to stop or take evasive action.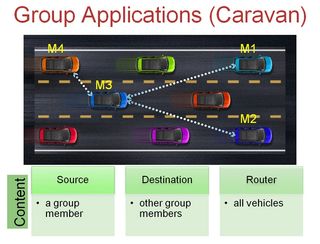 Cars in Convoy
If cars are communicating over Wi-Fi, they can do more than warn you about danger; they can pass along details of traffic problems, or even share a route. Last year Ford tried out an in-car app called Caravan Track, built by students to keep cars on a road trip in touch with messages and a shared route. If all the drivers behind you know when you're slamming on the brakes because your car warns them, they could safely drive more closely to you. The step beyond warning the drivers is braking for them…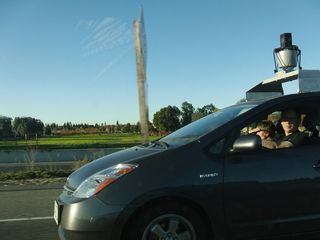 When do we get the self-driving car?
No matter how smart cars get, we'll still need Drivers Ed, says Mascarenas. It will take more than five years before we have autonomous cars like this one from Stanford or the option of controlling cars to improve traffic, although he hopes in-car safety features will come before that. And you'll still need a licence and good eyesight. "In certain lanes, the cars will be doing the driving for you. But we're still many, many years away from the car being in control and not having a capable driver who is able to assume control in a situation that requires it. There's going to be a minimum vision standard required for anyone to hold a driving licence; that's going to continue for years and years."