Best Puzzle Games on PS4, Xbox One, Switch and Mobile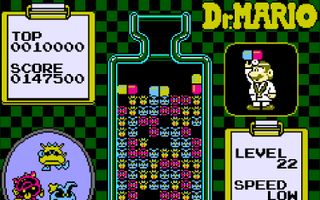 There's a reason that puzzle games comprise one of the medium's oldest and most enduring genres. From the block-breaking action of Tetris to the brain-bending exploration of Portal, the best puzzle games nail a perfect balance between being immediately fun to play but satisfyingly hard to master. Whether you're looking for a relaxing brainteaser or an intense, competitive color-matching game, here are the best puzzle games to play now on console, PC and mobile.
Credit: Nintendo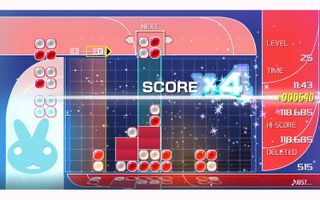 Lumines Remastered
Created by rhythm game visionary Tetsuya Mizuguchi, Lumines is a dazzling fusion of addicting color-matching gameplay and engrossing electronic music that reacts to how you play. As you rhythmically clear chunks of colored cubes, you'll unlock new "skins" that completely change the color scheme and background music of the playing field, creating a trance-like experience that takes you through different sights and sounds. The recent Lumines Remastered release lets you enjoy the action in HD, and the Switch version even sports a special "trance vibration" mode that lets you feel every beat of the music by placing Joy-Cons around your body (yes, it's weird). — Mike Andronico
Credit: Enhance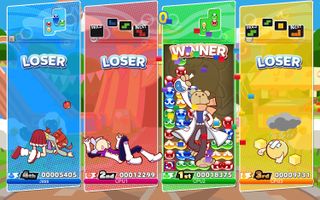 Puyo Puyo Tetris
One classic puzzle game is better than two, as Puyo Puyo Tetris proves. This mashup allows you to play either game individually, or choose modes that combine both styles of play in one. Fusion throws both Tetrominos and Puyos at you at the same time, while Swap simply switches between Tetris and Puyo Puyo boards at regular intervals, allowing seasoned experts to duke it out, even if they specialize in different games. Puyo Puyo Tetris is on practically every platform known to man at this point, including the Nintendo Switch — where the ability to decouple Joy-Cons makes for an excellent multiplayer experience that you and a friend can take with you everywhere. — Adam Ismail
Credit: Sega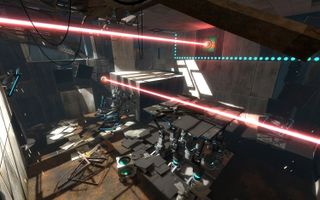 Portal 2
Portal 2 puts you on an unforgettable journey through the Aperture Science Enrichment Center, which lies in ruins after the events of the first game. Players are tasked with completing puzzles using a Portal gun while under the watchful eye of GLaDOS, a hilariously sarcastic AI villain. Each mind-bending puzzle requires you to figure out how to use a simple teleportation mechanic to navigate through complex obstacle courses. Portal 2 improves upon its cult-classic predecessor by introducing new abilities and a full-fledged local co-op campaign that will have you yelling at your teammate in one level and high-fiving them in the next. Portal 2 isn't just for fans of platforming puzzle games, so if you haven't experienced it yet, turn off whatever you're playing and admit yourself to Aperture Labs. — Phillip Tracy
Credit: Valve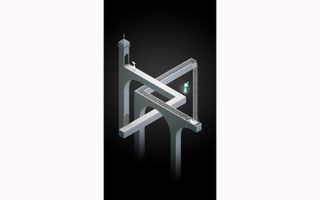 Monument Valley
I didn't play Monument Valley until years after it came out, and I was reluctant to believe the hype. But it's true: Monument Valley is a mind-bending puzzle game that looks like it walked straight out of an M.C. Escher painting. Between its gorgeous, angular graphics; its obscure, thoughtful story; and its logical, satisfying puzzles, it's hard not to fall under Monument Valley's enchanting spell. In the game, you play as Princess Ida (not to be confused with the Gilbert and Sullivan opera of the same name), who can manipulate geometrically impossible buildings in order to forge a path ahead for herself. The game is on the short side — which actually works in its favor, since it never overstays its welcome and leaves you wanting more (which it then delivers via DLC and Monument Valley 2). — Marshall Honorof
Credit: ustwo Games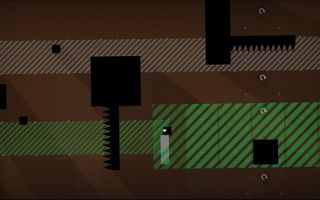 Thomas Was Alone
Part platformer and part puzzle game, Thomas Was Alone demonstrates just how much emotion you can pack into a couple of colorful geometric shapes. Thomas is a plain red square who begins to wonder about his place in the wider world, in an intriguing story featuring mellifluous narration from Scottish comedian Danny Wallace. Thomas can jump one square at a time, which is suitable for solving simple puzzles. But as the game progresses, you'll also control other shapes, each of whom has a different ability, from jumping higher to floating in water. Guiding each rectangle to the end of the 100 levels requires a lot of logical thinking, but the game gives you as much time as you need to figure it out. — Marshall Honorof
Credit: Bithell Games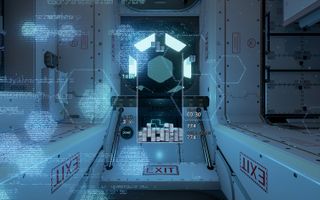 Tetris Effect
Is Tetris Effect the best Tetris game ever made? You could certainly argue a case for it. The synergy of Rez, Lumines and Space Channel 5 producer Tetsuya Mizuguchi with the world's favorite puzzle game sounded like a match made in heaven when it was announced at E3 2018, and the final product delivers on that promise. Tetris Effect incorporates an eclectic mix of music that adapts dynamically to every rotation, movement and hard drop you make. These actions sync with the background, too, making for an audiovisual experience that is absolutely revelatory if you have the privilege of playing it with PlayStation VR. But even if you don't, Tetris Effect is still a mesmerizing experience if you have a high-quality soundbar, surround-sound setup or headphones. And it's an experience that all Tetris fans owe themselves. — Adam Ismail
Credit: Enhance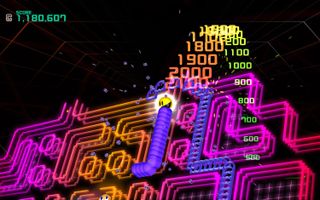 Pac-Man Championship Edition 2
Tetris Effect is an excellent rendition of Tetris, but the core mechanics of the game are functionally unchanged (with the lone exception of the time-stopping Zone feature). Pac-Man Championship Edition, on the other hand, is a full-on reimagining of a gaming legend that gets awfully close to capturing the original's greatness. It switches up the classic Pac-Man formula by ratcheting up the speed of play and forcing the player to bounce between clearing opposite sides of the map to refresh each half individually. Championship Edition 2, the latest iteration available on modern consoles, also introduces a new mechanic that lets youhit ghosts without dying, though you shouldn't press your luck — the third contact with a spectre will result in Inky, Pinky, Blinky or Clyde chasing you with reckless abandon until they take one of your precious lives. — Adam Ismail
Credit: Bandai Namco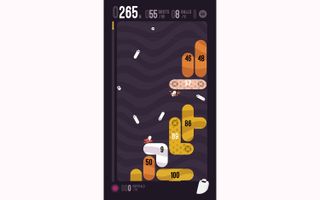 Holedown
Burrowing to the center of a planet to mine its ore and move on may sound like a nihilistic enterprise made for the likes of Thanos, but Holedown makes it fun. Each level of Holedown operates like a mix of Tetris and Asteroid, where you're firing a series of tiny white balls at a series of bricks, trying to avoid those bricks breaching the laser wire at the top of the map. In order to survive, you're going to need to angle your shots properly for the maximum amount of bounces and use the ore you mine for power-ups, which increase the number of shots you take and the amount of ore you can grab in each shot. And while that's a ton of fun already, Holedown's got a funky original soundtrack and a beautiful look that make it a joy to play. — Henry T. Casey
Credit: webbfarbror AB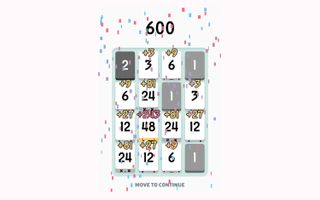 Threes
Threes is one of the most shining and endlessly addicting examples of "easy to learn, hard to master" game designs around. The rules are simple: Slide together matching numbers to create bigger ones — all while avoiding running out of possible moves. But, like any great puzzle game, Threes gets increasingly complex as you rack up your score, forcing you to think carefully about each swipe and slide. Factor in its charmingly minimalist color scheme and soothing soundtrack, and you have a superb puzzler that's as meditative as it is brain-racking. — Mike Andronico
Credit: Sirvo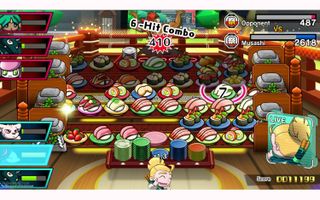 Sushi Striker: The Way of Sushido
One part puzzle, another part RPG, Sushi Striker: The Way of Sushido is like a delicious sashimi combo pack, served with an incredibly corny story. This game takes place in the aftermath of a war known as The Sushi Struggle, during a time when sushi is basically outlawed because there aren't any fish.
Except, there is a ton of fish, as young Musashi discovers when finding himself in the middle of the battles of the evil Republic and The Sushi Liberation Front. This is where the game's puzzles come in, as Mushashi battles Republic guards and baddies by matching multiple sushi as they pass by on similarly colored plates. Match enough sushi and you get to hurl the plates at your opponent (don't try this at home or at a buffet). Strategy and RPG elements come in via Sushi Sprites, adorable, Pokémon-like critters who imbue Musashi and his opponents with skills and powers. — Henry T. Casey
Credit: Nintendo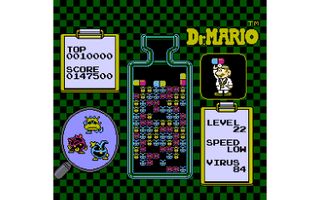 Dr. Mario
Dr. Mario may be nearly 30 years old, but it is still playable on modern hardware — provided you have a Nintendo Switch Online membership. If so, then you can find Dr. Mario amid the system's collection of online multiplayer-enhanced NES titles. Dr. Mario also happens to be one of the best competitive puzzlers out there, as players feverishly race to eliminate viruses first. Also, it's got the most infectious tune in a falling-block game this side of Tetris' iconic theme. — Adam Ismail
Credit: Nintendo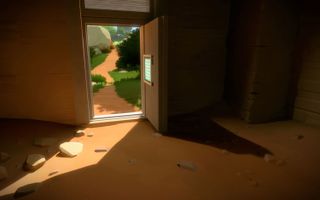 The Witness
The Witness is what would happen if the cult PC classic Myst were brought to the 21st century and made slightly more accessible. But while Myst overloaded gamers with a complex storyline of family betrayal, The Witness doesn't bury you in story. Instead, this island's only filled with complicated puzzles and hints of a narrative, leaving you to figure out what happened — hence its title. And while the puzzles of The Witness can be incredibly difficult, any frustration created by them will be tempered by the game's lush, verdant island setting. — Henry T. Casey
Credit: Thekla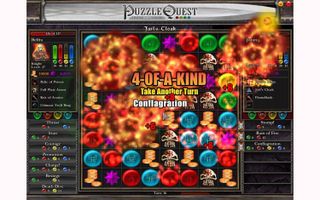 Puzzle Quest: Challenge of the Warlords
"Match-3" and "JRPG" might not sound like genres that mix all that well, but Puzzle Quest: Challenge of the Warlord makes a very strong argument for it. In this game, you'll create your very own hero, complete with a name, class and portrait, then set off to save a fantasy world from the evil Lord Bane. You'll do all the standard RPG stuff: fight enemies, recruit party members, explore the world map and craft new items. The twist is that every battle takes place in a Bejeweled-style match-3 arena. As you level up and gain new abilities, you can manipulate colored gems and string them together to build up mana for devastating magic spells. It's surprisingly deep and predictably hard to put down. — Marshall Honorof
Credit: D3Publisher of Europe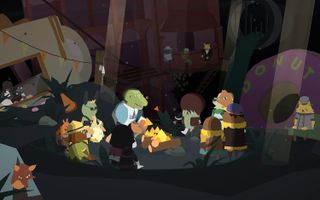 Donut County
One of the most inane, laid-back puzzle games you've ever seen, Donut County is a weird tale about holes tearing apart Los Angeles. Even odder, those holes are driven remotely by a raccoon named BK who's having too much fun terrorizing his neighbors. But while this game is hilarious, there's a calm brilliance to moving the holes and growing them by sucking up the smaller items. Yes, you start with small animals and gates and coffee mugs, and before you know it, you're pulling down whole barns and shops. And while that may sound too simple, the puzzle nature of the game ramps up in later levels, forcing you to use certain items to trigger others, like a living, breathing Rube Goldberg device. — Henry T. Casey
Credit: Annapurna Interactive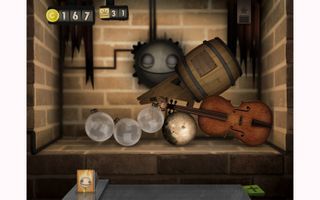 Little Inferno
This may be stretching the definition of a "puzzle" game a bit, but Little Inferno will test both your association skills and your creativity. In this strange, kind-of-post-apocalyptic game, you play as a little boy whose primary form of entertainment is a "Little Inferno Entertainment Fireplace." Using a mail-order catalog, you can purchase a variety of toys, then feed them into the fireplace and watch them explode, dispensing money as they do. But to rack up big bucks and unlock new gear, you'll have to combine the toys in spectacular combination explosions — like an alarm clock and a miniature nuke for a "time bomb." The game is short, but it wraps up before the premise gets tired, and the ending is suitably unsettling. — Marshall Honorof
Credit: Tomorrow Corporation