6 Reasons to Buy the Pixel 3 (and 4 to Skip It)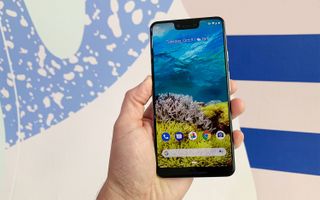 Pixel 3 is here
Google's 5.5-inch Pixel 3 and 6.3-inch Pixel 3 XL take the best features of the Pixel 2 — its intelligent assistant and smart cameras — and improve them with welcome enhancements. The XL model's nearly bezel-free display is a bonus, but it's not even our favorite part of Google's new lineup.
Both devices are available to preorder before they go on sale Friday, Oct. 16. Based on our early hands-on time with the Pixel 3 and Pixel 3 XL, we can say that the rear cameras on the new phones look really good. But the Pixels aren't perfect, so before you race over to Google's website or your local Verizon store to place an order, check out six reasons to buy the Pixel 3 and four reasons to skip it.
Credit: Tom's Guide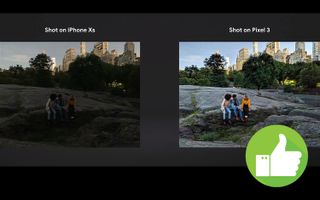 Super-smart cameras
The Pixel 3 and Pixel 3 XL each have a 12.2-megapixel lens on the back of the phone, which doesn't sound that impressive in an era of triple-lens cameras. But thanks to the power of machine learning, this lens should be one of the best cameras we've seen this year.
The Pixel 3 can automatically pick the best image from a burst of photos (Top Shot), sharpen a digitally zoomed image (Super Res Zoom) and infer colors in low-light shots to bump up the brightness (Night Sight). This trio of features could more than make up for the lack of extra lenses on the back of the device, especially if our experience with the single lens on the Pixel 2 is anything to go by.
Credit: Google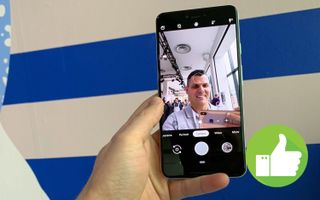 Dual-lens, front-facing camera
Google may have kept a lone rear-facing lens for this year's Pixels, but it added a second lens to the front of the devices for taking wide-angle selfies. Not only can you fit more people in a frame, but you can also capture more background scenery. Just use the on-screen slider in the camera preview to zoom out. Google says the wide-angle lens delivers 184 percent larger perspective than the front-facing lens on the iPhone XS.
Credit: Tom's Guide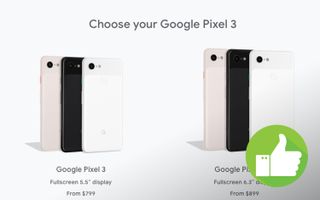 Lower priced than other flagships
When the top-tier iPhone XS Max starts at $1,099 and the Galaxy Note 9 $999, Google's Pixel 3 seems downright affordable. The smaller, 5.5-inch model is $799 for 64GB of RAM, and the 6.3-inch XL version starts at $899 for the same storage. Both have 4GB of RAM.
The Pixel 2's camera easily beats anything found on this year's Android phones, including the $999 Samsung Galaxy Note 9. If the Pixel 3's lenses and smarts are superior, then the low starting price is a bargain.
Credit: Google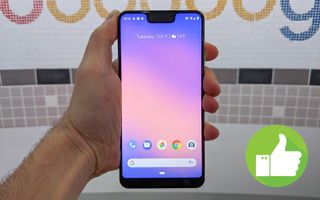 Pure Android Pie
Want to use the latest, greatest version of Android? You can have the stock Android Pie experience Google intended on the Pixel, no compromises or waiting required. You're guaranteed to get every Android update as soon as it's released. Meanwhile, even Galaxy Note 9 owners don't have Android Pie yet.
Google supports Pixel phones with software updates for three years, so you don't have to worry about your Pixel going obsolete a year after buying it either.
Credit: Tom's Guide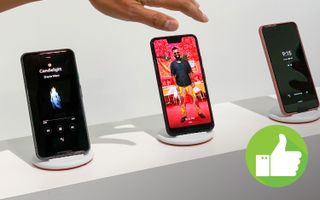 Wireless charging with new stand
Google crossed off another item on our Pixel wish list with a new glass design that enables wireless charging. Even better: Google made a smart wireless charging stand for the Pixel 3. The $79 Pixel Stand turns the newest Pixel into a display while it's charging, with larger text so you can see it from across the room. You can also control the device with your voice while it's charging, or you can access quick actions by tapping Google Assistant's on-screen suggestions.
Credit: Tom's Guide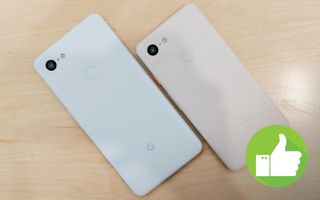 Smaller size option option
Smartphones just keep getting bigger, and buyers who prefer a smaller size have been left high and dry. The 5.5-inch Pixel 3 is one of the few small flagships around, and you won't have to make any sacrifices to get a phone that's easier to use for small-handed folks.
The smaller Pixel is 5.7 x 2.7 x 0.3 inches. In our hands-on time with the device at Google's launch event, we fell in love — it's much more comfortable to hold than many of the ginormous glassy smartphone slabs we've used this year.
Credit: Tom's Guide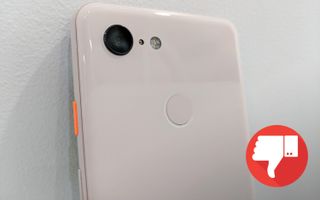 No telephoto lens
The Pixel 3 has a smarter zoom feature that could make faraway photographs look sharp and high-res, but we're still puzzled as to why Google would add a second lens to the front of the Pixel and not the back. A rear telephoto lens would enable optical zoom and might make the Pixel's portraits even more stunning than the software-based ones Google creates for you.
Credit: Tom's Guide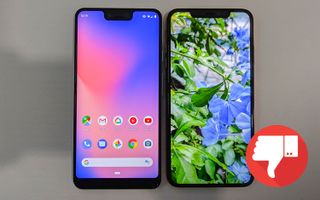 No facial recognition
Every other flagship smartphone has moved toward multiple options for biometric authentication, but Google is sticking with the fingerprint sensor rather than embracing facial recognition. It's unclear why, but that decision makes the Pixel 3 seem behind the times.
Credit: Tom's Guide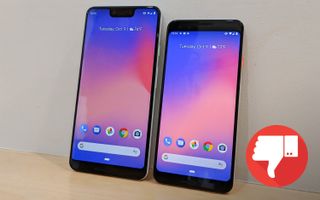 Smaller Pixel's outdated design
The 5.5-inch Pixel 3 may be easier to hold, but it also looks stale in an era of flagship phones with edge-to-edge displays and a slew of camera lenses. The smaller Pixel's display is bordered with thick bezels, which seems unnecessary. Apparently, Google couldn't go full screen with the smaller Pixel 3 and fit in the dual front-facing speakers.
Credit: Tom's Guide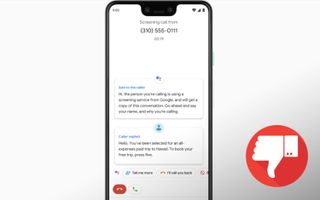 Many top features coming to Pixel 2
Some of the Pixel 3 features we're most excited to try aren't actually exclusive to the Pixel 3. Google is bringing the smart camera's low-light Night Sight, a scam-call-screening tool and the augmented reality Playground feat
ure to older Pixel devices. That could make the Pixel 3 less appealing for owners of existing Pixels, especially because the Pixel 2's camera is still the top performer of 2018's flagship phones.
Credit: Google