12 Tips to Survive Far Cry 5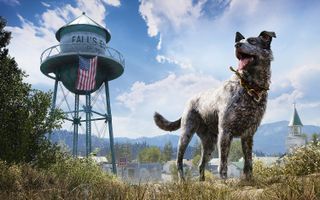 How to Thrive in Hope Country
Far Cry 5 is finally out and it's time to help the citizens of Hope County free themselves from the clutches of the members of the Project at Eden's Gate (or Peggies as the residents call them). But before you jump in, here's a bunch of tips to help you survive the cultists and wolverine attacks so you can come out relatively unscathed.
Credit: Ubisoft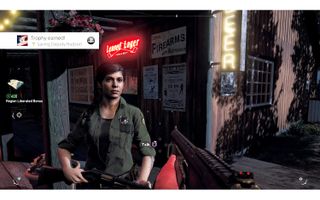 Talk to Everyone
Remember when climbing up a tower was the way to unlock a new area and reveal all the points of interest. Yeah, that's done now. Instead, you have to talk to the denizens of Hope County. All that talking pays off as the conversations usually reveal the location of Prepper Stashes, side missions and new Guns for Hire.
Credit: Ubisoft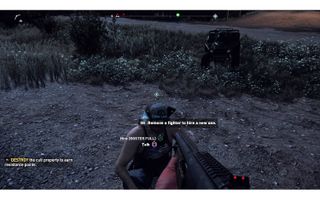 Recruit Early and Often
Sometimes when you talk to some of the Hope County citizens, you'll see an option to hire them. Do it. Hitting the triangle button adds them to your Guns for Hire roster. You can have up to three in your lineup at a time, not counting Specialists. Each Gun for Hire will have two traits that will unlock after a certain number of kills. And don't be afraid to switch out your lineup every now and then.
Credit: Ubisoft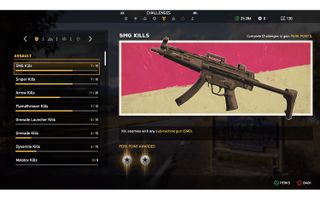 Challenge Yourself
Leveling up is a thing of the past in Far Cry 5. Now you upgrade your skills via the Perks system and one of the ways to earn Perks is to complete Challenges. Most are pretty simple, just get a certain number of kills or hunt a certain animal to earn Perks Points. Keep track of the challenges in the menu screen.
Credit: Ubisoft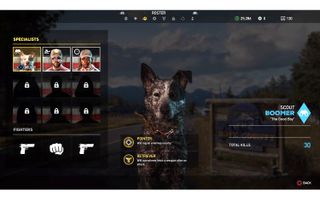 Hire a Friend
The Peggies are pretty aggressive in Far Cry 5. And why not? In their mind you're trying to keep them from salvation. Things can get pretty hairy during some missions, so much so that you'll need a helping hand. Don't be shy about calling in a Gun for Hire or if you've gotten that far, an animal buddy called Fangs for Hire. And if you get tired of playing with an AI-controlled partner, call in one your friends for some co-op action.
Credit: Ubisoft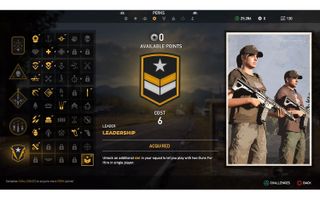 Become a Good Leader
At least, be a better one than Joseph Seed. Since the Project at Eden's Gate has so many members gunning for you, be sure to unlock the Leadership Perk as soon as possible. This Perk allows you to bring two Guns or Fangs for Hire into the trenches with you. In order to access this valuable skill you'll need to unlock three Specialists.
Credit: Ubisoft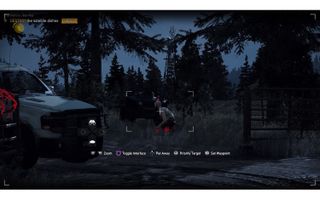 Mark Your Prey
If you're like me and like to take the stealth approach, you don't want anyone getting the drop on you. Use your binoculars to scope out an area first. Any hostiles you see will be tagged with a red market above their head for the duration of the mission. You can also order your Guns or Fangs for Hire to attack specific enemies in this view.
Credit: Ubisoft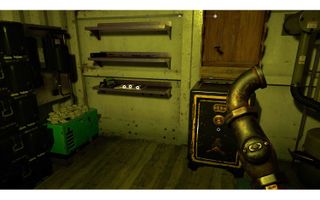 Raid the Stash
Prepper Stashes are your friends. These hidden bunkers have cash, at least three Perks Points and loads of ammo -- you just have to find them first. Talk to the good people of Hope County to get an idea of where to look and be prepared to put your thinking cap on as you'll have to solve a puzzle to gain entry to the stash, but it is oh so worth it.
Credit: Ubisoft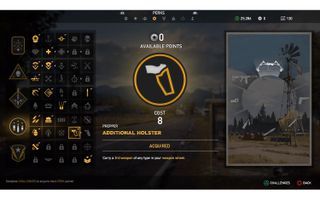 Build Your Weapons Cache
In the fight against the Peggies, the more weapons at your disposal the better, make unlocking the Weapons Slot skill upgrades a top priority as it unlocks an extra weapons slot so you don't have to choose between a compound bow and a grenade launcher.
Credit: Ubisoft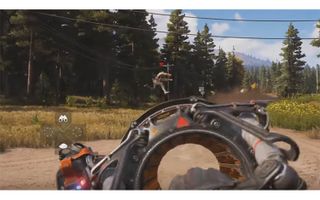 Do the Larry Palmer Missions
Ignore the conspiracy theories and do these set of missions. Your reward will be the Magnopulser, a space gun powerful enough to catapult a bear or pulverize a man. Trust me, it's cool as all get out.
Credit: Ubisoft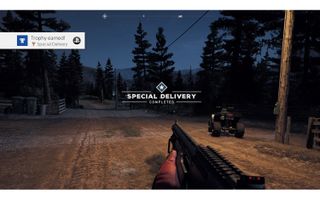 Get Sidetracked
Yeah, yeah, yeah -- there's a cult to stop, but don't let that get in the way of knocking out a few side missions along the way. Not only do they help build the Resistance Meter, they score extra cash and of course Perks. And after you've liberated a region, the remaining side quests will net you some bonus cash which is always a good thing.
Credit: Ubisoft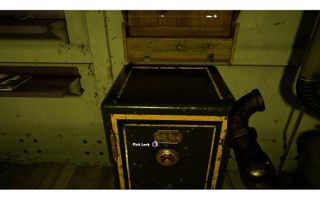 Hacks and Crafts
Sure, you could just blow that pesky safe open with a grenade. But why bother when you have a perfectly good Lockpick skill to gain access without wasting a precious explosive? Another helpful Perk is Repair Torch, which lets you repair vehicles before they blow up in a big ball of flame.
Credit: Ubisoft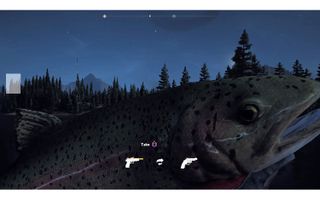 Hunt and Fish Your Way to Fast Cash
Tired of looking for Prepper Stashes? Another good way to make money is through hunting and fishing. Animal pelts go for a pretty penny in the shops and catch a big enough fish and you'll earn a big cash reward.
Credit: Ubisoft