The 21 Best Cameos in Fighting Games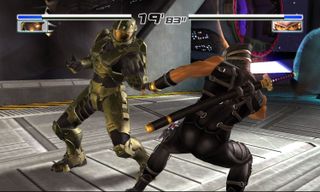 Look Who's Fighting
Guest characters have been a staple of the fighting-game genre for decades -- after all, what could be more fun than beating up Mario as Cloud Strife, or having Alien and Predator duke it out in Mortal Kombat? And with Final Fantasy's Noctis invading Tekken 7, and the Teenage Mutant Ninja Turtles about to do battle in Injustice 2, today's best brawlers continue to deliver crossovers that previously only existed in our own personal fan-fiction.
To celebrate this wonderfully weird trend, here are the 21 best guest characters that have graced our favorite fighters over the years.
Credit: Tecmo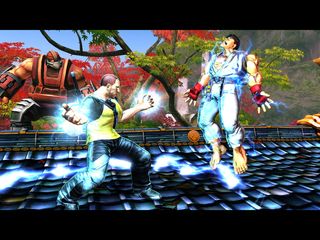 Cole MacGrath - Street Fighter X Tekken (2012)
I'm not sure if anyone was really dying to pit the casts of Street Fighter and Tekken against the protagonist of the first two inFamous games, but here he is anyway. Cole MacGrath fits right in with the over-the-top, colorful characters in Street Fighter X Tekken, coming complete with his signature electric shockwaves, grenades and vortexes. Granted, inFamous is a PlayStation-exclusive franchise, meaning you'll need to invest in either the PS3 or PS Vita version of the game if you want to add Cole to your roster. Although Cole doesn't play a role in the story mode, he can remind you of the hot second when inFamous was Sony's big new franchise. - Marshall Honorof
Credit: Capcom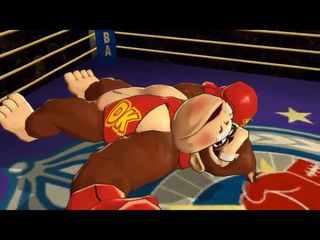 Donkey Kong - Punch-Out!! (2009)
Mike Tyson was a weird enough cameo fighter in the original Punch-Out!!, but Nintendo outdid itself with the franchise's Wii installment. This colorful boxing game let you square off against Donkey Kong himself in Last Stand and Exhibition modes. Bunches of bananas fly out of the gorilla-warrior's face when you hit him, and he'll carry you off, Pauline-style, if you lose the match. While you can't play as Donkey Kong, just seeing him was probably strange enough for a whole generation of Nintendo fans, who (probably) assumed that they would never see him in a fighting game outside of the Super Smash Bros. series. - Marshall Honorof
Credit: Nintendo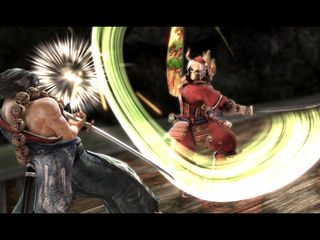 Yoshimitsu - Soulcalibur series (1998-2012)
Namco kept it all in the family with Yoshimitsu, plucking him from Tekken and putting him in every single major Soulcalibur release (first as an unlockable character, and later as part of the main roster). His timeline is all over the place, since there's more than one person to hold Yoshimitsu's mantle in both franchises. But in either franchise you get his wacky personality and acrobatic samurai attacks. — Andrew E. Freedman
Credit: Namco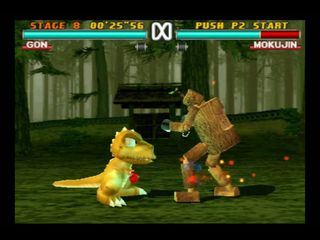 Gon - Tekken 3 (1997)
There are plenty of ways to humiliate your opponent in Tekken 3, but few are more satisfying than farting on them with a tiny orange dinosaur. Gon, star of an old Japanese manga, made a guest appearance in Namco's seminal PlayStation fighter, and we'll never get tired of watching him beat down the game's roster of deadly robots, lethal assassins and beefy, shirtless martial artists. His inclusion helped establish Tekken as a franchise that never takes itself too seriously, and set the stage for the slew of guest characters that would invade Tekken 7. — Mike Andronico
Credit: Namco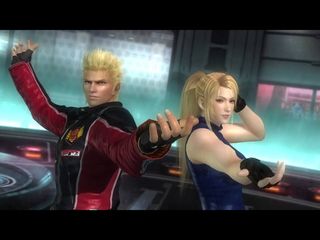 Sarah Bryant - Dead or Alive 5: Last Round (2015)
Sadly, Sega's Virtua Fighter series hasn't gotten a new installment since 2012, but it at least gets to live on through Dead or Alive 5. Tecmo's frenetic 3D brawler features Virtua Fighter's Akira Yuki, Pai Chan and the brother-sister duo of Sarah and Jacky Bryant, all of whom feel faithful to their original incarnations while embracing the more over-the-top nature of DoA. These fighters also opened the floodgates for The King of Fighters' Mai Shiranui to eventually enter the mix, turning Dead or Alive 5 into a pretty cool showcase of some of the genre's best stars. - Mike Andronico
Credit: Tecmo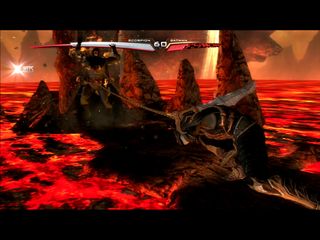 Scorpion - Injustice: Gods Among Us (2013)
Injustice: Gods Among Us takes place in an alternate DC universe, so perhaps it's not that odd that Mortal Kombat icon Scorpion somehow entered the mix. But instead of simply copying and pasting the fiery hellspawn from its Mortal Kombat games, NetherRealm Studios worked with famed DC artist Jim Lee to create a distinct version of Scorpion that fit right into the developer's comic-book dystopia. On top of being a fun addition in his own right, Scorpion laid the groundwork for NetherRealm to go even further and add Sub-Zero and Raiden to Injustice 2.
Credit: Warner Bros. Interactive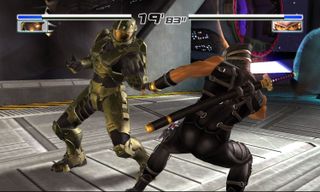 Spartan-458 - Dead or Alive 4 (2005)
Dead or Alive 4 was one of the Xbox 360's biggest launch exclusives, so it only made sense for the brawler to pay homage to Microsoft's flagship Halo series. Donning green armor that looks identical to that of Halo's Master Chief, and with no shortage of heavy-hitting attacks, Spartan-458 is actually an original character that goes by the name of Nicole. On top of gracefully bringing Halo into the world of fighting games, Nicole's debut marks one of the first times we got to see a badass female Spartan in action. - Mike Andronico
Credit: Tecmo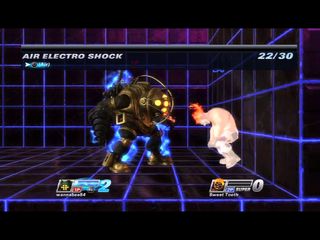 Big Daddy - PlayStation All-Stars: Battle Royale (2012)
Looking back on it, PlayStation All-Stars was probably never going to be the next big tournament sensation. However, it did have one of the most delightfully eclectic casts we've seen in a fighting game. Even though BioShock isn't a PlayStation-exclusive franchise (it shunned the PS3 upon its initial release), the hulking, mechanical Big Daddy made an appearance as a playable character. As usual, he was out to protect his Little Sister, but for some unfathomable reason, had a particular bone to pick with LittleBigPlanet's Sackboy. Let's be honest: You've read weirder BioShock fanfic. - Marshall Honorof
Credit: Sony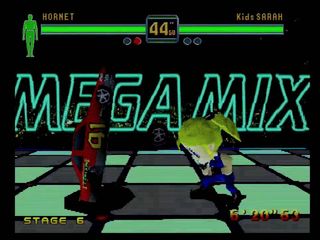 Hornet - Fighters Megamix (1996)
Sega's response to The King of Fighters, Fighters Megamix paired up characters from Virtua Fighter 2 and Fighting Vipers, along with a motley crew of contenders from Sonic The Fighters, Virtua Cop and a couple odd one-offs like developer AM2's palm tree logo and an anthropomorphic ham on a bone that looks like Rayman. But perhaps the greatest cameo is Hornet, the car from Daytona USA. Itstands upright on its hind wheels and possesses one of the most disturbingly lethal grabs in the history of fighting games: clutching its opponents by the neck with one of its front tires while performing a burnout on their faces with the other. Hornet communicates by revving its engine, loses bodywork when it's damaged, and claims Daytona USA's Beginner oval as its home arena. Just be prepared to sing along when you visit. — Adam Ismail
Credit: Sega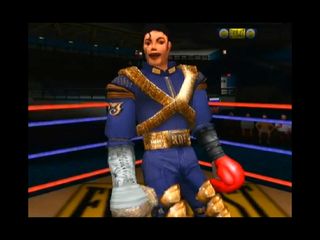 Michael Jackson, Shaq, the President and First Lady - Ready 2 Rumble Boxing: Round 2 (2000)
How do you single out one cameo in a game that contains the King of Pop, the inventor of Shaq Fu, and America's most polarizing political family? No, they didn't walk into a bar together — just Ready to Rumble Boxing: Round 2. It's said that Michael Jackson recorded lines and motion capture for his appearance in the popular short-lived boxing franchise, which actually was his second in a game that year after Space Channel 5. All four special characters are given appropriately specific wardrobes, from Hillary Clinton's pantsuit emblazoned with an "I heart NY" logo to Shaq's Lakers-themed shorts and MJ's trademark blue-and-gold military garb. — Adam Ismail
Credit: Midway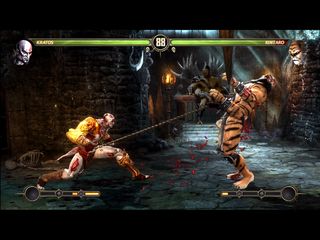 Kratos - Mortal Kombat 9 (2011)
Raiden, the God of Thunder, has been a Mortal Kombat mainstay ever since the first game in the series. But how well would he stack up against a God of War? Mortal Kombat gave fans the chance to find out — at least fans who bought the game on a PS3. Kratos, the angriest man in gaming, stepped into the arena, complete with his signature chain-blades, bow-and-arrows and bad attitude. He even brings his own battleground to the game: the Greek myth-inspired Chamber of the Flame. Once you get past the character's novelty, Kratos is a surprisingly good fighter, too. - Marshall Honorof
Credit: Warner Bros. Interactive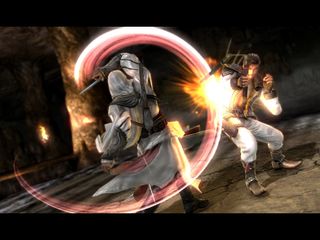 Ezio - Soulcalibur V (SS) (2012)
From fighting the repressive regime of the Templars to battling the demonic powers of Soul Edge, Ezio Auditore da Firenze brings his formidable fighting skills from Assassin's Creed to SoulCalibur V. Armed with a sword, his trusty assassin's blades and a crossbow, Ezio made the ultimate leap of faith in the battle against Soul Edge. A multirange fighter with solid speed, Ezio's versatility makes him a formidable fighter in the right player's hands. - Sherri L. Smith
Credit: Namco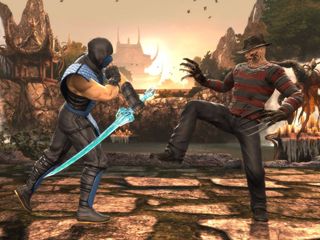 Freddy Krueger - Mortal Kombat 9 (2011)
Freddy Krueger is one of the scariest horror villains of all time, but can he hold his own against the likes of Scorpion and Shao Kahn? That's a dispute you can settle in NetherRealm Studios' 2011 Mortal Kombat reboot, which features Krueger as a DLC character. Krueger fits the blood-soaked action of Mortal Kombat like a glove, and his wonderfully over-the-top fatalities pay homage to some of the character's best movie moments. Freddy's inclusion in Mortal Kombat kicked off what would become a major trend of guest characters in NetherRealm games, from Scorpion invading Injustice: Gods Among Us to a whole host of horror icons battling in Mortal Kombat X. - Mike Andronico
Credit: Warner Bros. Interactive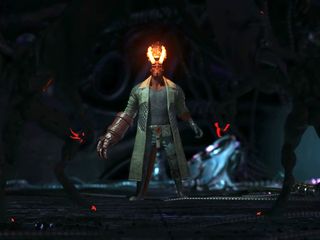 Hellboy - Injustice 2 (2017)
Brought to the world of Injustice 2 by the villainous Brainiac, Hellboy (aka Anung Un Rama), the key to Ragnarok is here to bring the Right Hand of Doom to superheroes and villains alike. With his superhuman strength, penchant for guns and devil-may-care attitude, the monster hunter deals out punishing blows in a typical brawler style, but also has a surprising amount of speed for such an imposing character. Activate his special to see Hellboy's true form in all its glory. - Sherri L. Smith
Credit: Warner Bros. Interactive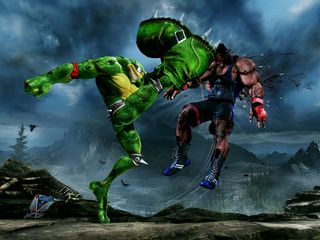 Rash - Killer Instinct (2016)
Remember Battletoads? Microsoft sure does, and still loved them enough to bring series star Rash to its ever-evolving Killer Instinct reboot. With an over-the-top moveset ripped right out of the classic Battletoads beat-em-ups, Rash brings a much-welcomed degree of fun and zaniness to Microsoft's highly technical fighter. He was soon followed up by Halo's Arbiter and Gears of War's General Raam, which quickly turned Killer Instinct into an awesome all-star mashup of some of Microsoft's best characters. - Mike Andronico
Credit: Double Helix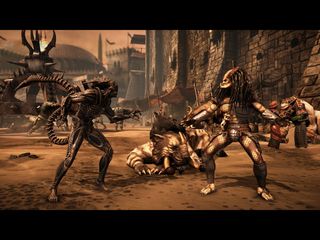 Alien and Predator - Mortal Kombat XL (2016)
Mortal Kombat XL sports an all-star lineup of iconic horror guests, including Jason Vorhees and The Texas Chainsaw Massacre's Leatherface. But the real standouts here are Alien and Predator, whom you can use to re-enact your favorite fights from the Alien vs. Predator film within Mortal Kombat XL's brutally satisfying combat system. - Mike Andronico
Credit: Warner Bros. Interactive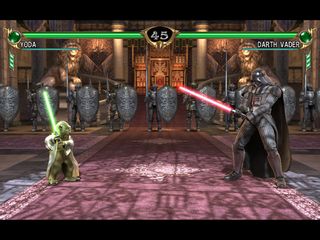 Yoda and Darth Vader - Soulcalibur IV (2008)
How could Namco possibly follow up Soul Calibur II's triple threat of Link, Spawn and Heihachi? By adding Star Wars to the mix, of course! Soul Calibur IV once again featured platform-specific guest characters, with Xbox 360 owners getting Yoda and PS3 gamers getting Darth Vader. Both fighters had some appropriately awesome Force abilities, though Yoda became the bane of most players' existence due to his tiny, hard-to-hit frame. As a bonus, both versions of Soul Calibur IV let you play as Starkiller, the powerful Sith apprentice from the Force Unleashed games. - Mike Andronico
Credit: Namco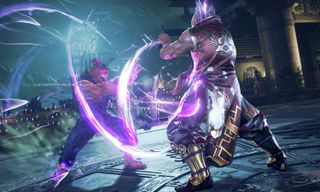 Akuma - Tekken 7 (2017)
We're probably never getting the long-teased Tekken vs. Street Fighter, but thanks to Akuma's inclusion in Tekken 7, we at least know what it would have played like. The iconic Street Fighter villain makes a graceful transition to the world of 3D fighting, retaining his core special moves, combos and even super-attacks, while benefiting from signature Tekken mechanics such as side-steps and juggles. Namco has done an excellent job injecting Street Fighter gameplay into its flagship fighter, which makes us excited to see how upcoming guest stars Geese Howard (Fatal Fury) and Noctis (Final Fantasy XV) pan out.- Mike Andronico
Credit: Bandai Namco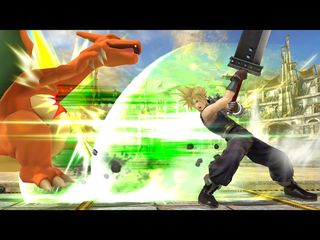 Cloud Strife - Super Smash Bros. Wii U (2015)
Super Smash Bros. for Wii U and 3DS has possibly the best guest roster of any fighting game -- where else can Sonic, Pac-Man, Mega Man, Ryu and Bayonetta all beat the snot of each other? But special mention goes to Cloud Strife, the beloved star of Final Fantasy VII, whose Smash Bros. debut was a huge surprise in a game already filled with them. Cloud's inclusion proved that nothing is truly off the table in a Smash Bros. game, which has us extra excited for whenever the series inevitably comes to Switch. - Mike Andronico
Credit: Nintendo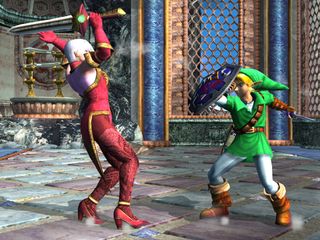 Link - Soulcalibur II (2002)
Nintendo is famously protective of its characters, so it was a huge surprise to see The Legend of Zelda's Link as the Gamecube-exclusive guest star of Soulcalibur II. The same year, the PS2 version would include Heihachi and the Xbox version featured Spawn. But it was Link, with his Master Sword, Megaton Hammer, Biggoron's Sword and Mirror Shield and a series of unlockable tunics, that made the Gamecube version the one everyone wanted. He was also one of the series' first characters to use projectiles — his bow, boomerang and bombs. — Andrew E. Freedman
Credit: Namco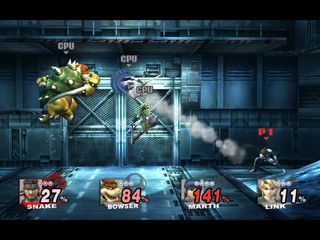 Solid Snake - Super Smash Bros. Brawl (2008)
It was a magical moment in the first trailer for Super Smash Bros. Brawl that seemingly ended, until you heard Solid Snake's codec beep, and he emerged from under a cardboard box. He was the first major third-party character in a Smash Bros. game and brought along all of his best weapons, including hand grenades, C4 and a remote-controlled missile, as well as a Metal Gear Solid-based stage, Shadow Moses. He fights as a heavyweight character but is often quicker, thanks to his small size and his Final Smash attack lets him shoot a grenade launcher off a helicopter. How cool is that? To put a bow on the whole package, Snake was voiced by longtime actor David Hayter from the MGS franchise. — Andrew E. Freedman
Credit: Nintendo