7 Reasons We're Excited for Mass Effect: Andromeda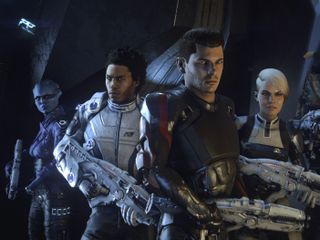 Mass Effect is back
Mass Effect: Andromeda is almost here, and our excitement levels are rising faster than the Normandy speeding through a mass relay. The latest installment in BioWare's beloved sci-fi role-playing series marks a fresh start for the franchise, providing us with new planets to explore, new combat moves to master, and, most importantly, new squadmates to fall hopelessly in love with.
Here are 7 reasons we can't wait to get our hands on Andromeda when it hits PS4, Xbox One and PC on March 21.
Photo Credit: Electronic Arts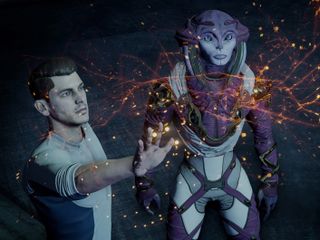 New Galaxy, New Faces
The new Mass Effect shifts the focus from our own Milky Way to the far-out Andromeda galaxy, which represents an exciting change of pace for series veterans and a perfect jumping-on point for new players. Instead of saving Earth as Shepard, you're now cast as one of the Ryder siblings tasked with finding a new home for humankind in the Andromeda system. This sets the stage for new worlds, new species, and most importantly, new faces.
Mass Effect is defined by its great characters, and we already can't wait to get to know new crew members such as the headstrong Cora Harper, the cheerful Liam Kosta and the purple-faced, fun-loving PeeBee. We're also eager to go head to head with the scary new Kett species, who are led by mysterious new big bad Archon.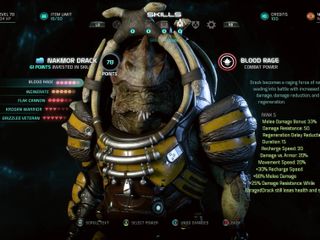 Tons of Player Freedom
Mass Effect Andromeda promises an unprecedented level of player freedom, in terms of how you customize Ryder and interact with those around you. You'll no longer be locked to a single class type such as Soldier or Vanguard. Instead, you'll be able to learn all types of skills ranging from basic combat to Force-like biotic powers, and can switch between skill profiles on-the-fly. You can choose to play as the male or female Ryder sibling, and as a first for the series, the version you don't pick will serve a role in the story.
Gone is Mass Effect's Paragon/Renegade system, which essentially gave you "good" or "bad" points based on how you interacted with other characters. According to PC Gamer, Andromeda introduces a more complex and fluid sense of morality -- you can choose to be charming and funny one moment and a total jerk the next. This allows you to affect specific relationships with other characters without being shoehorned into a single personality type. Andromeda seems to put an emphasis on being the Ryder you truly want to be, rather than making specific dialogue decisions just to unlock an in-game perk.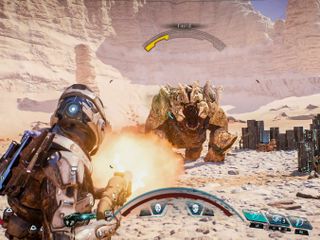 Combat Looks Insanely Fun
Third-person combat has always been a key part of the Mass Effect experience, but it's run the gamut from terribly clunky (Mass Effect 1) to pretty okay (Mass Effect 2 and 3). However, Andromeda aims to make battling aliens more dynamic and fluid than ever, with a new combat system that looks every bit as thrilling as a dedicated action game.
Your character now has a jetpack-like jump pack, which lets you quickly jump and dash around the battlefield to evade attacks and get the high ground. You'll have access to a vast array of firearms and melee weapons, and can use just about any object to take cover from enemy fire. Factor in the game's new biotic and tech abilities, and you have virtually limitless options for forming deadly attack combos with guns, traps and gravity-bending powers.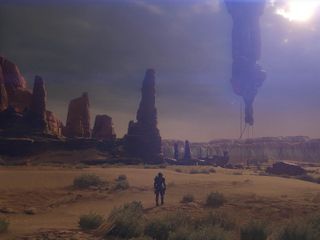 Huge, Dynamic Worlds
Mass Effect games have always featured tons of memorable planets, but you often only got to visit a small slice of them. That changes with Andromeda, which packs some of the biggest, most dynamic and freely explorable worlds of the whole series. When you land on a planet in Andromeda, you're free to zip around in your Nomad vehicle, set up base stations, take out threats and form alliances with the locals, all of which contribute to your greater goal of making each planet a viable place for humanity to live. But it won't be easy — each world has environmental dangers such as heat or gas that will force you to think tactically as you discover new secrets.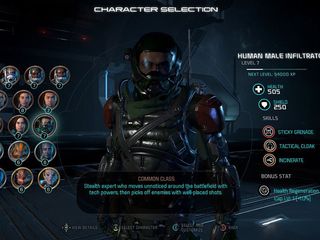 Multiplayer is Back
If you loved Mass Effect 3's addicting multiplayer mode, get ready for even more of it in Andromeda. The new game builds on the wave-based, four-player cooperative action of ME3, allowing you to take on swarms of enemies as a variety of species and class types from all over the Mass Effect universe. As with Mass Effect 3, all of Andromeda's multiplayer DLC will be free, and playing online will net you rewards for your single player campaign (and vice versa).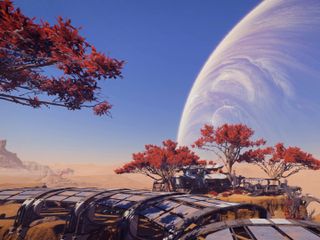 It's Friggin' Gorgeous
In case you haven't noticed, Mass Effect Andromeda is absolutely stunning. As the first game in the series built on EA's latest Frostbite engine, Andromeda's colorful, detailed worlds and strikingly realistic character models are the best we've seen in a Mass Effect title yet. The game is 4K-optimized for PS4 Pro, will support High Dynamic Range on Xbox One S, and should look extra drool-worthy for anyone with a powerful enough gaming PC (you can view the official system requirements here).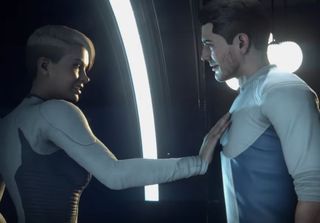 More Intergalactic Romance
Sure, Mass Effect is a sprawling, action-packed role playing series, but for true fans, it's mainly an intergalactic dating sim. You'll once again be able to fall in love with one of several of your squadmates, with BioWare producer Mike Gamble playfully and bluntly promising that the series' famous romance scenes will be steamier than ever. But romance in Mass Effect was never about pure titillation — it's simply another component of how deeply attached we get to the franchise's many memorable characters.