Halo Infinite is shaping up to be the biggest Halo game ever, and could be one of the first major showpieces for the Xbox Series X. But with a mixed fan reception and a delay to 2021, 343 Industries' highly anticipated shooter seems to be hitting some roadblocks.
From the gameplay we've seen, Infinite thrusts Master Chief into a vibrant open world for the first time, while retaining the classic weapons and satisfying combat abilities that define the series. And while we've yet to see multiplayer in action, we're already excited about what 343 Industries is cooking up.
Here's everything we know so far about Halo Infinite, including its release date, trailer and what we expect from Master Chief's big return.
Halo Infinite release date
After initially being slated to launch at the end of 2020 alongside the Xbox Series X, Halo Infinite is now set to release in 2021. 343 Industries confirmed the delay on Twitter in August, stating that the team is taking the extra time "to deliver a Halo game experience that meets our vision."
Halo Infinite Development Update pic.twitter.com/TFZvXhRN9fAugust 11, 2020
Halo Infinite gameplay
On July 23, Microsoft took the wraps off of the first-ever Halo Infinite campaign gameplay in a blistering 9-minute premiere video. After crash landing with the mysterious new male companion we met in previous trailers, Chief can be seen exploring a familiar-looking Halo ring while taking down classic enemies such as Grunts and Brutes.
Here's the big twist: Halo is now open-world. We can see the player open a map and set waypoints, suggesting that there will be much more to do in Infinite than in a traditional Halo campaign. In face, 343 says the Infinite game world is more than twice the size of that of Halo 4 and 5 combined.
The rest of the gameplay trailer looks both familiar and fresh. Chief can be seen using classic weapons such as the assault rifle, battle rifle and plasma grenade, and drives around in a Warthog for a good chunk of time. These iconic parts of the Halo formula will be joined by new abilities, including a grapple hook that Chief can use to both explore and get closer to enemies with. We also see Master Chief drop deployable cover, hinting at ability pickups in the vein of Halo 3.
Halo Infinite multiplayer
We've yet to see Halo Infinite multiplayer in action, but we do know one big thing: It'll be completely free-to-play. 343 Industries confirmed that the game's multiplayer offering will be free, and will run at 120 fps on Xbox Series X.
Speaking to iJustine (via GameSpot), Xbox chief Phil Spencer said that Infinite's multiplayer will build on Halo 5's offering, which was generally well received by fans and was played competitively for many years.
Halo Infinite box art
Just ahead of the Xbox Games Showcase, 343 Industries revealed the Halo Infinite box art. The cover seems to pay homage to the original Halo, with a Halo ring as well as various ships behind Master Chief. Could this be a hint at the game's overall direction?
Halo Infinite platforms
Halo Infinite will launch for PC, Xbox One and Xbox Series X simultaneously, so you won't need to upgrade to Microsoft's next-gen console in order to play it. The game will be immediately available to Xbox Game Pass subscribers, and judging by previous Xbox Game Studio releases, we expect there to be cross-play and cross-save across all three platforms.
Halo Infinite trailers
Our most recent tease of Halo Infinite contains an audio log that reveals the return of The Banished as an enemy faction. The Banished are a mercenary group that broke away from The Covenant, and were the main antagonists as well as a playable faction in Halo Wars 2.
The game's initial announcement trailer from E3 2018 shows off some kind of mysterious new game world filled with wildlife. We see a small group of soldiers put out a distress beacon, before things cut to Master Chief who begins to drive to the rescue in his warthog truck. It's then revealed that we are once again on a Halo ring.
The E3 2019 'Discover Hope' trailer is a bit heavier on story. We see a new UNSC soldier character in distress on a spacecraft, who appears to be holding some kind of holograph that contains a recording of his wife. He later finds Master Chief floating in space and rescues and awakens him. The Chief is later told "we lost" while gazing at a destroyed Halo ring, before the pair come under attack and decide to fight. We also get a tease that Cortana, who was corrupted in Halo 5, is back.
Halo Infinite story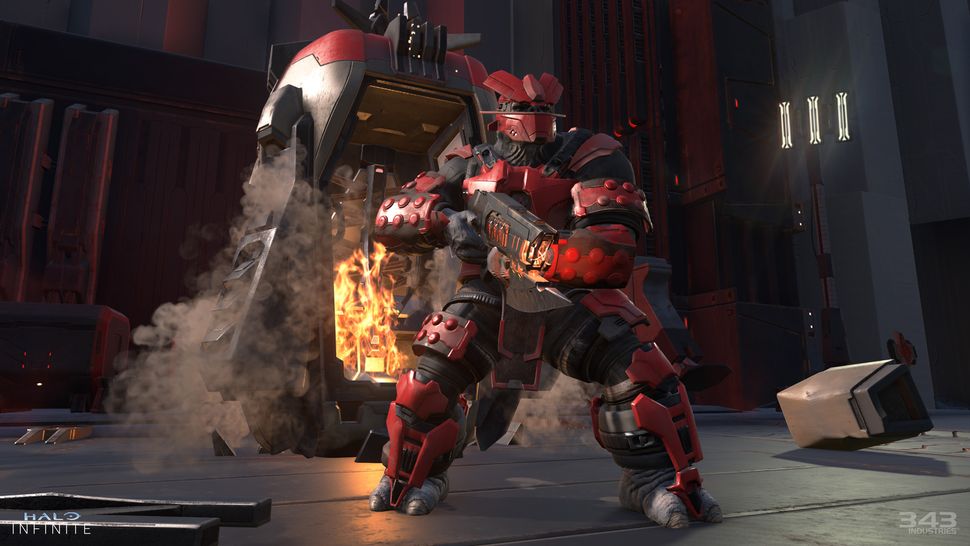 Warning: Spoilers for Halo 5 follow!
Based on the ending of Halo 5 as well as the small tidbits from the Infinite trailers, we can start to piece together what the story of the new game might be. Halo 5 ends with a now-corrupted Cortana taking control of various AI throughout the galaxy while using an ancient Guardian construct to trap Master Chief and his crew.
Chief and company are eventually rescued by Jameson Locke and Fireteam Osiris, but Cortana manages to get away. The game has a bonus post-credits ending on Legendary difficulty, which teases a new Halo ring while Cortana hums in the background.
That likely sets the stage for what we see in the two Halo Infinite trailers, which also feature a new Halo ring and reveal that Cortana is back -- and probably up to no good. Cortana could very well be using this new Halo ring to forcibly take over the galaxy, which would mean that the Master Chief has a big fight on his hands.
A June 2020 teaser also suggests that Halo Wars 2 antagonists The Banished will serve as a main group of enemies, making things even more difficult for Chief and co. The July gameplay reveal shed more light on how The Banished play into the story, revealing that the faction defeated the USNC in some sort of brutal war several months before the events of Halo Infinite.
Based on both the trailers and the negative reception to Halo 5's campaign, it appears that Halo Infinite will focus entirely on Master Chief as the main playable character. Halo 5 spent a bulk of its campaign focused on new character Locke and FIreteam Osiris, which didn't go over very well with fans. Here's hoping Halo Infinite is the return to glory that players want when it launches later this year.