Halo Infinite finally has a release date, and it's set for December 8. Revealed in a pre-rendered trailer for the game's multiplayer, the release date means we'll get a major Xbox and PC exclusive just over a year since the Xbox Series X and Xbox Series S were released.
And to go alongside the game's launch and Halo's 20th anniversary, Microsoft revealed the Halo Infinite Xbox Series X limited edition console, complete with a custom finish and sounds. It's likely to sell very fast, even though it's not out until November 15, so here's where to buy Xbox Series X Halo Infinite Limited Edition.
With all that in mind, here's everything we know so far about Halo Infinite, including its release date, trailer and what we expect from Master Chief's big return.
Halo Infinite latest news (updated September 7)
Halo Infinite release date
After being delayed from a release last year, Halo Infinite will finally launch December 8 on Xbox One, Xbox Series X, Series S and PC. We've not seen much fresh footage of the campaign mode, but expect to see more as the game gets closer to its release.
We have, however, seen Halo Infinite in action. We went hands-on with the first multiplayer technical preview and loved it.
Yet, when Halo Infinite finally arrives it won't have a co-op campaign. That'll be disappointing for some, as play a Halo game with a pal is one of the best experiences in first-person shooters around.
Halo Infinite E3 2021 trailer
Halo Infinite gameplay
Microsoft has already taken the wraps off Halo Infinite campaign gameplay in a blistering 9-minute premiere video. After crash landing with the mysterious new male companion we met in previous trailers, Chief can be seen exploring a familiar-looking Halo ring while taking down classic enemies such as Grunts and Brutes.
Here's the big twist: Halo is now open-world. We can see the player open a map and set waypoints, suggesting that there will be much more to do in Infinite than in a traditional Halo campaign. In face, 343 says the Infinite game world is more than twice the size of that of Halo 4 and 5 combined.
However, since then Halo Infinite has been delayed, likely in reaction to the negative feedback the game's debut footage received We've yet to see brand-new single-player campaign gameplay, but we'd expect it to look a lot more next-gen than the footage revealed last year.
Thus far. the gameplay looks both familiar and fresh. Chief can be seen using classic weapons such as the assault rifle, battle rifle and plasma grenade, and drives around in a Warthog for a good chunk of time. These iconic parts of the Halo formula will be joined by new abilities, including a grappling hook that Chief can use to both explore and get closer to enemies. We also see Master Chief drop deployable cover, hinting at ability pickups in the vein of Halo 3.
A Twitter user recently highlighted that the LinkedIn page of game developer Adam Bodden says he's worked on an upcoming Halo game. That could be Halo Infinite. And interestingly, he was also a level article at The Coalition, which developed Gears of War. As such, there could be some Gears 5 influence in Halo Infinite.
Halo Infinite multiplayer
Not a lot of single-player action was revealed in the E3 2021 trailer; we suspect we'll need to wait a little longer to see the game in full action.
However, a multiplayer trailer showcased a lot of action. In that we see Spartan super-soldiers taking on rival teams in a multitude of maps and what looks like differnet modes. The action is broadly similar to the multiplayer modes of other Halos games, only with things like a grapping hook allowing for more dynamic movement and the ability to snatch items at a distance. Expect plenty of vehicles to be included as well.
Take a look at the trailer below for a solid look at what to expect from Halo Infinite multiplayer when the game arrives this fall.
Halo Infinite Xbox Series X and PC
Halo Infinite will launch for PC, Xbox One and Xbox Series X simultaneously, so you won't need to upgrade to Microsoft's next-gen console in order to play it. The game will be immediately available to Xbox Game Pass subscribers, and judging by previous Xbox Game Studio releases, we expect there to be cross-play and cross-save across all three platforms.
Expect a suite if visual enhancements for the Xbox Series X and high-end PCs, especially for gaming at 4K and 60 frames per second.
Halo Infinite story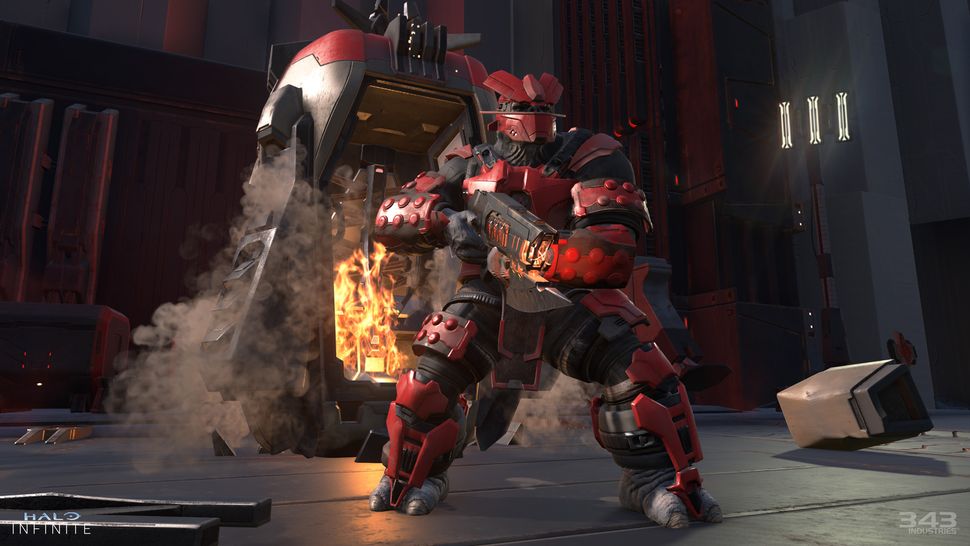 Warning: Spoilers for Halo 5 follow!
Based on the ending of Halo 5 as well as the small tidbits from the Infinite trailers, we can start to piece together what the story of the new game might be. Halo 5 ends with a now-corrupted Cortana taking control of various AI throughout the galaxy while using an ancient Guardian construct to trap Master Chief and his crew.
Chief and company are eventually rescued by Jameson Locke and Fireteam Osiris, but Cortana manages to get away. The game has a bonus post-credits ending on Legendary difficulty, which teases a new Halo ring while Cortana hums in the background.
That likely sets the stage for what we see in the two Halo Infinite trailers, which also feature a new Halo ring and reveal that Cortana is back -- and probably up to no good. Cortana could very well be using this new Halo ring to forcibly take over the galaxy, which would mean that the Master Chief has a big fight on his hands.
A June 2020 teaser also suggests that Halo Wars 2 antagonists The Banished will serve as a main group of enemies, making things even more difficult for Chief and co. The July gameplay reveal shed more light on how The Banished play into the story, revealing that the faction defeated the USNC in some sort of brutal war several months before the events of Halo Infinite.
Based on both the trailers and the negative reception to Halo 5's campaign, it appears that Halo Infinite will focus entirely on Master Chief as the main playable character. Halo 5 spent a bulk of its campaign focused on new character Locke and Fireteam Osiris, which didn't go over very well with fans. Here's hoping Halo Infinite is the return to glory that players want when it launches later this year.
Halo Infinite outlook
While Halo 5: Guardians might not have won huge praise for its main campaign, Halo Infinite looks like it could bring back the Master Chief-focussed story and expansive action of the original Halo and the likes of Halo 3 and Halo Reach.
A return to open environments that allow you plenty of room to try different approaches of attack and jump into all manner of vehicles, would certainly be something we'd be keen to see the Halo series return to. Of course, a super slick multiplayer with a variety of interesting modes - likely a battle royale mode - would sweeten the outlook of Halo Infinite, especially if there's cross-platform play with Windows 10 gaming PCs.
With the game some 10 months away, we're expecting 343 Industries to give a huge amount of polish to Halo Infinite so only so it looks stunning on new Xbox hardware but also plays extremely well. At the moment we're rather optimistic that Halo Infinite will be a strong new entry into the Halo series that will not only make use of the Xbox Series X hardware, but also refresh the longstanding franchise.