Nespresso, maker of the ever-popular coffee pod machines that can be found in Australian kitchens nationwide, has just taken the wraps off its latest creation, the Vertuo Pop.
Despite sliding into the Vertuo series of Nespresso machines with an approachable price of AU$229, the Vertuo Pop is anything but entry level where performance is concerned. Launching in Australia today (March 20), I've been fortunate to have a Nespresso Vertuo Pop proudly on display in my home since last Thursday. I've quickly found that my mornings have been changed for the better, forever.
Let's start with the machine itself. It's available in a range of six colours — Aqua Mint, Mango Yellow, Pacific Blue, Coconut White, Liquorice Black and Spicy Red — giving you plenty of choice to match your home decor aside from the usual selection of black and silver seen with other coffee machines.
It's also especially compact, measuring 13.6 x 42.6 x 25cm (W x D x H) so you shouldn't have any issues finding space on your kitchen counter. The compact size does mean the removable water tank is also small at 0.56L, but this has so far proven to be plenty enough to brew at least four coffees. Unlike the Vertuo Plus, the water tank sits in a fixed position at the back of the machine and can't be moved around to the side.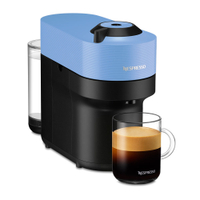 Nespresso Vertuo Pop | AU$179 at Nespresso
For a limited time, Nespresso has discounted the regular price of the Vertuo Pop coffee machine to AU$179 for Mother's Day (yes, we know it's not Mother's Day in Australia until May). The discounted price is just for the Vertuo Pop machine as a standalone unit, and not the bundle with the Aeroccino 3 milk frother.
If you've ever used one of Nespresso's other coffee pod machines, then you'll have no trouble figuring out how to pour yourself a delicious cuppa Joe from the Nespresso Vertuo Pop. You just need to open the top, insert your pod, close it and press the singular button on top to provide your morning elixir. I personally thought the Vertuo Pop was a bit noisy when brewing, but my housemate has said it's much quieter than Nespresso's Citiz espresso machine.
I surprisingly found this process to be a little more finicky than expected. Pushing the lid down and locking it into place didn't always inspire confidence, as I wasn't sure exactly when to move the locking slider, and didn't want to force it for fear it might break. At the Vertuo Pop's launch event, other guests appeared to experience similar concerns, and most had to ask one of the staff on hand to give them assistance. But, after locking and loading a few pods over time, my confidence has increased.
What sets the Vertuo range apart from Nespresso's other pod coffee machines is how you can brew a much wider range of coffee styles, aside from a single or double shot espresso.
This, for me, was a wake up call. Not least because of the higher dosage of caffeine, but also because it revealed my coffee knowledge was clearly lacking.
Each Vertuo coffee pod has its own barcode, which the Vertuo Pop reads using its proprietary Centrifusion technology, to determine the absolute best way to brew the specific pod that's been loaded into the machine. This, says Nespresso, allows for "quality aroma and crema every time." And, based on the handful of coffees I've sampled so far, I'd have to agree.
Myself, a simpleton who enjoys a double shot flat white with oat milk in the morning, has found the Vertuo Pop to be an incredible teacher into the world of coffee. Being able to so easily make a coffee, and to instantly notice taste differences between beans and origins, has been astounding.
And that's not all the Vertuo Pop can do. It actually has a party piece that no other Nespresso Vertuo machine can lay claim to: Expert Mode. Expert Mode allows you to further customise your coffee, unveiling a plethora of new options in the process. To activate, simply press the button top twice. The light on the button will turn a teal green to indicate you've done it correctly.
What does Expert Mode do? It once again reads the barcode of the coffee pod you've loaded into the machine, but will now pour out either a double shot, single or ristretto, depending on the size of the coffee pod you've put in.
Nespresso is keen to stress that the Vertuo Pop doesn't just simply reduce the time of brewing during Expert Mode. Instead, it adjusts the extraction parameters, including how much water to use, the temperature, flow time and speed, to ensure you still get the best possible flavour and aroma.
Nespresso adds that Expert Mode is perfectly suited to the discerning Australian coffee drinker, as it makes any coffee pod of your choosing perfect to be combined with milk. The coffee maestros claim 91% of Australian coffee drinkers choose to add milk to their order.
In line with this statistic, Nespresso is making the Vertuo Pop available to buy as a standalone unit for AU$229, or you can buy one bundled with the Aeroccino 3 milk frother for AU$319.