Buying the right laptop for your needs can be tricky, and it's even trickier when you're trying to pick one for a student getting ready to head back to school.
I know because as a senior editor here at Tom's Guide I help lead our coverage of all things computing, which means I get to spend a lot of time going hands-on with the latest laptops from major manufacturers. Dozens of new models are released every year, and without experience it can be hard to tell them apart at a glance.
That's why I recommend you read through some of our laptop reviews and compare a few before you make a purchase, so you can get a better sense of how much power, battery life and comfort you can get for your money. Our guide to the best laptops for college students also has some solid recommendations for good student laptops across a range of prices.
However, many of those recommendations don't have enough power to support a student who's doing heavy engineering work. I know because I have a friend who completed a PhD in plasma physics not long ago, and I also get occasional emails from parents who need help finding a laptop that meets their child's engineering program's requirements. The aging MacBook Air M1 remains a great laptop for students that you can get pretty cheaply these days, but it's probably not going to cut it in the engineering lab.
That's why I recommend you take a look through our list of the best laptops for engineering students, as they all offer more power than your average ultraportable. And while every engineering program and discipline has different requirements, it's a safe bet that a budding engineer will want something with a speedy CPU, a discrete graphics card, and enough RAM to handle whatever high-level programs you throw at it.
There's one specific laptop on that list that I want to recommend to you this year, because pretty soon it won't be relevant anymore and I'm not sure Microsoft will ever make another one.
Microsoft's sliding powerhouse
I'm talking about the Microsoft Surface Laptop Studio, which the company launched back in 2021 alongside Windows 11. The Surface Studio starts at $1,087 on sale at Microsoft.com and $1,309 on Amazon right now.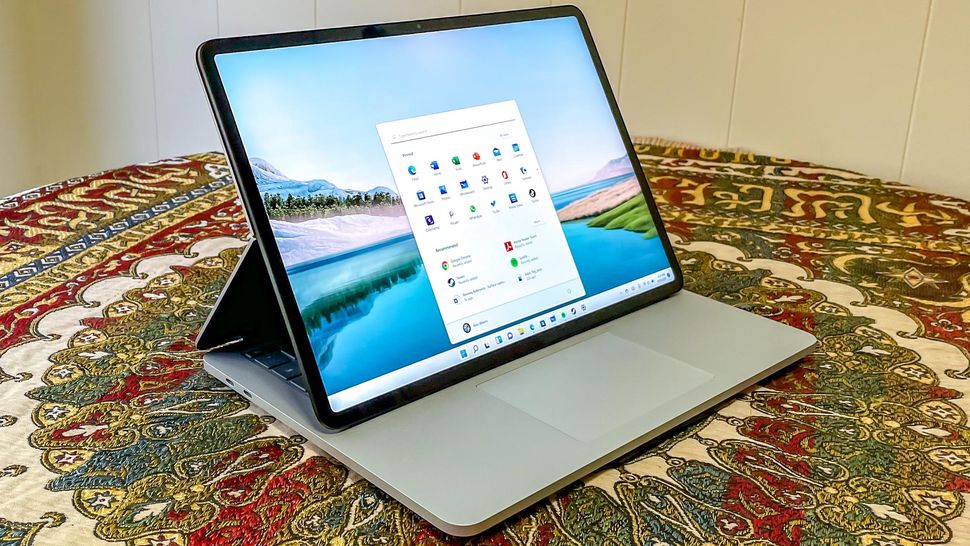 You might remember it best for its odd-looking sliding touchscreen, which has a unique hinge mechanism that allows you to slide the bottom of the screen forward until it rests flat on the keyboard. It takes some getting used to, but once you master the trick of moving the screen (hint: push gently on the lower half of the display from the back) it's a neat trick.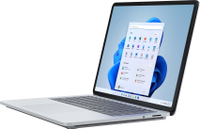 Surface Laptop Studio: $1,399 @ Microsoft
The 14.4-inch 120 Hz touchscreen and the option to configure it with up to an 11th Gen Intel Core i7 CPU, up to an Nvidia GeForce RTX 3050 Ti GPU, up to 32 GB of RAM and 1 TB of SSD storage make this is a powerful ultraportable. Microsoft's Surface Slim Pen 2 stylus ($129 at Microsoft) is a pricey but worthwhile companion.
You can also lower the display halfway so it covers the keyboard like an easel, giving you an additional position in which to use the laptop. This can be convenient when using a stylus on the 14.4-inch 120Hz touchscreen, and the Surface Slim Pen 2 stylus Microsoft sells for an additional $129 works quite well with the Surface Laptop Studio.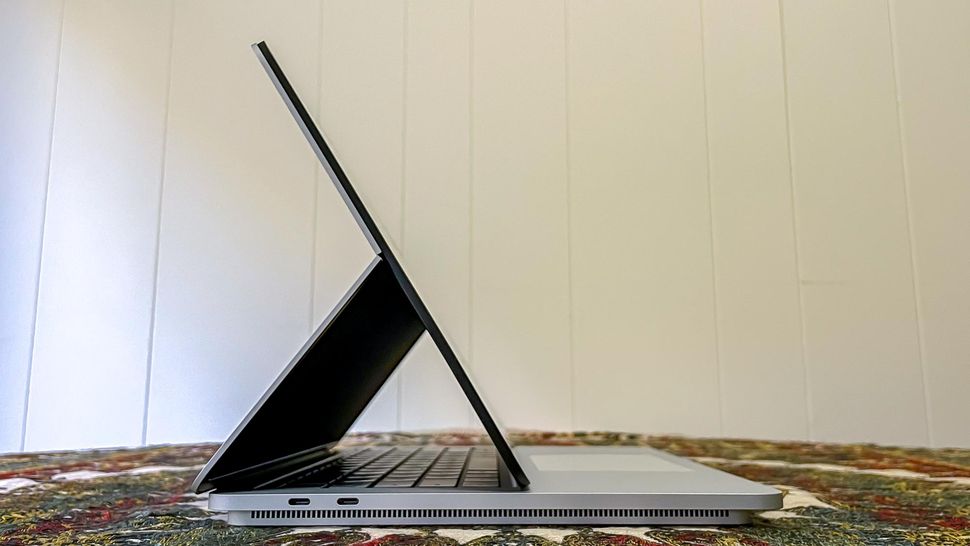 The sliding display is a neat feature that sets the Studio apart from even the best laptops, but it's not why I recommend it as a good laptop for engineering students. No, that has everything to do with what's inside.
See, we can only be so specific when suggesting laptops for students because every program and every student has different needs. The one commonality we can count on is power: If you're going to be doing engineering work, you'll want something with a speedy CPU, a discrete GPU and plenty of RAM so your machine doesn't get bogged down running calculations and simulations.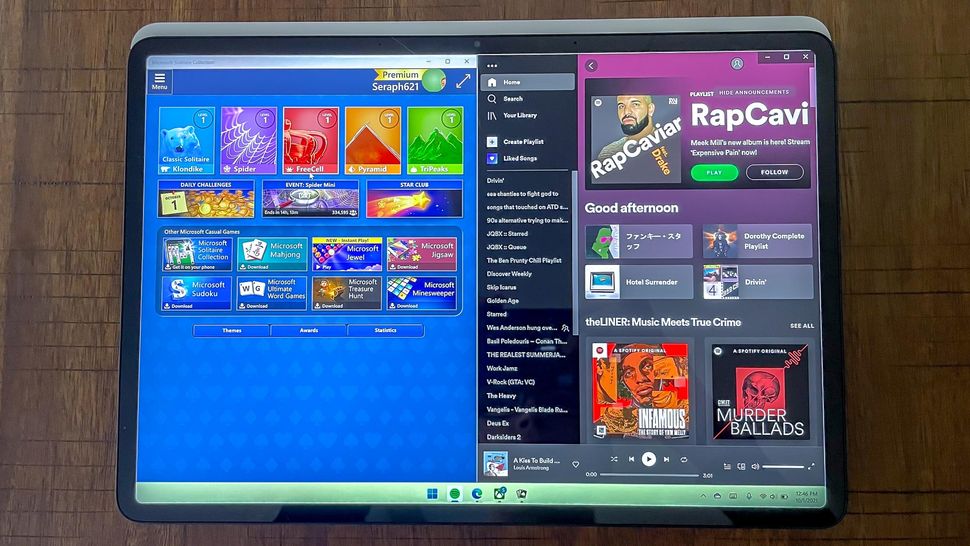 The Surface Laptop Studio has that, because Microsoft gave you the choice to equip it with a Nvidia GeForce RTX 3050 Ti laptop GPU. You also have the option of kitting out the Studio with up to 32GB of RAM and up to an 11th Gen Intel Core i7 CPU, which is more power than you'll find in any other Microsoft Surface.
At this point that RTX 3050 Ti GPU is now one generation behind the latest and greatest, and the Laptop Studio's 11th Gen Intel CPU options are actually two generations behind the curve. So if you absolutely need the most power possible for your coursework, you might be happier with a pick from our list of the best gaming laptops, like the Samsung Galaxy Book 3 Ultra.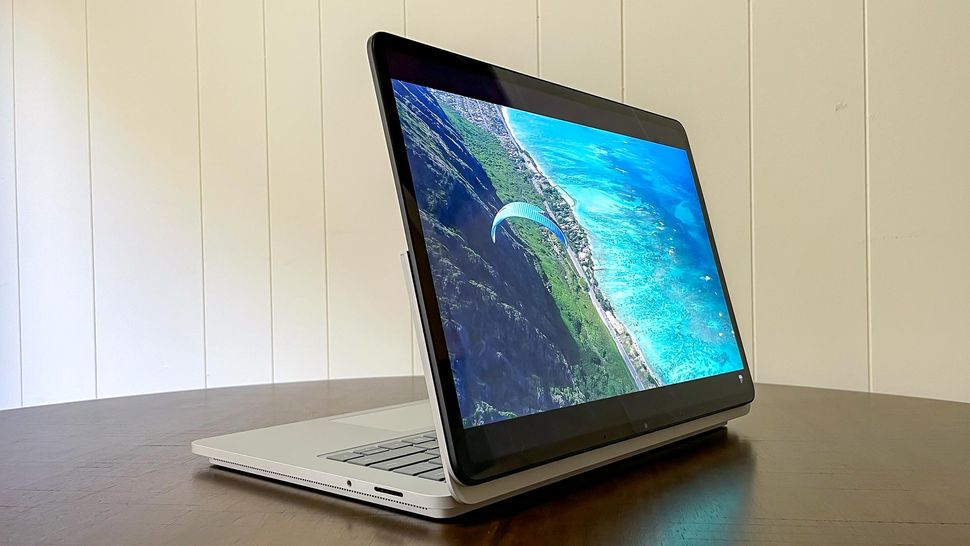 But if you think the Laptop Studio has enough power left in it to get you through a few years of schoolwork, I recommend you consider it because of its unique design. I think the sliding touchscreen is a neat feature that makes the laptop more versatile and usable, especially if you get the Slim Pen 2 and use it for note-taking/diagramming.
I've also heard from parents that some engineering programs recommend students bring a laptop that has a modern CPU, a discrete GPU, 32+ GB of RAM, 1TB+ of storage space and an active stylus (as opposed to an unpowered passive stylus).
That last requirement makes the package hard to achieve because it's rare to find a powerful laptop with a discrete GPU and touchscreen that supports an active stylus.
While you can achieve a similar effect with other products by, say, pairing a Wacom tablet with a gaming laptop, the Laptop Studio is simply a more elegant solution for a student on the go.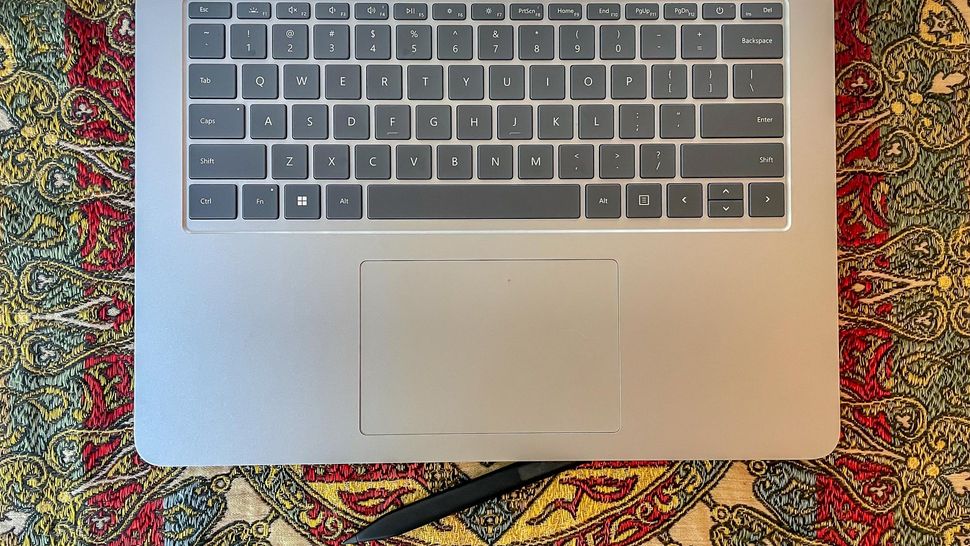 The Slim Pen 2 stylus is designed to work with the Laptop Studio and thus can magnetically attach to the bottom lip to charge when not in use, for example. And while the Surface Laptop Studio's 10+ hours of battery life (verified in our testing lab) isn't astounding, it's far better than what you'll get from any gaming laptop. The Surface Laptop Studio is lighter too, and after carrying one myself for years I think it's far more backpack-friendly than your average Alienware.
But again, this laptop launched in 2021 and its age is starting to show. I think the 11th Gen CPUs in the Surface Laptop Studio will still be good enough to handle day-to-day tasks for years to come, but this is the last year I think you can buy a Studio and reasonably expect to be happy with it through 4 years of college schoolwork.
Will Microsoft ever make another laptop like this one? I hope so, but I doubt it. So if you're thinking of getting one, probably best to move sooner rather than later!
Other great college laptops
I like and recommend the Surface Laptop Studio for many reasons, but it isn't the best choice for everyone. The most glaring weakness is the aging CPU, which may start to feel quite outdated by the time you finish school. I hope you'll take it and the other recommendations I make in this article as suggestions to consider after consulting the requirements of your engineering program.
I've also done some research on what top engineering institutions around the U.S. are recommending to incoming students, and in general I've seen a lot of links to Dell, Lenovo and Apple laptops and desktops. This could be in part because those companies offer academic discounts, which is something you can also get from Microsoft by establishing your credentials as a student or educator. To that end, check out our guide to how to get a Microsoft student discount.
All of the afore-mentioned companies make good laptops, and an incoming engineering student would be well-served by something from Apple's MacBook Pro M2 laptops or Dell's XPS and Latitude lines. Here's a few recommendations: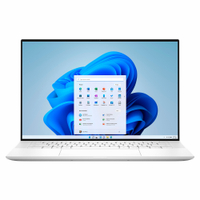 Dell XPS 15: $1,499 and up @ Dell
The Dell XPS 15 is a great 15-inch Windows laptop that can be configured with up to a 15.6-inch 3.5K OLED touchscreen, a 13th Gen Intel Core i9 CPU, 64GB RAM, 8TB storage and a NVIDIA RTX 4070 laptop graphics card.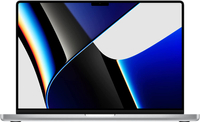 MacBook Pro 16" (M2 Max/1TB): $3,499 @ Apple
The 16-inch MacBook Pro is a great laptop, and this model is configured with Apple's latest M2 Max chip, one of the most powerful yet made. It also include 32GB of RAM and a 1TB SSD, as well as a beautiful 16-inch (3456 x 2244 resolution) Liquid Retina XDR mini-LED display and plenty of ports. If you want more, you can pay for up to 96GB of RAM and 8TB of storage.
More from Tom's Guide