Despite the ongoing chip and supply shortage making it all but impossible for folks to find graphics cards, next-gen consoles and other electronics, Nvidia is pushing ahead with a Titan-class edition of the GeForce RTX 3090 — nominally called the Nvidia GeForce RTX 3090 Ti.
Announced during CES 2022, this new flagship GPU is effectively a beefier iteration of the already powerful RTX 3090. The card was originally set to release on January 27 but, for reasons we could only guess at, failed to do so. Rumors of a March 29 launch came to fruition as the GPU has officially dropped.
Here's everything we know about the Nvidia GeForce RTX 3090 Ti.
Nvidia GeForce RTX 3090 Ti: Price and release date
The Nvidia GeForce RTX 3090 Ti is a premium card with an equally premium price.
It went on sale on March 29 2022 for $1,999. This is $500 more than the RTX 3090, which launched at $1,499. For those keeping tabs, this is the first Nvidia card released at this price range. Please keep in mind that this is the MSRP price. Though GPUs have gotten cheaper in the past few weeks, they still cost more than they're supposed to.
Recently, Nvidia officially slashed the RTX 3090 Ti to $1,500. Retailers like EVGA have begun to sell the card for as low as $1,149. The latter price drop lends credence to rumors of sellers reducing the price of in-stock GPUs to make room for the upcoming RTX 4000 series cards.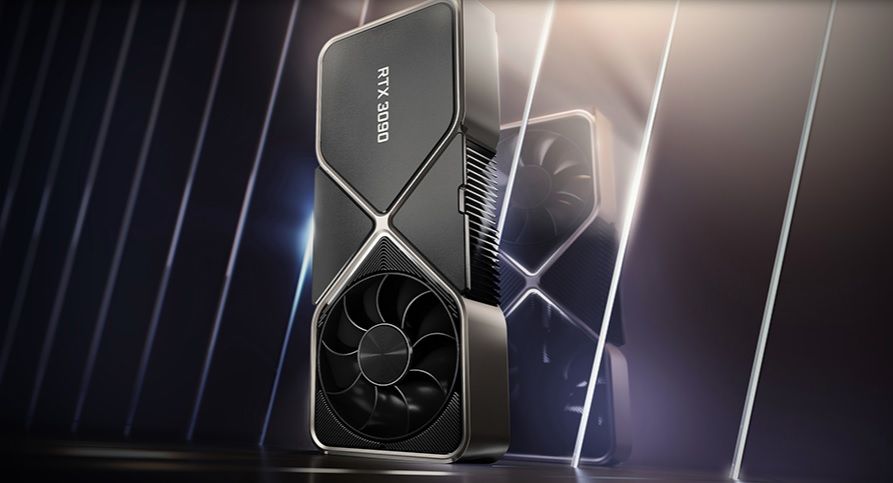 We originally believed the GPU could launch in late spring or early summer of 2022 due to the new entry-level RTX 3050 launching on January 27 and rumors of the Nvidia GeForce RTX 40 series GPUs launching either in Q3 or Q4 of 2022.
The most recent rumor around the release date came from Videocardz, which claimed to have seen embargoed marketing information. According to that leak, the Nvidia GeForce RTX 3090 Ti would launch on March 29. This rumor turns out to have been accurate.
Numerous sites, including PC Gamer, reported that Nvidia delayed the RTX 3090 Ti launch due to BIOS and hardware issues. According to TweakTown, third-party board partners were also asked to pause production.
Despite the fact that the Nvidia RTX 3090 Ti had been allegedly hit with production delays, models listed for $4,000 popped up at some online retailers. Obviously, the card doesn't cost anywhere close to that exorbitant number.
Nvidia GeForce RTX 3090 Ti: Specs and performance
We've yet to go hands-on with the Nvidia GeForce RTX 3090 Ti, but according to sister site Tech Radar, "it's an absolute powerhouse of a graphics card."
The Nvidia GeForce RTX 3090 Ti is a GA102 GPU built on the 8nm process. It will has 40 Share teraflops, 78 Ray Tracing teraflops, 320 Tensor teraflops and 24GB of GDDR6X memory operating at 21Gbps. Its base and boost speeds are clocked at 1560MHz/1860MHz. As rumors suggested the RTX 3090 Ti has a TDP of up to 450W, which is 100W more than the RTX 3090.
We don't have benchmark data to see how the GPU performs during everyday use and gaming, but based on those specs, the 3090 Ti should see a 10 percent performance boost across the board compared to the RTX 3090. The RTX 3090 was itself 10 percent faster than the RTX 3080.
Though the RTX 3090 Ti was designed primarily for gaming, it has plenty of power for editing audio and rendering videos. 4K should be a cinch for the RTX 3090 Ti, as well as high frame rates. This GPU will be the "monster" Nvidia claims it is, performance-wise.
Nvidia GeForce RTX 3090 Ti: Outlook
Graphics cards have understandably become a sore spot within the PC gaming community due to the ongoing global pandemic. Under normal circumstances, news of the Nvidia GeForce RTX 3090 Ti would be cause for celebration. Based on what we've seen, it's a noticeable step up from the RTX 3080. But considering how many folks are still unable to get their hands on Nvidia's current crop of RTX 30 series cards, it's understandable to reign in the excitement for the RTX 3090 Ti. And that's not even considering how expensive this GPU is likely to be.
We expect more news about the Nvidia GeForce RTX 3090 Ti in the coming weeks and will update this page with more information as we receive it. Stay tuned for more.