Update March 29: The Switch OLED has sold out at Woot. Make sure to follow our Nintendo Switch deals coverage for more discounts and our guide on how to preorder Nintendo Switch OLED Zelda.
The regular Nintendo Switch rarely goes on sale, and that goes doubly so for the swanky Nintendo Switch OLED. While retailers occasionally bundle these consoles with software or accessories, it's pretty uncommon for any version of the Switch to be directly discounted. But I've spotted a rare saving on the Switch OLED, and the price has just dropped even further.
For a limited time, the Nintendo Switch OLED is on sale for $309 at Woot. That's $40 off the console's full retail price, and an extra $10 off compared to its onsale price earlier this week. This is now the lowest price ever for the Nintendo Switch OLED. This deal comes courtesy of Amazon company Woot, and Prime members even get free shipping. This deal is scheduled to run until Friday, March 31, or stock runs out.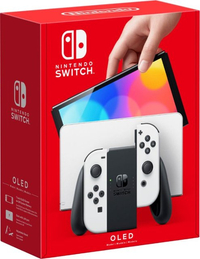 Nintendo Switch OLED: was $349 now $319 @ Woot
The Nintendo Switch OLED is an upgraded version of the hugely popular handheld/home console hybrid. It sports a gorgeous 7-inch OLED display, a wider adjustable kickstand, a wired LAN port in its revamped dock, and an increased 64GB of internal storage. It's rarely on sale, but it's just crashed to its lowest price ever of $319 at Woot. Plus, Amazon Prime members get free shipping.
Last month Woot dropped the Nintendo Switch OLED down to $329, and the console sold out in a matter of hours. We expect the same will be true of this even bigger discount. That's because this refresh of the original Switch system is a highly desirable piece of kit. In fact, it takes just about everything that was great about the original Nintendo Switch and kicks it up a notch.
In our Nintendo Switch OLED review, we noted that it "sports a gorgeous screen, an improved kickstand and lots of storage space." We labeled it "an easy recommendation for first-time Switch buyers" but did note it's "an extravagance for current Switch owners."
As the name suggests, the biggest upgrade is the gorgeous OLED display. The best Nintendo Switch games look truly stunning on this vibrant screen. The likes of The Legend of Zelda: Breath of the Wild and Mario Odyssey in particular look fantastic. Plus, the 7-inch OLED display is a little bit larger than the 6.2-inch screen you'll find on a standard Switch or a Nintendo Switch Lite.
The other upgrades on the OLED model aren't quite as noteworthy, but they're still pretty useful. They include a larger kickstand, an increased 64GB of internal storage (the standard Switch only offers 32GB) and a redesigned dock that includes an ethernet port for playing online via a wired internet connection.
Now is the ideal time to upgrade your Switch, or join the Switch family for the first time, as we're just a few weeks away from the launch of The Legend of Zelda: Tears of the Kingdom. This sequel to Breath of the Wild is set to be one of the biggest games of 2023, and we're pretty sure the rolling hills of Hyrule will look immaculate on the Switch OLED's display.
However, if you're looking to spend as little as possible, you could opt for the Nintendo Switch Lite. This streamlined device is designed exclusively for handheld play but is compatible with all the same games as the regular Switch and the OLED model. Plus, you can get a Nintendo Switch Lite for just $199 on Amazon, and it's available in a range of pastel colors.