Hunting for an OLED TV deal? I scour the web for deals every day, and this is the cheapest 65-inch OLED TV I've ever seen.
The Vizio 65-inch 4K OLED TV is $998 at Walmart right now. This is one of our best budget TVs and it's been slashed $500 off its usual price. If you want a big-screen OLED TV on the cheap, this is exactly what you've been searching for.
Update: As of March 11 this Vizio OLED TV deal is still in stock but we would act fast.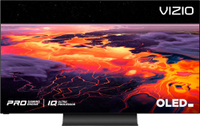 Vizio 65" OLED 4K TV: was $1,499 now $998 @ Walmart
Vizio's OLED TV is in stock and on sale. The 65-inch 4K OLED TV packs Vizio's IQ Ultra CPU and the company's ProGaming Engine, which is designed for Xbox Series CX and PS5 gameplay. It supports Dolby Vision HDR, DTS Virtual X, Vizio SmartCast, and a host of digital assistants for hands-free control of your TV. In our Vizio OLED TV review, we said it offers more for your money than most competing OLED TVs. This is the lowest price we've ever seen for any 65-inch OLED.
The Vizio OLED TV is an incredible budget TV. While it's a few years old at this point, it offers nearly unbeatable value for money. I've said it before, but it bears repeating: this is the lowest price I've ever seen for a 65-inch OLED TV.
As you'd expect from an OLED, this Vizio set produces incredible picture quality. The Viewing angles, details and contrast are all excellent. The Vizio OLED is less bright than an average LED TV, sure, but that's true of nearly all OLED models. This TV has great sound, too — it's clear, has good bass and can get pretty loud. Unless you're a serious audiophile, you won't need to spring extra for one of the best soundbars.
While this isn't the best gaming TV out there, some gamers may prefer it over other budget OLED models like the LG A2 OLED. That's because the Vizio OLED has better frame rates than the LG A2 (120Hz vs 60Hz) and it has HDMI 2.1 support. On the other hand, the LG A2 OLED has a lower lag time of 10.2ms vs the Vizio OLED's 21ms.
No TV is perfect, unfortunately, and we had some issues with color accuracy when we tested the Vizio OLED. Plus, this TV can't upscale content to 4K as well as LG and Samsung TVs can. However, if you've been craving a big-screen OLED TV without spending a fortune, the Vizio OLED is it.
Still looking for your perfect TV? Stay tuned to our ongoing TV deals coverage for the best sales throughout the entire year.